Exercising without any external motivation can become boring and dull after some time. Especially if you are new to the whole workout routine and find it difficult to maintain your focus. But thankfully, background music can help us get into a beat and is a great workout motivator as well.
While a lot of gyms and workout areas have a music player, there are many times where you have to rely on your good old phone/CD player/iPod. And of course, you need a good pair of wireless workout headphones for that.
So, in this guide, we will be discussing how you can select the perfect wireless workout headphones for yourself.
Jabra Elite 65t Alexa Enabled True Wireless Earbuds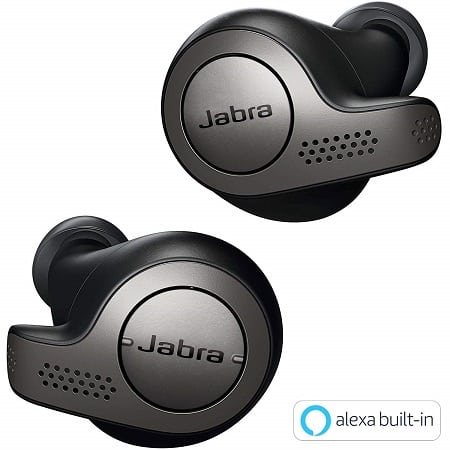 Undoubtedly, the best in ear headphone in the market, Jabra Elite 65t not only is great for playing music but is equally adept at taking calls.
With the 4-microphone technology, you get wind and noise cancellation feature and the advanced speakers allow you to block/allow the ambient sound as you desire.
A compatible Jabra Sound+ app allows you to personalize your headphone and manage the amount and kind of sound that enters it.
Best Earphones Under Rs. 5,000 in India
You can connect this headphone seamlessly to your smartphone and can listen to calls and music without having to worry about audio dropouts.
With a single charge, you get 5 hours of battery life and the pocket-friendly charging case allows you up to 15 hours, making it perfect for all-day workouts as well.
Sony Extra Bass MDR-XB50BS Active Sports Wireless In-Ear Headphones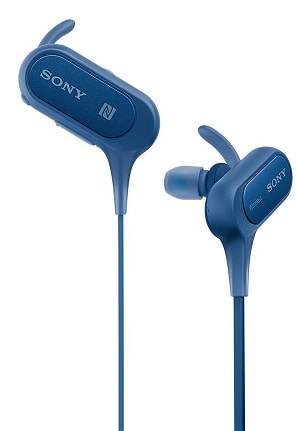 A budget-friendly in ear headphone model which provides amazing bass sound while the Bluetooth connectivity allows you to play high-quality audio on your headphones.
With its splash-proof and sweat resistant design, you can use this headphone in light rain as well and don't have to worry about it getting damaged due to workout sweat.
10 Best Earphones Under Rs. 1000
It features a built-in battery which offers 8.5 hours of battery life making sure that you don't have to do your workout without any music.
Another great thing about this in ear headphone is that it includes a built-in mic which allows you to make and answer calls without interrupting your workout.
Also, the wraparound headset is lightweight and ensures a secure fit so you won't end up adjusting your headphones the whole time.
Anker Soundcore Spirit Sports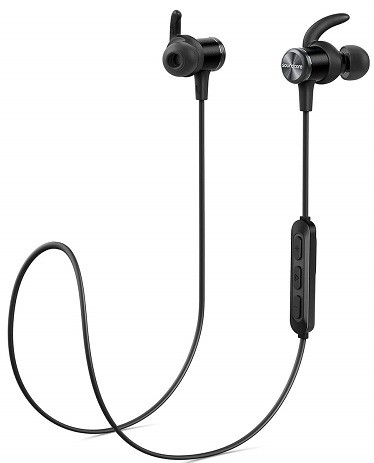 Anker is one of the top brands for purchasing in ear headphones and earphones and their Anker Soundcore Spirits Sports is certainly one of the top wireless workout headphones to consider.
This wireless headphone features a sweat guard protection and offers a secure fit which makes it a top choice among users.
With its submarine design and hydroseal, it makes this headphone long-lasting and durable while producing crystal-clear sound with perfect bass and treble.
Best Wireless Earphones Under Rs. 1000
It also features noise cancellation so you can tune out the ambient noise and focus on your music for 8 hours straight.
The cable clips ensure that the neckband doesn't bother you on your neck and the ear tips and earrings ensure a safe and comfortable fit.
Bose Sound Sport Free Truly Wireless Sport Headphones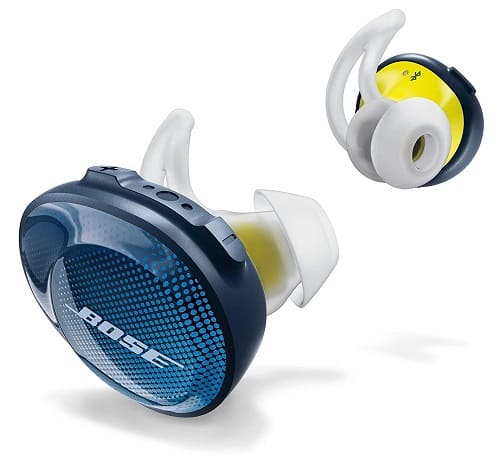 The first and the best in-ear wireless headphones, Bose Sound Sport is actually without wire and consists of only ear buds for listening to your music.
This headphone includes advanced technology which allows you to listen to clear and powerful sound. With its strong and reliable signal, you can be sure to hear no outside noise regardless of your phone being in your hand or bag.
Built out of water repellent mesh, you can enjoy your workout without having to worry about sweating and damaging your headphones anymore. Also, with the StayHear+ tips, 3 sized ear buds, and an angled nozzle, you can enjoy a perfect fit.
10 Best Earphones Under Rs 500
You can adjust the volume and take the calls from the ear buds directly and can connect your headphone with Bluetooth using voice control, allowing you smooth handling.
One of the best features of this in ear headphone is that if it gets lost, you can track it on the Bose app on your smartphone and personalize the settings.
The magnetized case keeps your headphones safe and protected while charging them too, allowing you 10 hours of battery life to use.
Bose SoundSport Wireless Headphones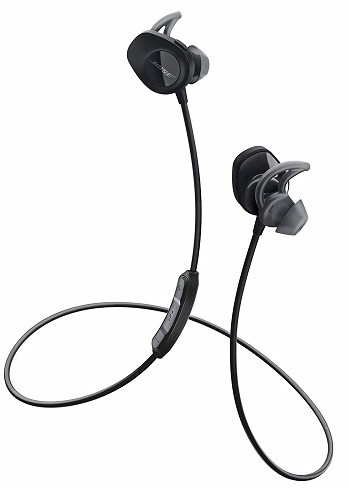 Another amazing wireless workout in ear headphone by Bose which offers a balanced sound at every volume, making it perfect for playing music while your workouts.
These wireless headphones feature a volume-optimized EQ which helps in keeping the audio performance stable while allowing you to drown the outside noise during workouts.
With the one-touch NFC pairing and Bose Connect app, it is easy to connect your headphone to Bluetooth and switch between devices to play the desired song.
Best Earphones Under Rs. 2000 in India
The StayHear+ tips and the silicone material used in this headphone keeps it firmly placed in your ear for enhanced music experience.
It also has a 6 hours battery life which is perfect for workouts and a single 15-minute charge gives you an additional 1 hour of battery life to play music.
Finally, the inline remote and mic allow you to take calls, commence voice commands, skip songs, and so on.
Sound One BT-06 Bluetooth Headphones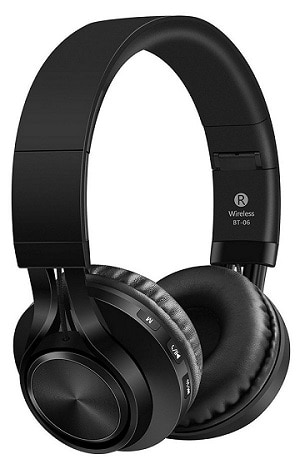 Sound One BT-06 is the ultimate headphones for people who can't afford to spend a lot but would like the features of a top-notch headphone model.
With its 300 mAh rechargeable in-built battery, it is easy to charge your headphones in 2 hours which gives you the playback time of at least 6-7 hours.
Best Earphones Under Rs. 2000 in India
Made up of protein leather, the earmuffs are soft and comfortable to touch while the headband is strong and durable due to PU leather construction.
It is also easily adjustable and its foldable design allows you to store it in your bag without taking a lot of space.
And you can not only connect to your music player via Bluetooth to play music but also have the option of inserting a micro SD card or turn on the FM.
Leaf Ear Headphones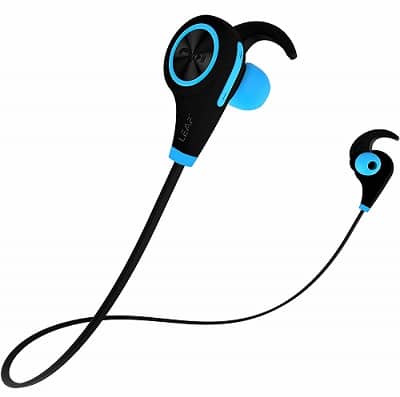 For people who would also like to use their workout headphones to chat on phone, Leaf Ear Headphones is the perfect choice as it includes a mic as well.
You can use this mic to change music tracks, play/pause the songs, accept/reject phone calls, and so on. And with the ear hook, you can easily fit the headphones in your ear and don't have to continually adjust it during a workout.
Bluetooth Over-Ear Headphones Under Rs. 3000
It is also sweatproof so you can use it while running, gyming, etc. without worrying too much.
Offering 101 dB and 20Hz-20kHz frequency, this headphone produces deep bass sounds which make workouts fun to do and allow you to enjoy your music thoroughly.
And the best part is that it is inexpensive and can be easily afforded by anyone.
Other models
Skullcandy Method allows you 9 hours of battery life and produces a high and clear sound every time. Its durable design and the duallock fit ensures that it is comfortable to wear and won't get damaged due to sweat.
So, if you are looking for a good quality, lightweight headphones then Skullcandy is a good choice.
The only drawback is that a lot of customers have complained that their Skullcandy headphones stopped working after a couple of weeks. So, it is not as durable or long-lasting as mentioned in the description.
Sony WI-SP500 is yet another amazing yet affordable wireless headphones which are perfect for listening to music and taking calls during a workout.
This sweatproof headphone has an ergonomic design ensures a secure and comfortable fit.
It is also easy to connect to your device using NFC one-touch connect and the open-type drivers allow you to hear the ambient sounds as well. But this means that it is not good for calls as there is too much noise.
How to choose a Wireless Workout Headphones
Here are a few things to keep in your mind when looking for the perfect wireless workout headphone.
Choose a Headphone which is Waterproof
One of the most important features to look for in your wireless workout headphone is that it should be waterproof. You are going to sweat a lot while exercising and if your headphones are not sweat proof then they will get damaged sooner or later.
Bluetooth Earphones Under Rs. 1000
Also, when you are running outside, you might experience occasional rainfall and a rain resistant headphone will stay protected while allowing you to enjoy your music. So, look for sweat proof and rain resistant headphones.
Look for a Good Sound Quality
Now, this is a little obvious but we are still going to mention it because of its importance. Go for a headphone with good bass quality as this will help you focus better and will tune out most of the worldly sounds.
​​​​​In Ear (IEM) Headphones Under Rs.1500
Make sure you test out the headphones with a couple of different songs before you go ahead and purchase it for yourself.
Choose between Full-Size and Ear Buds Design
Next thing that you need to decide is that whether you want to opt for a full-size headphone or an ear bud designed headphone. A full-sized headphone wraps around your head and ears and is usually offers a snug fit though it can be bulky.
On the other hand, ear buds are lightweight and compact but it is slightly tricky to get the right fit. Weigh both the pros and cons when trying to decide between the two designs.
Select a Headphone which Fits Your Ears Perfectly
Another important thing to keep in mind is that you have to choose a pair of headphones which fits your ears perfectly. If you are choosing an ear bud headphone, make sure the ear buds are the right size for you and don't come loose in every few minutes.
Wireless Headphones Under INR 2000
After all, you wouldn't want to keep adjusting your headphones every five minutes when you are cycling, running, etc. Also, some people might find hard to make an ear bud stay so look for special hooks or cable loops to keep your ear buds in place.
Choose between an Over-ear and Under-ear Headphones
If you do decide to choose the full-sized headphone design then you will have to also decide if you are going for over-ear or under-ear fit. Usually, over the ear headphones are more comfortable and also sound better. However, they do become bulky which can weigh you down during a long workout
The under-ear headphones also fit perfectly and are lightweight but they don't offer as great sound quality as the other design. Also, when used for an extended period of time, it can start hurting your outer ear which can make it uncomfortable to wear.
Prepare Your Budget Before Choosing a Workout Headphone
Lastly, you need to decide on a budget for yourself before you start looking at the headphone models. You will find a wide variety of wireless workout headphones in all price ranges, from 1000 INR to 20,000 INR so it is important to decide on a budget beforehand.
Once you know how much you are willing to spend, you can compromise on the features and the quality accordingly.

Rs.

9,999

Rs. 13,275
1 new from Rs. 9,999
in stock

Also Read:
1) Best Bluetooth Earphones Under 2000
2) 10 Best Wireless Earphones Under Rs. 20,000
3) Best Wireless Workout Earphones For Sports