It's safe to say this years Hp omens are the best gaming laptops HP has ever made. But they are also a little pricey and the availability of the Ryzen versions is not great.
Taking a step down to the Hp Pavilion gaming series, which is the more affordable and mainstream offering, we see that many of the same improvements that we see in the Omens have trickled down to the more pocket friendly sibling.
The pavilion doesn't share the same popularity and media coverage as the Omen, so the information about it on the internet is hard to find. So this review will be the one stop shop of ALL the information about this laptop that anyone could possibly need. Let's get started with the build quality

Rs.

66,500

Rs. 72,333
3 new from Rs. 66,500
in stock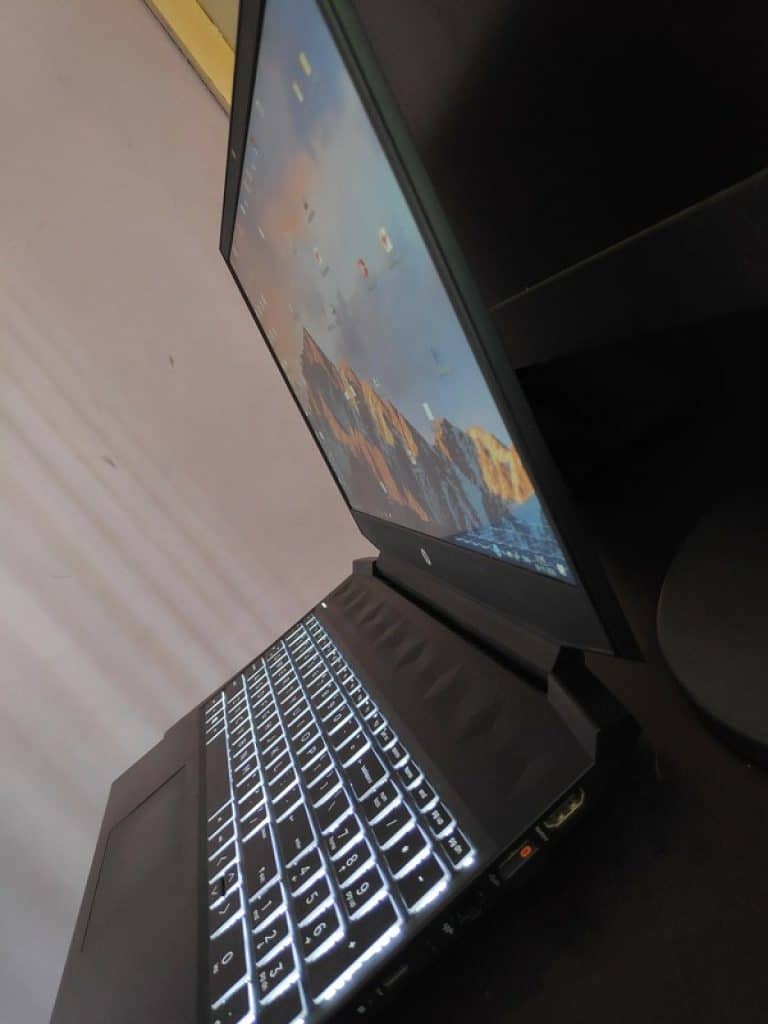 Build and Design
The laptop is fully plastic. It's not bad or uncommon for gaming laptops although you can find some other gaming laptops like the TUF a15 which have a metallic finish. The plastic on the keyboard deck doesn't flex as much but the plastic on the lid does. It's a 2 kg unit, which is somewhat light for a gaming laptop but in my opinion, it doesn't make it any more suitable for moving it around.
Also Read : ASUS TUF A15 VS ASUS ROG ZEPHYRUS G14
If you're putting the laptop in a bag with a lot of books, the screen might rub with the keyboard and this WILL result in scratches on the screen. To prevent that, make sure there is absolutely NO dust on the keyboard when you close the lid. The screen hinge also feels fine. Nothing to complain about but you shouldn't expect Ultrabook levels of smoothness when you carry it around. The lid isn't a one hand open which is not surprising.
We have established that the build quality isn't Ultrabook tier, which is to be expected of a gaming laptop so you should calibrate your expectations accordingly. But what about the design and the looks? It's decent. The silver accents match the black matte plastic really well. The vents are nicely shaped and symmetrical. Unless you hate the colour black, you will not be disappointed. Opening the lid, the keyboard is white with Purple backlighting. Honestly, I don't like the white edges of the keyboard. It makes it look somewhat ugly when the backlight is off. Looking up to the screen, we can see the bezels are appropriately sized for the year 2020-2021. Screen also has a matte coating and it's a very good matte coating. In some cheaper monitors there is a very powdery matte coating that shows fingerprints that are very prominent on even the lightest touch. While this panel doesn't.
The keyboard has an acceptable amount of deck-flex. The screen is a little bendy but that's acceptable given the price range. The ports are not too tight or too loose. USB pen drives go in and come out with appropriate friction.
Read:
ASUS TUF A15 Gaming Laptop Review
ASUS ROG Zephyrus G14 Review India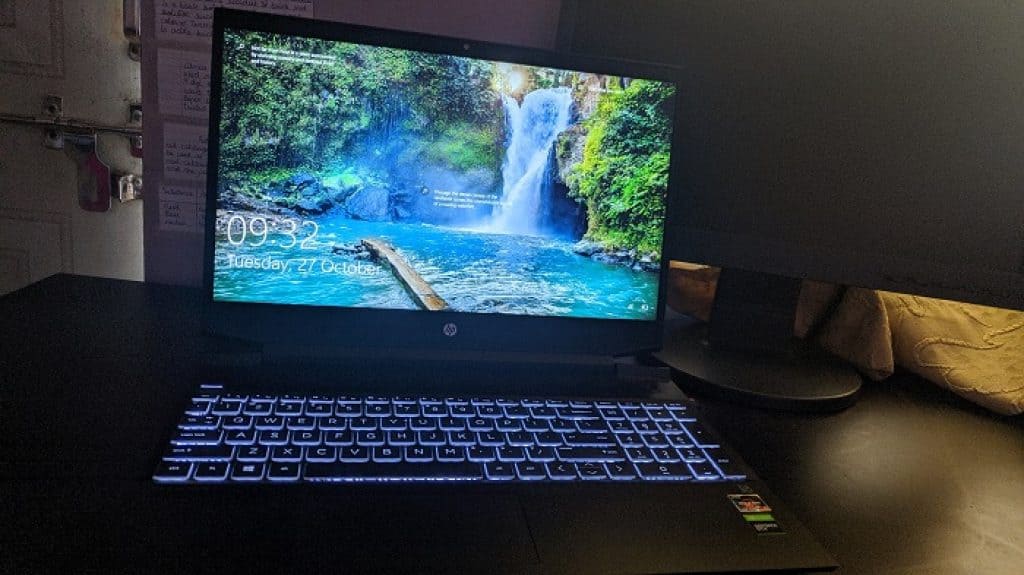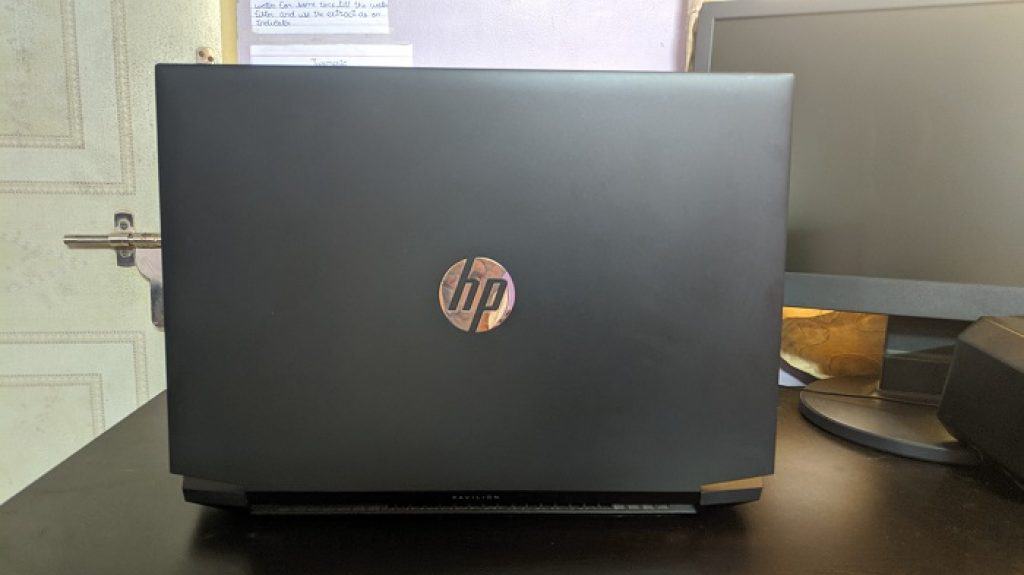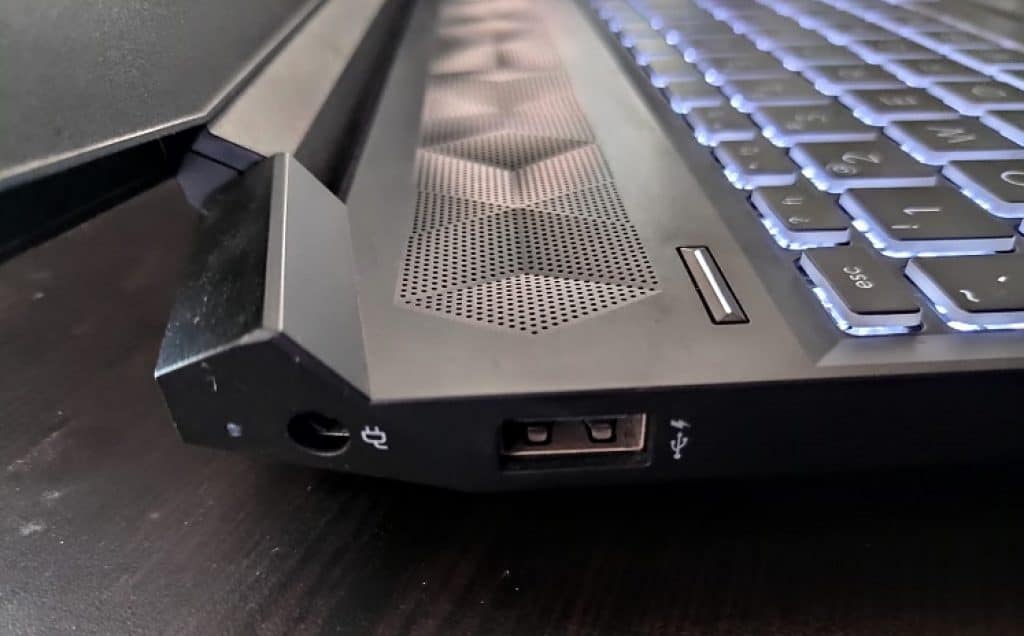 Keyboard, Speakers and Ports
These are some of the most important but overlooked aspects of a laptop. Starting with the keyboard, the spacing is fine, there is a numpad to the right side which I think should have been ditched to have better alignment of the keys like in the Omens. Squeezing in the numpad shifts the entire keyboard towards the left. But you get used to the shift, what you don't get used to is the mushy feel of the keys. They aren't as tactile as I would like, and I am not a mechanical keyboard freak. But they are well stabilized. I was able to get up to my 80 words per minute speed after about 15 minutes of struggle. But I don't think the keyboard will please you if you type any faster or are more of a tactile-keys-person. I think the keyboard is adequate for most people. it isn't a super enjoyable typing experience, but you would be hard pressed to find one in this price range.
The trackpad is fine. Has all the gestures and windows precision drivers. The size is also fine but once again, its shifted to the right along with the keyboard which is an absolute pain. Don't get me wrong, you will get used to it, but it will be a pain transitioning to it if you are used to using a keyboard without a numpad. I didn't encounter any skipping cursor or rough surface problems here. It's a standard plastic trackpad that works.
Speakers are okay, they are bottom firing which means the sound heavily depends on the surface on which the laptop is kept. They have the B&O branding but that doesn't mean anything. They sound like regular laptop speakers. Decently loud, lack of bass and distortion on the higher volume levels. Nothing special about them, nothing wrong with them either.
Coming to the port selection, one USB 2 port on the left along with the DC Power in jack. SD card slot, headphone jack, USB C port that doesn't support charging, Ethernet, USB 3 type A port and HDMI on the right.
This is stupid, why does it have only 2 USB A ports? Why is the left side almost empty and right side so crowded when most people are right-handed?
Well, port selection is kinda bad but what's worse is the positioning of the ports. This is absolutely horrible. I would have done a better job than whoever designed this garbage. Anyways, it might not be as big of a deal to you as it is to me but you might find the lack of USB ports somewhat inconvenient.
Also Read :
Asus Vivobook Gaming F571GT Review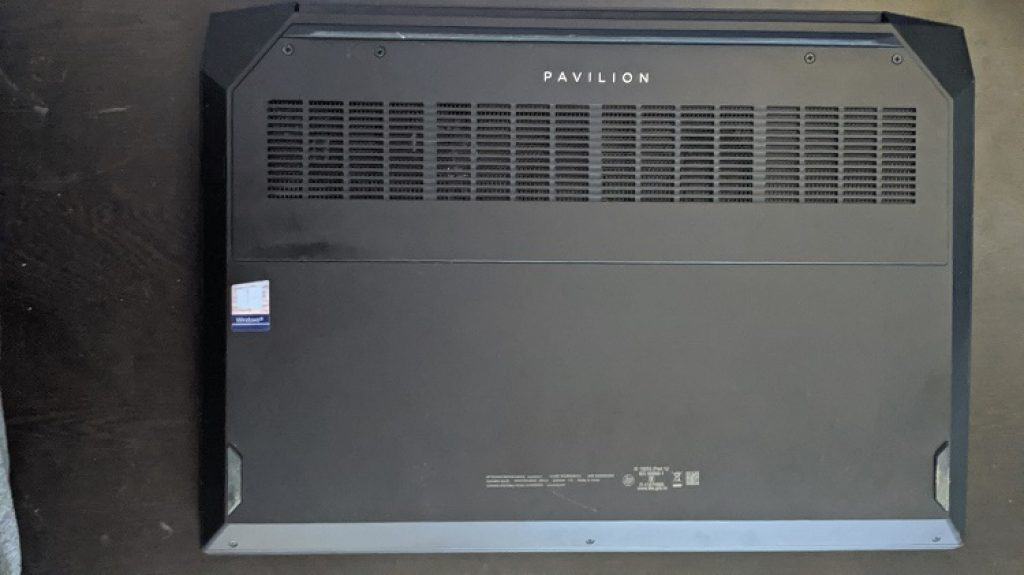 Performance and Thermals
This is the strong point of this laptop. The Ryzen 5 4600H is AN ABSOLUTE BEAST. This is so strong it can tear through mountains and burn the sky. This is what I would be saying if the laptop came with dual channel RAM (2 sticks of RAM), but it doesn't. It comes with a single stick of RAM which kneecaps its performance. It isn't much faster than the other i7 laptops with that 1 stick of ram. The good news is that you can easily buy another 8gb stick and put it in the empty ram slot to increase the cpu performance drastically. But in case you are not comfortable with opening the laptop and upgrading the ram yourself, even then the performance is pretty good.
The CPU is powerful enough to handle any game for the next 2 to 4 years. It is good for video editing, CAD work for architecture students and any other type of processor heavy task. Its desktop equivalent is the ryzen 5 3600. The cpu is pretty well cooled in the chassis too. The max temperature in CPU only workloads being 84 degrees C. Not only that, the integrated Vega 6 graphics are also very good for moderate gaming. It can run all Esports titles like CS GO, valorant, league of legends and DOTA at 60 fps or more. It can also run many triple A games like the Witcher 3, Assassins creed black flag and below, dark souls, Sekiro, Skyrim at 720p medium to high at 60fps. And all of this is the Integrated graphics, I am not talking about the GTX 1650 here. The integrated graphics consume a lot less power than the DGPU (1650) so in case you want to play games on battery, the Vega 6 graphics will work really well.
Also Read : Best Prebuilt Desktop Computers in India
Now moving on to the GPU, the GTX 1650, it isn't bad. It is slightly more powerful than a 1050ti and it is weaker than a GTX 1060 6gb. It's got 4 GB of VRAM and it can run all the AAA games at respectable frame rates and it can run Esports games like the ones mentioned above in the integrated graphics section at 144fps easily. The 1650 does its job but it is a disappointing dgpu. But EVERY gaming laptop has either this or the 1650 Ti, which is only 2 to 5 percent faster.
Anyways, the 1650 has the new Nvidia Nvenc encoder which is going to help in streaming and it has CUDA acceleration so it will help in video editing as well.
I don't know what to say about this GPU since there is nothing I can compare it to. It is literally the only option for a gpu that is available on gaming laptops under 76k. All I can say is that this graphics card will give you a very respectable gaming experience among all the games. "Jarrod's Tech" Youtube channel is a good resource if you need specific frame rate numbers for a specific game that you want to play. He has run almost every popular game on the laptop version of the 1650.
You can expect almost every game that is available right now to run at around 45 to 60fps on 1080p medium.
Under a CPU + GPU combined load, the CPU reaches 95 degrees and the GPU reaches 80 degrees. Once the gpu reaches 80 degrees, it throttles to keep the temperature down. But the cpu doesn't have thermal throttle and it maintains boost clocks even at 95 degrees. It's a lot better than the glowing red inferno of a cpu that the TUF A 15 has while gaming.
Also Read : Best Gaming Laptops Under Rs 70000 in India
The gaming experience is mostly unaffected by the thermals but in case you want to use this laptop for many years and maximise its life span, here is something you can do to bring the temperature down.
Right click on the battery icon, goto power plan, change advanced power settings and set the max cpu processor state to 62 percent. This essentially disables the boosting behaviour and locks the cpu to 3 ghz. Since the performance is gpu limited instead of cpu limited, the reduction in CPU clock speed WILL NOT affect the in-game performance at all. In games like the Witcher 3 where the game is very heavily gpu limited, the performance will increase since the gpu has more thermal headroom due to the CPU not spitting out a lot of heat.
Alternatively, there is a community made software called the Renoir Mobile tuning utility that allows you to set the power limits as per your own liking. This is only for advanced users however and I don't recommend you use it unless you are aware of what the PL1 and PL2 limits are and how they affect the thermals and performance.
One major con with this device is that there are absolutely no performance modes or adjustable fan speeds. They just run as per HP's optimisation, which isn't bad but I prefer my laptop to be as loud as it wants when I'm gaming and I want it to be completely silent when I'm doing other light work like writing scripts or researching and web browsing. Hp's fan curve doesn't turn the fan off completely when there is almost no load on the cpu. It sets it to a low fan speed and that is still audible in a quiet room.
This really annoyed me, so I used an application called HWinfo. It had an option to set the fan speed to whatever specific value that I wanted. So I set it to turn the fans off when the cpu went below 70 degrees and run at max fan speed when the cpu went above 70 degrees.
Everything was fine and working well.
Then Hp rolled out a Bios update. After I updated, the HWinfo fan control stopped working. This made me so angry. All I can say is that they are intentionally crippling the HP pavilion so that people buy the more expensive Omens.
They offer no control over the performance of the laptop's processor or the fans and then block any way to use 3rd party software to control the fans.
Some people in reddit forums have suggested sideloading the HP Omen command centre software from the 2017 Omen models since those use the same cooling solution. But I think that is unsafe and I don't recommend you install unsupported software that might potentially damage the device.
Overall: Good performance but it could have been much better. The hardware is very powerful but Hp has crippled it with single channel ram, aggressive power limits and lack of software control to make it look bad in comparison to the HP Omen 2020 models.
Also Read :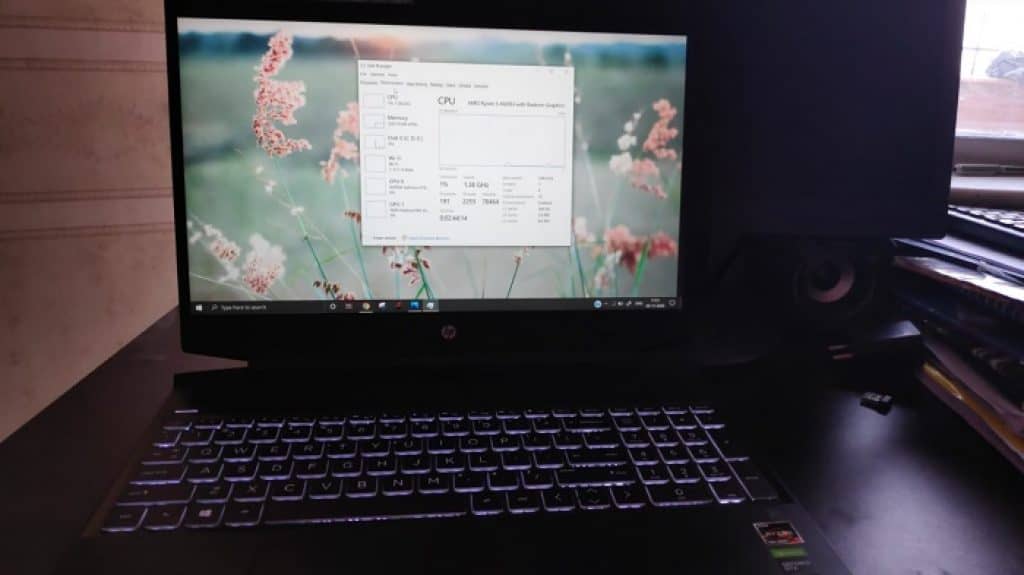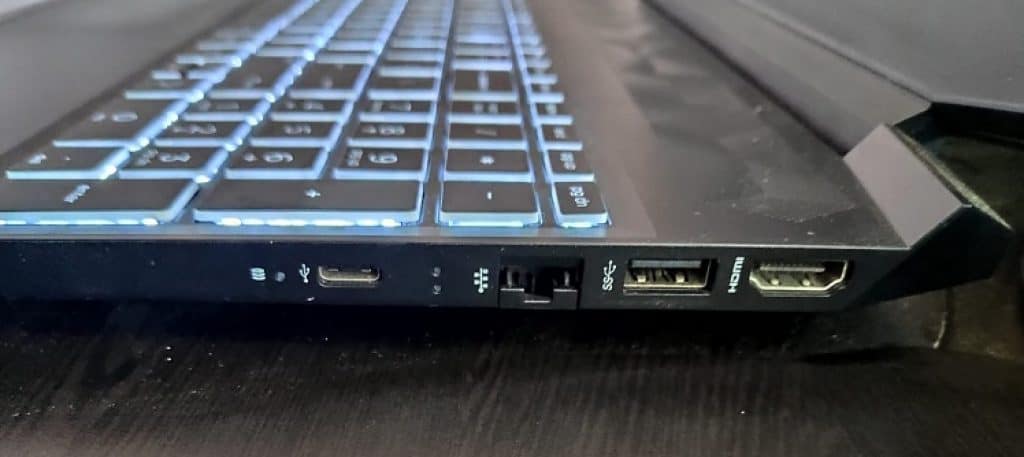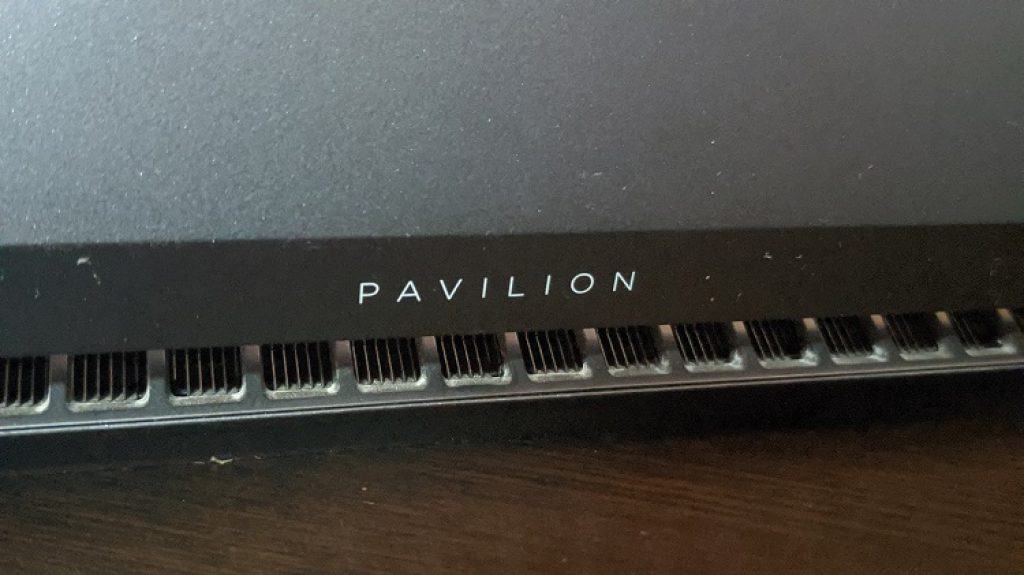 Display
It's your standard midrange gaming laptop display. It's IPS so it's got great viewing angles. It is 144hz so its smoother and is capable of taking advantage of the powerful hardware inside and it's got decent colour accuracy. HP doesn't officially state the colour gamut of the display but after a lot of digging around, I figured it's a 67 percent srgb BOE panel. It looks fine. It isn't too vibrant but it's decent. The black levels are bad but that's not a big deal since it's got 300 nit brightness, so the screen gets bright enough that the bad black levels get masked. It's obviously not suitable for a lot of colour critical work but if you are starting a Youtube channel or something then it will work just fine. It's a good gaming laptop screen and that's all there is to it.
The unit with me had very even backlighting but that might just be the bad black levels that makes the blacks look like greys that hide the backlight bleed. But well, if it works then it works.
There is not a lot to complain about in regards to the display. It offers the best of both worlds. Viewing angles and the colours for content creators and high refresh rate and decent response times for gamers. The display is a lot better compared to the TUF A 15 and the Dell G5 SE.
Battery life.
I expected it to be absolute trash, but it surprised me. Without any modifications it gave me 3 hours of web browsing run time and while playing dark souls 2 on battery with the vega 6 graphics (that is the integrated graphics not the Gtx 1650 dgpu) it lasted me for 1 hour and 15 ish minutes. That is incredible. The 52 whr battery combined with the 7nm AMD CPU results in insane battery life for a gaming laptop. I haven't used any other gaming laptop except the G14 or the Ga502du (both of them have 70 whr plus batteries) that have lasted me for more than 2 and a half hours on stock.
After I used the Renoir mobile tuning utility that I mentioned in the performance section, I disabled the "short term power max boosting" (short term power limit) and set the long-term power limit to 7 watts. That increased the battery life to about 4 and half hours but that makes windows sluggish.
Overall: battery life is great for a gaming laptop. But that isn't a high standard. Compared to the ultrabooks in its price range it falls short, the LG gram will give you twice the run time.
Pricing and availability
The Hard disk only version of this laptop is available for 60k inr in amazon sales. It is available for 67k or even 72k when the prices are really high. If you can find it for a good price, I would say buy it without much thought or else it will go out of stock really quickly. This laptop and its main competitor the TUF A15 both are plagued with very bad stock and availability. But if you can get your hands on them for a good price, you're golden.
There is also a ryzen 3550H version of this laptop that is very readily available on amazon. Don't be tempted by it, that's a bad laptop compared to the ryzen 4600H version. Wait for the ryzen 4000 to be in stock.
Conclusion
It offers excellent performance, good thermals (this is rare for Ryzen 4000 laptops), decent battery life and a good display (this is also rare for a Ryzen 4000 laptop). It is a great laptop for the price and a great laptop for everyone.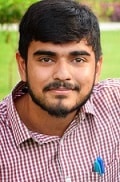 This Review is Written By – Aryan Tiwari
I'm a simple guy, interested in gadgets and stuff.

Rs.

66,500

Rs. 72,333
3 new from Rs. 66,500
in stock

Also Read :

Best i9 10th gen laptops in India

12 Best Ryzen 7 Laptops In India

Best Gaming Laptops Under Rs 50,000

Nvidia GTX 1660Ti Laptops in India