Here we have considered a budget of Rs. 5,000 for this gaming keyboard list. We see the inclusion of some well-known brands like Asus, Razer and Corsair.
If you want the tactile sound clicks which are very soothing to ears and awesome RGB light effects , then gaming keyboard is a must.
You might like it so much , that you will never switch back to a normal keyboard again.
This article is the 2nd installment in the "Best Gaming Keyboards Under" lineup. Our previous article provided the best gaming keyboards available under Rs, 2,000.
10 Best Gaming Keyboards Under Rs. 5,000
1. Zebronics Max Pro
It is a full size mechanical keyboard with premium built quality , blue keys ( Not cherry mx) and 18 modes of RGB LED back lightning.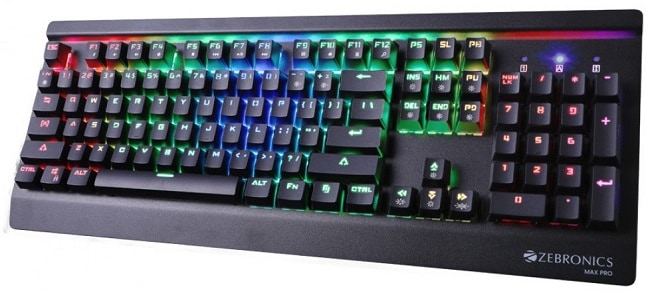 Using this gaming keyboard from Zebronics since past 2 years , working great and no problems at all. The keyboard is sturdy and keys are fun to click.
These keys can be easily taken out and inserted again without any effort. Heavy metal base with suspended and double injected keycaps. The switches are different from your cherry normal mx ones and have a good tactile feeling to them.
Braided usb cable , rubber grip at bottom and retractable stand for adjusting angle.
It has a key life of 50,000,000 keystrokes and supports Windows , Linux & Mac. The switches have a good tactile feeling , which I love.
This comes with 18 LED modes , 6 levels of brightness and 5 LED mode speeds. Plus the cable is thick and braided to avoid any wear tear.
Pros-
Metallic Build
Supports Mac
Cons-
Check Cheapest Price : Amazon
---
Also Read : 10 Best Laptop Under 60,000 in India
2. Redragon Varuna K559
The K559 is perhaps the most versatile keyboard of the list.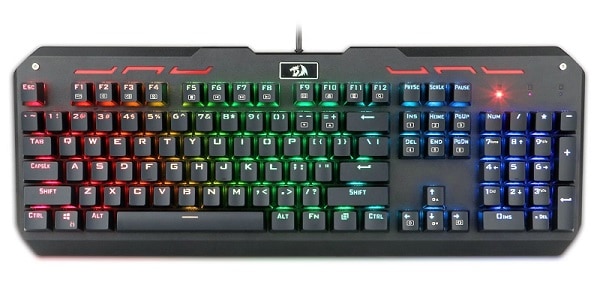 It has Cherry MX Green equivalent custom mechanical CIY (Change It Yourself) keys which can be plugged out and inserted in without soldering. It comes with 104 standard keys, full numeric keypad, 6 multimedia keys, 5 programmable macro keys with full Anti-Ghosting.
Also Read : 10 Best Gaming Headphones Under Rs. 5,000
It has 7 colour RGB LED backlight with 6 different lighting modes. It has double-shot injection molded keycaps for clear backlighting.
It has a splash proof design too. It has a key life of 50 Million Keystrokes.
Pros-
Longevity is very high.
Good customization options.
Metallic Build.
Cons-
No support for MacOS.
A bit costly for a not so famous brand.
Best Buy : Amazon
---
3. Gamdias Hermes E2
This is the most compact gaming keyboard of the list. It lacks the number pad which most gamers never actually use. This results in a 91 Key compact keyboard to fit in small setups.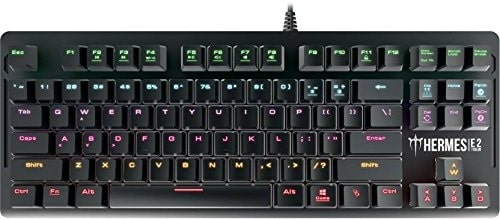 It has Full Anti-Ghosting and N-Key Rollover. It has Gamdias's custom mechanical switches with 7 Neon Colour LED Backlighting. Backlighting can be set per key.
Also Read : Best Gaming PC Build Under Rs. 2,00,000 in India
Pros-
It can fit in small places owing to its compact format.
100% Anti-Ghosting and N-Key Rollover help in games with lots of keys to be pressed at once,
Highly customisable LED Backlighting.
Cons-
Plastic build with a bit of flex.
A bit too light (800g) for a gaming keyboard which may result in unnecessary movement.
Best Buy : Amazon
---
4. Circle Ballistic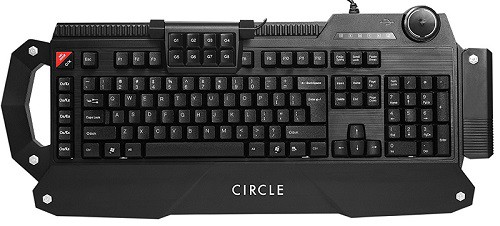 This is perhaps the weirdest looking board of the list. It is perhaps the best keyboard for the money.
It has regular 104 + 8 customizable + media control yBird mechanical key-switches. Some of the key serve dual purpose to with the help of the Dual Function key at the top left corner.
Also Read : 10 Best Gaming Headphones Under Rs 2000
It has an integrated Memory Card Reader, Volume Control Knob and a USB 2.0 port too.
The only problem is that it weighs almost 2.5 Kgs which makes it very less portable.
Though overall it is a high-functionality keyboard.
Pros-
Looks are very unique.
Dual Function Macro key is a good inclusion.
Volume Knob feels a good implementation.
Cons-
Way too big and heavy (2.4 Kg).
Only 8 Keys (WASD and arrow keys) are mechanical.
No LED Backlighting.
Card reader and USB Slot seem unnecessary inclusion in exchange for compactness.
Best Buy : Amazon
---
5. Corsair Gaming K55
A brand like Corsair needs no introduction. It one of the best when it comes to computer gaming accessories.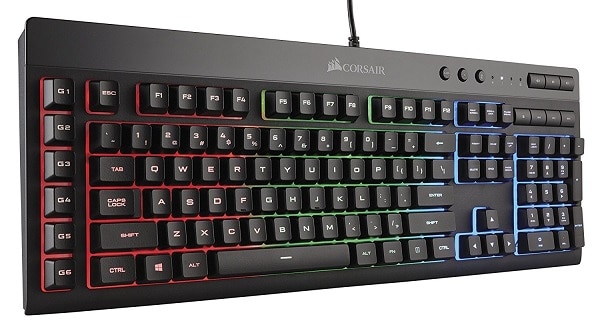 The K55 is a brilliant piece of hardware. It has 6 dedicated on-the-fly programmable macro keys. It has dedicated volume and media playback buttons. It comes with multi-key Anti-Ghosting.
Also Read : Best Budget PC built Under Rs 25,000
The K55 comes with a detachable soft rubber wrist rest to ensure additional comfort during marathon gaming sessions. It has programmable LED backlighting with full customization with software.
This is easily the product to pick without a second thought.
Pros-
Big name brand.
Excellent build and appearance.
Highly customizable.
Quiet and Responsive Keys
Cons-
Lacks 100% Anti-Ghosting.
Non-Mechanical keys.
Best Buy : Amazon
---
6. Zebronics MaxPlus
It has 7 LED patterns with the option to adjust 4 levels of brightness, speed of light strobes and direction of the strobes.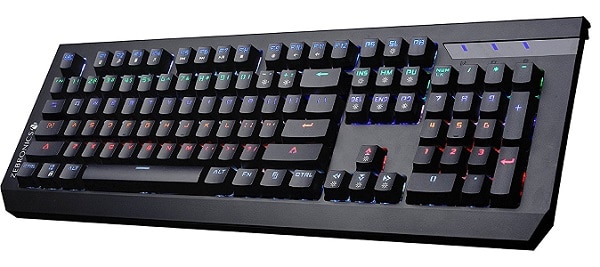 It has 104 Cherry MX Blue alike mechanical key-switches. The only other information available is that it has a 1.8 M cable. Reviews indicate lack of waterproofing.
Also Read : 10 Best Gamepads Under Rs. 10,000
Pros-
Cherry MX Blue alike keys feel good while typing.
Can customize LED to good extent.
Durable Keycaps.
Cons-
Lack of sufficient information.
Lack of waterproofing.
Best Buy : Amazon
---
7. Asus Cerberus MKII
Asus, also a well-known company, has come up with this super durable gaming keyboard that can handle even the most rough and tough gamers out there.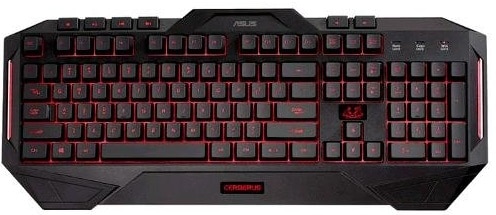 It is built from full SECC metal plate. It has a Splash-proof design with drain hole to protect itself against liquid spills.
Also Read : 10 Best Mechanical Gaming Keyboards Under Rs. 10,000
It has 12 macro keys for advanced game control. It has multi-colour key LED.
A good choice.
Pros-
Excellent robust build.
Splash proof.
12 Macro Keys.
Good customer service due to vast reach all over India.
Cons-
Not compatible with MacOS.
Best Buy : Amazon
---
8. Logitech Prodigy G213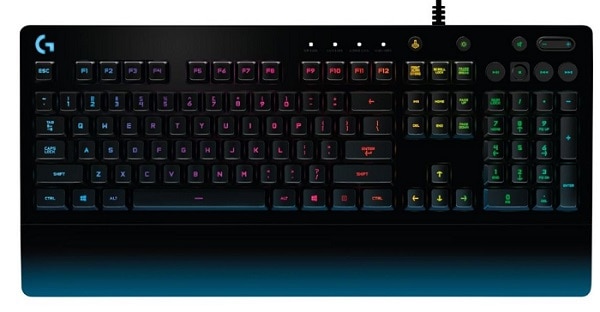 Perhaps the most widespread name in the computer accessories field is Logitech. It is known for its good products at a reasonable price.
Its brilliant color spectrum illumination lets you easily personalize up to 5 lighting zones from over 16.8 million colors.
Also Read : 10 Best Gaming Laptops Under Rs 70,000
With dedicated media control keys and 12 Macro keys, both customization and convenience are available here.
It too is spill and splash resistant.
Pros-
Lightweight, at just 1.09 Kg
Highly customisable.
Has dedicated software.
Cons-
Lacks on the fly macro recording.
Non-Mechanical.
Best Buy : Amazon
---
9. Razer Deathstalker Essential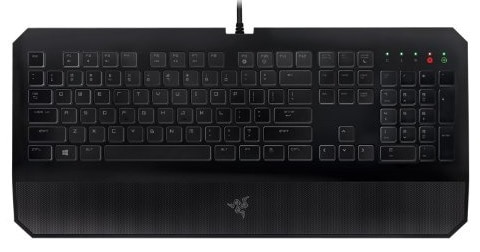 Perhaps you want a gaming keyboard but not the conventional flashy ones, but a simple and minimal one.
The Razer Deathstalker Essential is a super quite with fully programmable low-keycap chiclet keys.
Also Read : Best Gaming PC Assembled Under Rs. 80,000
It has "Extreme Anti-Ghosting" capabilities. It also has dedicated media keys, on-the-fly macro recording, Razer Synapse 2.0 enabled and dedicated Windows Key deactivation.
A good pick for those who like it quite and simple.
Pros-
Programmable and low noise chiclet keys.
Comes with dedicated software.
Extremely lightweight at just 990 grams.
Cons-
Plastic build.
NO LED Backlighting.
Best Buy : Amazon
---
10. Cosmic Byte CB-GK-03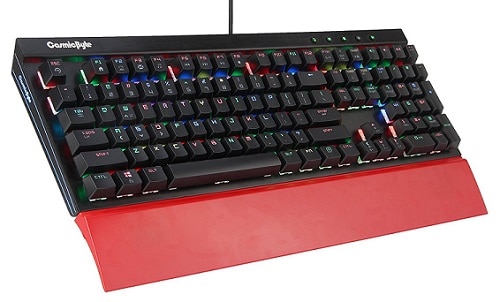 It has one of the most customizable RGB Backlighting with 13 backlight effects, 3 level brightness adjustment and 4 level of backlight speed adjustment.
It has Standard 104 and 8 Multimedia Cherry MX Blue equivalent JIXIAN Blue keys. This will give the "Oh So Satisfying" click sound that many users like.
Also Read : 10 Best Professional Gaming Mice Under Rs. 2000
It also comes with an attached wrist rest and braided cable for both comfort and ruggedness.
Pros-
It is also compatible with Android and iOS.
Plug-and-play keyboard, no drivers needed.
Many RGB Backlighting options.
Cons-
The blue switches cause fatigue after long typing sessions.

Lack of software (NOT DRIVERS) makes for a dull experience.
Best Buy : Amazon
---
11. Circle Adroit
The Circle Adroit has 7 colour RGB backlighting, 19 Key Anti-Ghosting, with the 104 standard keys and 6 multimedia keys.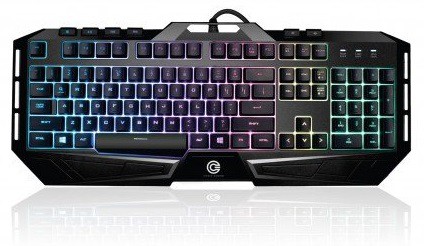 It has a waterproofing film to protect itself from small splashes. It has intelligent independent key lock and windows key lock too. It has a lifespan of 10 Million Keystrokes.
Pros-
Good build quality as per reviewers.
Keys feel nice to type on.
Cons-
The logo does not glow, leaving the RGB component feel a bit incomplete.
Doesn't work with MacOS.
Best Buy : Amazon
---
Here we conclude our second list of Best Gaming Keyboards under Rs. 5,000. There might be better and newer keyboards available out there, this list is compiled on our reviews only.
---
Also Read:
Best Gaming PC Assembled Under Rs. 80,000
Top 10 Best Professional Gaming Mice Under Rs. 2000