This is our number 1 pick from brand Symphony which is making coolers since 1988. While testing this air cooler at Shubz we found this model offering a silent operation with best cooling. This Sumo 115 XL models is quite easy to assemble yourself , it hardly took me 5 minutes in unpacking and getting it working. It was easy to put the wheels , as there are pre made sockets and the wheels just fit in with a light push. This cooler looks so big , but is still quite light weight. All in all it's a futuristic cooler , we have come far from using those iron coolers which used to be so heavy.
The color theme of Symphony Sumo as you can see is grey , which looks cleaner on surface as compared to the white color. The surface is glossy and gives a premium look. The plastic used is lightweight and sturdy , so you will experience issues with build quality in long term use.
Also Read : Best Air Coolers in India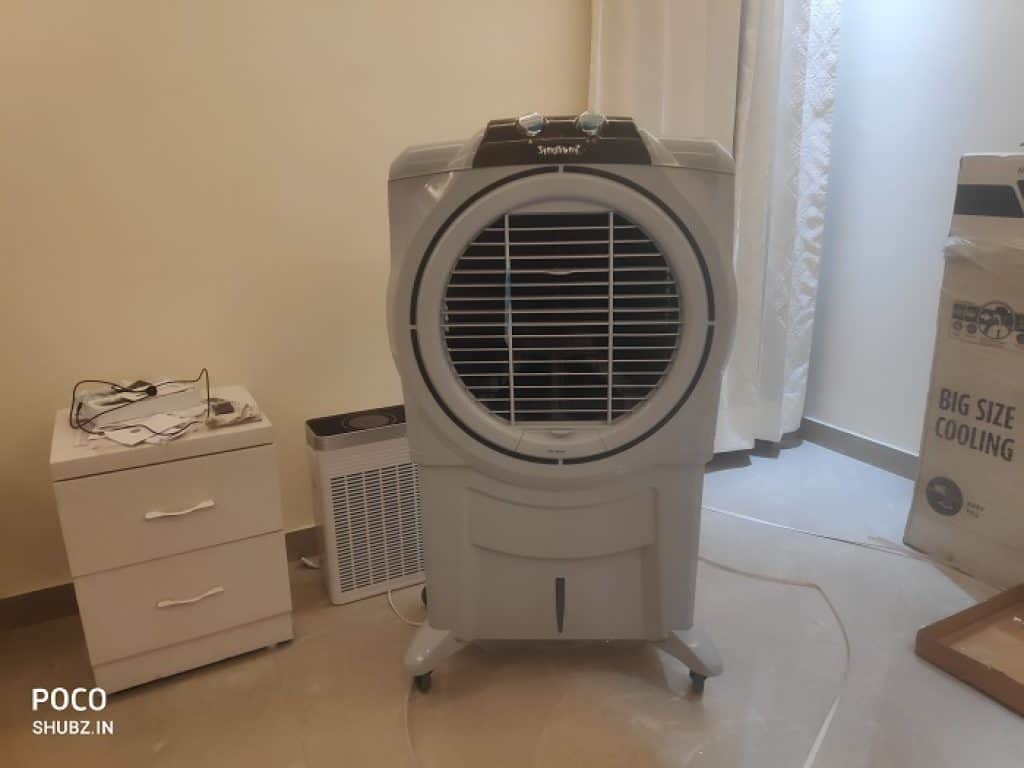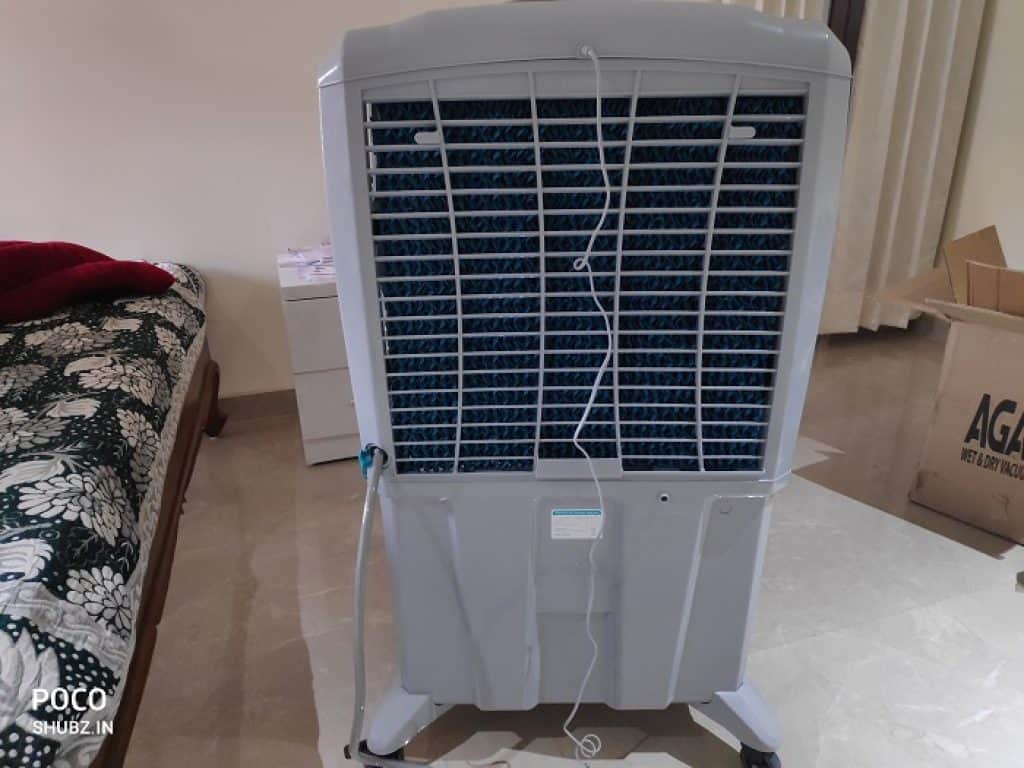 Capacity and Ice
115-litres water capacity ensures that water lasts long , there is also a 75-litres option available which is cheaper by Rs. 3000. It comes with 3 side honey comb for best cooling effect , usually normal coolers have honey comb on one side only. There is ice tray at front , where you can easily pour cold ice water.
Make note that ice tray is big enough unlike older air coolers , so there won't be any spillage while filling.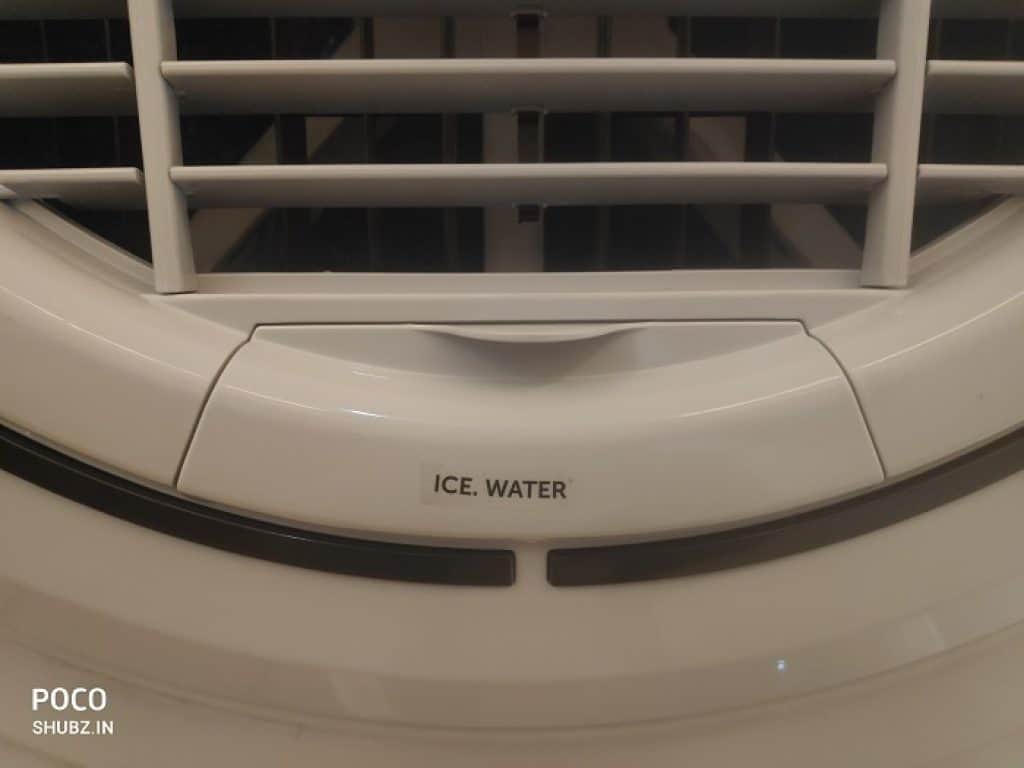 Water Filling
It comes with a pipe , which is connected at the water inlet and other end is connected to the water tap. While monitoring the water indicator at front , you can easily fill it up to the brim. But you do have to take it near a water tap , which is easy because it moves like butter on the smooth wheels.
There are 4 speed setting and auto swing. It is also equipped with i-pure console , which provides multistage air filtration.
Also Read : Best Air Coolers Under Rs. 6000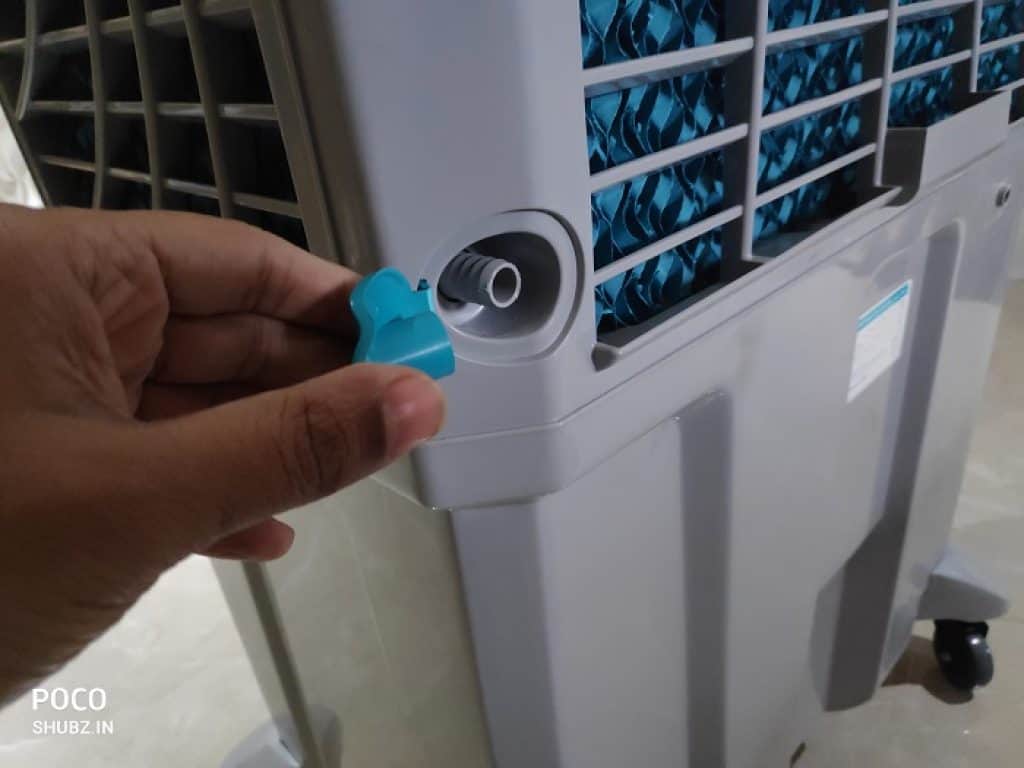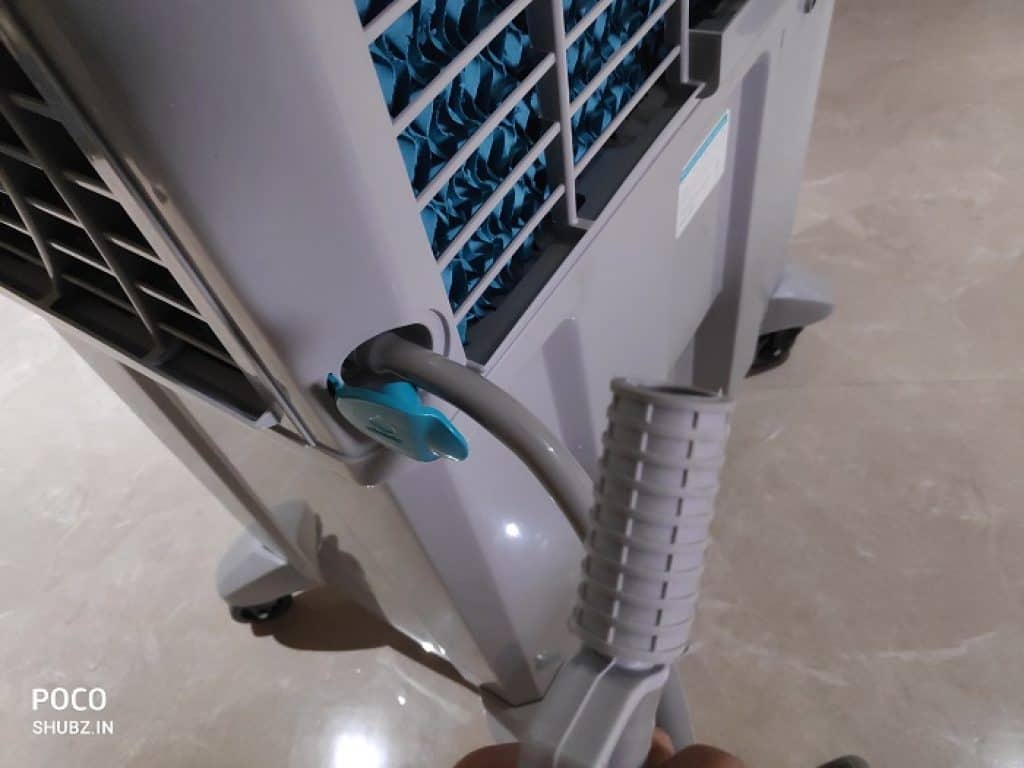 Connecting pipe to the inlet might require some force , as the fit needs to be tight enough to avoid leakage. One fitted I will leave the pipe as it is as it can be a hassle to connect everytime when filling it up. You can also use the regular pipe at home if right size , that will be more comfortable as the pipes at home are much longer and easy to connect.
There a small hole at bottom of air cooler , which can be used for draining water , kudos to Symphony for adding this feature and no more taking out water manually after summer season ends.
Ideal For How Much Area
It is ideal for large size living room (125 cubic meters) , bedroom and even for outdoor space. Keep the door , window of your room open for cross ventilation. If you are looking to buy an air cooler , it is the best option available picked and tested by Shubz staff.
Also Read : 10 Best Rated Split Air Conditioners
Knobs and Controls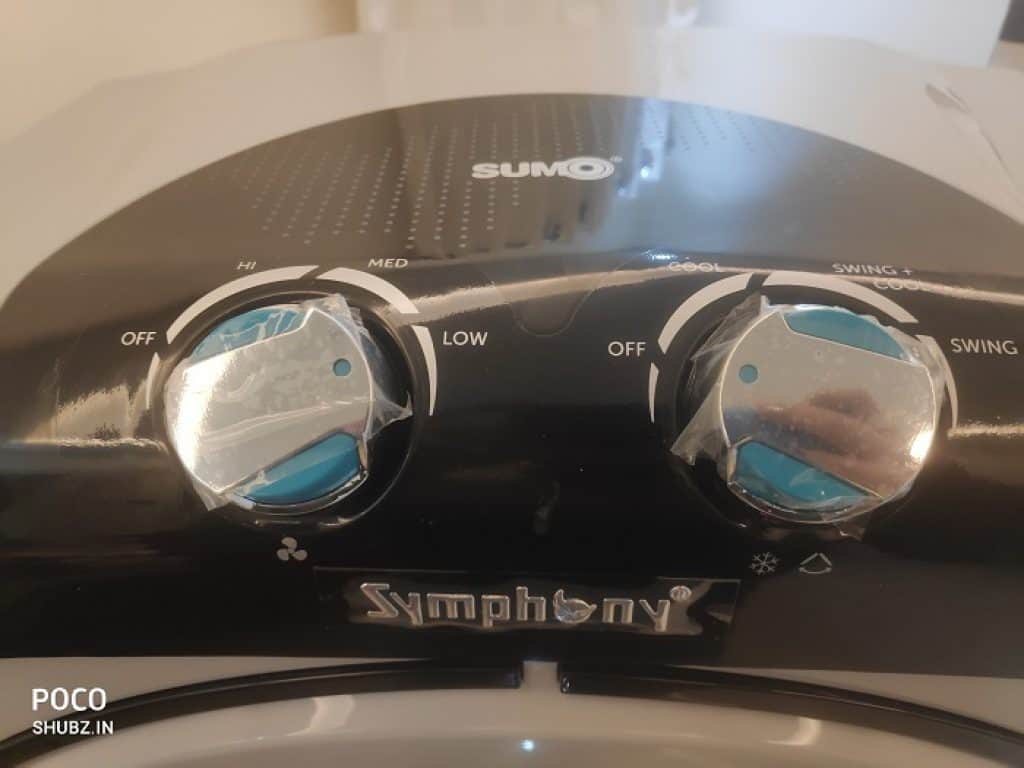 There are 2 knobs at the front top , for easy access. Sadly no remote with this model. On the left know there are four speed settings ( Hi , Med , Low and off ) , the high setting is really ideal if you need a burst of cool air after a tiring day.
Medium and low are good if you are studying or working and don't want too much noise.
On the right knob , you can use it to turn on/off water pump and auto swing option. The horizontal swing is automatic , the vertical swing has to be manually adjusted. Which is good.
Portability
This is one the things that really surprised me about this air cooler , as the cooler is so big but so easy to move. I found it even easier to move as compared to the 12 liter Symphony diet cooler. This is all possible due to the big wheels at base which are so easy to connect and get going.
Also Read: 1.5 Ton Window Air Conditioners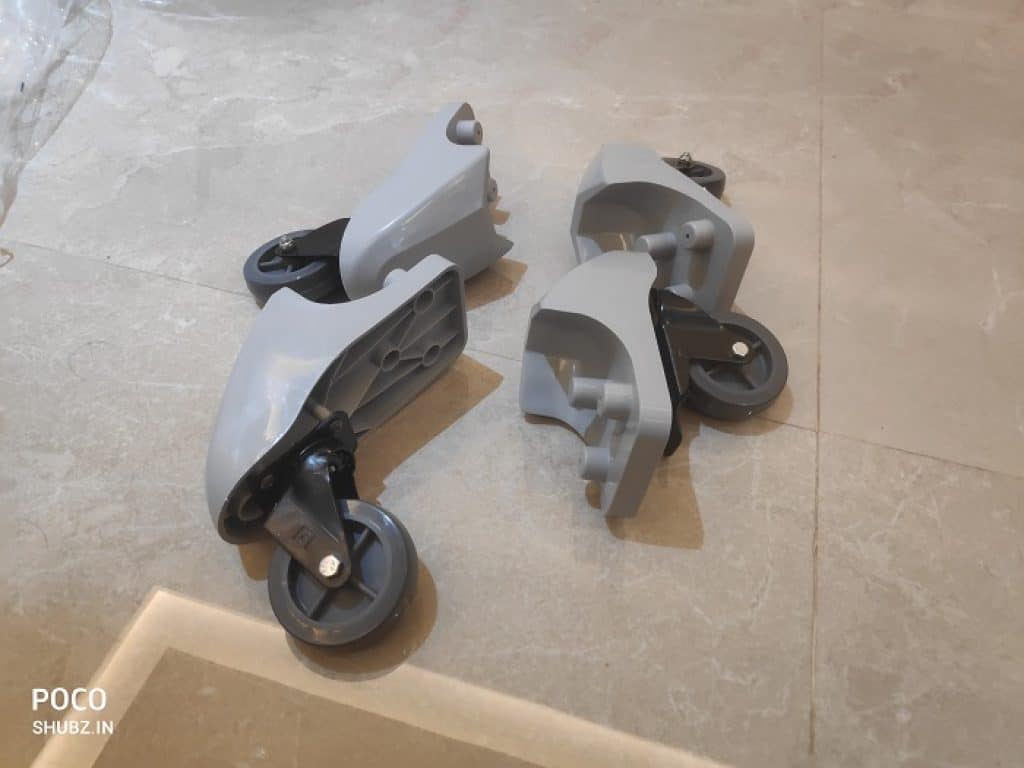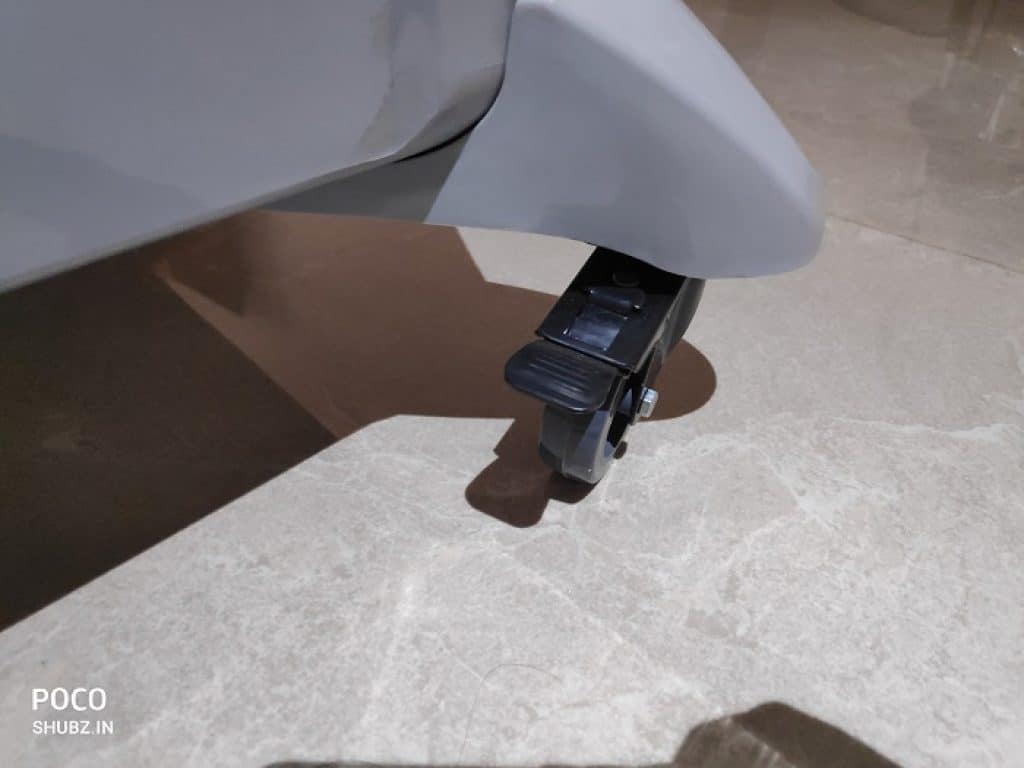 One more interesting thing is as the cooler is so lightweight , when you turn it on it starts sliding. I have faced this problem in many air coolers , but Symphony has found a solution for this. The 2 wheels one at back and one at front have a lock feature , the same kind that you see in baby stroller wheels nowadays. This lock can be easily pushed using your foot and lock the position of wheels which keep the cooler at one place.
What's Inside Symphony Sumo?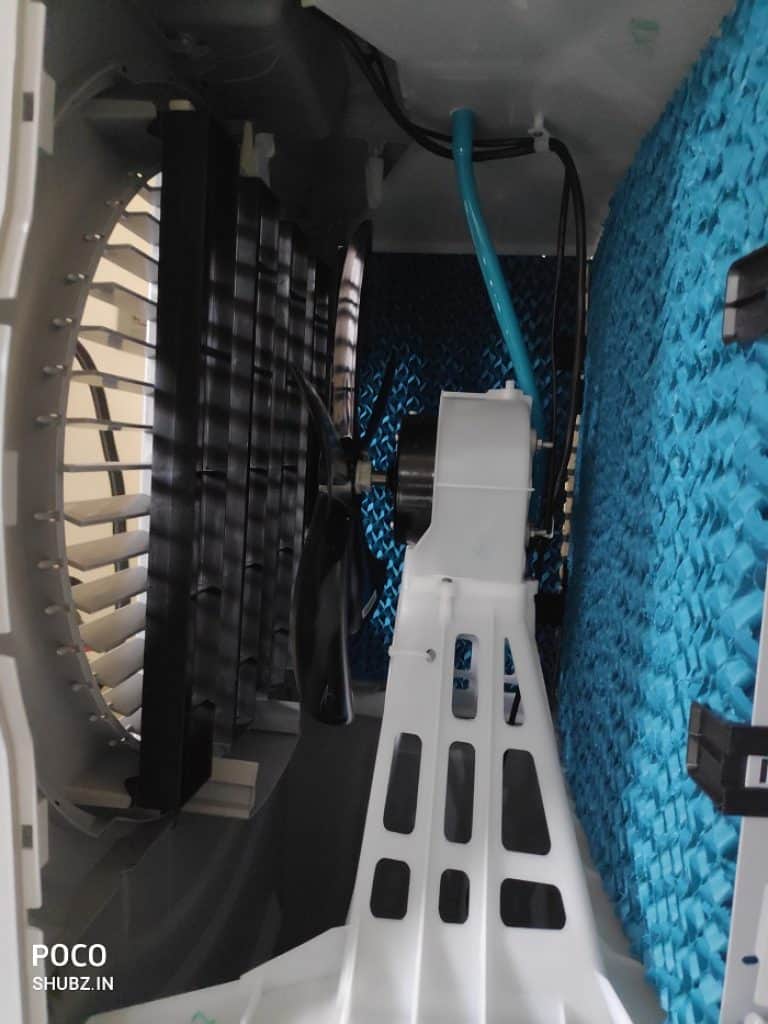 The inside setup is pretty simple the motor powering the big aerodynamically designed +air fan , which is capable of throwing air at long distance to cover your room entirely. At bas there is a pump connected to the pipes going to the cool flow dispenser at the ceiling of cooler. The honey comb pads as quite thick as compared to pads of other coolers.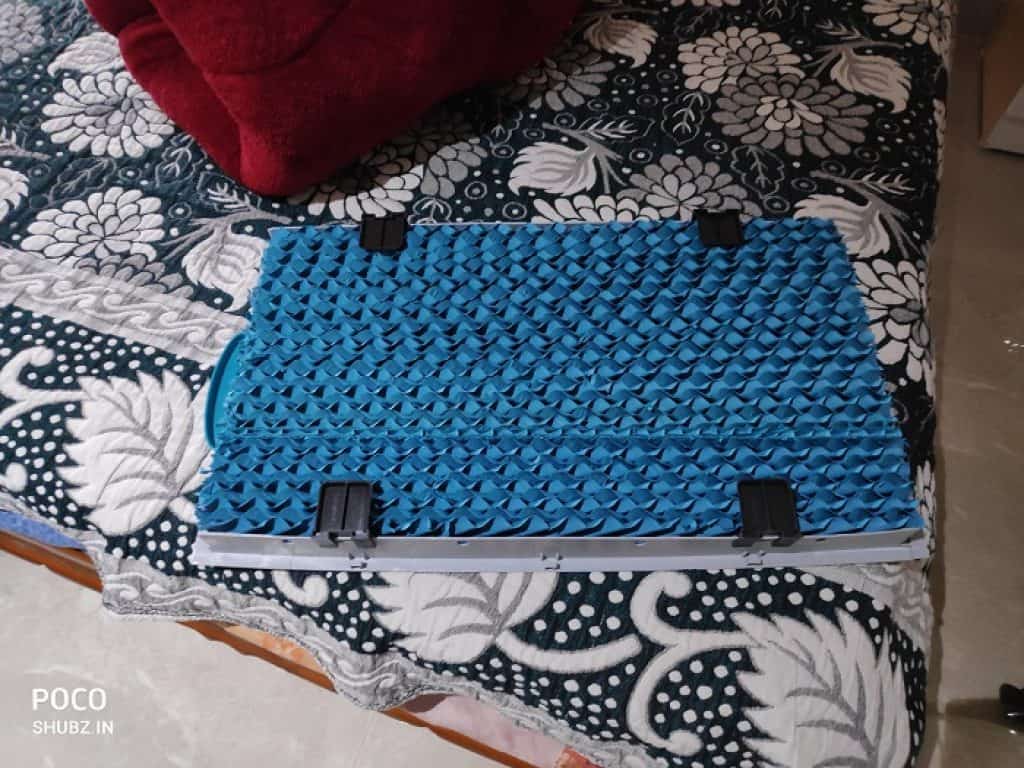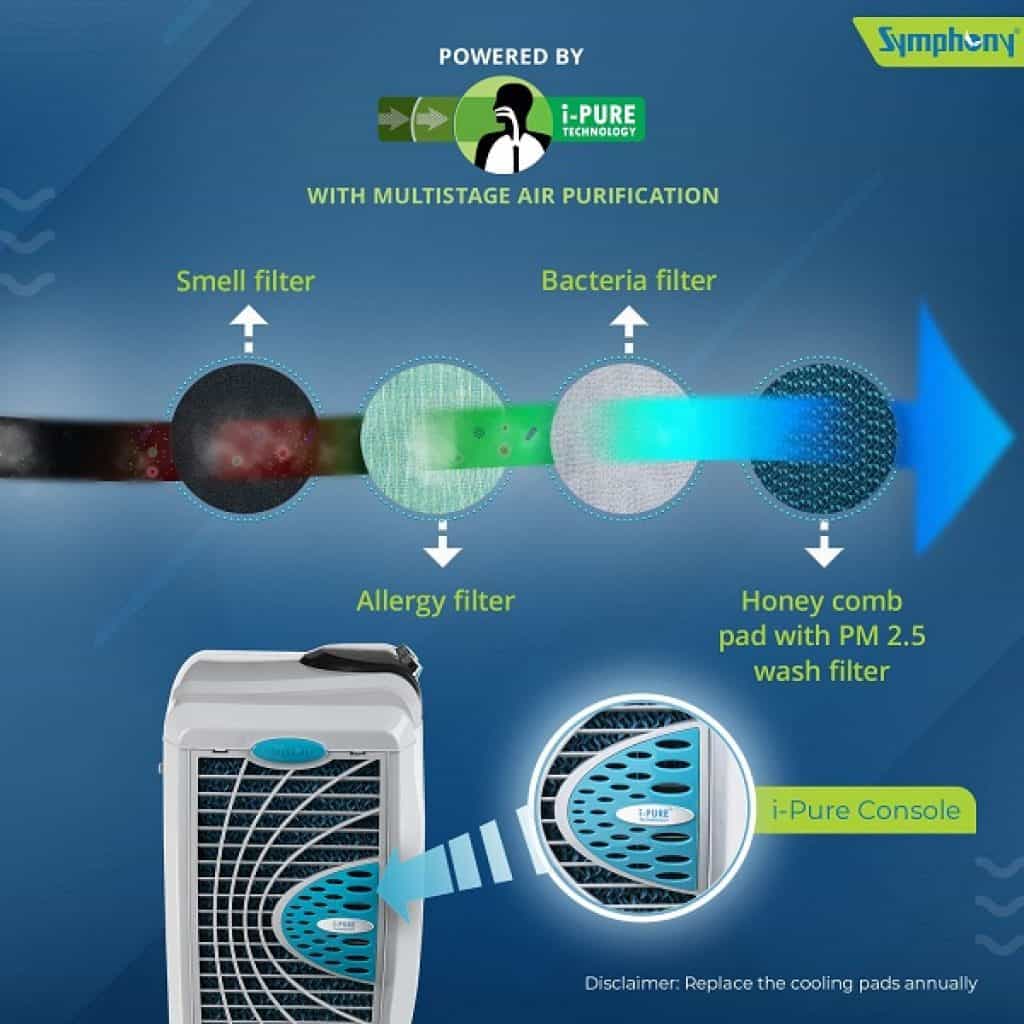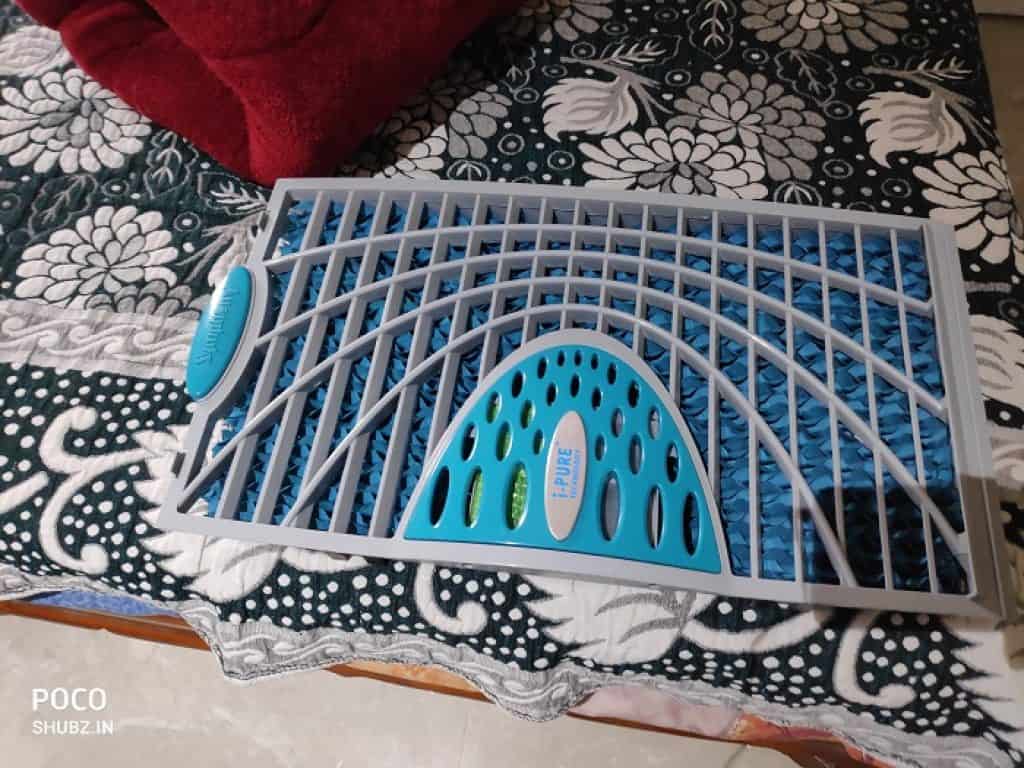 The thickness of these Honeycomb filters come from having layers of different types of filters like.
Smell Filter
Bacteria Filter
Allergy Filter
Honey Comb Pad with PM 2.5 wash filter.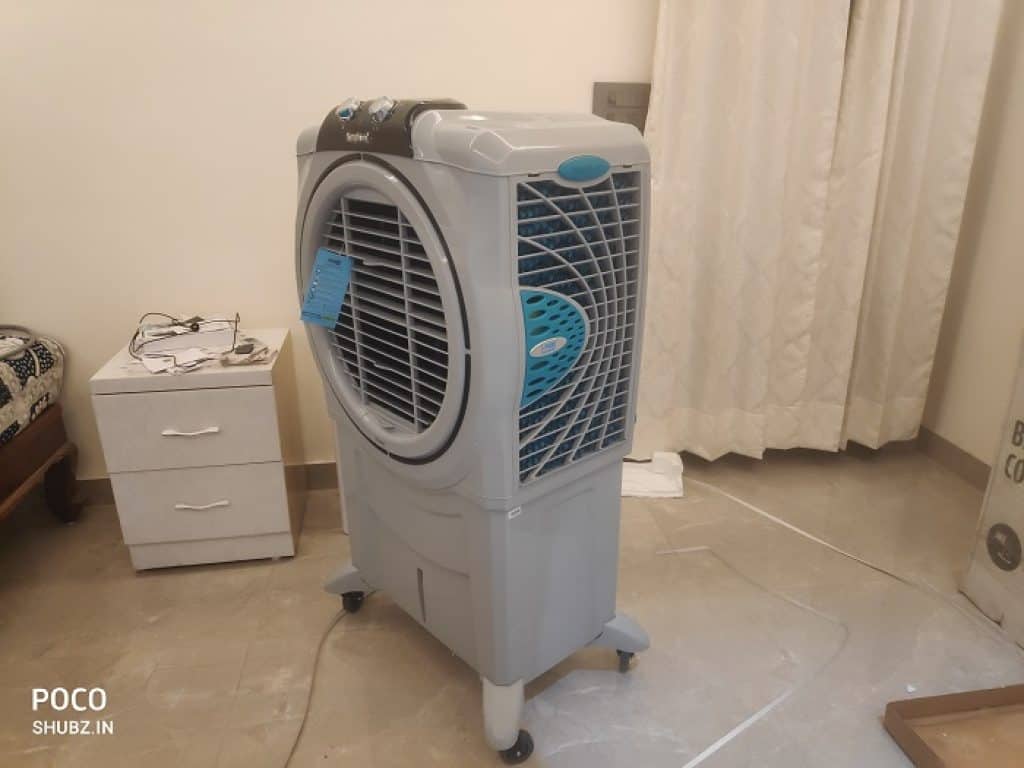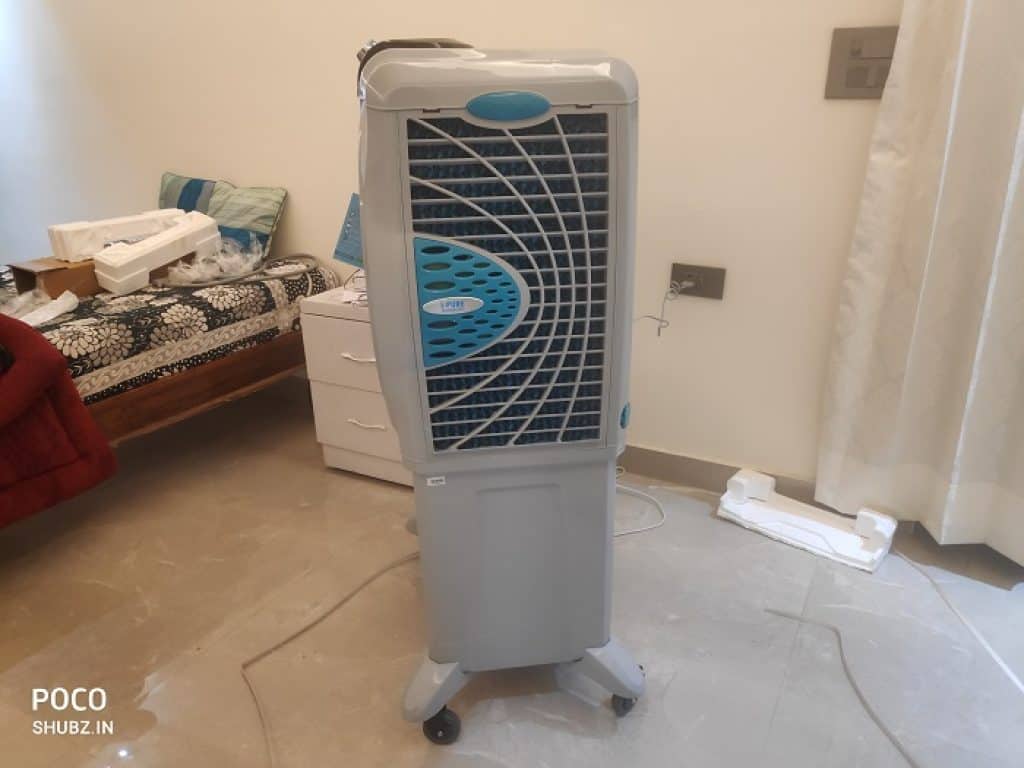 Final Word
We are totally impressed by this advanced air cooler by Symphony , which is so easy to move and delivers best performance. I want your summers to be a breeze of cool air where you are chilling in front of this air cooler happily having your summer snacks.
The sheer size of this cooler and the features of this machine makes it worth your money , you can opt for the smaller model but my choice will be the 115l model. I don't think other coolers can compete with this Sumo air cooler in terms of ease of use and efficiency. So highly recommended by Shubz!

Rs.

17,799

Rs. 18,999
5 new from Rs. 16,500
in stock

Also Read: