RAM is one of the most important part of PC , it enables you to access data fast so you can read it to your primary storage. If you have a PC with modern hardware, consisting of a powerful multicore processor like an AMD Ryzen 7 3700x or an Intel Core i7 9700K, it is crucial that you get the most of that hardware. For gaming you can't compromise with the performance and frame rates , so it's better to do research and find the best RAM for yourself according to your PC build and requirements.
Generally, the faster the RAM, the faster the processing speed.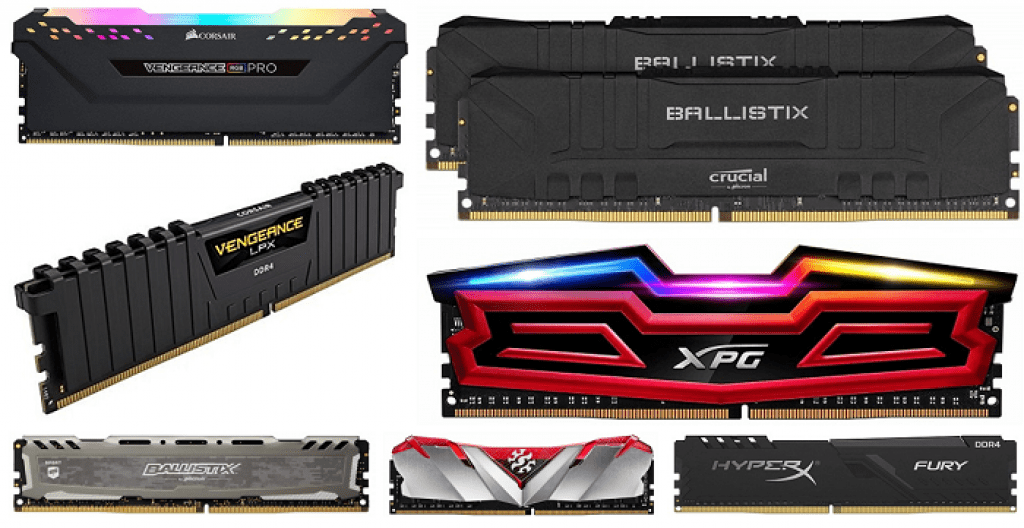 With faster RAM, you increase the speed at which memory transfers information to other components. Meaning, your fast processor now has an equally fast way of talking to the other components, making your computer much more efficient. Without wasting any more time let's start with our guide of choosing best RAM in India and other things you need to remember while buying a RAM.
Article Contents
How Much RAM You Need?
2-4 GB RAM : This amount of RAM is generally found in lower priced products and are made for users who do not need that much power. For casual users, the difference won't be that noticeable. But do bear in mind that multitasking will be very sluggish with such less memory. If you only need to use single applications at a time, then it won't be much of an issue
4-6 GB RAM: This standard RAM capacity will handle an average user's tasks, such as web browsing, working in Microsoft Word, and emailing, with much ease.
6-8 GB RAM: For most gamers, having 8GB of RAM is preferred. Even heavy multitaskers will greatly benefit from having 6 to 8 GB of RAM.
8-16 GB RAM: For hardcore gamers who want to play the latest releases in games and for the high end content creators, having more than 8GB of RAM is very necessary. From applications like Adobe Premier Pro, Photoshop, AutoDesk, AutoCAD, MATLAB etc, having more memory is a great advantage to a professional's workflow.
Also Read : 10 Best Gaming Chairs In India
---
Best RAM in India
1. Corsair Vengeance RGB Pro 16GB (1×16) DDR4 3600Mhz RAM

If you want the bling along with high performance, then the Corsair Vengeance RGB Pro is a great option. This RAM stick has a total of 16GB of memory and its type is DDR4. It has speeds of upto 3600Mhz, which is in the high end of RAM speeds. In terms of performance, you really don't have to worry about comprising anything with this in your setup. The highlight of this stick is the customisable RGB light strip on top of the RAM stick, which has multiple zones for individual lighting and has a total of 10 LEDs per module. You can configure the lighting effects with the Corsair iCUE software.
Also Read : ASUS TUF A15 VS ASUS ROG ZEPHYRUS G14
---
2. Corsair Vengeance LPX 16GB (1×16) DDR4 3600Mhz RAM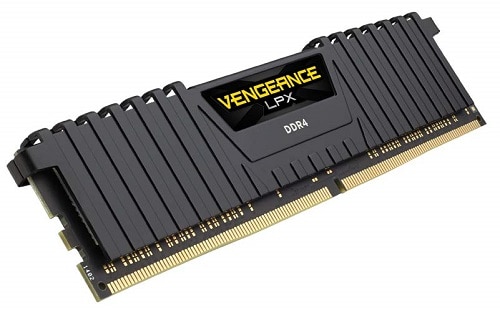 This Corsair Vengeance RAM stick is a special one for users who want high speed memory in their setups. Having 3600Mhz of RAM speed is no joke, it means that it will be able to handle most, if not all workloads you put it up against. It has 16GB of single channel memory, and exceptional build quality, having a black, low profile heat sink on top. And considering the price point, this is a really great deal. This RAM stick also has an RGB variant which we will list next.
Also Read : 10 Best Racing Game Wheels in India
---
3. G.Skill Trident Z 16GB (8*2) 3200Mhz CL16 RAM RGB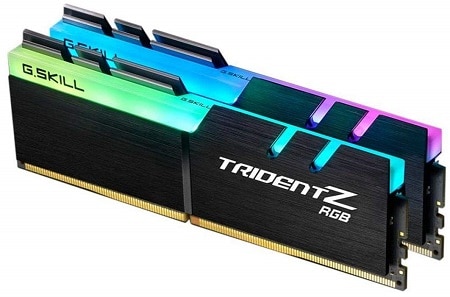 If price is not an issue and you want the absolute best performance as well as looks, the G.Skill Trident Z combo is one of the best RAM sticks you can find in the market. They are one of the highest selling RGB RAM sticks on the market and for good reason. The sticks have RGB on the top side, and they are very vibrant. The RGB here has multiple zones so you can have wave effects and multi color effects too. The colors can be completely customized and adjusted to your taste.
AS for the performance, the sticks have very fast frequency, coming in at 3200Mhz, so it will handle almost all heavy tasks effortlessly. And most importantly, in dual channel mode, the performance will really be fantastic.
---
4. ADATA XPG Gammix D30 16GB DDR4 (1×16) 3000Mhz RAM

This XPG Gammix RAM stick is one of the cheapest 3000Mhz single channel RAM stick you can find in the market today. If you have a mini-ITX motherboard with only one or two slots for RAM, then getting a single channel RAM stick is preferred. You get 16GB of memory and it has 3000Mhz speed. For designing, 3D modeling, video editing and music production, having such high memory really helps out in reducing render times and overall smoothness in using the dedicated softwares. For enthusiasts, pairing two of these in dual channel mode will surely make it an exceptional setup.
Also Read : 10 Best Earphones Under Rs 1000
---
5. G.Skill Ripjaws V 3200Mhz 8GB RAM CL16

The Ripjaws V by G.Skill is a very reasonably priced offering which does not cut corners in terms of performance. The design and build is very simplistic, with an all black design. The best thing about this RAM stick is that it only costs ₹3000, and for this price you get 3200Mhz frequency which is a really great deal. If you want good performance on a budget, then this will be a good choice. Expect great performance for tasks like video editing, music production etc, since the high frequency will really help in reducing frame skips hiccups in performance.
---
6. Corsair 16 GB Vengeance LPX DDR4 3000MHz C16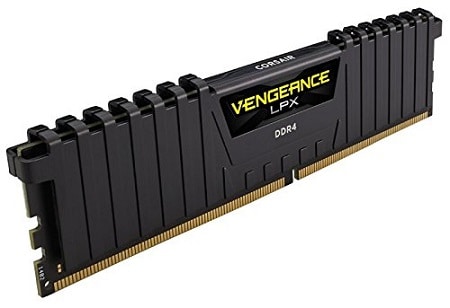 For users who prefer higher memory but can compromise on RAM speeds, this Corsair RAM stick is a good option. For over a ₹1000 decrease in price, you get almost the same features that you get from the Corsair sticks mentioned above, except for the higher RAM speeds. This stick has speeds upto 3000Mhz, which is less than the 3600Mhz that the higher priced variants have. But if you think your workloads won't really benefit from the extra speeds, then this is a great way to save some money without having to break the bank.
Also Read : Best Internal SSD for Laptop/PC in India
---
7. Ballistix DDR4 2666Mhz 16 (8×2) GB CL16 RAM

This combo is one of the most bang for your buck deals you can find in the market right now. The Ballistix RAM sticks are truly amazing if you want decent performance and more memory for the least amount of money. Sure, the speed is 2666Mhz, which is lower than the 3000Mhz or 3200Mhz sticks out there, which is one of the reasons why these are lower priced. But you do get 16GB of total memory, which is a lot considering the price. The sticks themselves are very basic in design with completely blacked out coverings.
Also Read : Budget PC built Under Rs 25,000
---
8. XPG Spectrix D40 8GB 2400Mhz DDR4 RAM

If you want RGB in your setup but think the Corsair sticks are a little too bland for your setup, then the XPG Spectrix line up of RAM sticks is a good alternative. The stick has 8GB of memory and 2400Mhz speeds. Admittedly, it has slower speeds than what you would find in most other sticks at this price point, but if you prefer looks and do not mind a slight decrease in performance, then this stick is a great buy. In terms of aesthetics, this is a very unique stick of RAM. The heat sink is a bright red with very distinct lines and edges on it. On the top of the stick, you have an RGB light strip , which you can completely customise according to your liking and your overall setup.
Also Read : Gaming PC Assembled Under Rs. 50,000
---
9. Corsair Vengeance LPX 8GB DDR4 3200MHz RAM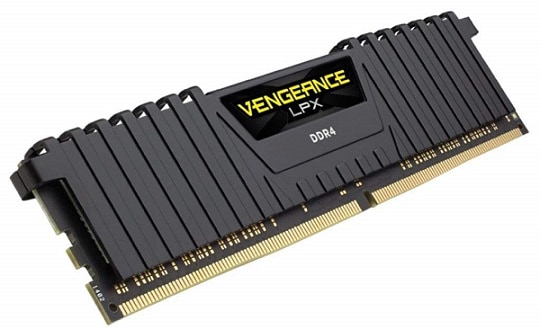 Out of most brands featured in this article, Corsair is one of the best and highest selling RAM manufacturers in the market. The Vengeance series of RAM sticks are well known for their reliable speeds and high performance. The sticks have a no frills design and are built very well. You get 8GB of total memory and the RAM speed is 3200Mhz. AS usual, this also supports Intel XMP 2.0. This stick is generally used in dual channels for optimum performance, so if you buy two and them and set them up in your system, you can easily expect great performance gains and smooth working on your workloads.
---
10. Ballistix Sport LT 8GB 3200MHz DDR4 RAM

The Ballistix Sport RAM stick is another great product from Ballistix if you want faster memory speeds. This stick is 3200Mhz, which means it's good for high performance workloads. The RAM stick is also compatible with Intel XMP 2.0, which means it will perform up to its full potential. The build is also very good and has a beige covering and heat sink.
Also Read : 10 Best Gaming Headphones Under Rs. 5,000
---
11. XPG ADATA Gammix D30 8GB 3000Mhz DDR4 RAM

The Gammix line of products is the gaming oriented offspring of ADATA, and the products under this lineup are very good performers. They are generally better prived too. This RAM stick is DDR4 and has 3000Mhz speeds, which is very similar to the HyperX mentioned above, but the price on this stick is cheaper, and hence a better deal if you are looking to save money without having to compromise on performance. The red accents on the stick provide a very gamery look to it, and if you are going for a red and black build for your PC cabinet, this would be a good choice.
Also Read : 10 Best Gaming Laptops Under Rs 50,000
---
12. HyperX Fury 8GB 3200Mhz DDR4 CL16 HX432C16FB3/8

HyperX is a very well renowned company that is known for its great peripherals and build quality. This Fury RAM stick has 8GB of memory and its speed is 3200Mhz, which is on the higher end of the spectrum in terms of RAM speeds. If you have a 6 or 8 core CPU then pairing it with two sticks of this variant will lead to a very powerful setup. It does not have any RGB but has a very industrial and sleek look. It is also compatible with Intel XMP, which means you can expect the RAM to perform at its peak speeds without any hiccups.
Also Read : Best Graphics Cards In India
---
13. ADATA 4GB DDR4 2666MHz RAM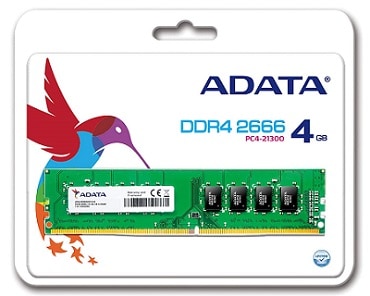 If you are looking for a cheap, no frills upgrade to your PC this RAM stick is a good choice. For only ₹1,499, you get a DDR4 stick with 2666Mhz speeds. It's a decent upgrade, and especially if you already have a 4GB stick already installed. Configuring the pair in dual channel will greatly improve your computer's performance and make multitasking a whole lot easier. And at such a low price, there isn't much to complain about.
---
What RAM interface should you use?
Another thing to keep in mind is the RAM interface. Currently most modern RAM sticks should be of the type DDR4, which is the latest variant. If your motherboard supports DDR4 type of RAM, then be sure to utilise it, as it will ensure better performance and greater speeds. But if your motherboard only supports DDR3 or DDR2, then getting a DDR4 RAM stick will be useless as it is simply incompatible with older motherboards. Be sure to check your motherboard.
Also Read : Best Gaming Desks Tables In India
---
What is CAS Latency?
One other thing to check when you are buying RAM is the Column Address Strobe latency. Without getting too deep into what it means and how it works, just keep in mind that RAM having lower CAS latency will generally perform faster and much better compared to ones without higher CAS latency. How can you check what the latency of your RAM stick is? Simply see the product description and you will find that It has CL16, CL15,CL19 or something equivalent written on it. The lower the number, the better it is. But do keep in mind that lower latency RAM costs more. Sometimes the price difference between a low latency RAM and a higher one will be more than ₹6000, which is the price of a RAM stick itself.
Also Read : 7 Best Flight Game Controllers in India
---
What is RAM Speed?
The speed of the RAM is also a huge factor when you are considering buying a new stick of RAM. The speed is represented by the frequency of the RAM. It is shown in Mhz(Megahertz). The higher the frequency, the faster the RAM will be in terms of processing workloads and overall smoothness of the system. Now, you can find RAM speeds from 2000Mhz all the way to 3600Mhz. What you have to know is which one do you need in your system. If you are a casual user who is not worried about things like render times and frame rates and just want to use your computer for Word documents and emails, buying a lower frequency RAM will be a reasonable choice, since you are not losing a lot in performance given your workflow. For casual gamers, having speeds upwards of 3000Mhz is recommended, as it will ensure there are no hiccups in frame rates when you are playing a game.
For users who have workloads that require a lot of processing power, such as 3D modelling, video editing, audio production, architectural modeling and AI training, having the highest available RAM speeds is recommended. We suggest more than 3200Mhz for heavy users and you can go even higher than that to 3600Mhz.
Also Read : Gaming Monitors Under Rs 20,000 in India
---
Single Channel or Dual channel?
Choosing between single or dual channel RAM is mostly based on your workload and also your other hardware. If you have a processor that is rather low powered, such as an Intel Core i3, using dual channel RAM won't really improve your performance by a whole lot. And if you are not a content creator and do not use applications that can properly utilise dual channel memory, a single channel RAM stick is the best choice.
For higher end setups such as processors with greater core count and more threads, using RAM in multiple channels will greatly improve performance. For processors like the AMD Ryzen 7 3700x or even the Ryzen 5 3600, using dual channel RAM is proven to seriously improve performance both in gaming as well as productivity workloads.
In this article,we have listed some of the best RAM sticks you can buy in the market today, consisting of various different companies at all price points. Of Course you can find RAM sticks that are very plain looking and do their job perfectly, but for the people who like RGB setups and lighting configuration, we have included a few of them here too.
---
Conclusion
So, in conclusion, if you are in the market for RAM, pick the memory size and speed according to your requirements. There are plenty of great options, both simple and RGB RAMs that are available in the stores. Just make sure you are buying RAM that is compatible with your own motherboard and if you are adding RAM to your old PC, check whether the newer RAM is the same type as your old one,as it may not perform up to its full potential if it isn't.
Also Read :
10 Best Earphones Under Rs 1000