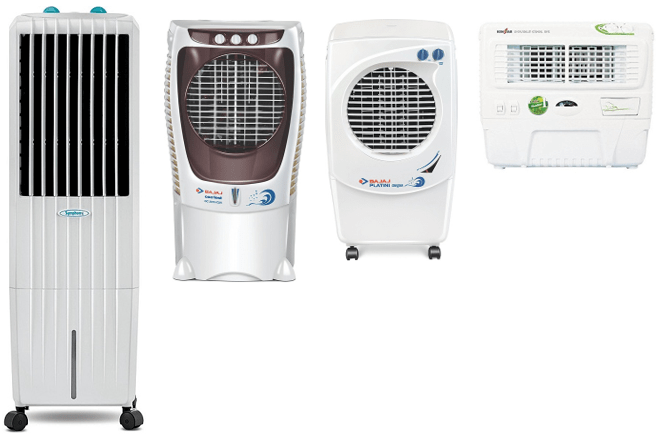 With the advent of summer, everyone seems to be in a rush to get themselves a new appliance to save them from the scorching sun.
Air conditioner is not an option for many and they would still prefer to have an air cooler for its cost saving benefits both in terms of initial cost and power consumption.
To help you make the right choice, here are the top 10 air coolers under ₹10,000 that you can invest in this summer.
Important Things To Keep in Mind While Buying an Air Cooler online
1) I will recommend buying brands like Symphony , Bajaj , Crompton , Hindware to buy from Amazon & Flipkart to buy genuine and avoid fake products from other websites. I have bought Symphony air cooler myself for my personal use and I am quite satisfied.
2) If your buying a small one (personal cooler , room cooler)  then it's for personal use ( for 2 people at most) don't expect it to cool the whole room. But is only good enough for you sleeping and working when placed at 3-4 feet distance.
3) The cooler will need a source of fresh airflow like a window or your room entrance or near balcony. Placing it in a closed room will make room hot and humid. If you don't have open air flow source then turn off the water pump if room feels humid.
# Updated 9 May 2019
Top 10 Best Air Coolers Under Rs. 10,000
---
 1
 Symphony Hicool Air Cooler
(One of the best room coolers)
🌟🌟🌟🌟🌟

1) If your room is a bit bigger and you need an air cooler adequate for that size, Symphony has a solution for that too.
2) The company has designed the cooler to keep your room's temperature down even when the heat outside is touching 42 degrees.
3) This air cooler is ideal for a room size of 175 sq. feet.
4) With all the basic features that any air cooler has, this product from Symphony is smarter than all.
5) The company has included a remote controller that lets you use all the functionalities without having to reach the cooler.
6) Also, there is an alarm that tells you when the water tank gets empty.
Usually Delivered in 7 - 8 days.
No Cost EMI on Bajaj Finserv EMI Card
5% Off* on EMIs with ICICI Bank Cards
Extra 5% off* with Axis Bank Buzz Credit Card
Rs.

8,899

Rs. 10,499
in stock

Rs.

9,900

Rs. 10,499
13 new from Rs. 8,588
in stock

---
 2
 Symphony Diet 12T 
🌟🌟🌟🌟🌟
(Best personal air cooler , lightweight , auto swing , I bought this one for myself ) 

1) Pioneer in its space, Symphony has created a big name when it comes to diet air coolers that provide a comfortable room temperature without taking much floor space.
2) This little 12-litre air cooler can sit in any corner of the room and it would complement the look of your room without being a speckle.
3) Besides its adequate water tank, the cooler has auto swing option also to cool both left and right of your body while your lying on bed.
4) It consumes just 170 watts of power while being capable of cooling a 100 sq. feet room effectively.
5) Good air flow till 3 feet. Put it near your head while sleeping and near your chair while working. Does a decent job.
6) Very lightweight , even a 5 year old kid can move it easily (more light without water). While writing this article I am enjoying it's cool breeze , placed near me.
Buy Now From : Amazon| Flipkart
---
 3
Crompton Greaves Ozone
(One of the best desert air coolers)
🌟🌟🌟🌟🌟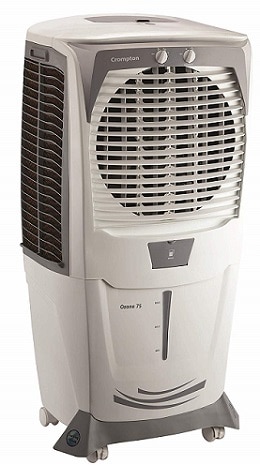 1) One of the best coolers if your looking for a stronger cooling effect for larger rooms.
2) Quite durable and doesn't occupy much space in your room.
3) Emits only a mild humming sound at level 1 and 2 , which is comfortable enough for sleeping. The sound at level 3 is noisy though.
4) Possibly place the cooler outside your room and let the cool air come via window , to keep humidity levels in check.
5) The cooler has fiber body which makes it light and portable , while less robust at same time. If you want more robust body then look for metal body coolers.
Check Price : Amazon | Flipkart
---
Also Read:
---
 4

 Hindware SNOWCREST 85-H Desert Air Cooler

(One of the best desert air coolers)
🌟🌟🌟🌟🌟

1) If you want best built quality with awesome cooling then this is the cooler you go for.
2) The airflow speed is quite high , you will mostly operate it at medium and have a good night  happy sleep.
3) It consists of a 5 blade fan and an ice compartment on top.
4) Air cooler size is a little big compared to other small coolers , recommended for hotter places.
5) Easy to clamp wheels , so no issues with portability.
6) All in all it's robust powerful machine at a 10k budget , certainly your battle machine for these summers.
Check Price : Flipkart
---
 4
 Bajaj Coolest Frio Air Cooler
( Good choice for personal air coolers )
🌟🌟🌟🌟🌟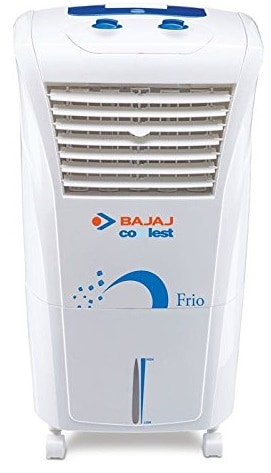 1) Bajaj is back with its large air cooler and this one would be a great addition to your house this summer.
2) First off, the design of the cooler is nothing like any other cooler and this one will be the star of the room with its oval design.
3) A large water tank of 23 litres is quite enough for a night.
4) Even the fan of the cooler is powerful enough to cool the room down in no time.
5) One feature that everyone will love is its ability to work even on an inverter.
6) That means you will now be able to have a comfortable sleep even when there is a power cut.
Buy Now From : Amazon| Flipkart
---
 6

 Kenstar Cyclone-12 
1) Kenstar has a long history of making air coolers and their modern looking products have always been the first choice of many Indians.
2) Be it the days when the sun is shining bright with mercury at its highest or those humid sticky days, this air cooler from Kenstar will make sure that you stay comfortable.
3) As per the specifications, the cooler is capable of cooling an area of 75 square metres, which is significantly large to cover your room.
4) Moreover, the cooler can throw air up to a distance of feet and can swing in 4 directions.
5) The built-in ice tray and a large water tank keep your room cool.
Check Latest Price : Amazon
---
 7
 Bajaj Platini PX97 Air Cooler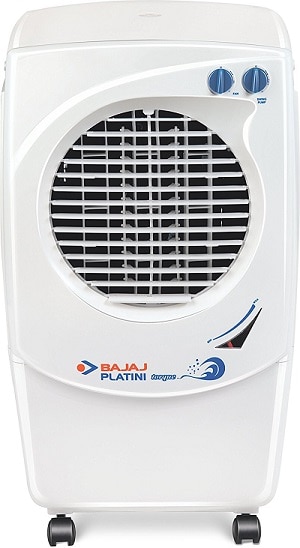 1) The Baja Platini PX97 is a more conventional approach to the air cooler segment which is getting an increased number of new designs.
2) This cooler is perfect for those looking for a cost-effective solution to cool their larger rooms.
3) Unlike the Symphony one above, this cooler from Bajaj is available for Amazon and takes care of an area of 150 sq. feet.
4) Bajaj has ensured that you have a good night's sleep as the fan of the air cooler is of low-noise variety.
5) The front cooler grills can deflect cool air in four directions and its 36-litre tank provides the water supply for several hours.
Buy Now From : Amazon | Flipkart
---
 8
 Kenstar Tower Air Cooler with remote Controller

1) The company has solutions for the diverse needs of all the users and this tower air cooler is a great example for that.
2) Tower coolers have the advantage of using lesser floor space without compromising the cooling aspect.
3) With a power consumption of just 100W, the air cooler can throw air up to 24 feet.
4) Kenstar has given three fan speed that can be changed according to the temperature outside.
5) Like any other air cooler, this one too requires cross ventilation for providing effective cooling.
6) The remote controller adds to the ease by letting you change the cooler settings right from where you're sitting comfortably.
Buy Now From : Amazon
---
 9
 Maharaja Whiteline Atlanto+ CO-110 Air Cooler
🌟🌟🌟🌟🌟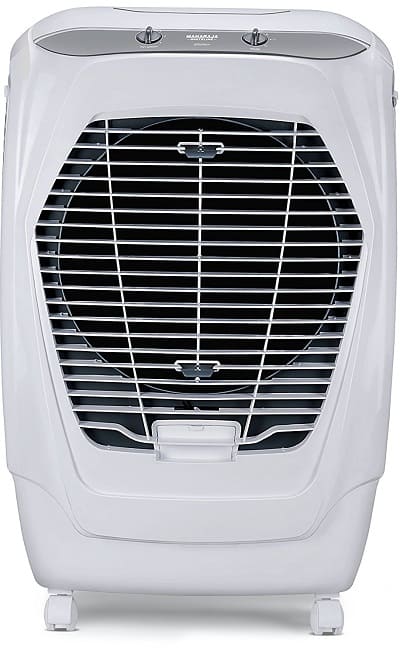 See More Pics
1) This Maharaja Whiteline comes loaded with features that keep you cool even in the harshest of summers.
2) The cooler has a water level indicator along with a low noise fan and 3 fan speeds for the most comfortable night.
3) Its 45-litre water tank is large enough to run all day without having to refill multiple times.
4) Its air deflectors work flawlessly to provide an even air circulation throughout the room with its motorised vertical deflector and manual horizontal ones.
5) The cooler consumes 165W of power and doesn't require an extra stand for being installed.
Buy Now From : Amazon| Flipkart
---
 10
 Bajaj Icon DC2015 Air Cooler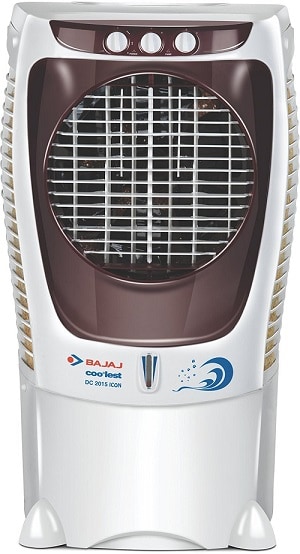 1) When a desert cooler meets the modern ones, you get a Bajaj Icon DC2015.
2) Literally, this air cooler retains the basic shape of a desert cooler and at the same time looks very similar to any other modern air coolers available.
3) And when it comes to performance, no one can beat this.
4) The company claims that the cooler is capable of cooling an area as large as 600 sq. feet with its powerful air throw of 50 feet.
5) While its water tank of 43 litres is quite large, the cooler overall is compact enough to fit in any corner of your room.
Buy Now From : Amazon | Flipkart
---
Other Competition
Flipkart SmartBuy Breeze Personal – Another great option particularly if your looking for slightly higher water capacity of 19 Litres at price Rs. 4,600. But then again it's a personal air cooler. At best 2 people (couple) can sleep comfortably. For one person this is awesome. It will consume electricity of 2 ceiling fans. If your looking to put this in living room or dining room then go for Crompton Greaves , this offering from Flipkart is for personal use only.
Share this article with your friends who are looking to buy an Air Cooler under Rs. 10,000
Thanks
Also Read: