No BS only Right Handpicked Models
After going through over 100 air conditioner models available in India, we have picked some best of the best. We have taken many factors into consideration while picking this air conditioner models.
First thing we kept in mind was the price of the AC, as most people want to make the most of their money spent. Second thing is the brand , as it's important to buy from a reputable brand which has enough service centers all over India.
Other factors are copper condenser , latest features and electricity consumption.
---
Best Inverter Split AC Low Capacity .8 Ton
1. Whirlpool 0.8 Ton 3 Star Inverter Split AC Copper

If your looking to buy an AC for a smaller room like your study etc then this is the perfect fit for you. It is an inverter AC with 3 star rating so it will be easy on your electricity bill. Plus the price of this AC is quite low and with the brand reputation of Whirlpool , you can just go for it.
That's why we have placed this AC as number one in our list.
cools even in the extreme temperature of 52°C
Instant and uniform cooling
Advanced Inverter Technology which reduces your electricity bill.
Self Clean function prevents bacterial and fungal growth.
Sleek and stylish design.
---
Best Window AC 1.5 Ton
2. Voltas 1.5 Ton 5 Star Window AC Copper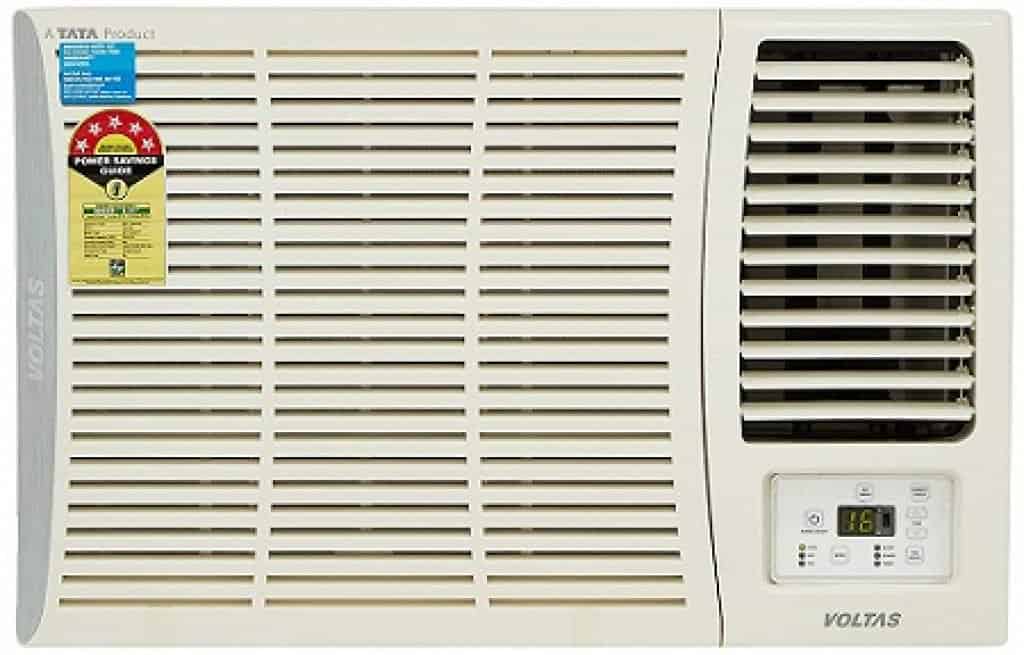 Second pick is for those who are looking to buy an affordable and efficient window air conditioner. Being a TATA product Voltas air conditioners have made fast growth in Indian market. Plus they do deliver a solid product with modern features.
Keep in mind that this is a 5 star energy rating AC for this reasonable price.
High ambient cooling, active dehumidifier and multi stage filtration.
Eco mode which optimizes the power consumption and saves on your electricity bills.
Sleep mode.
Self diagnosis.
---
Best Non Inverter Split AC
3. Voltas 1.5 Ton 3 Star Split AC Copper

This is for those who are satisfied with a non inverter AC and just need a normal 3 star rating AC from a good brand and at an affordable price. Being a 1.5 ton split AC you can expect great results for any medium sized room.

Give you instant cooling at even 50°C.
Senses the indoor humidity and controls it in monsoon.
Sleep mode.
Removes allergens, odours and other harmful particles.
Glow in the dark remote buttons.
Dual Display feature lets you view the set temperature as well as the room temperature simultaneously.
---
Best Energy Saving Inverter Split AC
4. LG 1.5 Ton 5 Star Inverter Split AC Copper

This is by far the best AC you can buy if you want to save electricity without sacrificing any performance. LG's dual inverter compressor and active energy control which limits the power consumption to 40% to 80%. This enables you to save up to 57% of energy.
Being from a reputable brand like LG , you can expect a great robust machine.
True cooling performance even at high ambient temperature.
100% Copper with Ocean Black Protection.
Himalaya Cool Technology.
Detect low refrigerant levels.
Removes harmful particles from air such as bacteria, pollen, dust mites.
Please do leave your comment for any suggestions. Hope you liked our list of best AC in India.
Thanks.