Air fryer toaster ovens have become increasingly popular in Indian kitchens, providing a convenient and efficient way to cook a wide range of dishes. Combining the benefits of air frying and toasting, these versatile appliances offer healthier alternatives to traditional deep frying methods. With numerous options available in the market, it can be challenging to choose the right one.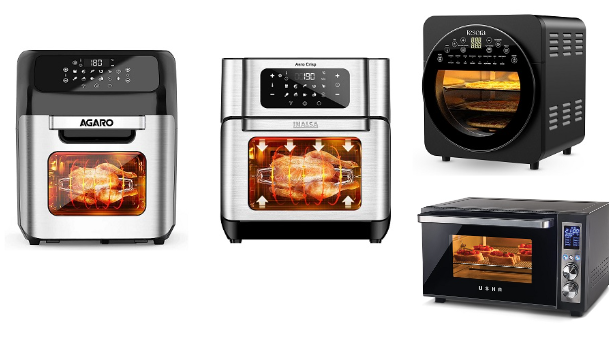 To help you make an informed decision, we have curated a list of the 5 best air fryer toaster ovens in India for the year 2023. These top-rated appliances offer a combination of functionality, performance, and value, making them excellent additions to your kitchen arsenal.
Whether you're looking to fry, roast, bake, or toast, these air fryer toaster ovens deliver exceptional results while promoting a healthier lifestyle. Join us as we explore the standout features and benefits of each product, ensuring that you find the perfect air fryer toaster oven to suit your cooking needs in 2023.
What are Air Fryer Toaster Oven?
Enhanced convection toaster ovens, marketed as "air fryer toaster ovens," feature high-powered fans that create an intensified airflow, resulting in delectably crispy outcomes in considerably reduced cooking durations.
Here's a comparison table outlining the key differences between an Air Fryer Toaster Oven, an OTG (Oven, Toaster, Grill), and a standalone Air Fryer: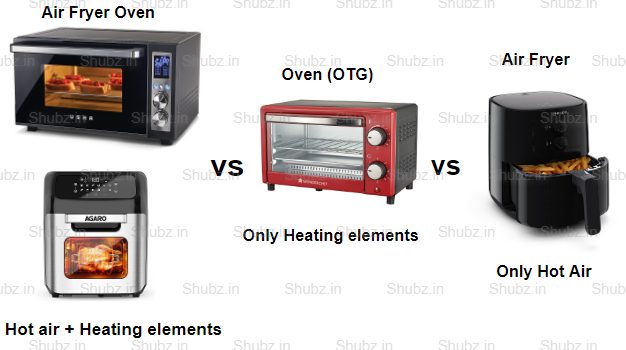 | Feature | Air Fryer Toaster Oven | OTG (Oven, Toaster, Grill) | Standalone Air Fryer |
| --- | --- | --- | --- |
| Cooking Technology | Hot air circulation with heating elements | Heating elements | Hot air circulation |
| Cooking Methods | Air frying, baking, toasting, grilling | Baking, toasting, grilling | Air frying |
| Oil Usage | Requires minimal oil for air frying | May require oil for certain recipes | Requires minimal oil for air frying |
| Size and Capacity | Available in various capacities | Available in various capacities | Available in various capacities |
| Additional Functions | May include dehydrating, roasting, etc. | May include grilling function | May include baking and toasting |
| Versatility | Offers multiple cooking functions in one | Versatile for baking, toasting, grilling | Specializes in air frying |
| Heat Distribution | Utilizes hot air circulation for even cooking | May have uneven heat distribution | Utilizes hot air circulation |
| Control Panel | Digital display with preset cooking options | Manual control knobs or switches | Digital display or manual controls |
| Accessories Included | Typically includes various cooking accessories | May include grill racks, baking trays | May include grill racks, baking trays |
| Cleaning and Maintenance | Removable parts for easy cleaning | Removable parts for easy cleaning | Removable parts for easy cleaning |
| Size and Space Requirement | May require more counter space | Compact and space-efficient | Compact and space-efficient |
5 Best Air Fryer Toaster Oven in India 2023

Our Pick
Turbo Convection Mode, which ensures faster and more even cooking. The unique 36° Convection Tray further enhances the crisping and browning of food, delivering delicious results. The motorized rotisserie function is perfect for achieving perfectly browned and juicy rotisserie dishes.
With its 30-liter capacity, it is suitable for serving 4-5 people, making it ideal for small families or gatherings.
The double glass door not only helps with heat retention but also ensures safety during operation. The Stay On 24 Hour function provides the convenience of using the appliance as a keep-warm function, maintaining the temperature of prepared food.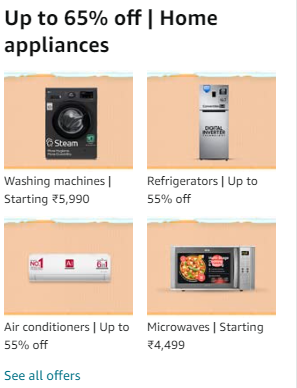 The digital panel allows for easy selection of cooking modes, recipes, and precise time and temperature control. The Usha CALYPSO offers 8 cooking options, including toasting, air frying, baking, broiling, chicken, rotisserie, pizza, and dehydration. With the included accessories such as skewers, rotisserie forks, grill rack, bake tray, crumb tray, rotisserie tong, grill & bake tong, and the 36° Convection Tray, this appliance offers versatility and convenience.
Usha provides a 2-year warranty on the product, ensuring peace of mind for customers. Additionally, the availability of free home service adds to the customer support provided by the brand.
---

Also Good
The Agaro Air Fryer exceeds expectations with its versatility and extensive accessories lineup, making it an excellent choice for those seeking a sizable and feature-rich air fryer. The responsive touch controls and in-chamber light enhance user experience, while the sturdy deep-dish tray ensures durability.

A standout feature is the included rotisserie add-on, complete with a chicken skewer and kebab-skewer rack. The option for a rolling drum further enables effortless and uniform air frying.

The Agaro Regency Air Fryer is a versatile and feature-packed kitchen appliance that delivers on its promises. With its large 12L capacity and powerful 1800W heating element, it provides ample space and heat to cook a variety of dishes. The temperature range of 80°C – 200°C and the timer function of 1-90 minutes give you precise control over your cooking process.
One of the standout features of this air fryer is its 360° heat circulation technology, which ensures even and thorough cooking. Whether you're baking, roasting, toasting, or using any of the nine preset recipes such as French fries, roast, fish, shrimps, pizza, chicken, baking, rotisserie, and toast, this appliance helps you achieve perfect results.
The inclusion of three assist cooking functions – reheat, preheat, and defrost – adds convenience to your cooking process. Additionally, the Agaro Regency Air Fryer prioritizes safety with its four security features, including overheating protection, automatic shut-off, circuit overload protection, and dishwasher-safe components.
Having utilized numerous AGARO products in the past, I can confidently attest to their exceptional performance and reliability. Fortunately, I have never encountered any issues requiring repairs or the need to avail myself of the company's customer service.
---

Also Good
The spacious 10L capacity, illuminated cooking chamber, and clear LED display provide ease of use and better control. With its smoke-free and oil-free environment, this air fryer oven prioritizes your health and safety. The included accessories like the crisp tray, bake/drip tray, rotisserie fork set, and rotation drum basket further enhance its functionality.
The INALSA Air Fryer Oven is a versatile and efficient kitchen appliance that offers a healthier way to enjoy crispy food. With its hot air circulation technology, it reduces oil consumption by 99%, allowing you to enjoy the taste without the added calories. The 10 preset programs and precise temperature control make cooking and reheating quick and convenient, replacing multiple kitchen appliances. The powerful 1500W Air System Technology ensures faster cooking and even baking.
Here's a comparison table outlining the key features of the INALSA Air Fryer Oven and the Agaro Regency Air Fryer:
| Feature | INALSA Air Fryer Oven | Agaro Regency Air Fryer |
| --- | --- | --- |
| Capacity | 12L | 12L |
| Power | 1500W | 1800W |
| Preset Programs | 10 | 9 |
| Rotisserie Function | Yes | Yes |
| Rotating Drum | Yes | Yes |
| Heating Technology | Hot air circulation | 360° heat circulation technology |
| Control Panel | Digital display | Bevelled LED touchscreen |
| Safety Features | Smoke-free, oil-free | Overheating protection, automatic shut-off, circuit overload protection |
| Warranty | 2 years | 2 years |
Please note that this table provides a general comparison and may not include all detailed features of each model. It's advisable to refer to the specific product specifications and user manuals for a comprehensive understanding of each appliance.
---

* No Rotating Drum
* Only 1 year warranty
* 14.5 L capacity
Tesora Digital Air Fryer Oven's comprehensive features and versatility. With its 1700 watts of power, it can function as an air fryer, oven, grill, toaster, and dehydrator, offering a wide range of cooking options. The user-friendly design, including the non-stick interior and stainless-steel construction, ensures easy cleaning, with dishwasher-safe parts further simplifying maintenance.


The LED digital icon and 16 preset cooking menus make operation effortless, allowing users to achieve desired results with just a press of a button. Manual adjustments of time, temperature, and fan speed offer customization for different recipes. The light control and large visible glass window enable monitoring of the cooking progress.
Why new ovens release a burn smell?
New ovens often release a burn smell when first used due to a process called "burn-in" or "curing." This is a normal occurrence and is caused by the heating elements, insulation materials, and coatings used in the manufacturing process. During the initial use, any residual oils, dust, or protective coatings on these components may burn off, resulting in the release of a temporary burn smell and possibly some light smoke.
The burn smell should dissipate after a short period of time, typically within the first few uses or cycles. It is recommended to run the oven at a high temperature for a brief period, following the manufacturer's instructions, to accelerate this process and aid in eliminating the smell.
It's important to note that the burn smell is generally harmless and not indicative of a malfunction or safety concern. However, if the smell persists beyond a few initial uses or if you notice any unusual or persistent smoke, it is advisable to consult the oven's user manual or contact the manufacturer's customer support for further guidance.
What is rotisserie and rotatory drum in oven, are they important?
Yes, the rotisserie and rotatory drum features are significant additions to an oven, especially in the context of an air fryer toaster oven. These features enhance the versatility and functionality of the appliance, allowing for more diverse cooking options and improved cooking results.
The rotisserie function enables you to cook meats, such as chicken, kebabs, or roasts, by slowly rotating them on a skewer or spit. This method of cooking ensures even browning and juiciness, resulting in flavorful and succulent dishes. The rotisserie feature in an air fryer toaster oven allows you to enjoy the taste and texture of rotisserie-cooked meals without the need for a separate rotisserie oven or grill.
Additionally, the inclusion of a rotatory drum in some air fryer toaster ovens further enhances the cooking experience. This rolling drum mechanism ensures uniform and consistent air frying, making it easier to achieve perfectly crispy and evenly cooked results. The rotatory drum eliminates the need for manual flipping or shaking of ingredients during the cooking process, saving you time and effort.
Whether you're cooking a whole chicken, preparing kebabs, or looking for a convenient way to achieve consistent browning in your air-fried dishes, the rotisserie and rotatory drum features offer valuable functionalities. They expand your cooking possibilities and contribute to more delicious and evenly cooked meals.
How much watts air fryer oven is good enough?
The wattage of an air fryer oven can vary depending on the model and brand. Generally, a good wattage range for an air fryer oven is between 1200W to 1800W.
A higher wattage typically means faster cooking times and more efficient heat distribution. It allows the air fryer oven to reach and maintain the desired temperature quickly, resulting in quicker and more evenly cooked food.
However, it's important to consider your specific cooking needs and the size of the air fryer oven. A larger capacity oven may benefit from a higher wattage to ensure sufficient heating power. Conversely, a smaller capacity oven may still perform well with a slightly lower wattage.
Ultimately, the ideal wattage for an air fryer oven depends on your cooking preferences, the size of the oven, and the specific features offered by the model you choose. It's recommended to review the product specifications and customer reviews to determine the wattage that best suits your needs.
Does air fryer oven work on microwave technology?
No, air fryer ovens do not work on microwave technology. Air fryer ovens utilize a different cooking method known as hot air circulation. They use a heating element and a fan to circulate hot air rapidly around the food, creating a crispy and evenly cooked result.
Microwaves, on the other hand, use microwave radiation to generate heat. They excite water molecules in the food, causing them to vibrate and generate heat, which cooks the food.
While both appliances are used for cooking, they employ different technologies and cooking methods. Air fryer ovens focus on circulating hot air for frying and baking, while microwaves use microwave radiation for heating and cooking.
It's important to note that air fryer ovens and microwave ovens are distinct appliances with their own functionalities. Some models may offer combination features that include both microwave and air fryer functions, but they are separate cooking modes within the same unit.