Do you often separate fat from a gravy while cooking? If yes, then I am sure you know how tiring this process can be with a skimming spoon. Well, you can make your kitchen task easier by using a fat separator to separate the fat.
But, what is a fat separator?
A fat separator is a type of vessel in which you pour your liquid/gravy and then it automatically separates the layer of fat from it. You can then drain this fat layer or transfer it to another vessel for some other cooking use.
However, choosing a good and easy-to-operate fat separator is not an easy task. You have to consider several factors before you are able to choose the best product for yourself. In this article, we have mentioned a few of these factors to help you out choose the best fat separator for yourself.
Best Fat Separator Jugs in India
1. Bellemain Fat Separator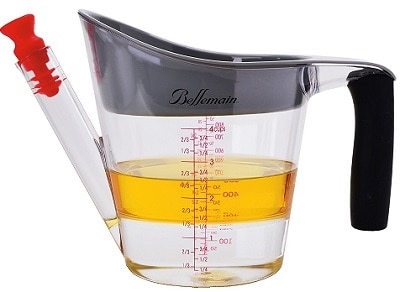 One of the fastest fat separators in the market, Bellemain Fat Separator has a great design and can help you separate the fat from your gravy/liquid quite effectively.
This fat separator includes an airtight spout along with a silicone stopper ensuring that fat doesn't mix with your liquid. And the ergonomic slip-resistant handle makes it easy to hold this equipment when separating hot liquid as well.
Also Read : 10 Best Mixer Grinder in India
It also includes a strainer which allows you to pour the gravy easily. Due to its innovative design, it is extremely easy to manage the process. And since it comes with a 1-liter capacity, you can easily prepare enough gravy for parties or family gatherings.
Another great thing about this fat separator is that it has a big pouring spout, so you don't have to worry about any spillage. Plus, it is heat-resistant so you can separate fat from 400 degrees Fahrenheit liquids as well. Honestly, if you are looking for the most convenient and efficient fat separator in the market then Bellemain Fat Separator won't disappoint you.
---
2. OXO Good Grips 4-Cup Fat Separator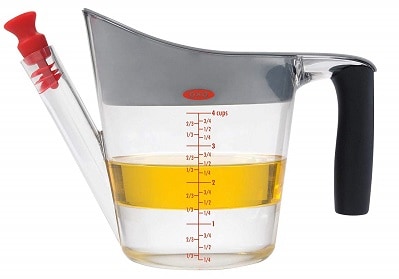 Oxo is one of the most popular brands in fat separators which is why OXO Good Grips 4-Cup Fat Separator is easily the most popular product in the market.
This fat separator features a top strainer which helps you get rid of big chunks from your liquid and separate the fat easily. Another thing which makes it such a popular product is that it is made up of BPA-free plastic so it is resistant to heat as well.
Also Read : 10 Best Table Top Wet Grinders
Also, the stopper in the spout ensures that the fat doesn't get into the spout. It also displays clear markings in both millimeters and ounce so you can pour the exact amount of liquid that is needed.
It also has the capacity of managing 4-cups of liquid so you can use it for big occasions easily. And since the handle of this fat separator is slip-resistant, you can easily hold it even after it is coated with grease or fat.
Overall, this is a good choice and comparatively cheaper than other fat separators in the market.

3. Swing-A-Way 4-Cup Easy Release Fat/Gravy Separator
Best Bottom Strainer Fat Separator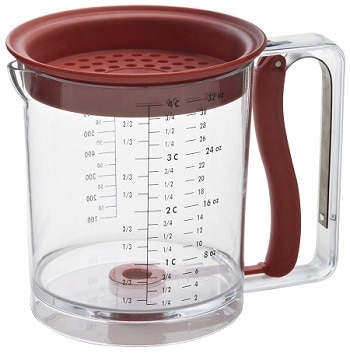 With a classic steel design, Swing-A-Way 4-Cup Fat Separator is a great choice for people who are looking for a bottom strainer fat separator. This product not only makes your kitchen look more elegant but is also convenient to use. It features a detachable spring lid which makes it easy to prepare your gravy.
And the soft grip handle ensures that you find it comfortable to hold the fat separator when preparing gravy or juices. This separator features a spring-loaded bottom opening which allows you to remove the fat from your gravy and juices. It also has a capacity of holding 1-liter liquid at a time so you can prepare a large amount of gravy in a go.
Also Read : 10 Best Fruit & Vegetable Juicers
And since it is dishwasher friendly too, it is easy to clean and maintain. A great product for anyone who loves making gravy at home, Swing-A-Way fat separator is a high-quality and quite reasonably priced product to consider for your kitchen.
---
4. HIC Gravy Strainer and Fat Separator
Best Glass Fat Separator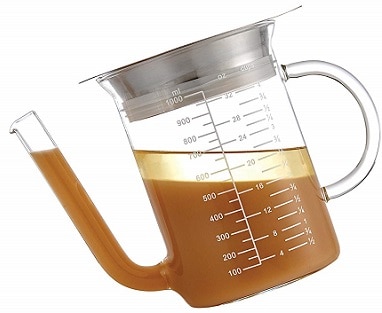 A one of a kind kitchen tool, HIC Fat Separator will effortlessly allow you to separate soups, sauces, gravy, and so on from the fat for an amazing meal. And while other plastic fat separators often leave an odor in the separated liquid, the same is not the case with HIC Fat Separator.
This fat separator is made up of high-quality glass so you can easily separate the fat just the way you want.
It also has a comfortable handle which protects you from hot liquids. Due to the heat-resistant filter, the liquid separates from the fat in just a couple of minutes.
Also Read : Best Bread Makers In India
And since it has a huge separator mouth, it is easy to pour the liquid and the chances of spillage are considerably reduces. Another great thing about this fat separator is that it is microwave-friendly so you can heat the liquid on a stove or a microwave. And since it is made up of glass, it is easy to clean this kitchen tool as well.
It is slightly expensive but all these features make this one of the best glass fat separators in the market and definitely worth the purchase.
---
5. Norpro 2-Cup Glass Gravy Sauce Stock Soup Fat Grease Separator
Affordable Glass Fat Separator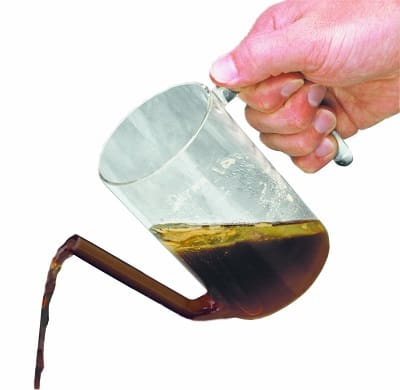 If you have a small budget but you wish to purchase a good glass fat separator then Norpro 2-Cup Glass Fat Separator is the right choice for you. With this fat separator, you have the capacity to separate fat from a 0.5-liter liquid at a time which is a decent capacity for small family meals. Also, since this fat separator has been made using heat-resistant glass, it can be used to separate gravy, soup, etc. while they are hot as well.
Also Read : 10 Best Kitchen Gas Stoves in India
It also has a large strainer which ensures proper separation of the liquids from unwanted food bits. And the ergonomically designed handle offers both comfort and a secure grip. This fat separator is quite easy to use and easy to maintain as well. Since it is dishwasher friendly, you don't have to put in a lot of effort into cleaning this.
So, if you want an affordable glass fat separator which is easy to operate and clean then you won't find a better product than Norpro 2-Cup Glass Fat Separator.
---
6. Trudeau Fat Separator
Best Microwave Safe Fat Separator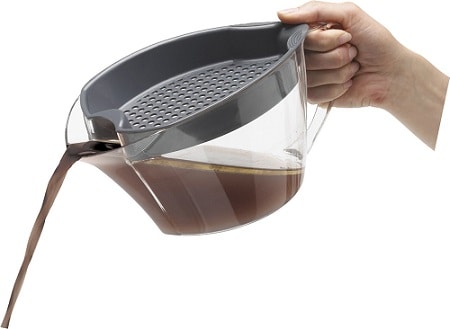 Now, a lot of us like to reheat our soup or gravy before serving it. And if you are one of them then a microwave-safe fat separator would be a good choice for you and Trudeau Fat Separator is the best choice for this.
Although this fat separator resembles a gravy boat, it is perfect for separating the fat from your soups, gravy, and sauces. It features an integrated spout which allows you to pour out the liquid effortlessly while leaving the fat behind.
Also Read : 10 Best Air Coolers in India
And since there are US and metric measurements on the side, you will find it easy to measure the liquids while separating the fat. Also, this fat separator comes with a strainer lid so you can prevent the food bits from getting mixed in your liquid. It is also heat-resistant and microwave friendly so you can pour hot liquids in it or reheat your gravy, sauces, etc. when required.
On top of all this, it is also dishwasher-friendly so you can easily clean it and don't have to worry about grease or fat stuck to the insides. Plus, it is quite affordable as well. The only drawback is that it has a small capacity.
However, if you are looking for a small, compact fat separator for home use then Trudeau Fat Separator is the best choice for you.
Things to Consider When Purchasing a Fat Separator
Here is a list of factors that you should consider when looking for an ideal fat separator for yourself.

Type of Fat Separator
The first thing that you need to figure out is the type of fat separator you want to purchase. There are two types of fat separators available: bottom drainers and pitchers.
Also Read : 10 Best Personal Smoothie Blenders
A pitcher usually has a spout which is used to remove the fat. In the case of bottom drainers, the model comes with a bottom plug which can be used to remove the liquid. Both types are efficient in separating fat so it depends on which model you are comfortable using.

Material of the Product
The next thing that you need to decide on is the material. You will fat separator available in different materials but the most commonly used are stainless steel, glass, and plastic.
Plastic models are easy to use and help you keep a track of the separated liquids. It is also affordable but makes sure that it is heat-resistant and BPA free.
Also Read : 10 Best Washing Machines Under Rs 10,000
Glass models, on the other hand, are easier to clean and use but require proper handling. Glass material is also prone to break if used for hot liquids and is slightly higher priced than plastic models.
Finally, stainless steel separators are the best as they are durable and easy to use. However, you need to take proper care as they can rust if not stored properly.

Capacity of the Fat Separator
Another important factor to consider is the capacity of the fat separator. You will find different sizes available in the market so you need to choose one which meets your requirements.
Also Read : 10 Best Fruit & Vegetable Juicers
If you have a large family, then you will need a fat separator which can hold at least 4 cups of liquid. This will save you time and will allow you to prepare a large quantity of gravy at a time.

Jar Design
Apart from the size of the fat separator, the jar design is also another important factor to consider. Your jar should have a mouth which is sufficient to pour in or out the liquid.
Also, look for a jar with clear markings so that you can measure your liquid easily while separating fat.

Strainer Size
For a better experience, choose big sized strainers as they allow you to remove big chunks of food pieces quite easily while ensuring minimum spillage.

Ease of Maintenance
One important aspect to consider is the ease of cleaning/maintaining your fat separator. You will need to wash it thoroughly to get rid of the grease or fat which is stuck inside.
Also Read : 10 Best Mini Refrigerator
So, a fat separator which is dishwasher friendly will allow you to keep your fat separator clean and ready to use every time.

Cost
Finally, make sure that you choose a budget for your fat separator. There are many affordable fat separators available in the market so you don't have to go for an expensive one.
Look for a good brand in your budget and you will find many options to choose from.

Additional Features to Consider
Apart from the major features and factors, it is always good to look out for some additional features. If you are buying a pitcher fat separator then make sure it includes a stopper. This will prevent the liquid from mixing back with the fat once you have separated it.
Also Read : 10 Best Electric Kettles
Also, while most fat separators are heat resistant, there are a few which are microwavable as well. This will let you warm up your gravy any time you want and not require you to transfer it to a different vessel.
Finally, many brands also offer a cleaning brush along with the fat separator. This makes it easier to clean and get rid of the stuck-on grease and fat. So, look out for additional features which will make it easier to use and maintain your fat separator.