If you are in search of a new Side by Side Refrigerator, then you are in luck since there are a ton of excellent options in the market. In this article we will list some of our recommendations.
Benefits of Side by Side Refrigerators:
Organisation: Most side by Side refrigerators are specifically designed to use the most amount of space with utmost efficiency. The organisation and storage of food is very well planned and is very convenient for home use.
Great Utilisation of Space: Since the doors of a Side by Side refrigerator are smaller than a standard refrigerator, opening them takes up less space. This is very ideal for homes where space is less or the owner wants to use that space for other purposes.
Convenient Utilities: Most refrigerators of this type have ice and water dispensers on the door itself, making it very convenient for home use.
Below are some of our recommendations for the best Side by Side refrigerators you can buy in 2021:
Best Side by Side Refrigerators in India
Note: The prices shown are from at the time and date of publishing.
1. LG InstaView GC-X247CQAV Side-by-Side Refrigerator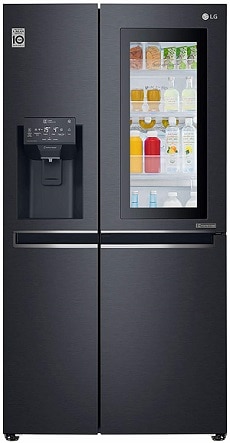 (Best Overall)
₹1,79,000

Out of all the refrigerators in this list, if price is not a factor, then the LG InstaView is the best refrigerator you can buy currently. The unit has tons of features and is truly one of a kind. The refrigerator also has a Door in Door storage system which means the top doors have two layers of storage. This is highly sought after by people who want the best use of space in their kitchens. Since the refrigerator has smart features it can be controlled from your phone too. The name InstaView comes from the fact that the top-right door has a mirrored glass panel that illuminates with two quick knocks and allows you to see the food inside, without having to open the door.

Main Features:
668L Space
Inverter Linear Compressor
Smart ThinQ control
InstaView Door
Antibacterial Filter and Deodorizer
Express Freezing
Multi Digital Sensors
Fresh Balancer
Water and Ice Dispenser


Positive
Most amount of features in its class
Smart control is very convenient
InstaView door is a unique and useful feature
Negatives
Price could be lower
Overall size is quite large
---
2. Toshiba 587L GR-RS530WE Side-by-Side Refrigerator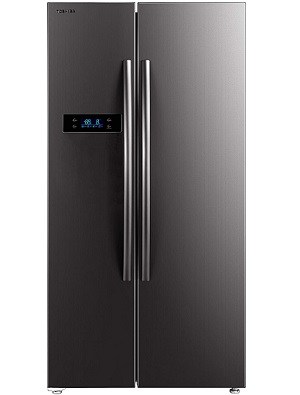 (Budget Choice)
₹69,900

This Toshiba refrigerator is a great product at a very good price considering all of its features. The exterior has a very sleek stainless steel finish and looks very modern. Total storage is 587 litres, which is plenty for this price range. The cooling inside can be controlled by the Digital control panel on the outside, which is a very useful feature. The cooling is very fast thanks to its Quick Cooling Air system, which cools the entire fridge at a much faster rate. There is also a Wine Rack inside the fridge, which is really interesting.

Main Features:
Stainless Steel Finish 
Digital Control Panel
ECO LED Lighting 
587L Space
Real Invertor
Quick Cooling Air
Wine Rack
Super Freeze Mode


Positive
Very well priced
Plenty of space (587L)
Digital Controls are convenient for home use
Cooling is fast
Negatives
Water Dispenser is not included
No smart features
No energy saving-specific features
---
3. Samsung RS74R5101SL Side-by-Side Refrigerator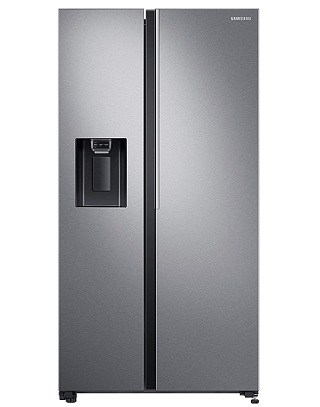 (Highly Recommended)
₹99,900

This Samsung refrigerator is an excellent choice for buyers looking for great cooling without any unnecessary smart features and other clutter. The refrigerator has a very spacious interior, dubbed SpaceMax Technology by Samsung. The walls are much thinner,which provides more storage space inside the fridge. The Digital Inverter helps in saving energy and is claimed to save upto 50% in electricity bills. It has a 21 year lifespan which is amazing. The design is very elegant and looks sleek. The stainless steel exterior has a nice sheen to it. Out of all the features, the Power Cool and Freeze are the best, as it allows you to boost the rate of cooling for the fridge as well as the freezer. This means you can cool drinks and food much quicker.

Main Features:
All round Cooling
676L Space
Digital Inverter Setting
Ice Maker
Deodorizing Filter
Power Cool and Freeze
Interior LED light
Recess Type Handle 
Door Alarm
SpaceMax Technology
Water and Ice dispenser


Positive
Power Cool and Power Freeze feature is very handy
Energy Saving is above average
The deodorizing filter works very well and prevents foul odours.
676L storage space is a lot for the price.
4. Panasonic NR-BS60MHX1 584L Side by Side Refrigerator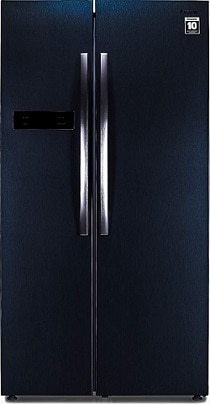 (Good Budget Buy)
₹66,900

This Panasonic refrigerator is one of the cheapest Side-by-Side refrigerators you can buy in the market currently, and it does not disappoint. It has a ton of features for its price. For people on a budget, we recommend this refrigerator. The storage space is 584L, which is decent enough for this price range. The exterior is a very sophisticated looking dark grey color, which looks very premium. On the inside, you will find Double Vegetable Boxes to store a ton of vegetables and fruits, the shelves are also spill proof, which is very convenient. Another great feature of the refrigerator are the Quick Freeze and Quick Cool modes which increase the rate of cooling inside the fridge instantly. There is also the Vacation Mode which turns the fridge into its low power state,which is ideal for long stretches of idle usage.

Main Features:
584L Space
Frost Free 
LCD Display
Double Vegetable Box
Triple Twist Ice Tray
Vacation Mode
Quick Freeze and Cooling Mode
Spill Proof Glass Shelves


Positive
Cheapest Side-by-Side Refrigerator with good features
Ample space inside the fridge.
Quick Freezer and Quick Cooling modes are very useful
Negatives
No water/ice dispenser
No form of energy saving inverter
No antibacterial filter
5. Samsung 700L RS72R5011SL/TL Side-by-Side Refrigerator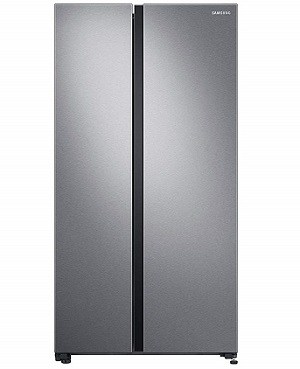 (Most Spacious)
₹89,900

If you are looking for the most spacious Side-by-Side refrigerator in the market, then this Samsung refrigerator is the one you should look out for. What's even better is that it is priced much lower than variants with lesser space, without having to compromise on features. You get a total of 700L of storage space, which is unprecedented in this class of refrigerators. This is made possible by Samsung's SpaceMax technology.

Other features include the Power Freeze and Power Cool modes which are one of the best features for instant cooling,and we are huge fans of this one. There is also a wine rack should you need one. Other convenient utilities include a large vegetable box to store fruits and vegetables and an Odor Eliminator. In terms of energy saving, the refrigerator has a Digital Inverter which is very useful in reducing energy usage. 

Main Features:
700L Storage Space
Digital Inverter Technology
SpaceMax Technology
Power Freeze and Power Cool Mode
Wine Rack
10 Year Warranty on Compressor
Vegetable Box
Odor Eliminator


Positive
Very large storage space
Cheaper than alternatives
Digital Inverter technology is very useful in saving electricity
Power Cool and Power Freeze modes are excellent
Negatives
No Water/Ice dispenser
No Antibacterial Filter
---
6.LG GC-B22FTPL 594L Side-by-Side Refrigerator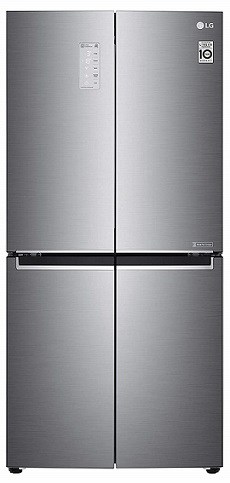 (Budget with Smart Features)
₹92,900

This LG refrigerator is a good choice if you are looking for smart integration and monitoring of your refrigerator. The refrigerator supports LG's Smart ThinQ software, which can be used to control the temperature and other factors of the refrigerator from the mobile app itself. In terms of storage, it is a bit lacking,since for this price you can get larger and more spacious refrigerators.

Main Features:
Frost Free
594L Space
Inverter Linear Compressor
Door Cooling Plus
Odor Remover
Smart ThinQ Control
Anti Bacterial Deodorization
Smart Diagnosis
Express Freezing


Positive
Smart Features for a budget price
Antibacterial Deodorizer is a very useful and important feature
The included inverter is able to save energy consumption by quite a lot
Negatives
The storage is lacking for the price
No water dispenser
7.Samsung RS73R5561F8 689L Side-by-Side Refrigerator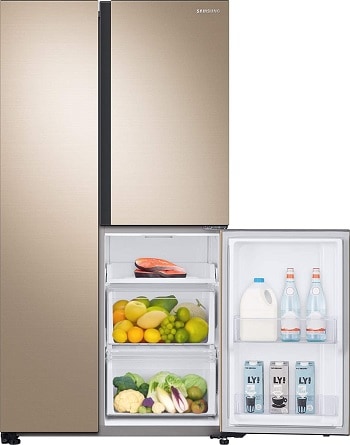 (Most Unique Design)
₹82,900

Out of all the refrigerators in this list, this one has the most unique design. The exterior has a golden color, which looks very premium and classy. There are a total of three doors, which open separately. The right side is split into two parts, the upper part houses the vegetable box, wine rack and freezer and the lower part acts as a normal fridge. In terms of other features, you get the usual things like Digital Inverter, Deodorizing filter, Door alarm and Power Cool and Power Freeze modes. The refrigerator is missing a water/ice dispenser on the outside of the door though. 

Main Features:
689L Space
Digital Inverter Technology
Deodorizing Filter
Door Alarm
Recess Type Handle
Power Cool and Power Freeze Mode
Three Door Setup


Positive
Very Unique,Triple Door design
Great amount of storage space
Looks very premium
Negatives
No water/ice dispenser
No smart features
---
8. LG GC-L247CLAV 668L Side-by-Side Refrigerator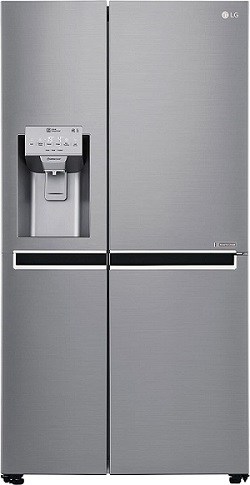 ---
(No Compromise Smart Refrigerator)
₹1,18,900

Considering the previous options, if you want a good LG refrigerator with all it's smart features but do not want to compromise on a water/ice dispenser and energy savings, then this refrigerator is a good choice. This one comes with a total of 668L capacity, which means it is very spacious inside. Other features included are Door alarm, an Antibacterial deodorizer, which is very convenient to have, Inverter Compressor, which helps in conserving energy and LG ThinQ technology which lets you monitor and control the fridge from the comfort of your mobile phone.

Main Features:
668L Capacity
10 Year Warranty on Compressor
Inverter Compressor
Multi Digital Sensors
Door Alarm
Antibacterial Deodorizer
Ice and Water Dispenser
LG Smart Diagnosis
LG ThinQ support


Positive
No compromise in features
Antibacterial Deodorizer is very effective
Smart features like ThinQ and Smart Diagnosis are very helpful
---
9. Bosch KAN92VI35I 661L Side-by-Side Refrigerator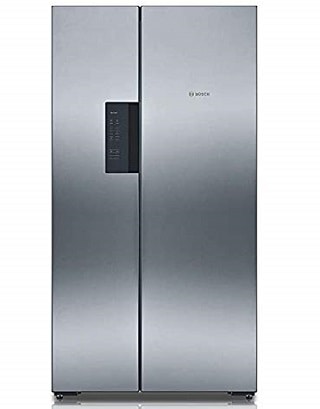 (Energy Efficient)
₹86,500

This Bosch refrigerator is a good choice if you consider energy savings as your top priority when buying a new refrigerator. It has an Energy Rating of A++,which is the best in this class. The refrigerator also comes with an Inverter Compressor that is very energy efficient. Inside the fridge, there are 2 independent cooling systems which means there is a lot of flexibility in cooling. The VitaFresh technology maintains the temperature so that the food remains fresh for a long time. Another great feature is that the glass shelves have a total carry weight of 180kg which is unheard of in this category. 

Main Features:
661L Capacity
Auto Defrost
VitaFresh Technology
Inverter Compressor
10 Year warranty on Compressor
2 Independent cooling systems
Toughened Glass Shelves


Positive
Very energy efficient,best in this class
Glass shelves are sturdy and can carry a lot of weight
VitaFresh is a great feature for keeping your food fresh
---
10. AmazonBasics 564L Side-by-Side Refrigerator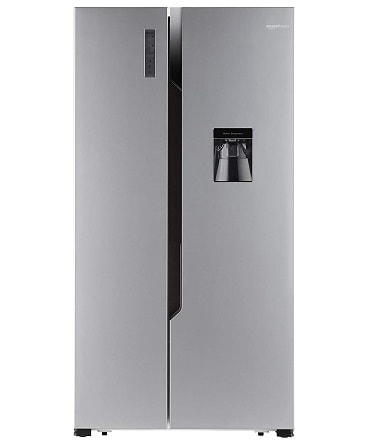 (Cheapest Option)
₹44,000

AmazonBasics products are some of the cheapest products available on the website that are sold by Amazon itself. This refrigerator is a great choice if you want to save a lot of money while still getting a ton of features. The refrigerator has a total capacity of 564L, which is very large considering its price. It also has a water dispenser on the right door, although an ice dispenser could have been included too, but it's hard to complain at this price. The refrigerator has two special modes to increase the rate of cooling, namely Super Freeze and Power Cool, for the freezer and fridge respectively. This is a great feature mainly found in pricier alternatives,so it's great to see this feature here too.

Main Features:
564L Capacity
Auto Defrost
Water Dispenser
Super Freeze
Adjustable Thermostat
Power Cool
LED Display
Multi Airflow System
Door Alarm


Positive
Very competitively priced, considering its features
Water dispenser is included, which is unheard of at this price point
Special modes like Power Cool are present 
Negatives
No ice dispenser
No Anti bacterial Filter
No inverter
---
11. Haier 531L HRB-550KG Side-by-Side Refrigerator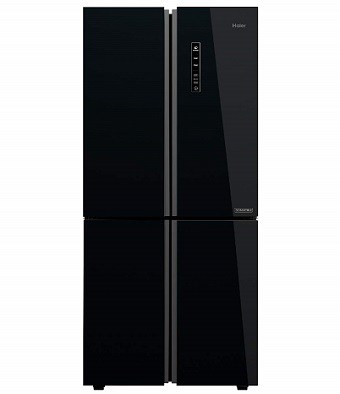 (Convertible)
₹79,800

This Haier refrigerator is the only one in this list that has the feature to convert the entire refrigerator into a fridge eliminating the need for a freezer if you choose. You can also choose which side you want to act as a freezer. The entire refrigerator is divided into four sections, each with its own separate opening door. There is no partition wall on the top half,which means you get more storage. You also get a dedicated Antibacterial filter inside. IN terms of energy savings, you get a Twin Inverter which is very energy efficient.

Main Features:
531L Capacity
Dual Fan Cooling
Twin Inverter Technology
No wall partition
Convertible Freezer
Antibacterial Filter
4 Seperate Doors
Digital Control Panel
10 Years Warranty on Compressor and Fan Motor


Positive
Fully convertible Side-by-Side refrigerator
Antibacterial Filter is included at this price point
Four separate doors for each section
Twin inverter means more energy savings
Negatives
No Water/Ice Dispenser
No smart controls
Please let us know in comments , which side by side refrigerator you are using or planning to buy. If you already have one , then how satisfied you are with the brand and performance.