Recently updated on December 7th, 2023 at 08:12 am
Washing machines have become an essential part of our lives as it saves a lot of time compared to conventional methods of washing clothes.
They are more important as compared to other accessories such as dishwashers and Air conditioners as it saves so much time in our daily routine.
You can buy washing machines in a variety of configurations. Some come with a top load for clothes and others come with a front load.
While some are fully automatic where you can just turn the machine on with your desired presets and just wait till it completes cleaning the clothes whereas in the semi-automatic washing machines you would have to select the next process after every single process is complete which could be quite cumbersome and time consuming.
So, while picking up a new machine make sure it is fully automatic if you look forward to saving some more time. Newer models also come with inbuilt dryer functionalities for a pretty reasonable price which is a handy feature instead of you having to dry it manually.
| Category | Details |
| --- | --- |
| Type | Top Load, Fully Automatic |
| Configuration | Top loading, 6.5 kgs capacity |
| Additional Features | Child lock, Cold water washing, Inbuilt dryer functionality (not mentioned) |
| Functionality | High-speed drum rotation, Uses both detergent powder and liquids, 90-minute cycle |
| Issues/Problems | Large holes in the drum, Rupee coins can damage inner parts, Undissolved particles of detergent, H9 errors due to voltage fluctuations |
| Usage Experience | Noise during fast rotation, Good performance with consecutive loads |
| After Sales Service | Mixed experience with service professionals, Board problems due to voltage fluctuations |
| Recommendation | Suggested holding off and exploring other brands, Recommends IFB or Bosch for additional features and quality |
| Author | Nirunjan Kumar – Instagram |
Godrej has been a long running and reputable brand for consumer electronics such as refrigerators and stuff which led us to pick a washing machine from Godrej. My particular model is a fully automatic version with top load. I have used the washing machine for around 2-3 years and the overall experience has been kind of underwhelming to be frank but hear me out as there are some positive aspects to this experience.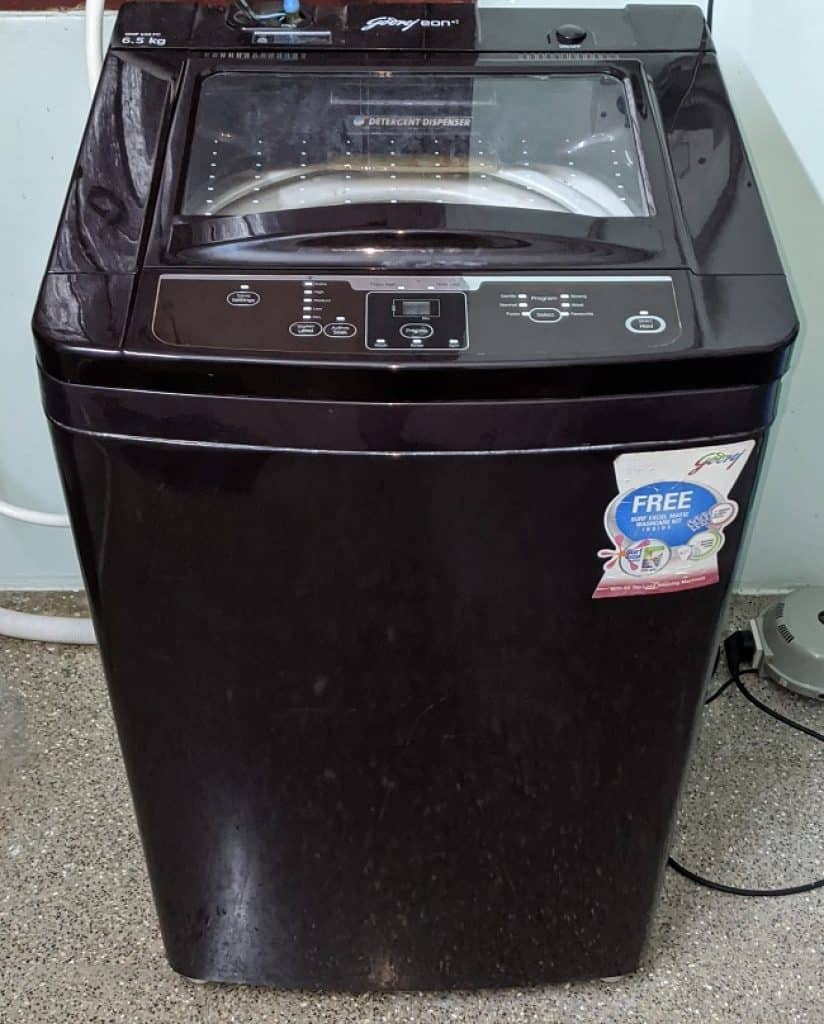 Basics Features:
For starters it is a top loading washing machine which I find to be quite convenient as it is usually easier to load clothes from the top.
It is also fully automatic which means it is just a click and run process.
You can select between different water levels and the type of clothes you put in the machine to be washed. The machine does all the other stuff.
The option for the type of clothes does not make that much of a difference but the different water levels regulate the amount of water used to wash the clothes.
You can turn on child lock using a combination of buttons to temporarily turn off the functionality of the buttons in order to prevent children from messing around.
It uses cold water for washing. Some of the washing machines like IFB take in cold water and convert then to hot water for washing which might sound quite weird at first. But they do it in order to treat clothes with higher stain and for extra hygiene.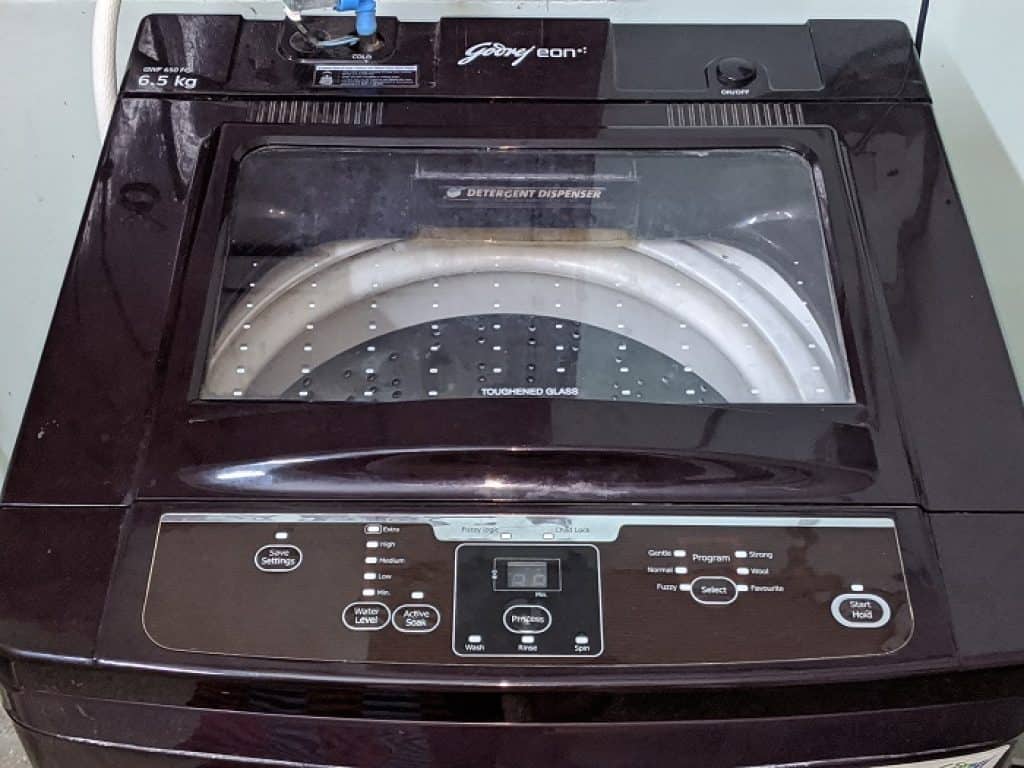 Functionality:
Basically, the drum in the machines rotates at a high speed causing clothes to move around in the soap water. This in turn removes any kind of dirt or stain in the clothes and disperses them into the soap water. The water inlet is on the top and needs to be connected whereas the dirty water outlet is on the bottom.
You can use both detergent powder and liquids. There is a separate compartment to put in the powder for it to dissolve but in practice most of the powder is not dissolved and is wasted same holds to true even for the washing machine specific powders
. In order to prevent these liquid detergents are a much better option as they dissolve completely with the water resulting in much cleaner clothes without any powder remains.
The white pouch on the top corner of the drum catches in any dust and debris that are present in the water.
The washing machine takes around 90 minutes to complete the process. This might change with the type of clothes you choose.
When rotating fast there are noises produced by the washing machine which is especially noticeable here as it is a top load machine and the displacement is lateral. This leads to the washing machine shaking around a bit and causing some additional noise.
Godrej Eon is rated at 6.5 kgs for the weight of clothes that can be washed every time. But I don't really weigh the clothes before dumping them in but usually it is around 10 to 15 clothes and there are no issues whatsoever.
If there is a sudden power cut of sorts the washing machine continues from the process it left before after the power is restored.
There aren't any additional features except for you to choose between different water levels and different cloth types.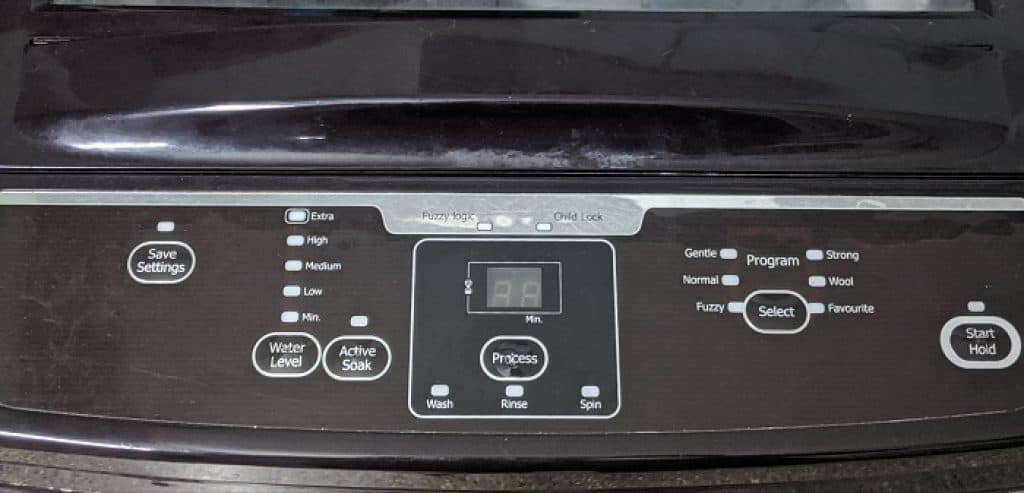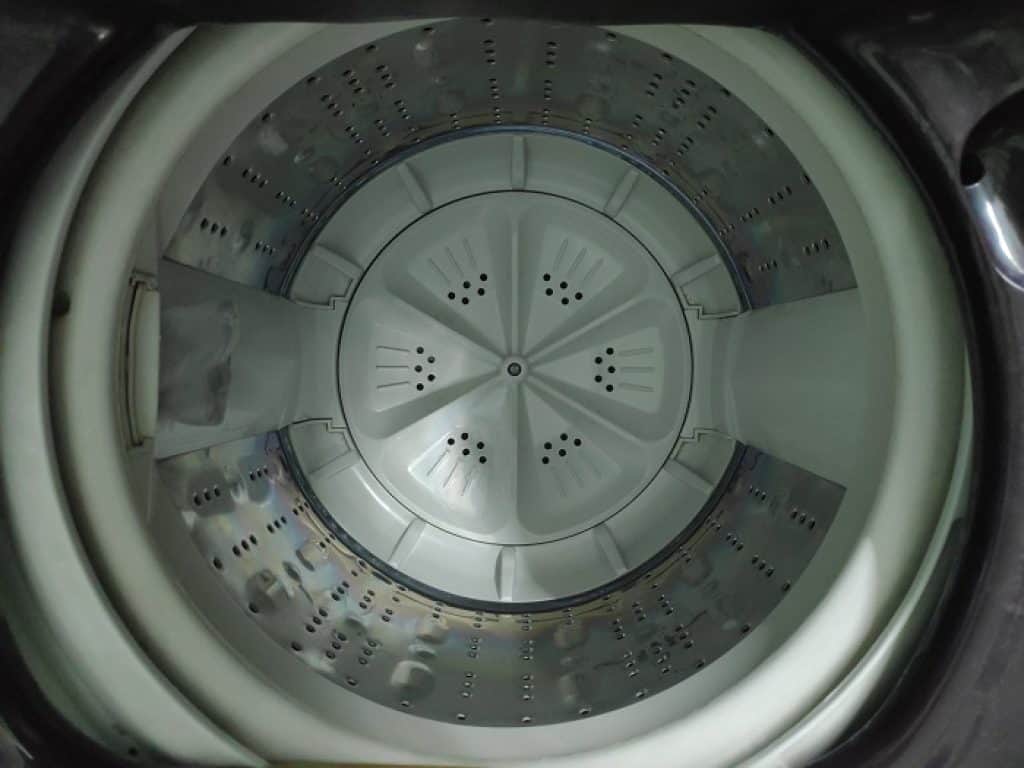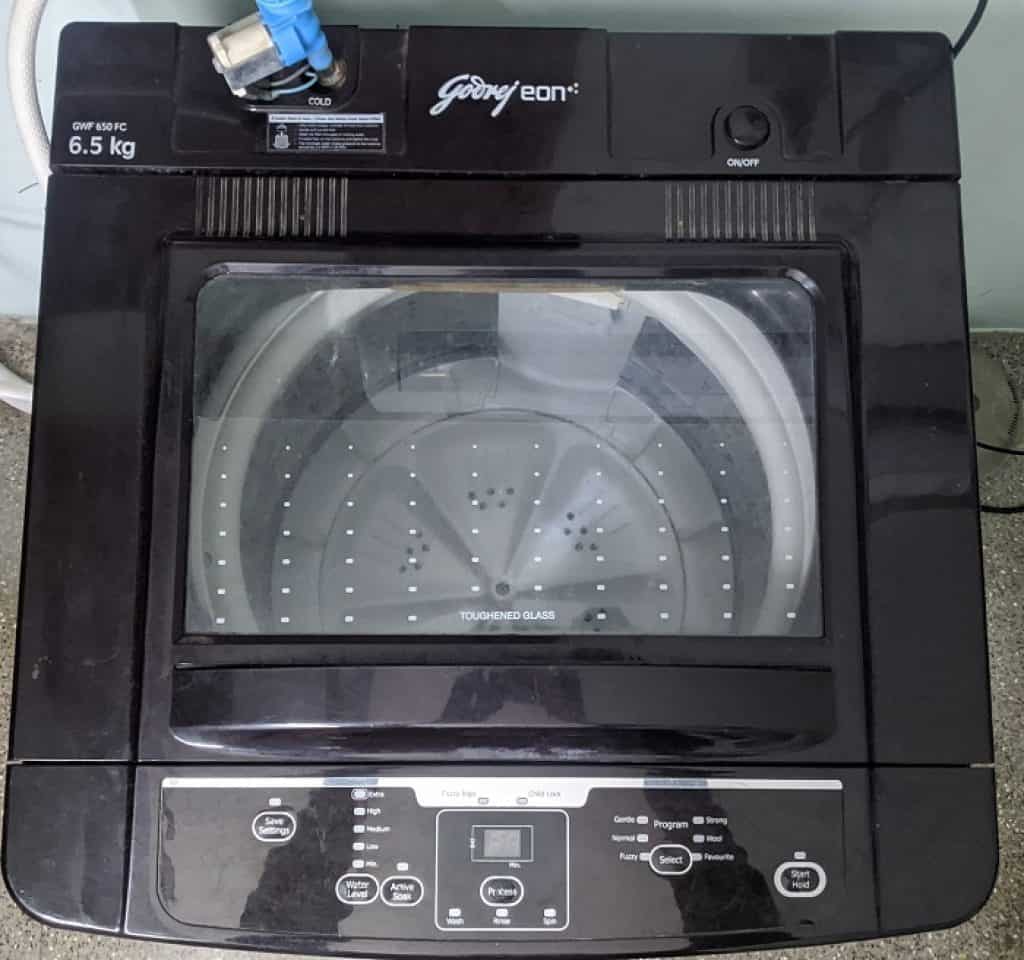 Usage Experience:
There have been so many problems since we bought it but most of them have been fixed with consecutive services.
You may not experience the same problems with your unit and it might scale differently with different people but here we go with my experience.
The first issue was that the holes and gaps in the drum for the water to drain are a bit too big. Too big in fact the rupee coins can get into them and damage the inner parts. All kinds of junk (ex: safety pins) can get stuck inside the drum causing minute problems every day that add up to bigger problems in the long run. Any outlets or mechanisms to get rid of this junk would be certainly helpful.
The cleaned clothes might have undissolved particles of detergent powder if you use detergent powder for cleaning. This is the reason for preferring liquid detergents over the powdered ones.
After a few months into this machine there were random errors (H9 errors) popping up causing the machine to stop in between and oftentimes it would not resume the process which was not a good experience to say the least.
There were board problems and it cost around 3000rs to replace them just for the random H9 errors to appear again. Finally, the errors were resolved when an experienced serviceman said that the errors were due to the voltage fluctuations.
Since then, a stabilizer was installed in order to prevent them. Lot of modern electronics don't require a stabilizer but going by my experience it is safe to invest some more money in a stabilizer to go with the everyday electronics.
The after sales service was a mixed bag as the service professionals were untrained and inexperienced to solve the problems but the last few services have been good.
Even with all these issues the machine runs very well even with consecutive loads of clothes and gives some pretty clean clothes as a result. The clothes in the end are quite dry even though this machine does not have a dryer function.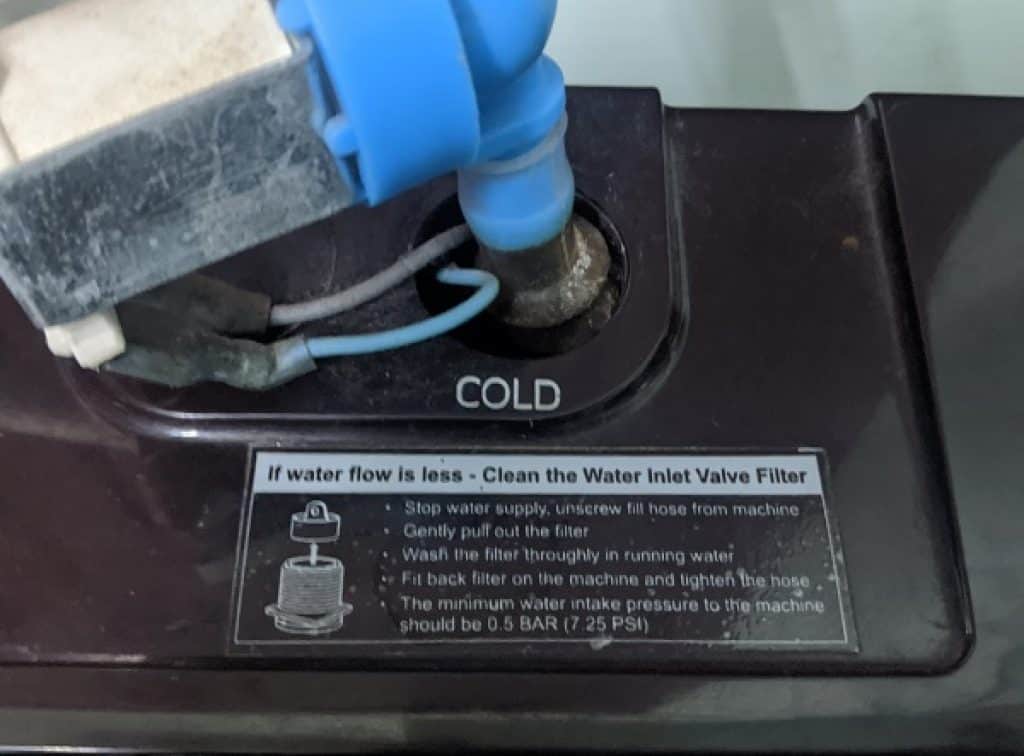 Should You Buy This:
I would suggest you hold off before making the purchase. Look at different offerings from other brands such as front load machines. Godrej is a good company but I would not suggest you go with their range of top load washing machines at an instant as there are better options around.
My recommendation is to get the machines from IFB or Bosch even if the cost is a lot higher as they provide a good load of additional features and quality. Go for the Godrej machines only if you could find them at a good discount or a price you think is reasonable.

Rs.

17,990

Rs. 19,490
6 new from Rs. 17,500
in stock


Rs.

18,990

Rs. 30,899
1 new from Rs. 18,990
in stock

---

Written By – Nirunjan Kumar Infinite monkey theorem. I love how things work. Tryna make things work! Instagram