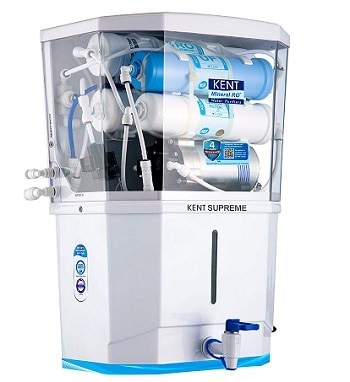 KENT is an Indian multinational health care brand with headquarter in Noida UP , the manufacturing facility is situated at Roorkee (Uttarakhand) making water purifiers since 1999. This is to let you know that Kent is a big brand with lot of experience in making water purifiers. Let's talk about the features and quality of KENT Supreme 2020 , which is a popular water purifier in India.
Durable & Good Water Filtration
The machine looks good on the wall , does the job of filtering water efficiently and quickly. The water purifier works silently and gets auto on/off as needed.
Positive
RO + UF + TDS Control + UV
20 LPH and 8 L Tank
Wall Mountable
Best Filtration System
Negatives
Lot of complaints about customer service
Extra charges for parts while installation like Sediment filter
This water purifier from Kent has a lot of negative reviews on Amazon mainly due to the bad customer service , plastic build and charges for extra parts while installation. You do have to buy the Sediment filter which is not included in the water purifier cost and is brought by installation person separately.
The water purifier does work well and looks good on the wall. There is a lot of confusion about warranty which is like 1 Year Warranty on full system and + 3 Years No Service Charge (In which you have to pay for any parts change).
Filtration process followed by Kent is top notch if compared to other water purifiers. It utilizes the full power of RO + UF + TDS Control + UV system , delivering you clean water fit for drinking. You have to figure out the TDS (Total Dissolved Solids) level of the water , according to BIS (Bureau of Indian Standards) the recommended TDS level is 300.
I like the overall quality of Kent water purifier and it's advanced filtrations system , I hope that Kent can address the issues of customers regarding installation and charges in a transparent manner.
Available at – Amazon