Our kitchens are getting smarter with every passing day. There are a number of kitchen gadgets that you need on daily basis to make your chores easier. While you are rushing to the office each morning, a sandwich maker lets you make a couple of sandwiches quickly and have a nice breakfast before leaving the place.
While this is one reason to get one for yourself, there are plenty more listed below. Plus, we have also curated a guide to let you know what all things matter when you are in the market buying a sandwich maker.
Best Sandwich Makers in India
1. Nova NGS 2449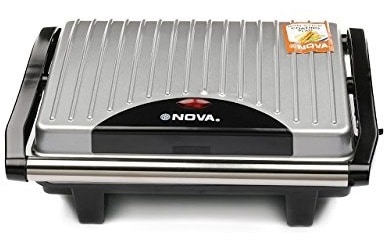 1) As a brand, Nova is known for making best in class kitchen appliances that are affordable too.
2) This is a 1000-watt sandwich maker from the company that can help you do toasting as well as grilling.
3) It has a large surface that can take in longer food items, like hot dogs, and multiple sandwiches.
4) You can use it to grill or toast other vegetable or non-veg food items as well. It is much bigger than what you'd get in this range and has a separate handle made out of metal.
5) The surface of the maker has a high-quality coating that is also non-stick.
Check Price : Amazon
---
2. Philips HD 2393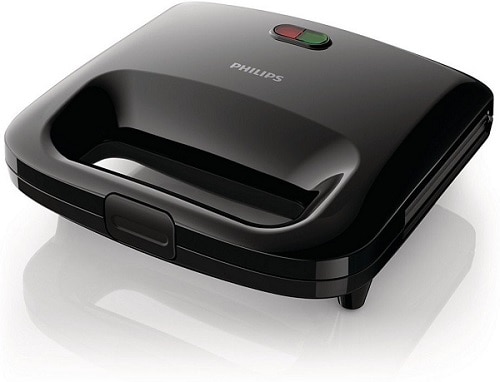 1) From a brand like Philips, you can expect nothing but the best.
2) This is a compact sandwich maker from the company that will be great for most people and is also much more value for money product than most others.
3) There is a non-stick coating on the surface for letting you clean it easily.
Also Read : 10 Best Table Top Wet Grinders
4) It allows fast heating and there is an indicator that lets you know when the maker is ready for cooking.
5) The machine is rated 820W and can take two sandwiches at one time.
6) The handle on this maker is covered with rubber that keeps it cool even when the maker is working.
Check Price : Amazon
---
3. Prestige PGMFB Grill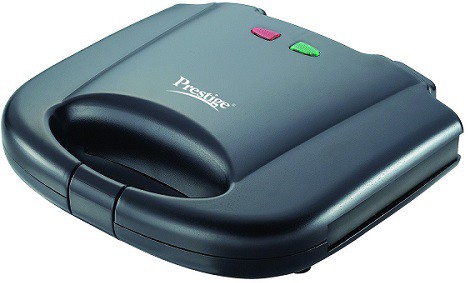 1) This grill sandwich maker from Prestige offers an elegant design that is also quite intuitive, especially because of that ergonomic handle.
2) The company has included two indicator lights on the top to let you know when the grill has preheated or for cut off.
3) It is rated at 800 watts and it saves a lot of electricity.
4) With its fixed grill plates, this maker is easy to maintain and clean.
5) The plates are covered with a non-stick coating for the best results and it is also non-toxic so that your food always remains safe.
6) This is one of the most value for money sandwich maker and the company also offers a year of warranty with it.
Check Price : Amazon
---
4. Lifelong LLSM115T 4-Slice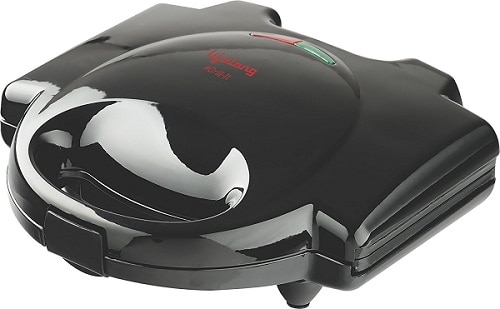 1) Like its name says, this sandwich maker will be with you for lifelong!
2) This product has been designed for the people who aren't willing to an extra buck for more features that might never come into use.
3) For the size, it should be enough for most people as it can make two sandwiches in one go.
4) It has skid-resistant feet and comes with the usual non-stick plate, too. With this coating, the maker is easy to clean and it has two indicator lights as well.
5) This sandwich maker will even cut the sandwiches into two equal triangles and you wouldn't have to do with a knife.
Check Price : Amazon
---
5 Bajaj Majesty SWX400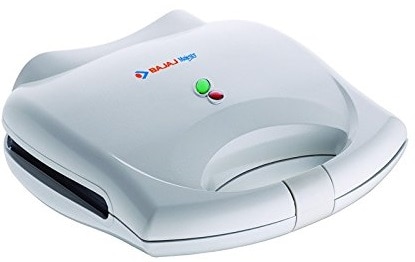 1) In terms of looks, Bajaj gave this sandwich maker a dual-tone finish with white on the outside and black grills inside.
2) So, it is a grill sandwich maker with the non-stick coating that lets you keep it clean quite easily and also elongate the machine's life.
3) Cord winder is also present at the base.
Also Read : 10 Best Fruit & Vegetable Juicers
4) Towards the handle, which is built right into the machine, there is no point of it breaking anytime soon. The company has included a buckle clip that keeps it safely closed when in use.
5) With its 700-watt power, 2 years of manufacturer warranty and its price, this is one of the best deals.
Check Price : Amazon
---
6 Solimo Non-Stick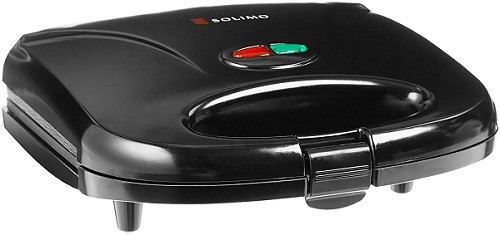 1) Easy to use and even easier to store, that's the whole purpose of this sandwich maker from Solimo.
2) While not in use, you can store the sandwich maker in standing position with the help of its feet on the hinge.
3) Quite large-sized, you can place two sandwiches to cook simultaneously.
4) There is a 1.2-metre long cable that should help you reach even the farthest power sockets.
5) It has an automatic thermostat control and includes a seal on the handle to keep the maker closed when cooking.
6) Rated for 750W, this machine's plate has double Teflon coating for even better results than the others.
Check Price : Amazon
---
7 Morphy Richards SM3006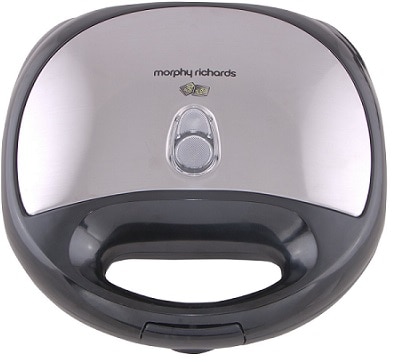 1) Though available at a premium, Morphy Richards makes products that offer best in class quality.
2) The sandwich maker from the company not only looks good but has also been made out of quality material.
3) With its grilled design, you can cook two sandwiches in one go placed side by side.
4) What's interesting is that the company is also including extra toast and waffle plates in case you want to make either of those.
5) The handle is strong enough to even carry the product around and it has a power rating of 750W.
6) It comes with a warranty of 2 years.
Check Price : Amazon
---
8 Cello Super Club 200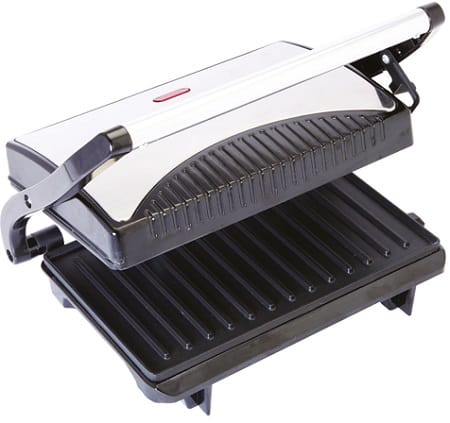 1) If you prefer a bigger sandwich maker, then this one should be high on your list.
2) The top plate in this machine from Cello has floating hinges, which makes it even better at making sandwiches.
3) Its non-stick plates can hold and cook two sandwiches in one go.
4) While its outer material is made of plastic, you can have faith that the product would last for much longer than others.
5) Cello has a robust after sales support and is offering 2 years of warranty on its product, which again is reassuring.
6) There are light indicators on the top and it is rate 750W for power.
Check Price : Amazon
---
9 Oster CKSTSM2223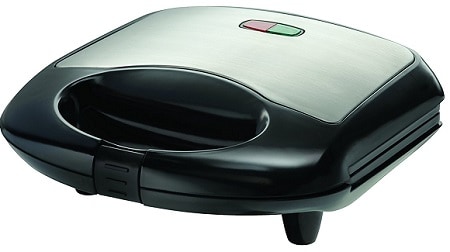 1) Being the first meal of the day, the breakfast should just be perfect. This sandwich maker helps you make those with its functional design.
2) It has built-in grooves that not only cut the sandwiches into two but also help it cook from the inside too.
3) It allows vertical storage and has non-stock plates for an easy cleaning and better-quality sandwiches.
4) There is an indicator light that lets you know when it is ready to cook.
5) It has a power input of 700 watts and also includes automatic thermostat control.
6) Oster is including a warranty of 2 years with this product.
Check Price : Amazon
---
10 Borosil Krispy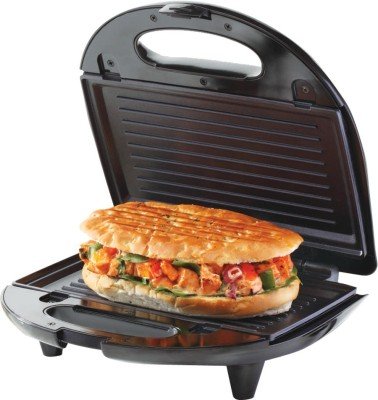 1) Coming from Borosil, this sandwich maker has a single grill plate without partition that allows you to cook things like hotdogs or footlongs.
2) It is designed to consume less oil and hence lesser fat for you.
3) The Teflon coated plates on this machine results in no odour or smoke besides making it easier to clean.
4) It has an extended cable and it can be stored in the maker itself.
5) The top cover is made out of metal while its handle has been designed to stay cool even when the sandwich maker is running at its top.
6) It has a warranty of 2 years.
Check Price : Amazon
Why Use a Sandwich Maker?
First off, that little appliance lets you make those lip-smacking sandwiches much faster than the conventional way you might be using now. If you are using a pan to make sandwiches, then you might be taking a long time and possibly struggling to keep the sandwich and all its ingredients in place. With the sandwich maker, you will get rid of all those hassles and it would take just a few minutes to make a perfect sandwich just the way you like it.
With that, the sandwich maker cooks the sandwich from both its sides equally and you don't have to flip the sandwich like you would do on a pan. What you have put inside the sandwich will literally stay in there while you are cooking it. Plus, it would cook the layers, too, properly, which wouldn't be possible otherwise.
---
Also Read:
Top 10 Best Current Mixer Grinders in India
10 Best Fruit & Vegetable Juicers
---
It is really demeaning to call it sandwich maker when it can do so many other things as well.
The sandwich maker is basically a frill where you can cook anything that needs to be grilled, be it non-veg or some vegetables. And if you have a flat surfaced sandwich maker, making a sunny side up would be a breeze.
Things to keep in mind while buying a sandwich maker?
You thought that buying a sandwich maker is an easy task, then you might want to know that there are a number of things that you would like to consider before buying one. For having a sandwich just the way you like, the machine must be able to do that accordingly. Below mentioned are the five things that you must take note of:
Size of the Sandwich Maker
According to the size of your family, there will be the perfect sandwich maker size, too. For the general purpose, you can get a sandwich maker that can either hold one or two sandwiches simultaneously. The larger one might cost a little extra but it'd solve the purpose by making more sandwiches quickly for more number of people.
Surface Type
The surface of the maker would define how your sandwiches and other dishes would turn out to be. Cast iron surfaces will get the food stuck more often than the Teflon surfaces. Teflon would also be easier to clean and it lasts longer, too.
Features
If not looking for a budget sandwich maker, the costlier ones tend to offer more features than the conventional ones. You will get many modes according to what you are cooking or how you want it cooked. If you need such features and are willing to spend some extra bucks then they are definitely worth it.
Handle Type
With regular use, you wouldn't want the handle to break or come out very easily or often. When looking for a sandwich maker you must note the material its handle is of, plastic or metal. As you'd understand, the plastic ones will be more brittle and will break easily, while the ones made out of stainless steel would last quite long even with regular use.
Price
Like it has always been, costlier doesn't always mean better, nor does cheaper means worse. You will have to find that one sandwich maker that perfectly suits your needs and isn't way out of your budget. There are quite a few options available at a lower price if you want something to start with.
After all the things you just read above that you need to take care of, it is natural for you to take it as a tedious task. Pricing itself makes the decision way more difficult since you have to find a balance between the features you want and what comes in your budget. We have created a list of ten best sandwich makers in the market that you can choose from.
---
Also Read:
1) Top 10 Best Table Top Wet Grinders
2) 10 Best Current Mixer Grinders
3) 10 Best Fruit & Vegetable Juicers
4) 10 Best Low Priced Room Heaters