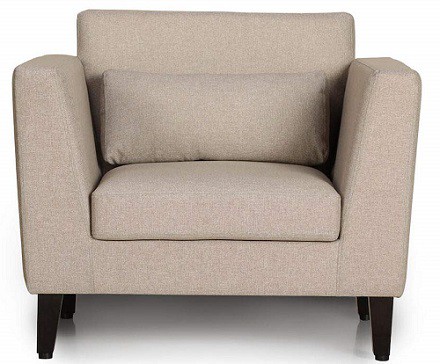 If you're searching for an individual sofa and within a suitable budget, Wakefit has the exact thing that you're searching for. The Wakefit Snoozer sofa is a delight to purchase, both in terms of look and overall comfiness.
Pros-
Very Spacious for being a single-seater.
Made up of neem wood, ensuring high durability
100% Polyester Fabric.
Made up of MDF and Plywood support material.
.Comes with different color choices for you to choose from.
3 years of manufacturer warranty.
Cons-
Very heavy, making it harder to move.
To be very honest, I had a hard time pointing out its issues. This sofa is definitely one of the best that I've seen which you can't help but like. Sturdiness won't be an issue thanks to Neem wood, and it is very comfortable to sit, partially because of how spacious it really is, which definitely is a bit surprising considering other Wakefit sofas that we reviewed.

Rs.

7,476

Rs. 8,796
1 new from Rs. 7,476
in stock


Rs.

18,489

Rs. 28,890
1 new from Rs. 18,489
in stock


Rs.

35,462

Rs. 55,411
1 new from Rs. 35,462
in stock

From the looks of it, it is quite pleasing to the eyes and will definitely increase the overall beauty of the room. The cushions are separable which is a very welcoming addition as well.
And yes, it does come with color choices for you to choose from. The weight was an issue for me when it came to moving it but it won't be an issue for now as the professionals will install it for you wherever you want.
It also is quite cost-efficient and just like the other Wakefit sofa, this will be light on your wallet as well.
All in all, it is one of the best choices for you, Definitely will be a perfect choice and won't let you regret your purchase. I really had to think of something to point out but I failed to in the end. Hope you enjoyed this short review.
Available At – Amazon