The much-awaited Acer Predator Helios 300 has finally made its debut in India, creating a wave of excitement among tech enthusiasts. Renowned for its exceptional performance, this laptop stands among the finest available in the Indian market, making it a top choice for users seeking powerful computing capabilities. Moreover, for those who exercise patience and wait for the opportune sale, they might just snag this impressive device at a fantastic deal.
In this comprehensive review, we will thoroughly explore all aspects of the Acer Predator Helios 300, including its build quality, battery life, productivity performance, gaming prowess, and more. By delving into these key features, we aim to provide readers with an insightful understanding of what makes this laptop a standout option in its class.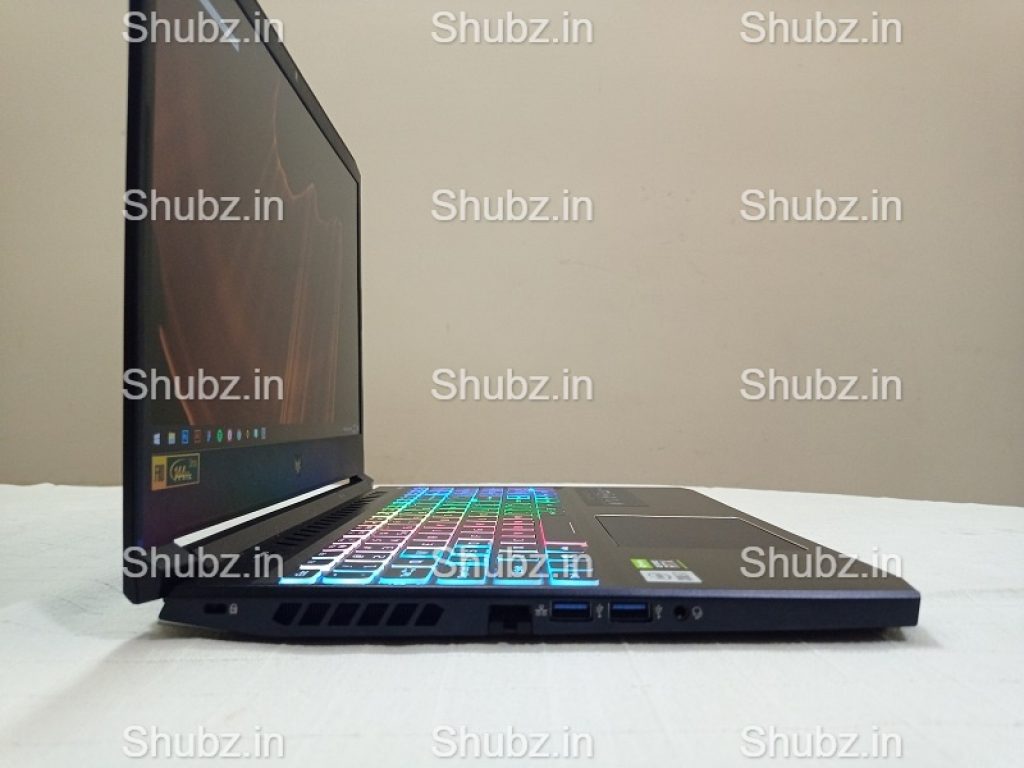 BUILD:
At first glance, the laptop impresses with its slim profile, defying the typical bulky appearance of gaming laptops. The sleek design incorporates both the top and lid made of lightweight aluminum, contributing to its portability without sacrificing durability. Though featuring two sharp corners beneath the display, they are strategically positioned and unlikely to pose any inconvenience for most users. A minor downside is the lid's tendency to attract fingerprints, though a quick wipe with a cloth easily resolves this issue. Upon powering on the screen, the illuminated Predator Logo on the lid adds a stylish touch, particularly with the absence of any predator writing, lending the laptop a minimalist and modern appeal.

In terms of construction, the screen exhibits minimal flex, and the hinges exhibit a sturdy yet smooth functionality, ensuring a comfortable user experience. The presence of numerous vents beneath the laptop facilitates efficient airflow, with two vents on each side and two large vents with white fins on the rear. This robust ventilation system effectively dissipates the heat generated during intense usage, contributing to the laptop's overall cooling performance.
Positioned at the top of the screen, the webcam on this laptop serves its purpose with a 720P resolution, which proves sufficient for most users' needs. However, it's worth noting that an IR sensor is absent, meaning that Windows Hello facial recognition support is not available. Yet, this omission is not a significant concern, as it's a feature commonly found in gaming laptops. Thus, for its intended gaming-focused usage, the lack of an IR sensor is not considered a major drawback.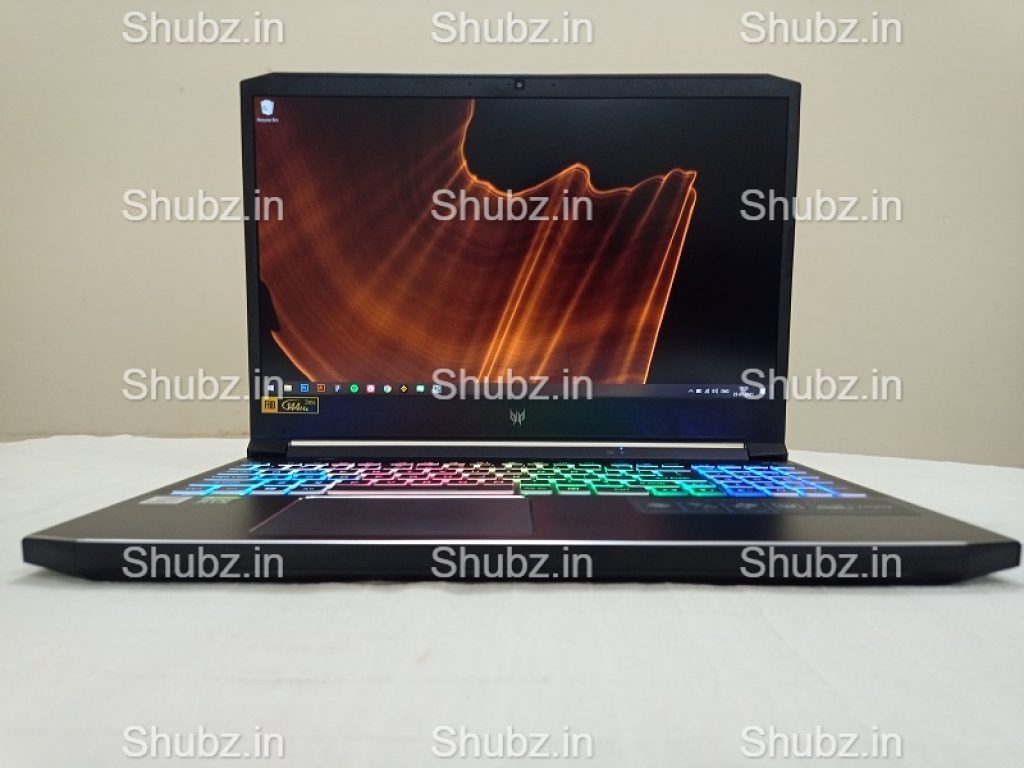 SCREEN:
The Helios 300 sports an amazing 144Hz IPS screen with about 97 percent sRGB coverage. The broad colour range will improve the viewing experience and make colours stand out more. The 144Hz refresh rate complements having such a beautiful screen. Going back to the old 60Hz panels would seem quite sluggish after experiencing such a high refresh rate. Everything from mouse movement to scrolling and window movement seems fluid and responsive. This smoothness, especially while gaming, provides a far more pleasant experience while also reducing input latency.
The display is also fairly bright, reaching up to 300 nits, which is ideal for outdoor visibility. Because the screen has such a high brightness, even when turned down to 30% or 40% brightness, it is still reasonably bright.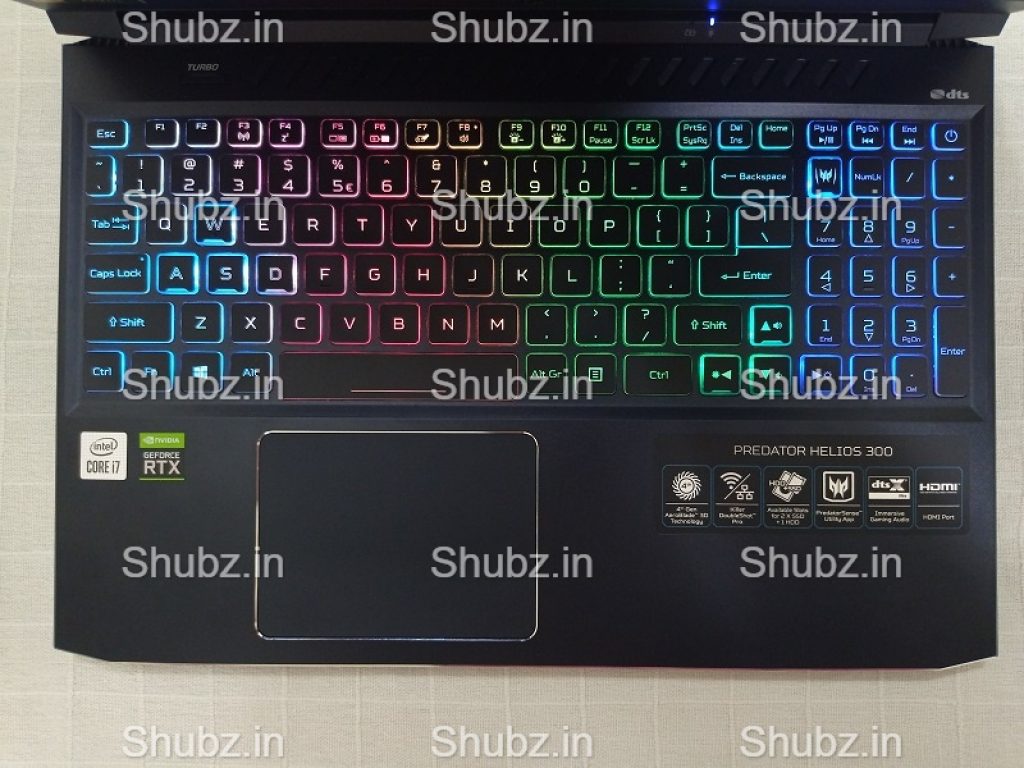 KEYBOARD:
The Helios 300's keyboard is full-size and features a numpad. The keys are well-spaced and comfortable to type on. For added flair, the WASD and arrow keys feature blue/cyan linings. Two more keys on the keyboard have unique roles as well.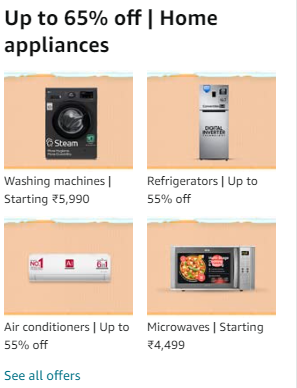 First, there is a button with the Predator emblem on it; hitting this instantly launches the Predator Sense application in Windows, where you may customise and monitor the performance of your laptop. We'll go through this in further detail later.
The second button, positioned above the keyboard deck, is the Turbo button. It is a dedicated button that allows you to quickly overclock your GPU and increase the fan speeds. This implies that whether you're playing a game or running a software with heavy loads, hitting this button will assist keep the temperatures down while simultaneously boosting performance.
Another thing to keep in mind is that the power button is situated on the keyboard. To turn on the laptop, push the power button for 2 or 3 seconds. When the laptop is turned on, unintentionally hitting the power button will not turn it off, which is a convenient feature.
In terms of illumination, the keyboard has a lot of options. The illumination on the keyboard is divided into four distinct zones, each of which may be customised in terms of hue. Lighting effects such as static, colour wave, breathing, zoom, shifting, and neon are available. The lighting is bright, and the lettering is clear through the keycaps.
Touchpad:
The touchpad is typical, having a smooth plastic texture. It is compatible with Windows gestures, which is a good feature. The sensitivity was a little lower out of the box, but that is a personal taste. And if you're a gamer, you're probably going to use an external mouse anyhow.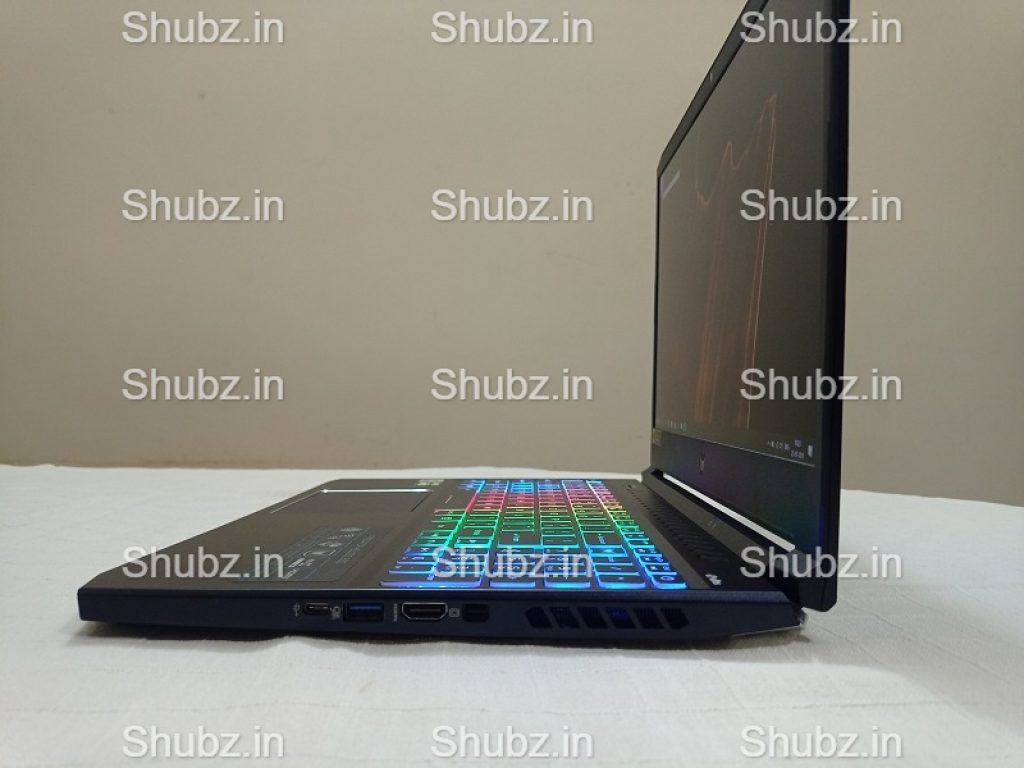 Processor:
The Helios 300 is equipped with the newest 10th Generation Intel Core i7 10870H CPU, which is a highly powerful processor. It is an eight-core, sixteen-thread CPU that can readily handle any demanding tasks you throw at it.
You should be aware that the processor does tend to heat up, but not to the point where it becomes concerning. As with the previous generation of Intel CPUs, the undervolt capability is disabled by default. However, if you upgrade to BIOS version 2.02, you may undervolt the CPU and significantly decrease temperatures.
GRAPHICS CARD:
The Helios 300 is equipped with an Nvidia RTX 3060 graphics card, which is a fantastic GPU for 1080P gaming and does not disappoint. The GPU has 6GB of VRAM and Tensor cores for Artificial Intelligence and Machine Learning tasks. RTX GPUs have the advantage of supporting Ray tracing, which has lately become a very demanding graphics element in contemporary games.
The RTX 3060 performed admirably in all of our testing, delivering more than 60 frames per second in most AAA games and more than 144 frames per second in competitive shooters such as Valorant, Counter-Strike Global Offensive, Apex Legends, and Fortnite.
Another appealing aspect of this card is that it supports DLSS 2.0, a function that Nvidia has included in games that use it. It's a quick and easy approach to boost performance without losing graphics quality. FPS increases may be seen in games such as Control, Ghostrunner, Metro Exodus, and Death Stranding.
In terms of temperatures, the graphics card stays fairly cool, going up to 75C on auto fans and hovering on 69-70C on max fans.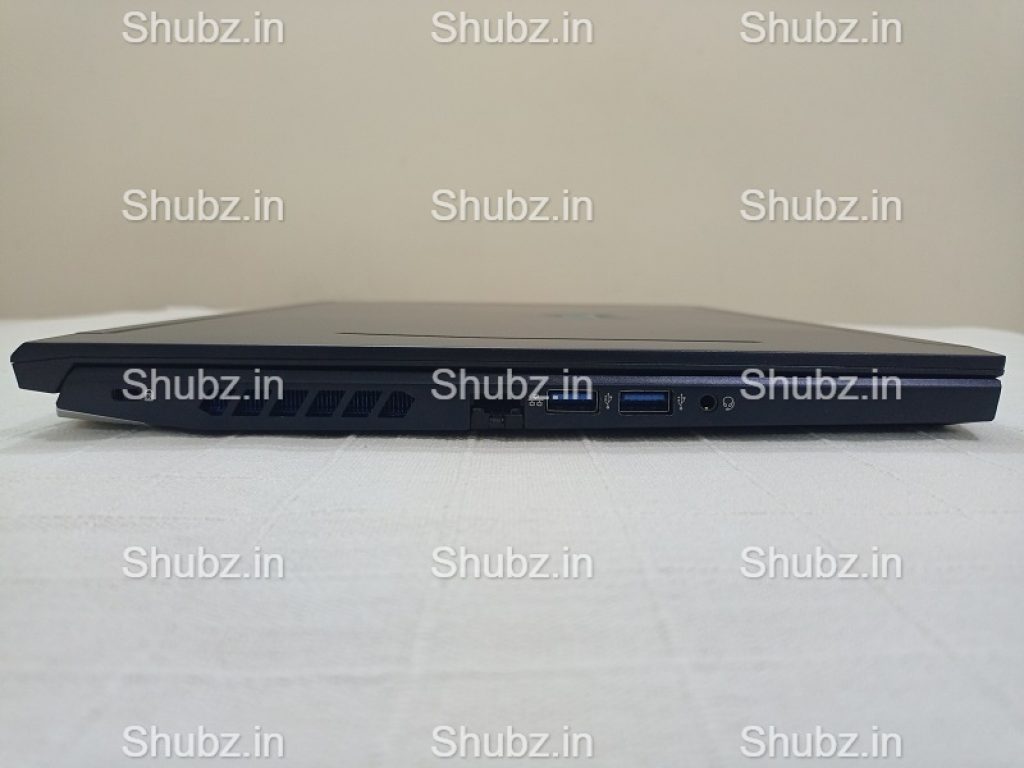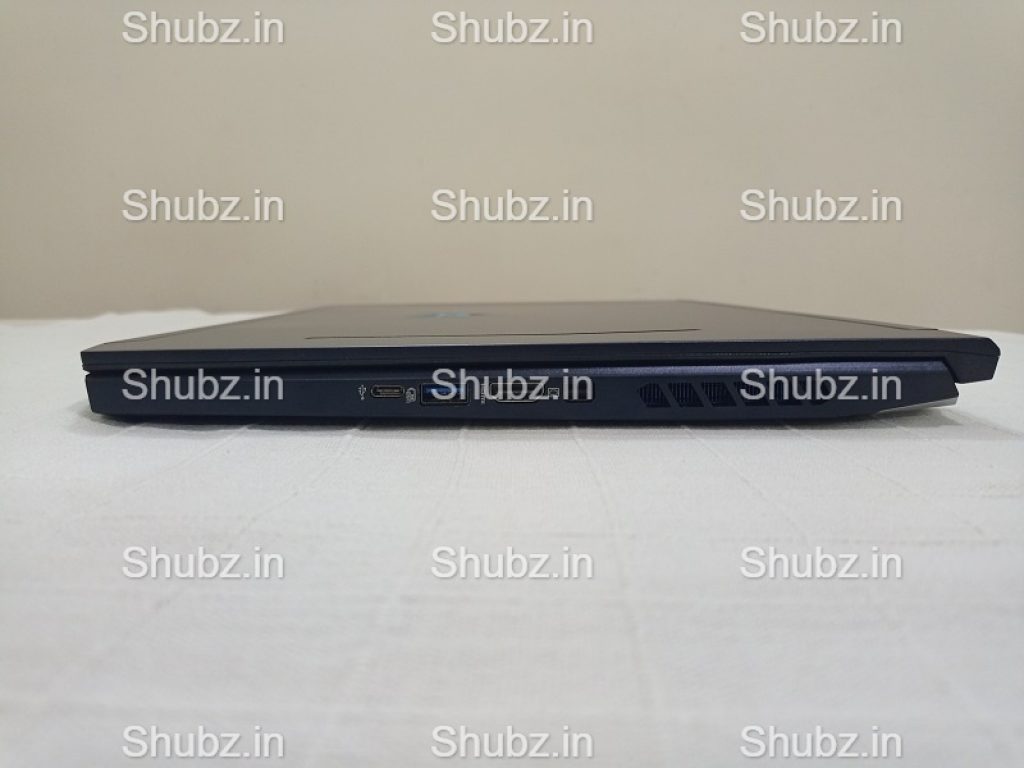 BATTERY:
Gaming laptops, including the Helios 300, typically don't offer extensive battery life, and this holds true to some extent for this model as well. In its default settings, you can expect to get around 3 hours of battery life, which may not be sufficient for extended usage.
However, there are effective methods to significantly improve the battery life. We highly recommend creating a custom power plan and disabling turbo boost when using the laptop on battery power. Additionally, adjusting the screen brightness to around 30% to 40% and changing the refresh rate from 144Hz to 60Hz can yield substantial gains in battery life.
After implementing these adjustments, we observed a remarkable increase in battery performance. With Wi-Fi and Bluetooth enabled, the battery life extended to an impressive 4 to 5 hours of use. Turning off Wi-Fi and Bluetooth further boosted the battery life, providing approximately 6 hours of usage, which is twice the duration of what was achieved previously. These optimizations allow for a much more satisfactory and extended battery experience when gaming on the Helios 300.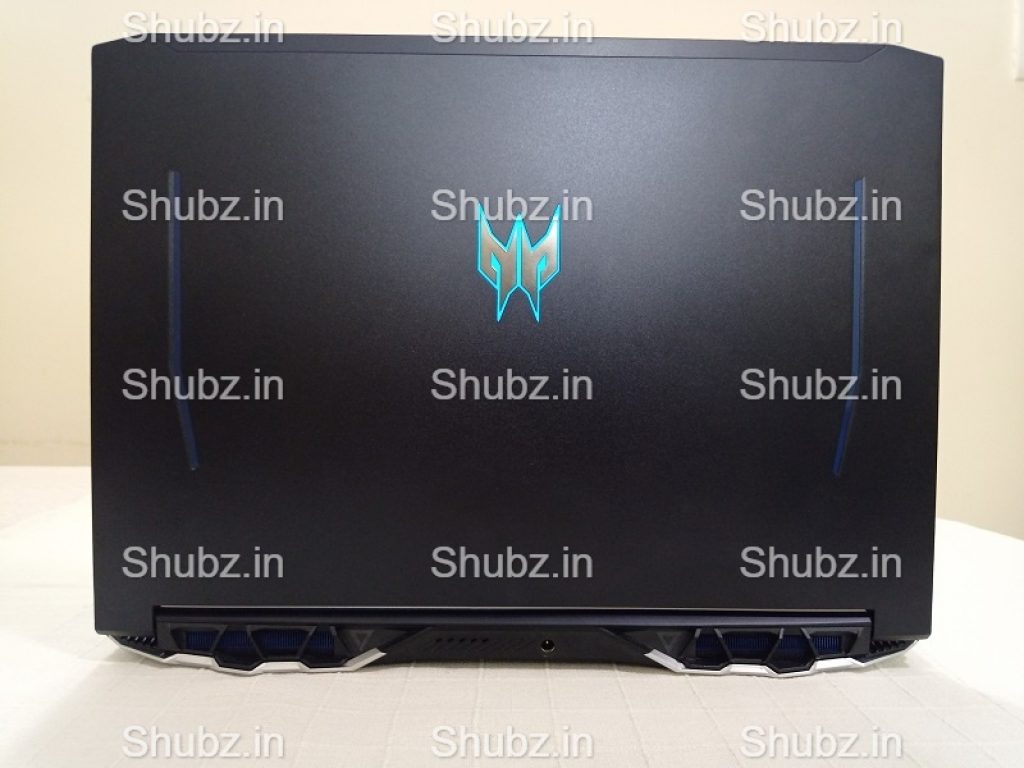 CONCLUSION:
The Predator Helios 300 stands as a commendable high-performance laptop with minimal shortcomings. Notably, this year's iteration marks a substantial upgrade over its predecessor, primarily attributed to the incorporation of the new RTX 3060 graphics card. Coupled with subtle yet impactful adjustments and enhancements in the cooling system, this latest version delivers an impressive and smoother gaming experience.
As a result of these notable upgrades, the 2023 model surpasses the previous year's offering, making it a more appealing choice for users. Additionally, the inclusion of the current 10th generation Intel Core i7 CPU further solidifies its position as a top-tier option, ensuring top-notch processing power and overall performance for a wide range of applications.
Also Read :
10 Best Gaming Laptops Under Rs 50,000
Gaming Laptops Under Rs 90,000
10 Best Laptop Under 60,000 in India