Recently updated on November 24th, 2023 at 12:43 am
An All-in-one PC is the best choice if you want desktop level performance without having to worry about assembling the components as well as fussing over hardware compatibility. It is also perfect for saving space on your desk as all the components are tidily tucked into the back of the monitor. Most All-in-one PCs come with keyboard and mouse bundles included with them so it saves a lot of money than buying them separately.
In this article, we will list our recommendations for the best All-in-one PCs you can buy for different price points, starting from budget PCs and ending with high-end options.
First of all, let's discuss what are the important things you have to keep in mind when looking for All-in-one PCs :
The Processor
The one thing that you should know when you are looking for an All-in-one is that most PCs of this category have slightly underpowered CPUs. The powerful CPUs are only present in higher priced variants.
So for most low budget options, you will be limited to Intel Core i3 processors or older generation Intel Core i5 processors like from the 8th Generation or even 7th generation. The higher priced PCs have the newest Intel Core i7 and Ryzen 5 or 7 CPUs inside,so for heavy users,they will be the right choice.
The RAM
If you are a casual user and only need a PC for basic tasks like watching movies or typing documents, then you should choose 4GB to 8GB of RAM. But for other tasks like video editing, audio production and gaming, you should go for 16GB of RAM or even more.
The Storage
Considering that you will be using this PC as your main device for doing your work, having the most amount of storage space in your setup is recommended. And the storage device should also be fast enough so that your day to day tasks can be done without any hitches, so getting a PC with an SSD is recommended.
The Graphics Card
If you will be gaming on your PC then having a dedicated graphics card is crucial. Even for video editing tasks and 3D rendering, having a proper graphics card will help in reducing render times a lot.
The list of the All-in-One PCs have been arranged in decreasing order of their price, with the most expensive ones first and the cheapest towards the end.
Best All in One Desktops in India
1. HP Pavilion AIO 27-xa1027in (recommended)
(AMD Ryzen 3750H, 16GB RAM, 1TB 7200 rpm HDD, 512GB SSD, AMD Radeon Vega 10 Graphics, Wireless keyboard and mouse, 27 inch Screen)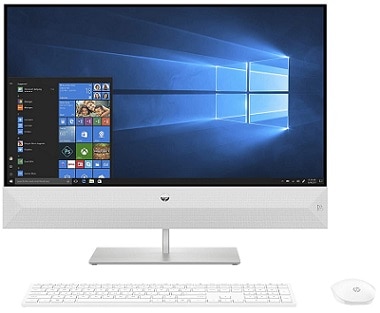 For around 100k price point, the HP pavilion AIO 27-xa1027in is the best bang for your buck PC available right now. Featuring a huge 27inch display that very few AIOs have at this price point, the viewing experience on this PC will be an absolute delight. Coming to performance, it has the AMD Ryzen 7 3750H CPU combined with 16GB of RAM, which is such a great deal. Having 16GB of RAM ensures that you will have no trouble doing heavy tasks simultaneously and you won't have to suffer any kind of hiccups in performance during your daily work.
As for storage, it has 512GB of SSD storage along with 1TB of HDD. That is plenty of space to store your work and having an SSD is a must at this price point. It also has AMD Vego 10 graphics built into the CPU. While not the best graphics card you can get, it does ensure that you will be able to game on this PC at low to medium settings on most titles.
Also Read : Best Gaming Laptops Under Rs 70000 in India
NOTE: There is also a Ryzen 5 variant of this AIO, which is around 10k less. All the other specifications are exactly the same. So if you want this PC and want to save some money the lower priced variant is a good alternative.
Check Cheapest Price : Amazon
---
2. Apple iMac 21.5 inch
(Intel Core i5 8th Gen, 8GB RAM, Radeon RX 560X, 256GB SSD or 1TB Fusion Drive, Magic Mouse 2 and Magic Keyboard, 21 inch Screen)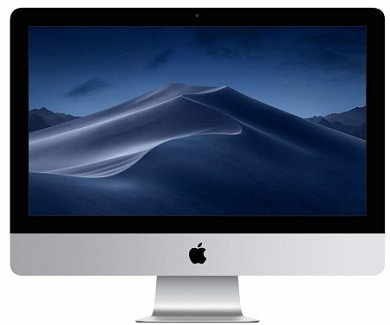 Look, if you have a budget of more than ₹1 Lakh and want high end specs, then the Apple iMac is the best option for you. We admit, it is expensive. But for the price you pay, you do get the very best in quality and performance.
Recently, the Apple Store finally launched in India, which means you can customise your product according to your needs and directly order it from Apple themselves. The specs that we have mentioned in the title are only the base specifications. You can choose to completely go all out with the specifications and make a beast of an iMac, with upto 32GB RAM, Radeon Pro Vega 20 graphics card, 1TB SSD Storage and an Intel i7,albeit an older generation one.
Also Read : Best Graphics Cards In India
But for actual high end users, we recommend the Apple iMac 27 inch, as this is the newly launched variant with updated specs and much better performance.
Check Cheapest Price : Amazon
---
3. Apple iMac 27 inch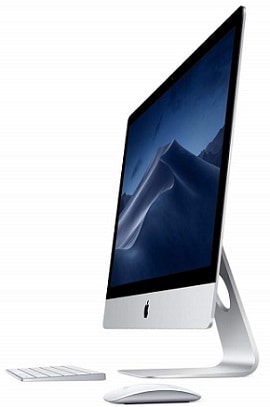 This is the end game, the zenith in terms of AIO PCs. The only thing that limits its performance is the budget you have for it. Starting at ₹1,69,990 the base specifications include 8GB RAM, Intel i5 10th Gen CPU, Radeon Pro 5300 GPU (4GB VRAM), 256GB SSD, Gigabit ethernet and Magic Mouse and Keyboard Combo. Also a worthy mention is the absolutely gorgeous 5K Retina Display that you get, anything you watch on this display will be phenomenal. So, if you are someone who needs the absolute best, this is it.
The highest priced specifications include Nano-textured glass ( to prevent reflection from other light sources on it's screen), and Intel Core i9 10th Gen processor, 128 GB RAM, Radeon Pro 5700XT GPU(16GB VRAM), 8TB SSD Storage and 10 Gigabit Ethernet.
Also Read : Gaming PC Assembled Under Rs. 50,000
But let's be honest, there are very few lucky individuals in this world who can afford this kind of configuration.
Check Cheapest Price : Amazon
---
4. Asus Vivo AIO
(Intel Core i5 10210U, 8GB RAM, 1TB HDD, Integrated Graphics)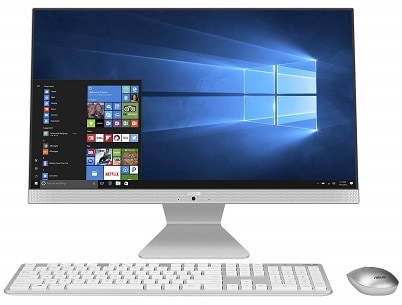 If you want the latest 10th generation Intel Core i5 CPU in your PC then this is one of the cheapest options. And being only around few thousand more than the HP i5 variant mentioned above, you do get Windows 10 preinstalled, which is a huge plus.
The screen size is still 21.5 inch but the bezels are very slim on this monitor so it will actually be a very pleasing viewing experience. It also has the option of wireless keyboard and mouse, which is a very good deal for a clean and easy setup on your desk.
Check Cheapest Price : Amazon
---
5. Lenovo IdeaCentre AIO 5i (recommended)
(Intel Core i5 10400T, 8GB RAM, 512 GB SSD, 1TB 5400 rpm HDD, Wireless keyboard and mouse, JBL Speakers,24inch Screen)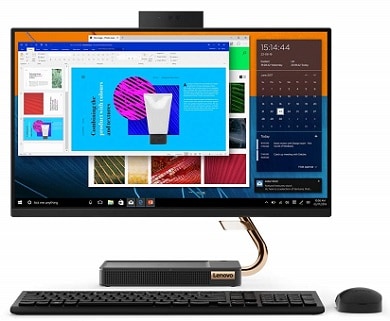 The Lenovo IdeaCentre 5i is in the sweet spot of this list with very good specs for its price. Inside this PC, there is the Intel Core i5 10400T, a 10th gen variant of the i5 which is very powerful for its class. The biggest plus point of this AIO is that it has 512 GB SSD included as its storage along with 1TB HDD.
So you will be able to have super fast boot times and an absolutely pleasant experience doing tasks on this PC. It also comes with a wireless keyboard and mouse which is a pretty great deal.
Also Read : 10 Best Gaming Laptops Under Rs 50,000
The speakers are also certified by JBL Harman, you will have a great listening experience on this AIO.
Check Cheapest Price : Amazon
---
6. Lenovo Ideacentre A340-22IWL
(Intel Core i3 10110U, 4GB RAM, 1TB 5400 RPM HDD, 21.5 inch Screen)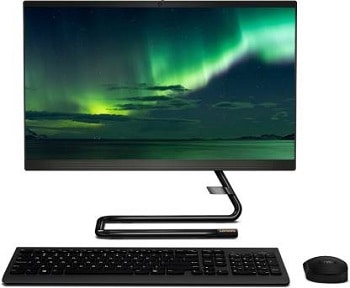 Starting off with one of the cheapest All-in-one PCs you can buy, this Lenovo Ideacentre is recommended for people who just want a PC to do very basic tasks like read their emails and watch 1080p movies. Since the hardware is a bit underpowered, we would advise not to do any sort of heavy tasks like video editing or gaming on it as it just doesn't have the specifications for it. But at such a low price of around 34k , you will be hard pressed to find a better alternative for it. Some things to keep in mind when buying this variant are:
This variant only has 4GB of ram, so multitasking might be a problem if you are a person who prefers doing multiple things at once.
Also Read : 10 Best True Wireless Earbuds Under Rs 2000
This does not have Windows 10 preinstalled, if you want that, you will have to opt for the higher priced variant priced around 40k. This variant also comes with 8GB of RAM which is a nice upgrade.
Check Cheapest Price : Flipkart
---
7. HP All-in-One 24-dd0201in
(AMD Ryzen 3 3250U, 8GB RAM, 256GB SSD, 1TB HDD, MS Office 2019, 24 inch Screen)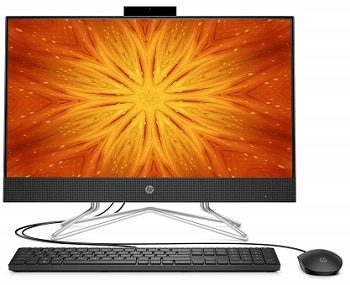 This HP All-in-One is another great alternative if you want more performance than other Intel core i3 alternatives. This PC has the Ryzen 3 3250U and 8GB RAM, which will help out a lot if you are a multi-tasker and have many Google Chrome tabs open at once or prefer to have multiple programs running at a time.
Another big plus is that it has a 256GB SSD inside it along with a 1TB HDD, so boot times will be very less and you will have a much better time doing your work faster. It also has a bigger screen than cheaper alternatives as it has a 24inch screen.
Also Read : Gaming Laptop Buying Guide: How To Choose the Right Laptop?
It also comes with MS Office preloaded,so if you type a lot or have to make presentations then this is a huge plus.
Check Cheapest Price : Amazon
---
8. HP 205 G4 22 All-in-One PC
(AMD Ryzen 5 3500U, 8GB RAM, 1TB 7200 rpm HDD, No Windows,22 inch Screen)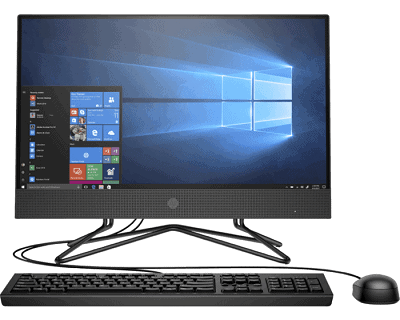 If you want a better performing PC but do not want to spend more than ₹50,000 then the HP 205 G4 22 is a very good choice, with a few caveats. Let's get the good things out of the way first.
It has the AMD Ryzen 5 3500U, a much better 4 core CPU than what you would get from other AIO PCs at this price. It also has integrated AMD Radeon Vega 8 graphics built into it,so you can play casual games on this PC if you choose to.
Also Read : 10 Best Gaming Headphones Under Rs. 5,000
You also get 8GB of RAM so multitasking can be done without any problems. Now let's get to the flaws. The reason this AIO is priced so low is because it does not have Windows 10 pre-installed in it. So if you want an OS you will have to pay more for that variant, which is priced above 50k .
Available At – HP Store
---
9. HP 22-c0163il
(Intel Core i5 9400T, 8GB RAM, 1TB HDD,22 inch Screen, No Windows)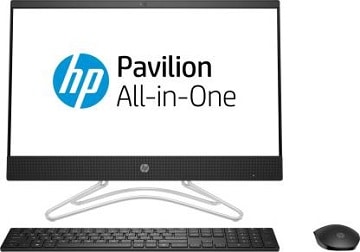 The HP AIO 22-c0163il is a good choice if you prefer an Intel alternative to the above mentioned Ryzen variant. This PC has the Intel Core i5 9400T, which has higher single core speeds than the Ryzen 5 3500U. So for better single core performance, this is a better choice. But it has the same flaws that the Ryzen variant has.
With no Windows 10 preinstalled in the system, it will be a turn off for a lot of people that just want a system to work out of the box. And secondly the screen size is just 22inch, an underwhelming choice considering lower priced AIOs have 24 inch screen, but you do lose out on performance a lot if you choose those.
Also Read : Gaming Laptops Under Rs 90,000
So, the compromise you have to make is either screen size or CPU performance.
Check Cheapest Price : Amazon
---
10. HP EliteOne 800 G5
(Intel Core i5 9500, 8GB RAM, 1TB SSD, 24 inch Screen, Wireless Keyboard and Mouse)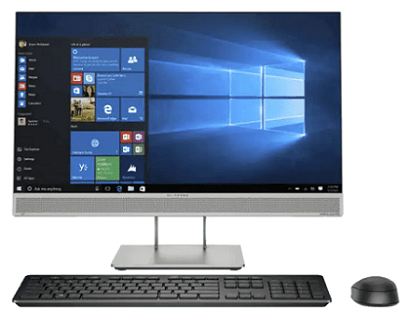 Stepping up towards the higher end systems, the HP EliteOne 800 G5 is a very good choice if you prefer Intel Core i5's performance as it has the i5 9500 inside it. The highlight feature of this PC is that it has a 1TB SSD, so you will have plenty of super fast storage to store all your files and access them instantly thanks to the SSD's blazing fast speeds.
The Screen is also 24 inch, having very small bezels, so watching movies and videos will be a treat on this display.
Also Read : Best Gaming PC Build Assembly Under Rs 1,00,000 in India
It also comes preloaded with Windows 10 Pro and has wireless keyboard and mouse.
Available At – HP Store
---
11. Dell Inspiron One 27
(AMD Ryzen 5 1400, 8GB RAM, 1TB 7200 rpm HDD, AMD Radeon RX560 Graphics Card)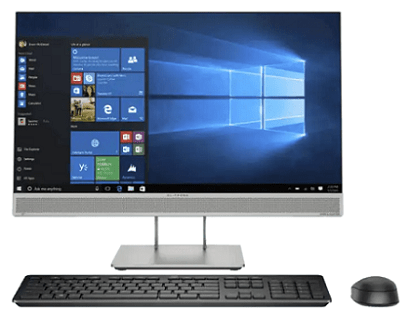 Of all the AIOs listed today, this is the only one with a dedicated graphics card. We would only recommend this AIO if your primary objective is gaming above all else. The processor is the AMD Ryzen 5 1400, which to be honest is quite old and hence would feel dated now. It also comes with 8GB of RAM, again a bit underwhelming at this price point.
It also doesn't have an SSD inside it. The only thing this PC has going for it is its graphics card. The Radeon RX560 will be able to play more graphically intensive games than any other PC with an integrated GPU. But do ask yourself, how much will you compromise just for gaming?
Also Read : Best Gaming Monitors Under 20000 in India
Choosing a suitable AIO PC is a daunting task, with so many options out there. So,we hope you have a much better picture of the current market and can make a purchase decision that you won't regret and be able to enjoy doing your work on your new machine.
Check Cheapest Price : Flipkart
---
So , that was all for our All in One Desktop's list. We have tried to find best options for all type of buyers. We have put budget options from HP , the best quality options from Apple and some mid range options from other brands.
Also Read :
10 Best Monitor Arm Stands in India
10 Best Laptops Under Rs. 35,000