Laptops have become quite powerful over the years and you now don't need to rely on desktops for heavy tasks including gaming.
But with such demanding games, the internal fan system of the laptops isn't enough to keep them cool and you have to get a cooling pad.
---
Is Using Cooling Pad for laptop is Beneficial ?
Cooling pads not only keep your device cool but also increase your laptop's life by not allowing its internals to exert more than they should.
Best Laptop Cooling Pads in India
There are a lot of cooling pads available for all kind of laptops and below are the best ones to choose from.
1 Deepcool Multi Core X6 Notebook Cooler
(🌟🌟🌟🌟🌟)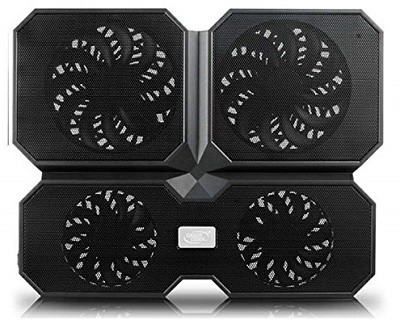 One of the bestselling options right now , which has 4 massive fans for best airflow to keep your laptop cool and avoid thermal issues.
You can control this cooling pad with four settings.
4 fans on
2 upper fans on
2 downside fans on
4 fans off
This cooling pad is compatible with laptops with screen size of 15.6 inch and below. The 4 fans are placed exactly at the right spots , so they can tackle the positions of GPU and CPU separately.
There are 2 angle settings for best viewing angles and comfort.
This will cool the laptop a bit at least by a few degrees and noise is not too high. Things you should know when buying this cooling pad that the mesh design can be a bit difficult to clean and you can't control all the fans individually.
Buy Now From : Amazon
---
2 Havit HV-F2056 Cooling Pad
(🌟🌟🌟🌟🌟)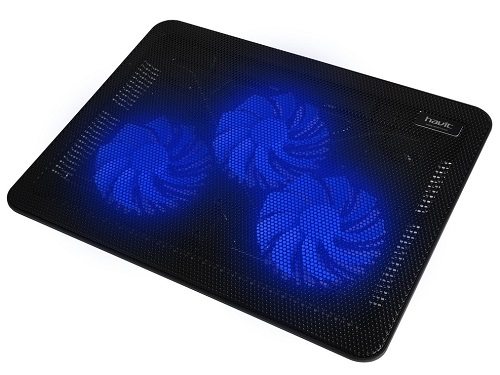 Can be used for both 15.6 and 17 inch laptops.
1100 Rpm fan speed , good for high end gaming.
Top is made of metal and plastic seems of good quality.
1) This laptop cooling pad definitely looks to have come straight from another galaxy maybe.
2) The three fans spinning beneath the mesh with their blue LED lights create an illusion that gives it the look.
3) Apart from this, the cooling pad looks quite basic and is made out of high-quality metal.
4) It is an extremely slim cooling pad for your laptop that won't even make much noise to disturb you.
5) The mesh and the fans have been designed in a way to direct the maximum heat out of the laptop.
6) You'll be getting two USB ports on the pad and it has two height levels.
Buy Now From : Amazon
---
3 Zinq Laptop Cooling Pad
(🌟🌟🌟🌟)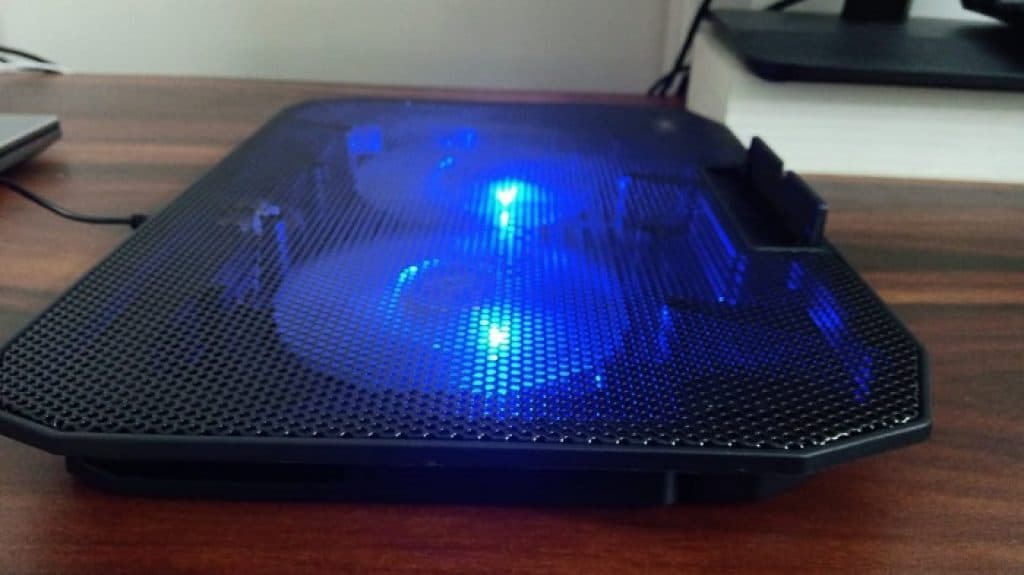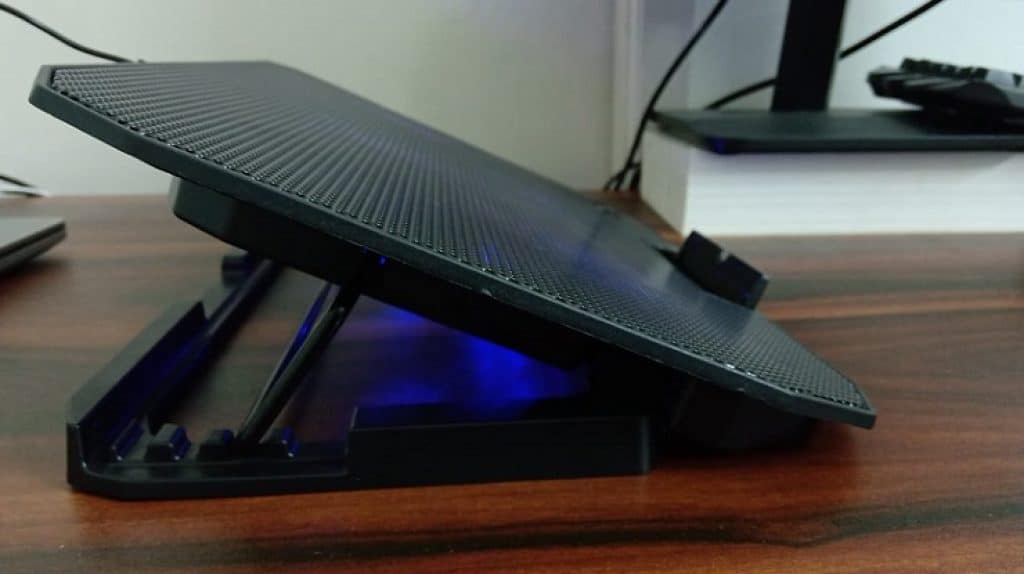 So, guys I bought this cooling pad since it was one of the most popular laptop cooling pads from Zinq on amazon. It costs 800 to 900Rs and it is one of the cheapest 2 Fan cooling pads. I have noticed some real problems with it but considering the price I think it's a fine deal.

I am first going to express how my experience was and then how it is in general.
---
4 LAPCARE ChillMate
(🌟🌟🌟🌟🌟)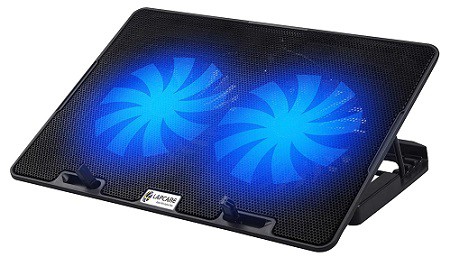 A very practical design by Lapcare , which cools your laptop and can work as a laptop stand too. Which is really handy , while working in bed.
It comes equipped with 2 12.5 Cm fans , which go upto 1000RPM. You will see a temperature difference while using this cooling pad for sure.
You can combine it with a Tarkan USB extractor fan to increase the air output from your laptop. While this cooling pad pumps the air inside , this can work as a great combo.
To ensure laptop grip , the design is anti slip. The mesh on top is quite tough. Handle the ports with care , to not damage them.
The product is light weigh and doesn't create much noise.
Check Cheapest Price : Amazon
---
Also Read :

10 Best Gaming Laptops Under Rs 50,000

Gaming Laptops Under Rs 90,000
---
5 Cosmic Byte Asteroid Cooling Pad
(🌟🌟🌟🌟🌟)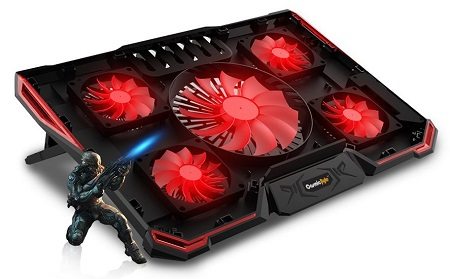 Seven level height adjustment , which is awesome at this price range.
Catchy red LED lights.
2 RPM controller for fans.
1) As out-of-this-world its name is, the cooling pad is as good at cooling your laptops down while you do those heavy works.
2) Like the Tarkan cooling pad mentioned above, this product is also designed for laptops that measure between 14 inches and 17 inches.
3) The LED lighting of the cooling pad makes your gaming experience even better.
4) While you are gaming on your high-end laptop, the five fans of this cooling pad will ensure that your machine doesn't heat even a bit.
5) And fret not, the fans won't disturb you with a loud noise. For the best posture, the pad offers 7 adjustable height levels.
Buy Now From : Amazon
---
6 Tarkan Dual-Fan Cooling Pad
(🌟🌟🌟🌟🌟)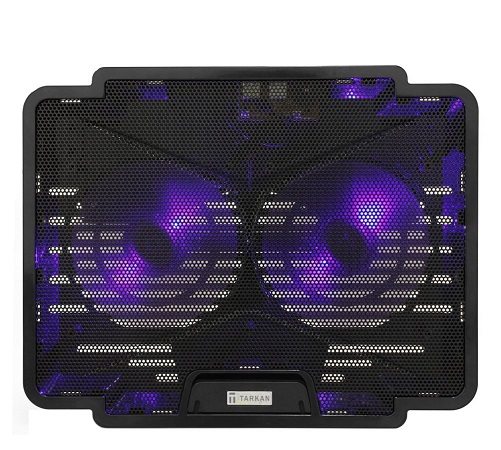 Got good grip , so don't worry about slipping of laptop.
Perfect fit for 15.6″ laptop.
Quite silent , you won't even realise it's on if LED is turned off.
Comes with option of variable speed
1) This product from Tarkan deserves to be on the top of our list for the features and build quality it comes with.
2) Comes with a warranty of one year and is the best laptop cooling pad.
3) Its top mesh is made out of metal for a stable support and the blue LED lights give it a futuristic look.
4) The dual fans of the cooling pad run at 1200 RPM and it works great while gaming to keep the heat at bay.
6) With that, the cooling pad has 5 height settings for a perfect viewing angle and posture for you.
7) It is powered by the USB power from the laptop itself and you don't need any additional adapter.
Buy Now From : Amazon
---
7 Belkin F5L055QEBLK Cooling Pad
(🌟🌟🌟🌟🌟)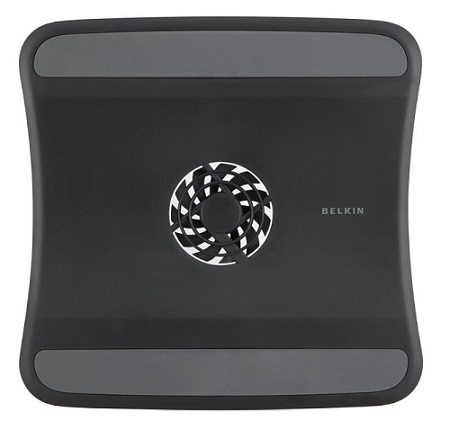 Long USB cord.
Little noisier but powerful.
Low priced , light weight and works good.
1) Belkin is a world leader in making electronic accessories and this cooling pad stands by its name.
2) the design of the pad looks phenomenal and uses a patented air-flow wing to keep your laptop at its coolest point.
3) Moreover, the cooling pad doesn't even make much noise while working because of its tech.
4) The cooling pad has been ergonomically designed to reduce the strain on your wrist and provide a perfect angle for typing.
5) This product is again powered by the USB of your laptop itself for your utmost convenience.
Buy Now From : Amazon
---
8 Tarkan Wind-Storm Five-Fan Cooling Pad
(🌟🌟🌟🌟🌟)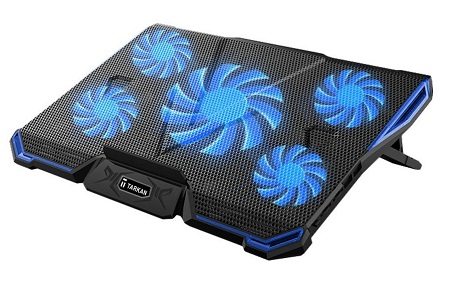 Can lower the temperature by 4-5 degrees during gaming.
Comes with speed adjustment.
1) And in case you have a laptop larger than 15.6 inches, Tarkan has a great solution for you as well.
2) Like its just said, this cooling pad is for larger laptops of size 14 to 17 inches and is not for everyone.
3) Tarkan has designed this cooling pad for heavy duty gaming laptops that pack in a lot of power.
4) It comes with a total of five fans of different sizes for best in class cooling while you play those heavy and demanding games.
5) While the fans run at 2200 RPM, the cooling pad allows you to adjust the height at up to 8 levels.
Buy Now From : Amazon
---
9 Deepcool U-Pal Cooling Pad
(🌟🌟🌟🌟🌟)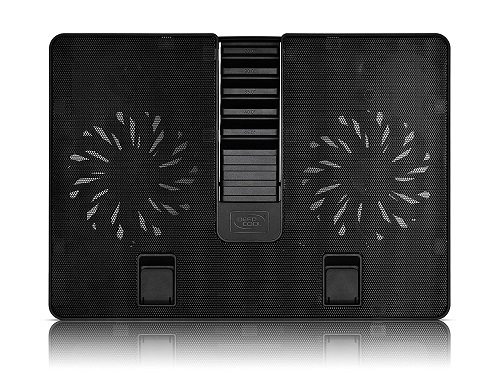 Powerful and silent fans.
Build quality is good.
Metal mesh on top makes it easy to clean.
Angle adjustment is good.
Too bulky for travellers
1) This is a laptop cooling pad designed with two fans for directing the heat out of your laptop.
2) The two fans are large-sized for maximum cooling while you're using your notebook for heavy tasks like gaming.
3) The cooling pad has a large mesh on the top that holds the laptop along with an adjustable stand.
4) It is powered by the USB port of your laptop and the USB cable also has a USB port so that your port still remains free for other uses.
5) The design of this cooling pad is quite sturdy, thanks to the design of its stand.
Buy Now From : Amazon
---
10 Lifestyle-You Cooling Pad
(🌟🌟🌟🌟🌟)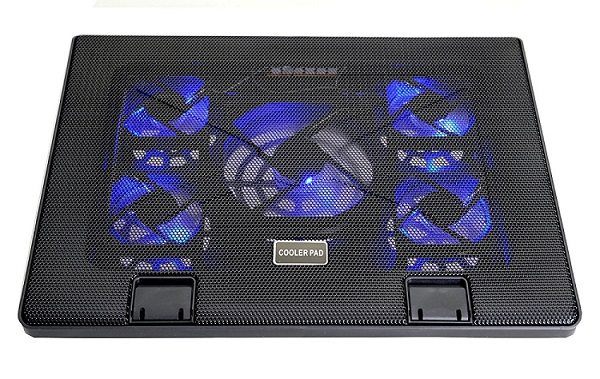 Produces low noise.
6 step adjustable inclination.
Cheap plastic.
One reader says that it comes with no speed adjustment.
1) Going by its looks, the cooling pad seems to have come straight from the future.
2) The company has provided you with a fairly large cooling pad that can hold laptops of up to 17 inches.
3) Below the mesh, you can see five fans with blue LED lights, that give it the look we're talking about.
4) Made out of strong metal, the cooling pad can hold heavy weights with ease and its stand is also quite sturdy that offers five adjustable height levels.
5) Above all, you can even control the speed of the fans using the dial.
Buy Now From : Amazon 
---
11 Tarkan Heavy Duty Cooling Pad
(🌟🌟🌟🌟🌟)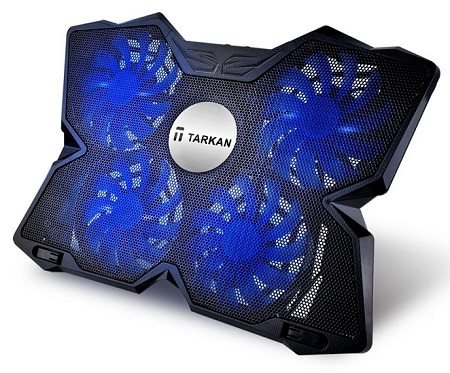 You will certainly notice a huge temperature drop while playing games.
Sturdy built quality.
powerful yet silent.
Check Price – Amazon
1) If the design is what you are looking for in an ideal laptop cooling pad along with better performance then this product will surely appeal you.
2) The fans on this product have been strategically placed that not only give it its unique design but also ensure maximum cooling.
3) Tarkan has designed it to work with laptops of size up to 17 inches.
4) You will also get a braided USB cable along with the cooling pad and the product itself has two USB ports.
5) The quality of this product is as great as any other Tarkan product and offers an ergonomic design for best typing position.
Buy Now From : Amazon
---
Other Competition
Cables Kart Cooling Pad
(🌟🌟🌟🌟🌟)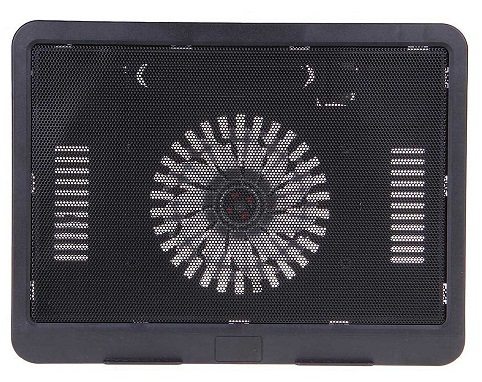 Low fan speed.
Can't be used for high end gaming.
Good on looks.
Adjustable stand with sturdy support.
1) For the people who don't want to spend a lot of money on a cooling pad or have a kind of usage that isn't much heavy this single fan cooling pad should be a great option for you.
2) As mentioned, this product from Cables Kart comes with a single but large cooling fan.
3) The best part about this pad is that it comes covered with a full warranty of 2 years.
4) The cooling pad itself is quite lightweight as it doesn't have those unnecessary parts and is very easy to use with all kinds of laptops.
Buy Now From : Amazon
---
Deepcool N2 Cooling Pad
(🌟🌟🌟🌟🌟)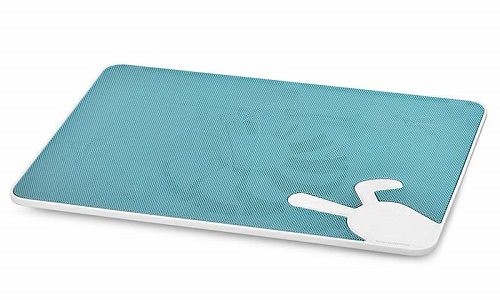 Works as a good laptop stand.
Cooling is not that good in summer.
Light weight.
1) No fuzz cooling pad is a requirement of many who don't want to deal with cluttered products.
2) Deepcool has a colourful cooling pad that has a bunny sitting on one corner and debossed carrots all around.
3) This product is ideal if you want a cooling pad for your kid.
4) With that, the cooling capacity of the single fan is quite enough for the people doing basic tasks.
5) It can hold laptops as large as 17 inches and has USB pass-through so that the USB port on your laptop can also be used for other tasks.
Buy Now From : Amazon
---
Please do comment below to add suggestions.