Chyawanprash is one of the most commonly consumed health supplements in India. The history of Chyawanprash goes back several thousand years. The formula for this tonic was found in ancient Ayurveda texts. And, since then, people all over India have been consuming this great herbal tonic.
Due to its popularity, a lot of companies in India have been supplying Chyawanprash commercially. And, in this post, we will be talking about the 12 best Chyawanprash in India. So, if you are looking for a review post about some of the best Chyawanprash brands in India, this is the post for you.
Why Eat and Buy Chyawanprash?
In India, it will be very hard to find a person that doesn't know about Chyawanprash. It is an Ayurvedic nutritive health supplement taken by many people all around India. This jam is cooked with a mixture of different ingredients like honey, sugar, ghee, amla, and various spices and herbs.
Chyawanprash is known to have multiple health benefits. For instance, it is said that this supplement is one of the best choices for tackling cold. You will also like its ability to promote healthy aging, concentration, and intelligence.
Additionally, it is also beneficial as an anti-depressant and can improve the condition of your heart, lungs, and respiratory system. In short, Chyawanprash is a great solution for improving your overall health condition, rejuvenation, and immunity.
Best Chyawanprash in India
1. Dabur Chyawanprash: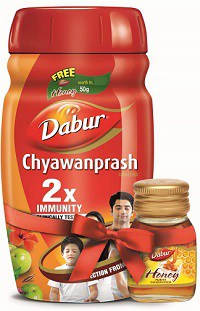 To say the least, Dabur is one of the most well-known brands when it comes to Chyawanprash in India. Many people around India use Dabur Chyawanprash on a regular basis. Due to that, it has taken the top spot on our review. Now, Dabur offers various types of Chyawanprash.
And, this is the '2X Immunity' version. That means it is formulated for fighting illnesses all around the year. You should take this Chyawanprash daily for increasing immunity, strength, intelligence, and stamina. This Dabur Chyawanprash is suitable for both adults and children alike.
Notable Features:
Comes in 1 Kg bottle
You will get a free 50 gm. Dabur Honey bottle
Dosage for Adults: 1 teaspoon 2 times per day
Dosage for Children (3 to 12 Years): Half teaspoon 2 times per day
---
2. Organic India Organic Chyawanprash: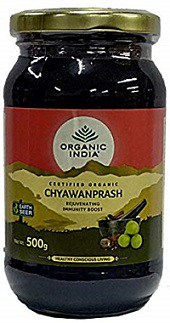 If you are looking for a vegetarian Chyawanprash, then this can be a great choice. This Chyawanprash comes from the famous Organic India brand. Unlike most other brands, it comes in a glass bottle. As a result, it is safe from contamination.
This one has numerous health benefits like nourishing the brain cells, improving the skin complexion, improving the immune system, and more. For instance, it also helps to purify the blood and can be used as a remedy for cold. Although the price might be a bit expensive for you, we would definitely recommend it.
Notable Features:
It is a vegetarian product
It comes in 500 gm. bottle
Adult Dosage: 2-3 teaspoons 2 times daily
Children Dosage: 1-2 teaspoons 2 times daily
---
3. Himalaya Herbals Chyavanaprasha: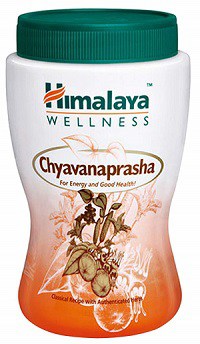 This is another mainstream yet very popular brand in India. So, if you are in the look for a branded Chyawanprash then this one can be a top pick. You should consume it about 30 minutes before breakfast for best results. Also, it is advised that you consume it with milk or lukewarm water.
This Chyawanprash is also suitable for vegetarians. Although the bottle comes with a specific dosage, you will be able to increase or decrease the dosage based on the direction of your personal Ayurvedic practitioner.
Notable Features:
The quantity of this product is 1000 gm.
This is vegetarian
Dosage for 2 to 5 years of children is 1/4 teaspoon once a day
Dosage for 6 to 11 years is 1/2 teaspoon once a day
For 12 years+ is 1 teaspoon once a day
---
4. Dhootpapeshwar Swamala Chywanprash: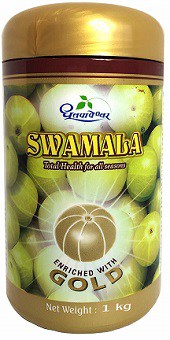 Although this Chywanprash comes from Dhootpapeshwar, it is actually manufactured by OM Pharmaceuticals LTD. This is a well-known Pharmaceuticals from Bangalore, India. So, you can rely on this Chywanprash without any issues. This is a Chywanprash that is suitable for all seasons. So, if you are suffering from illness around the year, you can try this one for sure.
According to a lot of users of this Chywanprash, this is a great supplement. It is known for its good taste and effectiveness. However, the price of this Chywanprash is very high compared to other similar products. So, if the high price is not an issue for you. You can try this one as this comes with numerous health benefits.
Notable Features:
Comes in a 1 kg bottle
There are pure Cows ghee included
Suggested dosage is 1 tablespoon 2 times a day or as the physician suggest
---
5. Dabur Chyawanprakash Sugar-free: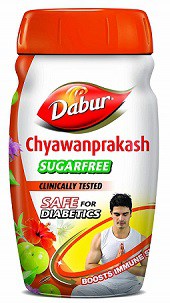 As you might have noticed that we have already reviewed a Chywanprash from Dabur. However, this time we are talking about the 'Sugar-Free' version of the Dabur Chywanprash. This particular version is available in various sizes such as 1 Kg, 900 gm., 450 gm., and 500 gm., etc. As this one comes with no sugar, it is ideal for diabetic patients.
If you want other flavors, Dabur has Awaleha, Chocolate, and Mango flavor. This sugar-free Chywanprash is good for tackling common flu, cold, and cough. It also helps to increase the overall stamina and energy of your body. It is recommended that you take this with warm water or milk.
Notable Features:
Dosage: ½ teaspoon for children 2 times a day
Dosage: 1 teaspoon for adults 2 times a day
It comes in 900 gm. bottle
---
6. Zandu Chyawanprashad: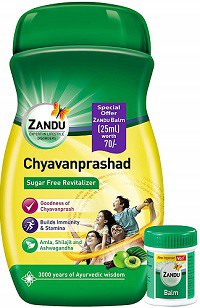 Zandu is another reputed brand in India. They offer various types of health care products. If you are searching for a budget-friendly Chywanprash, then this could be a great option. This Chywanprash comes with a sugar-free formula. Thus, it is recommended for diabetic patients. Also, if you want to abstain from consuming sugar, it will be the perfect choice for you.
The manufacturer stated that it is great to build immunity and stamina. So, it can be used for both adults and children alike. The main ingredients of this Chywanprash are shilajit, amla, and ashwagandha. So, it will be perfect for vegetarians.
Notable Features:
This product is vegetarian
The recommended dosage is 1 teaspoon with milk 2 times a day
Comes with a free 25 ml Zandu Balm
The product quantity is 900 gm.
---
7. Khadi Mauri Herbal Chyawanprash: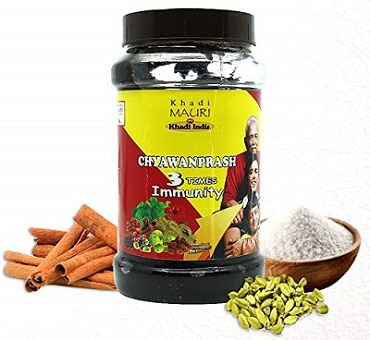 This one comes from Khadi Mauri. This is a company from Lucknow, India. They are the founder of 'Maruti Mahila Swawlambi Sansthan'. And, the women of that organization work to produce this healthy product. So, if you want to help the organization and the women of your country altogether, you can check this product out.
On top of all these, this Chywanprash has actually received positive feedback from a lot of users. It uses Laung, Pipal, Amla, Nagkeshwar, Daal chini, Elaichi, etc. as the primary ingredients. Overall, for the price, we think this is a great option.
Notable Features:
It comes in a 500 gm. bottle
This is 100 percent chemical free
The suggested dosage is 2 spoons once a day with water or milk
---
8. Zandu Kesari Jivan: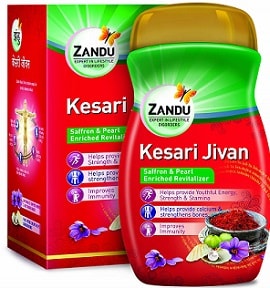 Frankly, the Kesari Jivan from Zandu is a variant of Chywanprash. Primarily, it uses amla, Kesari, trace minerals, spices, and various herbs as ingredients. The main difference between this one and a typical Chywanprash is the taste.
So, if you are not comfortable with how Chywanprash tastes usually, you can try this Kesari Jivan. This is suitable for healthy aging and building a strong immune system. You can use it any season all around the year. It also has calcium that is great for strengthening bones and joints.
Notable Features:
Suggested dosage is 1 to 2 teaspoon if possible with milk 2 times daily
This product is vegetarian
It comes in a 900 gm. jar
---
9. Baidyanath Kesri Kalp Royal: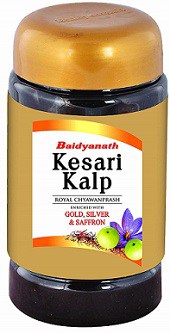 The next Chywanprash has some unique ingredients. For instance, it is prepared with gold, silver, saffron, and amla, etc. The gold will help in anti-aging. Whereas the silver and the other ingredients will boost the nervous system, rejuvenates the body, and helps to build immunity. This Chywanprash is also recommended for the people that are trying to lose weight. Overall, this is a great Chywanprash but the price might be a bit high for some of us.
Notable Features:
It is anti-aging and it helps with rejuvenation
This comes in 1000 gm. bottle
Dosage: 1 to 2 teaspoon with milk 2 times a day
---
10. Kerala Ayurveda Chyawanprash: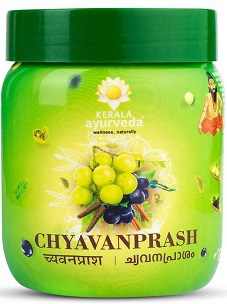 This is another reasonably priced Chywanprash available in India. The Kerala Ayurveda Chywanprash is known for its chemical free formula. Matter of fact, it is also a sugar-free Chywanprash.
The main ingredients of this Chywanprash are amla, pushakaramool, draksha, and pippali, etc. Thus, it is perfect for alleviating cold, blood impurities, and toxins from your body. At the same time, it also helps to revitalize overall health.
Notable Features:
The product quantity is 500 gm.
You can take it after meal 1 to 3 teaspoon 2 to 3 times a day if possible take it with milk
It is paraben, chemical, color and fragrance free
---
11. Rajratna chyawanprash: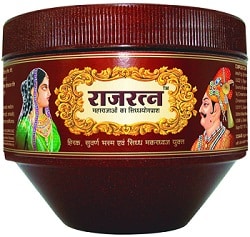 Rajratna is one of the most celebrated brands in the alternative medicine industry in India. The manufacturers state that it is perfect for relieving health related problems. This product comes with all the necessary and vital ingredients of Chywanprash.
Additionally, it also has high effectiveness against recurring or seasonal cold and other diseases. Because of its high nutritive value, it is a perfect source for vitamins and minerals. The Rajratna Chywanprash is also great for increasing your core body strength and building immunity.
Notable Features:
This comes in a 900 gm. bottle
You will get free 100 gm. Unjha
Dosage: 2 teaspoons per day
---
12. Patanjali Chyawanprash: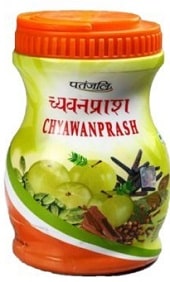 Patanjali is another brand that doesn't need any special introduction. Most likely, you have used some of their products if you are in India. Now, this Chywanprash is formulated with more than 40 ingredients like amla, guduchi, elach, etc. The anti-oxidants of this Chyawanprash delays aging.
At the same time, it is also recommended for a strong mind, active body, healthy respiratory system, and strong heart health. It will also build high immunity against diseases. You can take this with milk or warm water. And, it is suitable for people of all ages and is allowed to consume in all seasons.
Notable Features:
It is 100 percent chemical free and all natural
Comes in 1 kg package
It is a vegetarian product
---
Conclusion:
There are plenty of brands that supply Chyawanprash in India. So, even though it might seem easy to find the best Chyawanprash for you. In reality, it is totally the opposite. However, prior to making your final call, you can talk to your local Ayurvedic practitioner.
They will be able to show you the right direction. And, lastly, you will also need to ensure that you are getting the Chyawanprash from a reputed brand. As a result, we have shared only the best options in this post.
Do you consume Chyawanprash regularly? Which Chyawanprash brand you like the most? Do let us know by commenting down below!