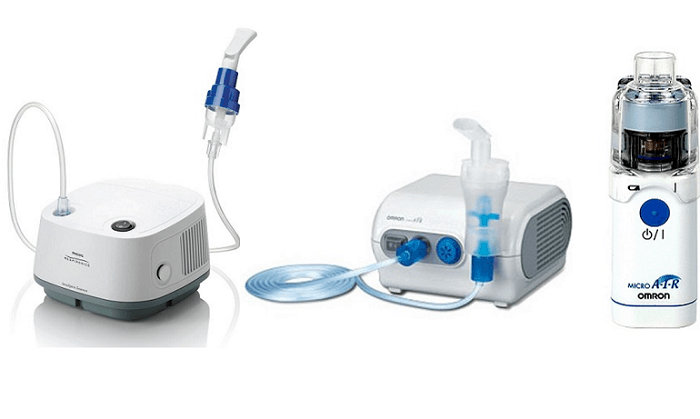 Choosing an appropriate nebulizer becomes easy once you know the types and their methods of working.
Being a doctor, Omron devices are my personal choice since they are easily available in the physical market. Repairs and services are also more easily available for these devices.
One has to be careful while purchasing online because these devices are delicate and can be easily damaged from rough handling.
This article is written by.
Dr. Himanshi Purohit
MD (Homoeopathy)
Top 6 Best Tabletop Nebulizers in India
This variety requires a constant source of electric supply for its use. These are relatively heavier as compared to the portable ones.
(🌟🌟🌟🌟🌟)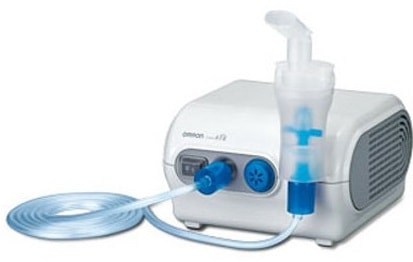 1) Omron is one of the best selling brands when it comes to medical instruments and devices.
2) This nebulizer produces low noise as compared to nebulizers from other brands.
3) This device is safe to use for both kids and adults. This device comes with a compressor; mouthpiece, adult and kid face mask, tubing, a user manual and a bag.
4) Omron NE C28 comes with a 3-year extendable warranty.
5) Nebulization can be done with just the mouthpiece or by using face mask.
Compare Price : Amazon | Flipkart 
(🌟🌟🌟🌟🌟)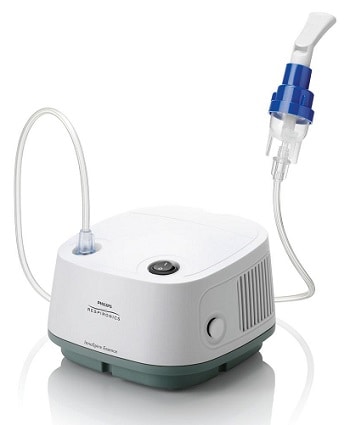 1) This device comes with a 5 year warranty.
2) It has a compressor, adult and child mask and a user manual.
3) This device has good reviews by customers both online as well.
4) It is easy to connect and use.
Compare Price : Amazon | Flipkart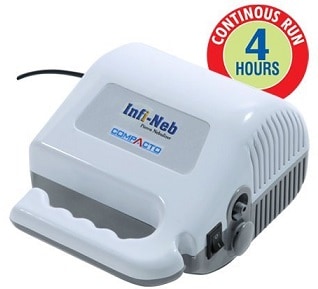 1) This one is a compressor based nebulizer.
2) It comes with an infant and adult mask also, a user manual and a warranty card.
3) It does not have a carrying bag.
4) It has a 2 year warranty.
Check  Price : Amazon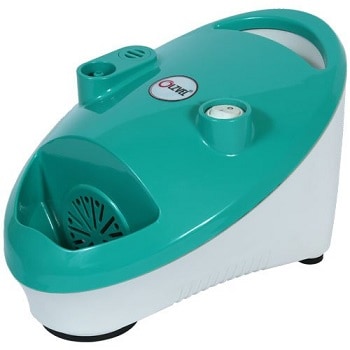 1) It can be used safely for both adult and pediatric patients.
2) It can be used for treatment of both upper and lower respiratory tract infections.
3) This device is manufactured and distributed in India.
4) It is easily available in the Indian market.
5) It is one of the best nebulizer sets available.
6) It is also lighter as compared to other compressor nebulizers.
Check Price : Amazon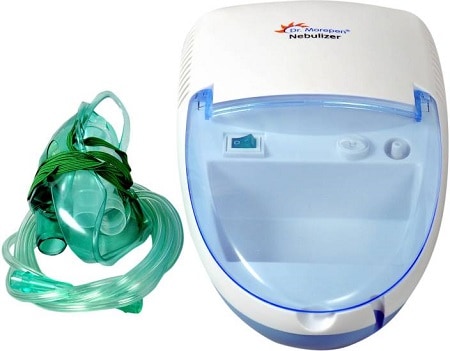 1) Dr. Morepen continue to be one of the best selling brands for medical equipment.
2) Devices by this brand are easily available in the physical market.
3) It is compact, light weight and comes with a user manual.
4) It is comparatively easier to clean and maintain.
Check Price : Amazon | Flipkart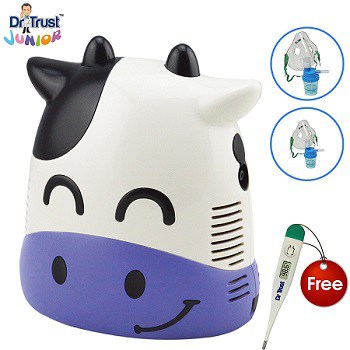 1) The compressor of this device comes in interesting animal shapes.
2) The attractive and bright designs make it more suitable for toddlers and infants.
3) It is one of the best selling nebulizers on e-commerce websites.
Check Price : Amazon
Top 2 Best Mesh Nebulizers
These are slightly more expensive than the compressor ones. In spite of being priced high, this variety of nebulizers works faster and more efficiently. It is compact and operates on rechargeable batteries.
(🌟🌟🌟🌟🌟)

1) It has an allow mesh and a titanium vibrator to convert medicine into aerosol.
2) Inhalation mouthpiece comes in small and large sizes.
3) This device requires 2 AAA batteries to operate.
4) It disperses aerosol faster than compressor nebulizers and is therefore handy during emergencies.
5) It can be used for continuous nebulization or intermittently with synchronized breathing.
6) A user manual comes with a list of drugs which can be used with this device. The mesh is changeable.
Compare Price : Amazon | Flipkart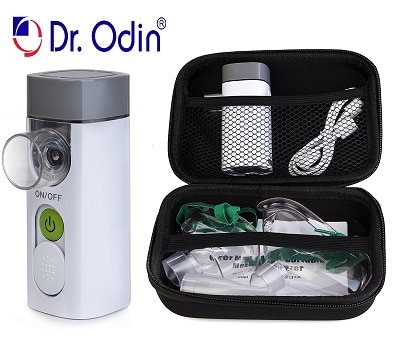 1) This device comes with rechargeable batteries.
2) Size is compact and can be easily carried even in the pocket.
3) It has a 1 year warranty.
4) It is more expensive than Omron mesh nebulizer.
Compare Price : Amazon | Flipkart 
Ultrasonic Nebulizer
(Hospital Use)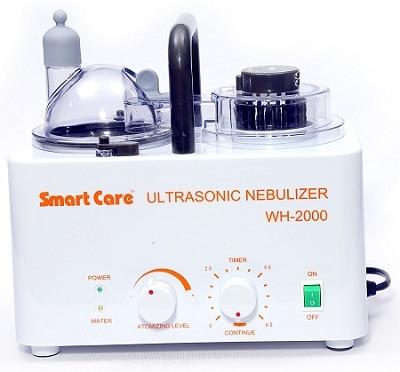 1) This device is expensive, heavier than compressor nebulizers and also comparatively less portable.
2) This device is used more frequently in hospitals than at home. Time for nebulization can be set.
Check Price : Amazon
What is a Nebulizer?
Nebulizer is a device intended to carry medicines through its compressor and turn it into fine, misty aerosol before it is dispersed into the airways on inhalation.
Nebulizers are used for treatment of conditions like acute infections of the lungs, bronchial spasm, asthma, COPD, lung fibrosis and also in children to ease respiratory distress.
Parts of a Nebulizer:
1) Compressor – this is the base of a nebulizer. It pumps air in to the nebulization cup which converts medicine into mist.
2) Switch – to turn on/ off the device.
Nebulizer cup – this is a reservoir-like part in which medicine has to be kept.
3) Tubing and its connectors – this is a transparent thin tube which connects nebulizer device to the nebulizer cup. Air is transmitted via this tubing.
4) Mouthpiece – or a face mask. It is through this part, which has to be placed directly over the patient's face, covering the mouth and nose. Medications are inhaled through this mark.
How to use a Nebulizer?
1) Connect the device to an electrical supply.
2) Connect the tubing to the device on one end and to face mask on the other end.
3) Fill the nebulizer cup with the prescribed dose of medication.
4) Close the nebulizer cup and connect it to the mask.
5) Apply the face mask snugly covering the mouth and nose. It shouldn't be too loose, or too tight.
6) Turn on the switch to begin nebulization. Take slow, deep breaths to inhale the medicine effectively.
7) Each device comes with a user manual to help fix the device at home itself.
8) Allow enough time for nebulization. Ideally 5-15 minutes is the recommended time.
9) After the medicine in the nebulizer cup is over, switch off and disconnect the device.
10) Continue to take deep breaths even after switching off the device. Slight cough may be present. This helps to expectorate excess medicine and secretions.
Wash hand thoroughly before and after nebulization. This helps to prevent any contamination.
Strictly, do not share nebulization mask and tubing with any other patient or even with another member of the family.
Use of nebulizers should be done under medical supervision as dosages for children are different from those of adults.
How to Clean Nebulizer ?
1) The nebulizer should be cleaned after each use. Face mask/ mouthpiece should be changed regularly.
2) The tube and mask can be soaked in hot water and rinsed in mild soap for disinfecting. Shake off to remove excess moisture and medicine before disinfecting.
---
It is also highly advisable to use nebulizer devices only after medical consultation. I hope that this article will help you in choosing the right nebulization device.
Dr. Himanshi Purohit
MD (Homoeopathy)
Also Read:
1) Top 10 Best Convertible Baby Car Seats
2) Best Diapers For Baby , Adults and Pets