When searching for a graphic tablet, several key factors come into play: ease of use, lightweight design, Bluetooth connectivity, and compatibility with essential software like CorelDRAW, among others. Additionally, having extra nibs is a valuable bonus. As online classes surge in popularity, graphic tablets have become an indispensable tool for teachers and artists alike.
With the market flooded with numerous options, selecting the perfect drawing tablet can be overwhelming. To simplify the process and assist you in making an informed decision, we have curated this post to explore some of the best drawing tablets for beginners in India. Whether you're an aspiring artist or an educator seeking the ideal digital drawing solution, this guide will help you find the perfect match for your needs.
Why Buy A Drawing Tablet?
When you purchase a drawing tablet, it usually comes with a stylus, allowing you to draw directly on the tablet's surface. This pen-like stylus provides a more natural and intuitive drawing experience compared to using a mouse, which can feel awkward and less precise for artistic work.

Whether you're a professional artist or a hobbyist, incorporating a drawing tablet into your toolkit can significantly streamline your digital drawing process. Drawing, painting, sketching, and retouching become faster and more efficient with the use of a stylus on a drawing tablet. The tablet enables a more direct and hands-on approach, empowering you to unleash your creativity without the limitations of a traditional mouse.
In summary, a drawing tablet is a valuable addition for anyone seeking a smoother, more natural, and enjoyable drawing experience on a computer. Its ability to bring precision and fluidity to your artwork makes it an indispensable tool for artists of all levels.
How to Use a Drawing Tablet?
Using a drawing tablet is generally straightforward, but for new users, some practice may be necessary to become proficient. Each graphics tablet typically comes with a pen or stylus. To begin, you'll need to connect the tablet to your computer using either a USB cable or Bluetooth, depending on the model. Most tablets come with a driver that needs to be installed initially.
Once set up, you can start using the tablet. With the pen, you can draw directly on the tablet surface, and your strokes will appear in real-time on the drawing software on your PC. Each drawing tablet will offer unique features, resulting in a different learning curve for each device. Embracing these distinctive features will enhance your digital drawing experience and allow you to explore various artistic possibilities. So, while drawing tablets are user-friendly, a bit of practice and familiarization with the tablet's capabilities will help you make the most of this powerful artistic tool.
Here are some general guidelines for using a drawing tablet effectively: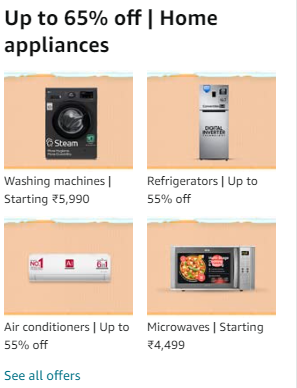 | Guideline | Description |
| --- | --- |
| Install Drivers and Software | Before using the drawing tablet, install the necessary drivers and software provided by the manufacturer. This ensures compatibility and enables the tablet's full functionality. |
| Adjust Tablet Settings | Customize the tablet settings to suit your preferences. This may include adjusting pressure sensitivity, shortcut keys, and other settings to optimize your workflow. |
| Practice Hand-Eye Coordination | It may take some time to get used to drawing on the tablet while looking at the screen. Practice hand-eye coordination to improve precision and control. |
| Use Pressure Sensitivity | Take advantage of pressure sensitivity to create varying line thickness and brush effects. This feature allows for more natural and expressive drawing. |
| Utilize Shortcut Keys | Familiarize yourself with the tablet's shortcut keys to speed up your workflow. Assign commonly used functions to these keys for quick access. |
| Regularly Calibrate the Pen | Calibrate the pen regularly to ensure accurate tracking and alignment with the cursor on the screen. This prevents any misalignment issues while drawing. |
| Experiment with Different Brushes | Explore the variety of digital brushes available in drawing software. Experimenting with different brushes allows you to discover various textures and styles. |
| Save and Back Up Your Work | Save your artwork regularly and create backups to prevent data loss in case of technical issues or accidental deletions. |
| Seek Tutorials and Learn from Others | Take advantage of online tutorials and resources to enhance your drawing skills and learn new techniques from experienced artists. |
| Be Patient and Practice Regularly | Drawing with a tablet may feel different initially, but consistent practice will help you improve and adapt to the digital medium. Be patient with yourself and keep practicing. |
By following these guidelines, you can make the most of your drawing tablet and unlock its full potential to create digital artwork with precision and creativity.
Top 12 Best Drawing Tablets for Beginners in India
It is always advisable to read the instruction manual that will come with your particular drawing tablet carefully. In those ways, you will be able to take full advantage of your drawing tablet.
1. Wacom (CTL-4100WL/K0-CX) Intuos Bluetooth Pen Tablet: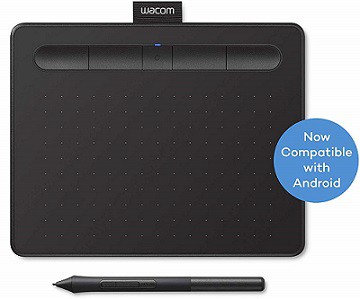 This drawing tablet comes in 2 colors that are black and pistachio. Here, the black version comes with a bit of a higher price than the pistachio one. The pen of this drawing tablet is pressure sensitive.
It has 4096 levels of pressure sensitivity. Additionally, it has 2 shortcut buttons. You will have 4 express keys on the tablet as well. All of these keys are customizable. This tablet is very thin with a thickness of just 8.8 mm. It is also compatible with Android phones.
It comes with two pen buttons and three accessory nibs , the nibs are costly so handle with care. Works well after downloading the software.
The built is compact , easy to carry. You will get used to it within minutes. It can work wireless but is more smooth when connected with wire.
Main Features:
Comes with 1 year of warranty
The small size comes with 7 inch of active area and the medium size comes with 10 inches of an active area
Small size weighs 250g and medium-size weighs 410g
Comes with battery free pan
Check Cheapest Price : Amazon
---
2. Huion Graphics Drawing Tablet (5080 LPI):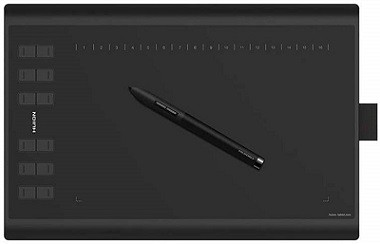 The Huion drawing tablet has a lot of beneficial features. First off, it comes with a pen that has 8192 levels of pen pressure. That way, you can draw lines more precisely and smoothly. This tablet is suitable for both left and right-handed users.
Also Read : Best 4K Monitors in India
At the same time, this one also supports external memory up to 64 GB. You will get software like CorelPainter, Manga Studio, PS, SAI, etc. with this tablet for free. So, overall, it could be a great deal.
Main Features:
It has a built-in card reader feature
Comes with 1 year warranty
The active screen area is 10"x6.25"
This has customizable 12 Express keys and 16 Function keys
Check Cheapest Price : Amazon
---
3. XP-Pen Graphics Drawing Tablet (StarG640):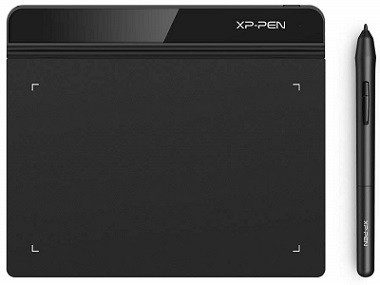 If you are looking for a budget-friendly drawing tablet in India, then you can check this one out. This could be a great start for beginners. It comes with an advanced stylus. The stylus has 20 replaceable nibs.
Thus, it doesn't require any recharging to use this. The stylus is also pressure sensitive and it has 8192 levels of pressure sensitivity. The drawing tablet is just 2 mm thick. And it has a report rate of 266 RPS. It is also specially designed for OSU gamers.
Main Features:
It has a 6×4 inch active area
Comes with 1 year of warranty
The stylus doesn't need to be recharged
Comes with 20 replaceable nibs
Check Cheapest Price : Amazon
---
4. Wacom Intuos Pro Graphics Input Tablet (PTH660):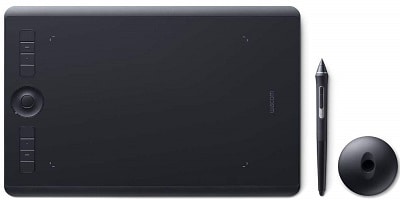 When it comes to high-end drawing tablets, Wacom would always be on top of the list. Right now, we are going to talk about one of the advanced drawing tablets from Wacom. Due to its numerous beneficial features, it costs a lot higher than the usual tablets.
So, if you are a professional who needs a drawing tablet, you can try this one. This one supports multi-touch gestures and has customizable keys. Also, the pen comes with 2 shortcut switches. It comes in 2 sizes small and medium.
Main Features:
Comes with 1 year warranty
The drawing tablet weighs about 430 gm.
It comes with an active area of 8.5×5.3 inches
Battery-free, pressure-sensitive, and cordless stylus
Check Cheapest Price : Amazon
---
5. Wacom One by Graphic Tablet (CTL-672/K0-CX):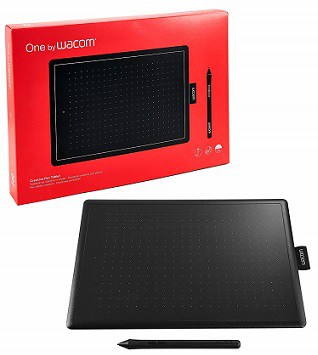 This is another graphic drawing tablet from Wacom. But it is an affordable one. Even though this is a cheap device, we have to admit that it comes with some cool features. First off, the pen is pressure sensitive with 2048 levels.
It uses the electromagnetic resonance method so you will not have to charge the pen at all. This tablet is compatible with both Windows and macOS. And with the help of the Wacom drivers, you can use it on as many computers as you want.
Main Features:
It is pressure sensitive and battery free
This one has 1 year warranty
The weight is about 431 g
Comes with an active area of 8.5 x 5.3 in
Check Cheapest Price : Amazon
---
6. XP-Pen Deco Pro Graphics Drawing Tablet: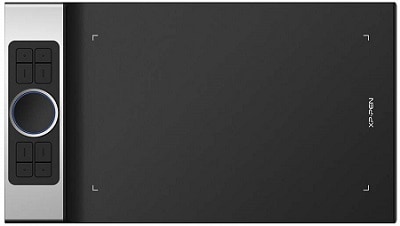 We have already talked about an XP-Pen graphics tablet here. Now, this is another high-quality tablet from the same company. It comes with features like 8192 pressure levels, tilt functionality, free drawing gloves, 8 shortcut keys, and more. The tablet has an aluminum casing that makes it durable and long-lasting.
It is also compatible with Android 6.0 and above. This one also features a unique double wheel design. With this wheel, you can adjust the brightness level. However, one drawback of this tablet is that it is a bit expensive.
Main Features:
This one has 11×6 inch Active Area
Comes with Battery-free Stylus Pen
The warranty for this product is 1 year
It is 7 mm slim tablet
Check Cheapest Price : Amazon
---
7. Huion Inspiroy Graphics Drawing Tablet (H640P):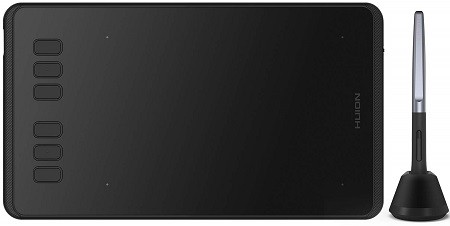 Huion is known for offering cheap yet highly-functional products. Similarly, this drawing tablet comes with an attractive price tag. If you are in a tight budget and want a premium drawing tablet in India, you can consider this. This device is compatible with Windows, macOS, and even Android OS.
However, you will need to have an Android smartphone with OTG connectivity and at least Android 6. The pen of this tablet has 8192 pressure sensitivity levels. And it requires no charging. They offer 8 replaceable pen tips with that for free.
Main Features:
The weight of this tablet is 227g
Comes with 1 year warranty
It is only 8mm thick
This one has an active surface of 6.3×3.9 inch
Check Cheapest Price : Amazon
---
8. VEIKK A30 Graphic Tablet Drawing Tablet: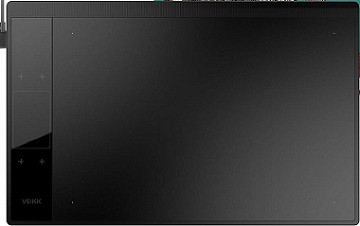 The next one on our list is VEIKK A30. This a feature-rich tablet with affordable prices. One of the unique features of this device is that it has 4 touch buttons with a touch trackpad. You can customize those keys as well. It comes with a USB Type-C port.
The pen doesn't need to be charged. And, the pen and tablet have features like 8192 levels pressure sensitivity, 250 RPS reading speed, 5080 LPI resolution, and more. Overall, this can be a great choice for the price.
Main Features:
The working area is 10×6 inch
It weighs about 570g
Comes with 1 year of warranty
The thickness of this tablet is 9mm
Check Cheapest Price : Amazon
---
9. Huion Inspiroy OSU Graphics Drawing Tablet (H430P):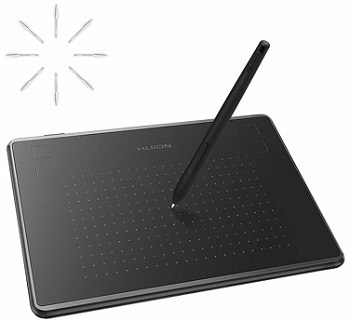 Huion Inspiroy is another great choice as it also comes with some awesome features. It is compatible with android. So, you can just plug the cable to your phone and start drawing. This is also compatible with Windows and Mac OS.
The pen that comes with the tablet has 4096 levels of pressure sensitivity. The pen also features a button with which you can erase the thing you want.
Main Features:
The warranty for this tablet is 1 year
It weighs about 135g
comes with Battery-Free Stylus
This has an active area of 4.8×3
Check Cheapest Price : Amazon
---
10. Monoprice Graphic Drawing Tablet (110594):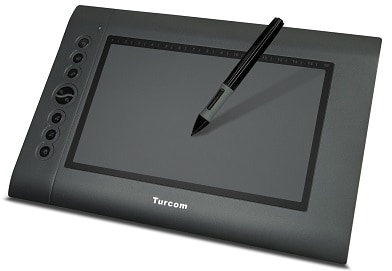 This tablet comes in black color. The price of this tablet is reasonable too. It has a pressure-sensitive pen with 2048 levels. The tablet features 8 multifunctional buttons and 16 programmable function keys.
Also, the pen has 2 control buttons on it. You will get a pen holder with some replacement tips. For smooth drawing, the 4000 lines per inch resolution will help a lot. It also has 200 RPS report rate.
Main Features:
The active area of this tablet is 10 x 6.25 inch
Comes with pressure-sensitive, battery free pen
It has a LED indicator light
Check Cheapest Price : Amazon
---
11. Ugee M708 Graphic Drawing Tablets: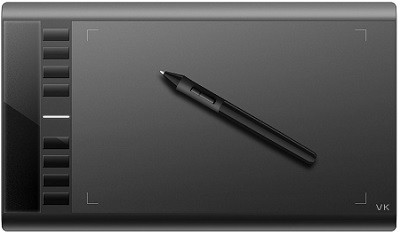 This is a drawing tablet from Ugee. It is reasonably priced as well. It comes in black color.
The pen that comes with the tablet doesn't need to be recharged. You will be given 8 spare digital pen tips. It also comes with a pen holder. The pen also has 2 shortcut keys.
Main Features:
Comes with pressure sensitive pen
The active area is 10 X 6 inch
It has 8 express keys
Check Cheapest Price : Amazon
---
12. Parblo A610 Graphic Drawing Pen Tablet: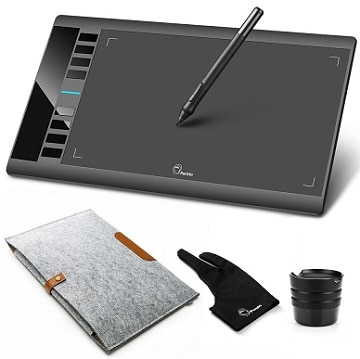 The Parblo A610 drawing tablet is a great tablet. This one comes with some unique features. It has 8 shortcut keys and 3 button mouse commands integrated on the tablet. Also, the pen has 2040 levels of pressure sensitivity.
You will get a cover, glove, pen holder, pen, the tablet, and the cables for charging in the package. This tablet has 5080 LPI resolution and 230 RPS. That means it will feel like a thin paper when using it.
Main Features:
The working area of this tablet is 10×6 Inches
It is compatible with Windows and Mac OSX
Come with 8 express keys
Check Cheapest Price : Amazon
---
Wrap Up:
We have talked about so many different tablets with various features in this post. However, choosing the right one from all these options is not that easy. It totally depends on your needs and likings.
But we can tell you that all drawing tablets mentioned here are of very high quality. Most of these devices come with very useful features. At the same time, we have selected the drawing tablets of various price tags. So, everyone with different budgets can choose the tablet for them from the list.
So, have you decided on your new drawing tablet yet? You can let us know in the comments below!

Rs.

2,798

Rs. 4,499
4 new from Rs. 2,798
in stock


Rs.

4,459

Rs. 7,299
1 new from Rs. 4,459
in stock


Rs.

4,499

Rs. 7,499
4 new from Rs. 4,499
in stock

---
Also Read:

2) 10 Best Laptops for YouTube Creators in India