Are you a musician? Or aspire to be one? Chances are, you need to record your music on a regular basis. Generally speaking, it is very easy to record new music. But, if you want to step up the quality of the recording of your work, you can take advantage of a quality audio interface. An audio interface can make it easy to record and produce new tracks without sacrificing sound quality.
It doesn't matter whether you are a professional or just a beginner in this field, there is an audio interface for all. You just have to research and find that out. But we know that it is not that easy to do the research yourself. As a result, we have researched the most popular audio interfaces available in India. So that our readers from India don't need to go through a hard time to choose the best audio interface for them.
So, if you are from India and want to buy a new audio interface device, you can keep reading this post. We will be sharing rundowns of the 10 best audio interfaces in India in this post.
Best audio interfaces in India
Let's get right into the interesting part, shall we?
1. Focusrite Scarlett 2i2 (2nd Gen) Audio Interface:
Focusrite plc is an audio equipment manufacturer from England. Although they are based on the UK. Most of their products are manufactured in Chine. It is to produce cost-effective products. But the quality of their products is exclusive. When it comes to the quality product within an affordable price range, Focusrite is at the peak.
The Focusrite Scarlett 2i2 Second generation is a great audio interface in terms of features. Matter of fact, it is the best audio interface in the Indian market available right now in our opinion. It comes with 2 microphone inputs. So, you can record with another friend using the same audio interface. The outlook of this device is so attractive and it is compact in size. Overall, it can be the best choice if you want a great quality audio interface from a famous brand.
Notable Features:
It is compatible with Mac OS, Windows, and even iOS; so you can record using your mobile as well
Very compact and light which makes it highly portable
It is very easy to set up; perfect for beginners
Comes with conversion and sample rate up to 192 kHz (24 bit)
¼-inch output jacks to connect headphones as well as studio monitors
Comes with gain control
Comes with Pro Tools software
It is powered by USB
The frequency response is from 20 Hz to 20 kHz
Comes with tons of useful soft and tools like Focusrite Control,  AU plug-in synthesizer,  Red 2 & Red 3 Plug-in Suite and more
---
2. Native Instruments Komplete Audio 6: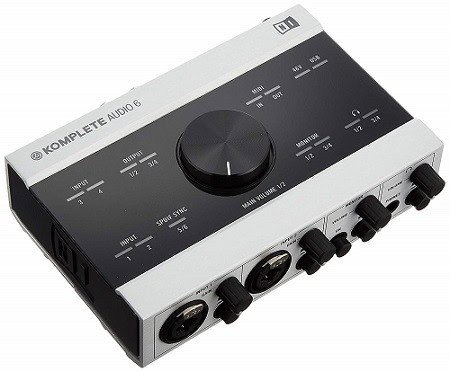 If you want an advance audio interface with lots of features then the Komplete Audio 6 from Native Instruments might be the one. But there's a catch here. This audio interface is a bit pricey compared to most of the other ones we are going to mention. But, we can assure you that it is also one of the best options out there.
Chances are, you won't need another audio interface after getting this one for a long time. This one comes with 4 analog inputs as well as 4 balanced analog outputs. It is compatible with almost all the popular DAW. On top of this, it also comes with some premium software packs. It also comes with MIDI interface. As usual, it is also pretty compact and portable.
Notable Features:
It is a 6 channel audio interface
S/PDIF/RCA (digital stereo input & output) to ensure lossless signal transmission
Comes with MIDI in and out
Headphone output with level controller and a source switch
It is a USB powered audio interface
Comes with tons of free software like Traktor LE, Cubase LE 6 and more
DJ interface
2 years of warranty
---
3. Steinberg UR22 MKII USB Audio Interface:
If you focus a great deal on the quality of the sound and the ease of use on an audio interface then this might be the next best thing for you. The Steinberg UR22 MKII is a great option within an affordable price range. The design of this audio interface is pretty straightforward. It comes in a mixture of black and silver color.
It is covered with a sturdy metal casing. So, you can rest assured about the build quality. Despite being a rugged device, it is rather very lightweight. In fact, it is only about 1 kg. So, you can easily toss it up on your backpack and can use it even when you are traveling. Even if you are a professional musician, it would be a great choice for you.
Notable Features:
Hardware monitoring feature
Industry-standard pre-amps
It is compatible with every popular DAWs
Very easy to configure
Max sampling rate of 192 kHz/24 bits
Comes with USB 2.0 (2×2) audio interface with 2 Class-A D-PRE mic pre-amps
Comes with MIDI input and output
---
4. Focusrite Scarlett 2i4 USB Audio Interface:
When we talked about the Focusrite Scarlett 2i2 earlier, you might have thought there is no better option available than that. Yes, in terms of bang for your bucks, it is very hard to find a rival of Focusrite Scarlett 2i2. But if you can increase the budget, then you can get the Focusrite Scarlett 2i4.
And, we can say that it is way better than the Focusrite Scarlett 2i2 in many ways. For instance, although they look almost identical, the build quality is superior to the 2i4. It is also a USB powered audio interface. The size and the weight are also at the lower side. It is compatible with both Mac OS and Windows. Added to this, you can use it with iOS devices like Apple iPad.
Notable Features:
Unique level signal lights/halos, these will help you to control the level easily
Comes with 2 inputs and 4 outputs
It is a USB powered audio interface
DH-ready output
Free software bundles like Abelton live lite, Softube Time and Tone Pack, AU plug-in synth and more
Comes with a built-in attenuator
---
5. Audient iD14 High-Performance USB Audio Interface:
Audient is a leader in the audio equipment industry. They are responsible for some of the highest quality audio interfaces available. Among them, the Audient iD14 is a noteworthy one. The first thing you will notice about this audio interface is the design. Typically, the control knobs are placed on either side on almost all the other audio interfaces.
But on this one, all the controls, switches and knobs are at the top. That makes it easy to access them. Plus, the audio interface looks sleek due to this design. It has great quality pre-amps, and it is very easy to use. For beginners to professionals, there won't be any issue to use it. This one comes with all the must-have features that a great quality audio interface should have. Besides that, it also comes with some unique features as well.
Notable Features:
ScrollControl feature; an exclusive technology from Audient using which you can control things like DAW hosts, the mixer app, plug-in parameters and more with the volume knob
It very lightweight yet comes with a robust build quality
USB powered audio interface
Comes with two calls A pre-amplifiers
World-class AD/DA converters
headphone output
Full monitor control function
---
6. PreSonus Audiobox iTwo Studio USB/iPad hardware/software recording kit:
PreSonus is a USA based company which is renowned for manufacturing professional audio equipment as well as software. They offer DAWs, mic pre-amps, mixers, and digital audio interfaces etc. And, when the talk of audio interfaces from PreSonus arise, you need to include the PreSonus Audiobox iTwo.
This is a great quality audio interface. Many professional audio engineers, as well as famous musicians, use this one regularly. So, if you want to take your music recording to the next level, you can get this awesome audio interface from PreSonus.
Notable Features:
Can be used with Windows and Mac OS
Can be powered using USB 2 hub
Used with iPad as well
MIDI interface
Tons of tools and free audio soft from PreSonus
Comes with ¼-inch headphone output
Very lightweight and compact
---
7. Vault Ai22 2×2 USB Audio Interface:
Usually, if you want quality, then you will need to spend more money. That is why most of the high-quality audio interfaces available in the Indian market are expensive. But that doesn't mean you can't own a good audio interface within your tight budget. The Vault Ai22 has been domination the space of the budget audio interfaces at the moment.
It comes with 2 input and 2 output. That means you can plug in 2 microphones at once to record your music. Instead of two microphones, you can also use one mic and another instrument to speed up the recording process. The frequency range of this one is up to 96 kHz/24 bit. It is a 'Plug N Play' device. You can power up this one using USB 2.0 ports from your PC or Mac.
Notable Features:
Retro look
Couple of excellent quality pre-amps
Comes with a couple of TRS balanced line output
Popular and powerful Bitwig 8-Track DAW Software and so on
Easy to use and easy on the budget
---
8. Tascam US-4X4 USB Audio Midi Interface:
If you are into sturdy build quality and solid quality sound reproduction, then the Tascam US-4X4 is the one you are looking for. This is a high-end audio interface which comes with all the must-have features. For instance, it has a frequency range of up to 96 kHz/24-bit. It supports both Windows OS and Mac OS. Added to that you can use this with your iOS devices as well.
This audio interface comes with USB 2.0 support. As a result, it can be powered up by just plugging it into any PC via USB. The Tascam US-4X4 is not only a highly rated audio interface but also easy to use. You don't need to be a pro to get used to this one.
Notable Features:
Comes with Ultra-HDDA microphone pre-amps
The gain range of the mic pre-amp is up to 57 dB
Direct monitoring function so that there will be no latency
Roust build quality and angled design which makes it easy to set up on the desktop
Comes with MIDI input and output
Comes with free audio software like SONAR X3, Abelton Live Lite and so on
Compatible with all the major DAWs and comes with free Cubase soft
---
9. Kadence Midiplus USB Audio Interface:
For a simple and cheap audio interface, the Kadence Midiplus Studio 2 packs a lot of punch. If you want a portable audio interface, then it is pretty hard to bit this one. This is only about 381 gm. and very small in size. That is why you will be able to carry it with you around without any complications.
Even though it is small, the build quality is over the top. It comes in silver color. And a lot of useful features are included with this. If you are looking for a cheap yet reliable audio interface then you can try this one.
Notable Features:
Comes with two TRS/XLR hybrid interface
Premium pristine quality pre-amps
Gain control for headphone output
Direct monitor control feature
6 levels of LED indicator
---
10. Behringer U-PHORIA UM2 2 x 2 Audio interface:
If you combine low price, tiny size, and great quality, you will find the Behringer U-PHORIA UM2. Yes, this is one of the smallest and cheapest audio interfaces available in India at the moment. It is so small that it is hard to believe that it would be so great while reproducing pitch-perfect sound.
Behringer is a German company. But similar to some other popular audio equipment manufacturers, they also manufacture their products in China to reduce the production cost. And, that is why they are able to offer such low priced audio interfaces and other accessories. The U-PHORIA UM2 can be a great starting point for the beginners.
Notable Features:
Comes with 2 inputs and 2 outputs
It is powered by USB
Compatible with all the popular DAW software such as Abelton Live, Pro Tools, Steinberg Cubase and so on
The frequency range is up to 48 kHz
It is just 259 gm.
Very smaller in size which makes it the perfect portable audio interface
The price is very reasonable
---
Our Last Words:
You know that there are hundreds of audio interfaces out there. That is why there is no easy way to find out the best audio interface for you. The best thing you can do is to narrow the selections down. And, then it would be easy to pick the best fit for yourself. And, this is what we have tried to accomplish with this review article.
We hope that we have selected the best models in terms of price, features, and ease of use. Everybody is different and your choice will also be different. That is why we have provided a list of the 10 best audio interfaces in India here. So that one way or another, you will find a suitable one for you.
So, which one was your favorite from the above mentioned audio interfaces? Let us know your opinion in the comment section down below!