Congratulations! Now that you have finally decided to explore and embrace new experiences, it is important that you make your travelling safe and comfortable. For this, you need to get the best travel gear which will make it easy for you to travel both in India and around the world.
In this article, we have compiled a list of the best travel gear that you can buy for a trip in India regardless of your trip duration. There are a lot of travel gadgets that can usually be used while travelling which is why we are focusing on the essential gears so that you don't end up wasting your resources or time.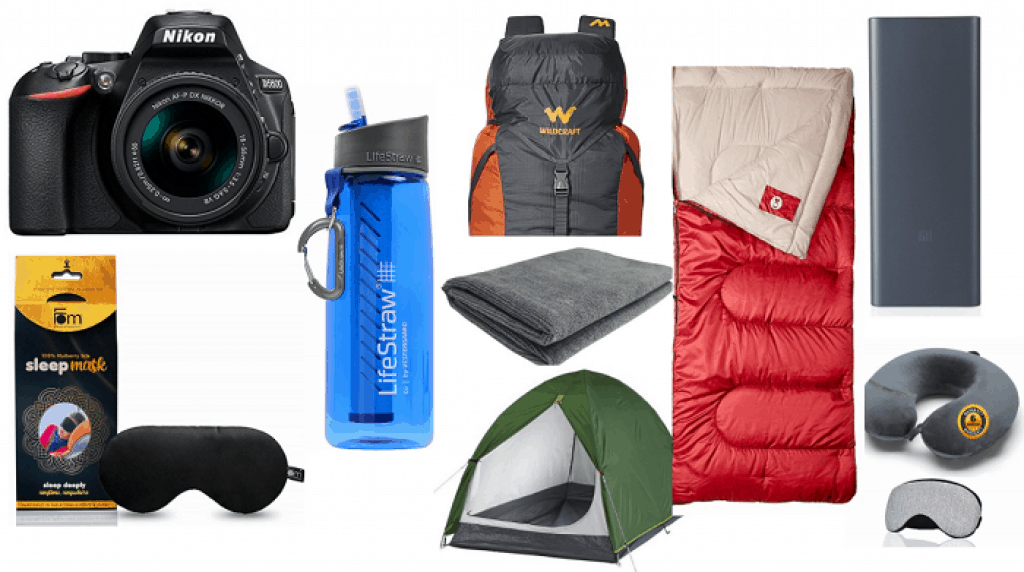 Backpack/Rucksack
One of the most important pieces of travel gear that you should ever have is a backpack or rucksack which will be used to carry your clothes and belongings. A backpack is perfect if you tend to travel a lot and want convenient luggage to carry around with you. Moreover, you get these backpacks in different sizes as well ranging between 10L and 100L, so you can easily choose one for a long trip or just a day outing.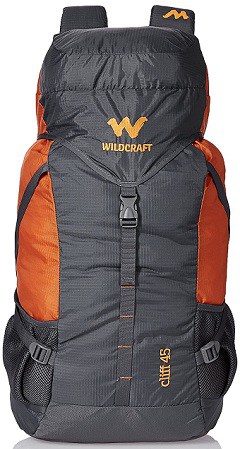 If you are going on treks or backpacking trips a lot, then you definitely need to invest in a good backpack/rucksack with a waterproof cover with sufficient space to store your footwear, accessories, toiletries, and so on.
WildCraft Orange Rucksack is a good choice for this as it is not only lightweight but durable as well. And the best part is that it is available in two different sizes – 45L and 50L so, you can simply select the one that will suit your travel requirements better. 
Powerbank
The next important travel essential that you need to purchase is a power bank to recharge your phone and camera when you are continuously travelling. If you tend to travel with lots of gadgets, then having a battery backup is advisable so that you can charge them when you don't find a proper power source.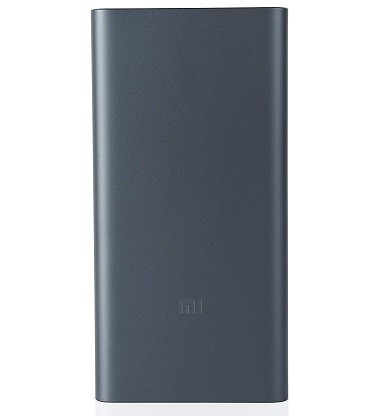 We would recommend Mi Power Bank 3i for you as it is reliable and can be used for a long time. It is also available in two different capacities – 10000 mAh and 20000 mAh. So, you can buy the one that is more likely to suit your needs on the trips.
Water Purifier
Another essential travel gear that you should carry with you when travelling in India is a water purifier. We all know that the water source at a lot of locations in India cannot be really trusted which is why it is a good idea to have a water purifier bottle with you so that you don't end up drinking contaminated water and fall sick.

Lifestraw Water Bottle is a good choice for this as it makes it easy to make the water safe for drinking by removing the bacteria and other pollutants that are present in the water. It is affordable and lightweight and is extremely easy to use. All you need to do is fill the bottle with water and then drink directly from the nozzle and you can enjoy clean drinking water wherever you go.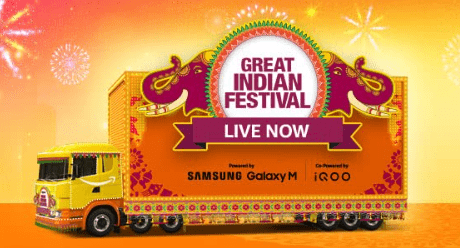 Camera
Of course, when you are travelling, you want to capture the moments around you and what best way to do that than with the help of a camera. If you are into adventure sports, then you can think of getting an action camera for yourself which can be easily used for surfing, skiing, zip-lining, and so on.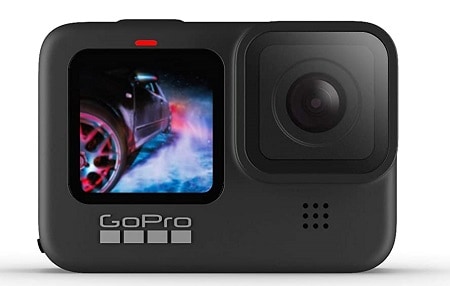 For this, GoPro 9 Black is an amazing choice as it can be used underwater as well to take dope videos and still images. Moreover, you can take 4K and full HD videos with it and then share them with your family and friends later on.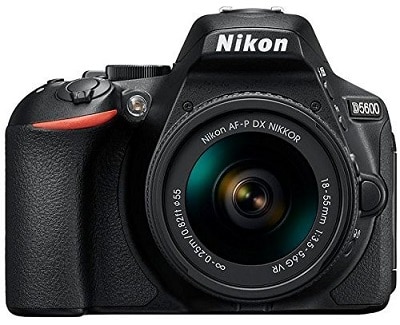 If you aren't into a lot of adventure sports, then you can invest in a DSLR or a compact camera to capture the travel moments. Personally, I would recommend Nikon D5600 to you as it is a mid-range DSLR that is rugged and weather-resistant and allows the customers to take amazing quality images and videos. It also has Wi-Fi connectivity so you can connect it to your laptop or smartphone and transfer your media on the go.
Universal Travel Adaptor
Another essential travel item that we tend to forget a lot but need the most is a travel adapter. This is especially important if you carry a lot of gadgets or if you are planning to travel to a foreign country since pins and plugs usually differ in shapes and sizes. This is why you should carry a universal travel adapter with you that you can easily use wherever you are.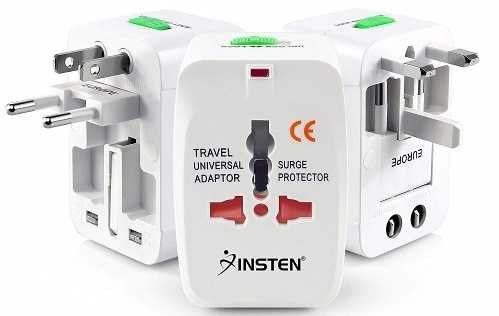 Universal World Wide Travel Charger Adapter Plug can be used worldwide and comes with a surge protector which makes it perfect to use with US + UK + EU + AU power plugs. It converts the power outlet in more than 150 countries and comes with a travel pouch which makes it portable too.
Travel Neck Pillow
A lot of us have to suffer through long train, car, or boat journeys to reach a specific destination and the best way to stay refreshed after is by being comfortable and sleeping through the journey. And if you wish to sleep comfortably through the journey, then you need to get a decent travel pillow to give your neck the support that it needs.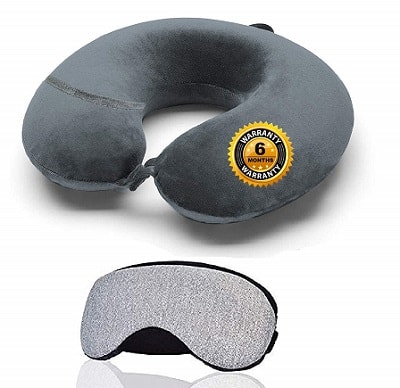 We recommend Trajectory 2 in 1 Travel Neck Pillow which comes with a button to provide proper support for your neck. You can attach this travel neck pillow to your luggage as well to carry it around easily and can easily adjust it to ensure that it supports your neck properly. This neck pillow will gently provide you support and relax your neck muscles and head so that you can sleep while travelling.
Microfiber Towel
When you are travelling, carrying a bulky cotton towel is not really an option as it not only takes a lot of space in your bag but takes a long time to completely dry off as well. This is why it is a good idea to purchase a microfiber towel but you need to select the weave and levels in that too.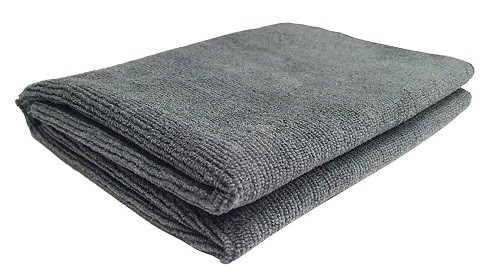 Softspun Microfiber Bath Towel is a great choice for this as it is super soft and 100% machine-washable. So, it is comfortable and is great for using on your trips to dry yourself after a bath. And since it is quick to dry, you won't have to worry about it staying wet for too long as well and it is extremely affordable.
Backpacking Tent
If you are planning to backpack or trek a lot during your trips, then you also need to carry a backpacking tent with you so that you can set it up anytime on the trip to enjoy a comfortable night's sleep. A good backpacking tent should be lightweight, compact, and weather-resistant so that you can use it in all kinds of weather conditions.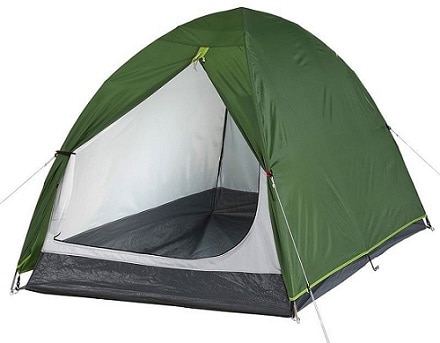 One of the top backpacking tents to consider for your travel journeys is Quechua Arpenaz Tent for 2. This is a small and compact tent that is easy to set up and use and folds up quickly when not in use. Moreover, it is not heavy so you can carry it with you on long trips as well without tiring easily. So, if you tend to travel solo or with one more person, then this tent is sufficient to fit you and all your belongings easily.
Sleeping Bag
For travellers who trek frequently or camp a lot, a sleeping bag is an essential travel gear unless you want to end up shivering through the night unable to sleep or leave. A good sleeping bag will not only keep you comfortable when you are sleeping at night but will keep you appropriately warm as well.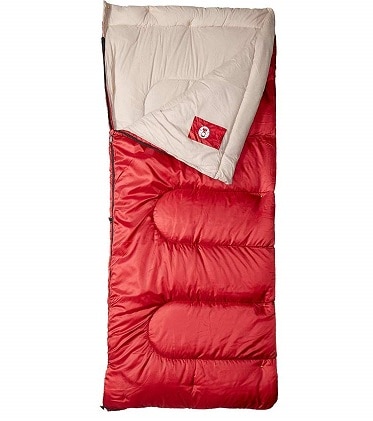 This is why we suggest the Coleman Palmetto Sleeping Bag which is perfect for a temperature range of -1.1 degrees Celsius to 10 degrees Celsius. It comes with a polyester liner to ensure that you stay warm and comfortable inside it. Moreover, it is quick to fold due to the roll control design and has a quick cord system that makes it easy to fasten it up after use.
Eye Mask
Lastly, if you need a comfortable sleep while travelling, then it is recommended that you invest in a good pair of an eye mask. An eye mask will not just ensure quality sleep but also helps you maintain a good sleep cycle and can provide you relief from migraine pains and headaches as well.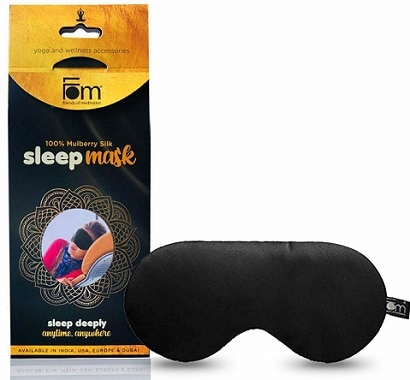 For this, we would recommend Friends of Meditation Mulberry Silk Eye Mask which is comfortable and great for travel purposes. Mulberry silk used in this eye mask is usually recommended for relaxation over nylon or polyester material and will allow you to quickly fall asleep on flights, airport lounges, buses, and so on. This mask is perfect for people who have trouble sleeping, travel a lot, or experience dry eye and migraine headaches.