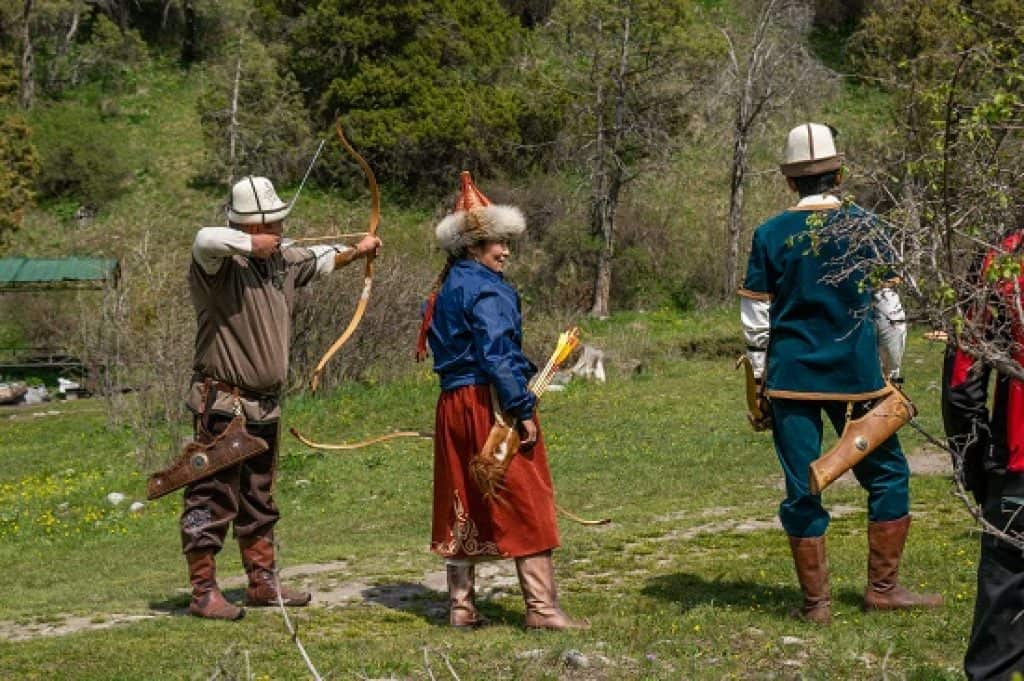 My Experience in Kyrgyzstan
Honestly, I had the best time in Kyrgyzstan. I absolutely loved the weather here but what really surprised me was the gorgeous mountain views around the city. From Bishkek, you could see the Tien Shan mountain range and it was a completely different look from my home city.
Apart from the beautiful vistas, I loved the people here as they were super friendly and helpful. On our way, we got lost many times but some nice soul would always be ready to guide us and help us.
The culture, the food, everything was just amazing and I am so glad that I decided to plan a trip to this amazing Central Asian country.

---
Quick Navigation
Kyrgyzstan is a gorgeous place and it is by total accident that I stumbled upon it. A country which is 70% mountains, Kyrgyzstan is a haven for trekkers and adventurers. But that doesn't mean that you cannot enjoy it if you aren't into hiking. The beauty of this country is that it has something to offer to all kinds of travelers.
Interested in learning about the local culture? Then, you can learn about the nomad culture here and how they live in yurts. Are you a foodie? Well, you are in luck because Kyrgyzstan offers a lot of amazing dishes that you have to try (mostly non-vegetarian). Love sports and activities? Then, you can visit the World Nomad Games here!
So, Kyrgyzstan offers a wide range of experiences and you get to choose what you like. I was lucky enough to be able to spend a complete month here and was able to experience the local culture, food, etc. and was able to go on several hikes.
In this article, I will be sharing all the information that you need to plan a trip to this amazing country. Trust me, a trip to Kyrgyzstan will turn out to be the best trip of your life!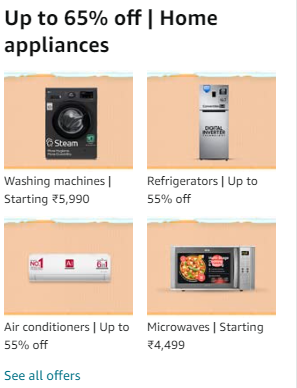 Also Read : 10 Best Rucksack in India For Travel
How to Get Kyrgyzstan Visa?
It is actually quite easy and simple to get Kyrgyzstan Visa. There are two ways to go about this:
Contact the local Embassy
Kyrgyzstan has an embassy in Delhi where you can submit your documents to apply for the visa. For the visa, you would need the following documents:
A duly filled application form
1 Passport-sized photograph
Passport with 6 months validity and a few pages empty
Visa Support (This is not applicable for everyone so do check at the embassy if you need this or not.)
Visa Fee confirmation receipt
You will need to first call up the embassy to check whether they are taking applications or not. Once that is confirmed, you can plan to drop your documents during office hours and wait for a week to pick up your documents. You will get the visa stamp on your passport for your desired travel dates and can plan your trip.
Also Read : 10 Best Binoculars for Bird Watching
---
How To Apply for E-Visa?
An easier and more convenient way to get the visa for Kyrgyzstan will be through the e-visa portal. Personally, I opted for this option as it was quick and effortless. You simply need to go to the E-Visa website at http://www.evisa.e-gov.kg/ and then start an application.
Make sure you fill out all the details correctly. You will also need to upload a digital passport photo and the first and the last pages of your passport. If you need visa support, then you will need to provide details for that as well.
Finally, after filling out all the details, you need to review the application once and if everything is correct, then go ahead and make the payment. For a 30-day single-entry e-visa, the cost is around 2900 INR. Once you have made the payment, you will receive the application number that you should note down and you need to wait for 5 working days for the status of your application.
Also Read : 10 Best Luggage Bags For Travel in India
If the visa is approved, then you will need to take a print out of your e-visa and show it at the Immigration counter.
Note: For E-Visa, always keep a hard copy ready and a soft copy downloaded on your laptop/mobile phone. If you don't, you won't be allowed to enter the country.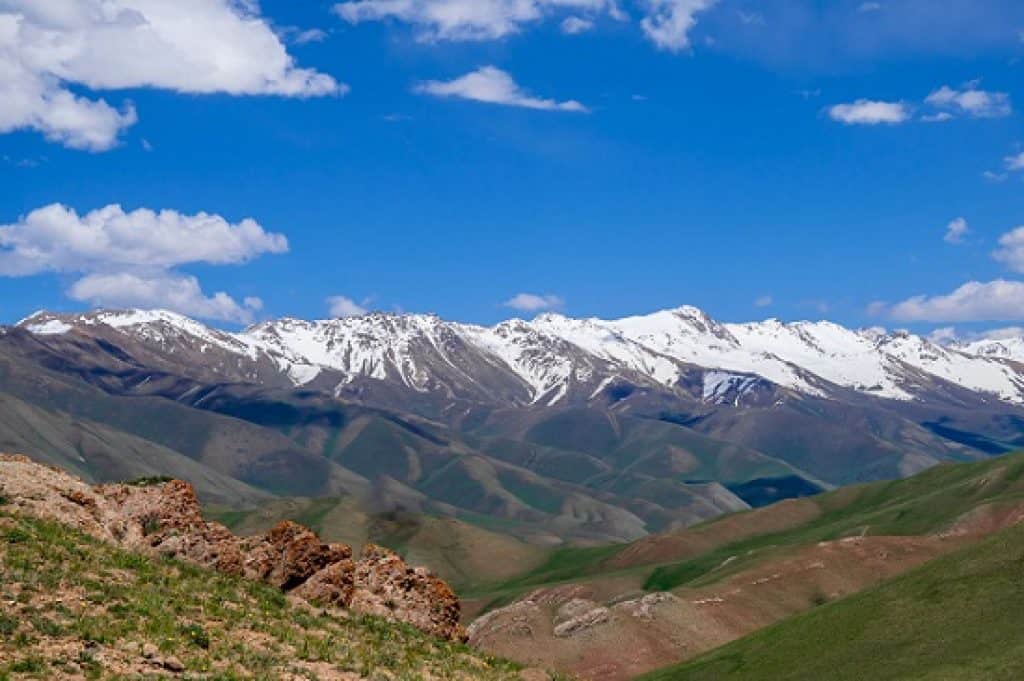 How to Reach Kyrgyzstan?
There are a couple of ways to reach Kyrgyzstan, depending on where you start from. Here is a detailed breakdown of your options to reach Kyrgyzstan.
Also Read : 10 Best Camera Bags for Travelers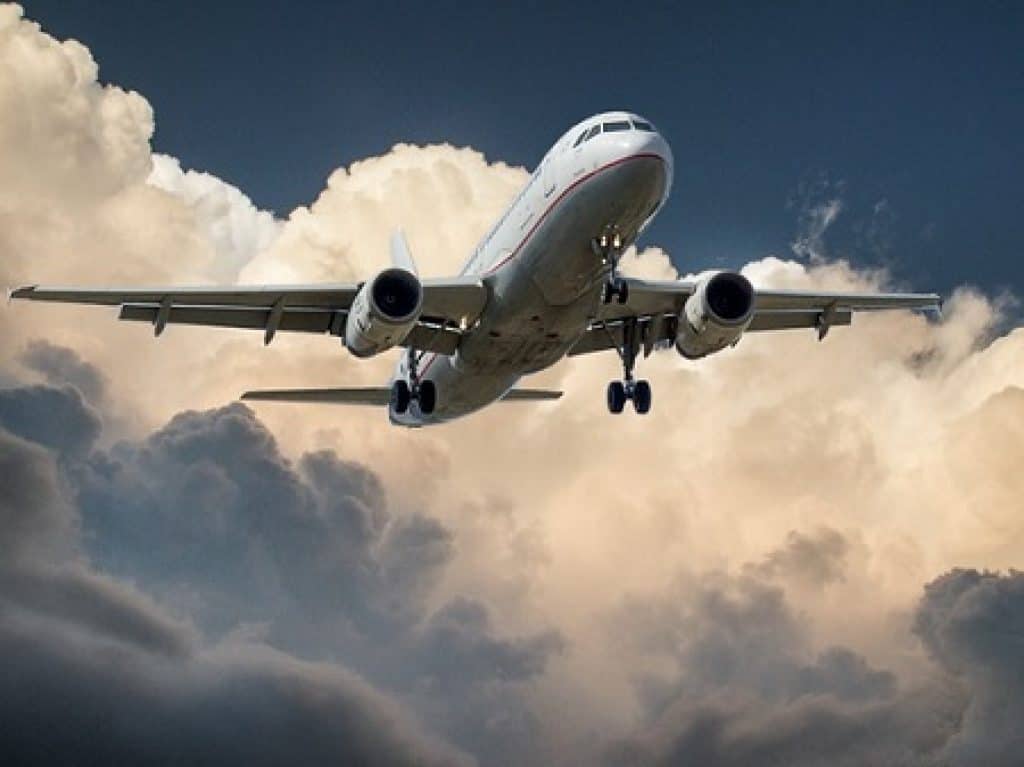 Reaching Kyrgyzstan by Air
If you are not in any neighboring countries like Uzbekistan, Almaty, etc. then the best way to reach Kyrgyzstan is by taking a flight to the International airport in Kyrgyzstan. There are two International airports here – Manas International Airport (Bishkek) and Osh International Airport (Osh).
So, you can find a flight for any of these airports.
From India, you will find cheaper flights to Bishkek, the capital of Kyrgyzstan, and a return flight can cost around 45,000 INR. There are both direct and indirect flights available for this route so, depending on your schedule and budget you can choose the right flight for you.
Also Read : Best Travel Mugs Under Rs. 1000
Reaching Kyrgyzstan by Road
If you are traveling in countries like Kazakhstan, Uzbekistan, Tajikistan, or China, then you can reach Kyrgyzstan by road too. There are trains that connect Kyrgyzstan to these countries and there are road borders also that can be reached via taxi or bus.
The process of crossing the border is quite easy. I, myself, crossed the Kordoi border from Kazakhstan to reach Bishkek. The whole process took me barely 30 minutes and since I had all my documents ready, it wasn't much of a hassle.
---
Best Time to Visit Kyrgyzstan?
Kyrgyzstan can be visited throughout the year but it offers different experiences and activities during different months. According to me, the best time to visit Kyrgyzstan is in May – June period as it is the off-season and the prices are really cheap at the time.
Also Read : Top 10 Best Travel Cameras
You can check out a detailed description of what you can find in each season here:
Summer Season (June – September)
If you are a hiking or trekking enthusiast and would like to visit all the high-altitude lakes and viewpoints here, then summer time is the best time to visit Kyrgyzstan. During these months, the snow melts on the mountains and the lakes get thawed again so you can truly enjoy the views and the trek.
A lot of lakes even become accessible by a 4-D wheeler during this time so it is a great time to take in the landscape here.
Also Read : Top 10 Best Camera Straps
Winter Season (October – February)
Are you a snow lover?
If yes, then you have to visit Kyrgyzstan during the winter months. The roads and the mountains are covered in a layer of pristine white and it looks extremely magical. The only drawback is that most popular trips are shut down at the time.
So, if you wish to trek, you will have to find a guide and pay him to take you through the trekking routes. It is also very cold at the time so you need to wear appropriately warm and cozy clothes.
Spring Season (March – May)
Finally, if you want the best of both the worlds then spring is definitely a good time to visit. I planned my visit during this time and was pleasantly surprised by the landscapes and the views here. There were still snow-covered mountains but most lakes were unfrozen and the treks were dry and mostly snow-free.
Honestly, I loved the chill breeze and the warm sunlight so it was pleasant to go on the hikes too.
Also Read : 10 Best Instant Cameras in India
---
Places to Visit in Kyrgyzstan?
There are lots of amazing places to visit in Kyrgyzstan and many exciting hikes to do here as well. If you are confused about which places to visit, then here is a list of the places that I explored during my 1-month long stay here.
Bishkek
Bishkek is the capital of Kyrgyzstan and is one of the modern cities that you can find in Kyrgyzstan. Since this is a major hub in this country, you will find a lot of locals and tourists around here. Most likely, you will be starting your trip from Bishkek and would need a day or two to get adjusted to the climate and the environment here.
In Bishkek, there are a lot of points to explore such as the Ala-Too Square, Victory Square, Panfilov Park, Manas Statue, museums, and so on. You can also check out the largest mosque in Central Asia, Bishkek Central Mosque, that has a Turkish foundation. Similar to Ankara's Kocatepe Mosque, this Bishkek mosque has traces of Ottoman architecture and is a sight to admire.
Apart from that, you also have the Osh Bazar and the Dordoi Bazar to explore and shop at. Dordoi Bazar is the largest public market place in Asia offers everything from carpets to fresh fruits and vegetables.
Also Read : 10 best travel adaptors in India
You can easily spend a couple of days in Bishkek exploring the sights in the city and the sights around it. Bishkek is also the nearest major city for other popular attractions such as Kol Tor lake, Burana Towers, Ala Archa National Park, and so on.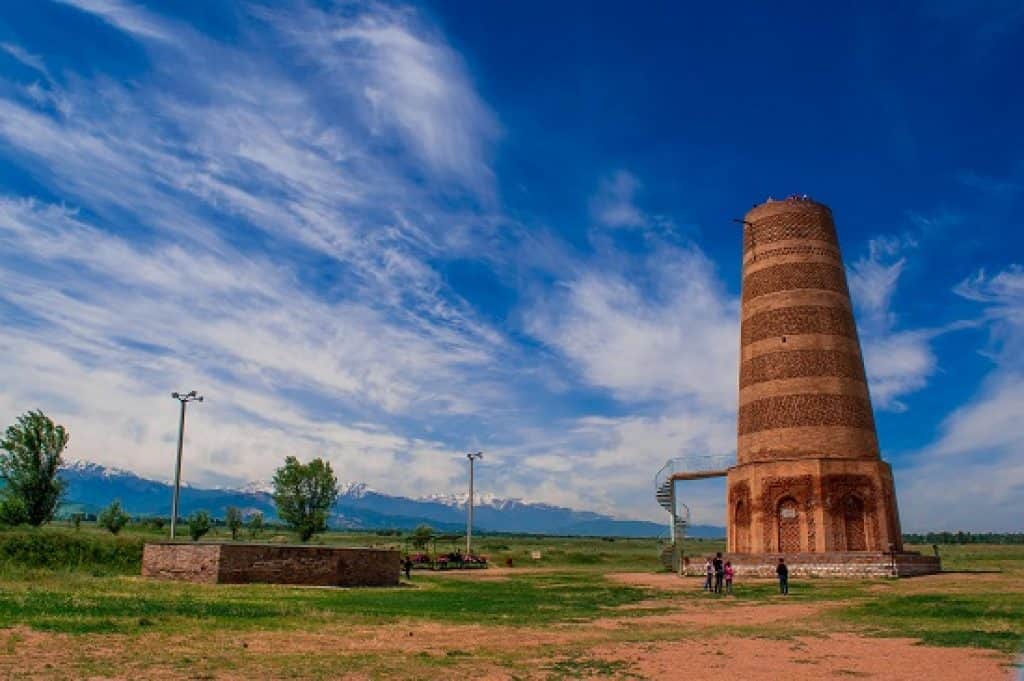 Burana Tower
A popular attraction that is close to Bishkek city is the Burana Tower. This is a large minaret in the Chuy valley and is the last remains of the ancient city of Balasagun. This tower was built in the 11th century and was originally 45 m high. However, due to several earthquakes, the tower is not as high anymore and is just 25 m high now.
You can climb the tower to reach the top from where you can see the magnificent views of the valley around you. Apart from the tower, there are several balbals and petroglyphs scattered around here too.
A balbal is a Turkish grave marker and has interesting carved faces on it. There is also a small, local museum here with a collection of artifacts that were found here.
You can plan a day trip to Burana Tower from Bishkek.
Entry Fee: 100 INR
Also Read : Best Multiport USB Wall Chargers in India
Ala Archa National Park
Situated in the Tien Shan mountain ranges, Ala Archa National Park is an alpine national park and is another great 1-day or weekend trip from Bishkek. You can go to this park for a short 1-day hike or you can camp here for the night and enjoy the cool atmosphere. There are several different trails here that you can take to explore the park.
Make sure that you carry food with you because there aren't any options available on the trail here.
Entry Fee: 150 INR
Also Read : Top 10 Best Tripods in India
Kol Tor Lake
A popular day hike from Bishkek, Kol Tor lake is a great way to spend your day by being surrounded by amazing mountains and a turquoise-green colored lake. The lake is located in a gorge at an altitude of 2,275 meters and looks artificial because of the color but it is real.
It is a 10 km hike from the Kegety Gorge which is the starting point of the trek and on the way, you cross a coniferous forest that offers shade throughout the trek. Trust me, this is one lake that you would not want to miss out on.
Also Read : 10 Best Wireless Chargers in India
Karakol
Karakol is another popular place to visit in Kyrgyzstan as it is located at the tip of Issyk Kul lake and is the base for lots of exciting hikes and treks in this region. The town itself is quite small and comprises of a few interesting sights such as the Dungan Mosque, Russian Orthodox cathedral, Karakol Historical Museum, and so on.
However, it is also the nearest point to Jeti Oguz valley which is a must-visit in Kyrgyzstan. This valley is just a 40-minute ride from Karakol where you can admire the snow-capped mountains and the burnt red rock faces that are known as the seven red bulls.
You can further hike to the waterfall and come to a refreshing scenery on your way here.
Also Read : Best Travel Pillows in India
Altyn Arashan
Altyn Arashan is a popular valley near Karakol and can be reached as a day hike too. It is a total of 20 km hike (to and fro) and offers amazing mountain and forest views on the way. One of the best things about this valley is that you will find a lot of hot springs here to take baths while being surrounded by beautiful scenery.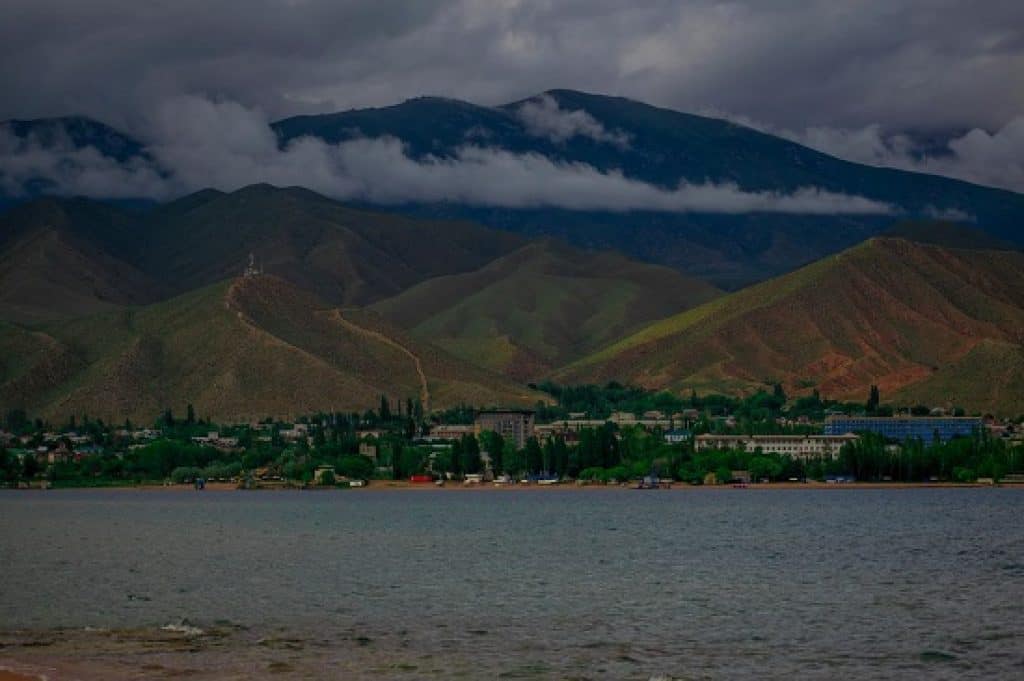 Cholpon Ata
Another favorite place of mine is the Cholpon Ata which is the resort town that is located on the northern shore of Issyk Kul lake. One of the best things about this town is that it is the party town during the summers and you will people from all over the country coming here to dance and enjoy it.
There is an amusement park nearby as well that opens in summer and is a lot of fun to visit.
Also Read : 10 Best Travel Cameras For Beginners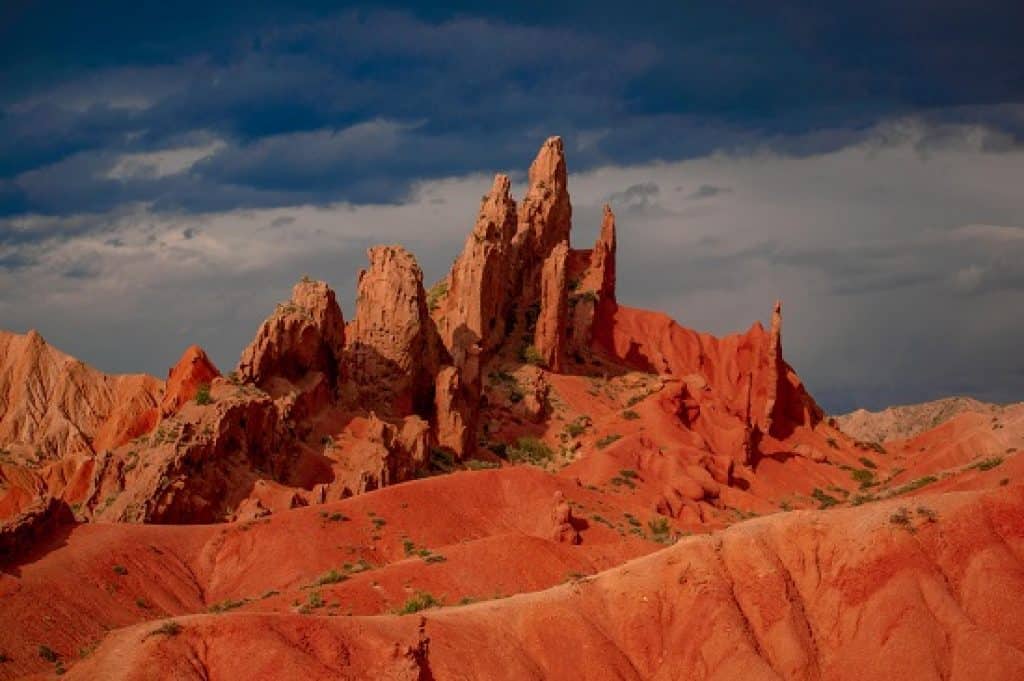 Skazka Valley
Also known as the Fairytale Valley, Skazka Valley lies close to the southern shore of Issyk Kul and has a diverse landscape. And one of the best things about this place is that it is not infested with tourists because very few people actually know about it.
What I really loved about this valley is how colorful and red it was and looked like we were on martian land. The shapes formed here are quite bizarre yet beautiful and I absolutely loved spending some alone time here.
Song Kol
Song Kol is my most cherished place in Kyrgyzstan because not only the vistas here are beautiful but the journey to reach this lake is quite exciting too. There are actually several ways to reach the Song Kol lake. If you are an adventure enthusiast then you can do the 2-day hike to the Song Kol Lake or you can experience a horse trek to save time and energy.
Another way to reach the lake is by sharing a 4D wheeler that takes barely 3-4 hours to reach here from Kochkor.
Whatever you choose, you will be blown away by the beauty of this lake, and staying in the local yurts is a great way to experience the local lifestyle here.
Also Read : 10 Best Trekking Shoes in India
Osh
Finally, there is Osh, the second-largest city in Kyrgyzstan and the oldest city in this country too. If you would truly like to learn and experience the culture of Kyrgyzstan, then Osh is the perfect place to visit. It is also close to the Uzbekistan border from where travelers can pass between the two countries.
That's not all, this city is also the home to the Sulayman Mountains which is the only UNESCO World Heritage site in Kyrgyzstan. You can climb this mountain to enjoy the view of the entire Osh city which looks blue from afar.
Osh is a great place to learn about the history of this country. And if you love food, then you have to try the plov here as it is said to be authentically made in Osh.
---
What to Eat in Kyrgyzstan?
Vegetarian Food in Kyrgyzstan – Important!
Kyrgyzstan offers a wide range of local dishes that are popular in Central Asia and if you are a foodie like me, then you are going to love it too. However, one thing to remember is that this is a predominantly non-vegetarian country so you won't find vegetarian restaurants easily.
Few tips on how vegetarians can survive in Kyrgyzstan:
1) Make sure that you mention 'No meat' or say 'Bes meat' that translates to the same. However, remember that sometimes it is not clear to them what you are trying to convey and you will be served meat.
2) Avoid eating from the local food vendors as they don't understand the term vegetarian. Instead, you will need to opt for hotels and restaurants for your meals as they do offer a few options for vegetarians too.
3) Purchase your food from the grocery stores and supermarket instead of eating out. They always have options available for vegetarians.
4) Cook your own food at the homestay or hostel where you are staying. Most hostels offer kitchen access so you can easily get the ingredients to prepare your own vegetarian meals.
5) Indulge in safe options like Margarita pizza, rice, etc. if you do eat outside and make sure that you research properly about the food in this country before you order something.
Lastly, use Google Lens to translate the dishes that are not mentioned in English so that you can google about the dish and find out whether it is vegetarian or not.
---
Also Read : 10 Apple Cider Vinegar in India
Local Cuisine to Try in Kyrgyzstan?
While it can be difficult (not impossible) to survive this country as a vegetarian, it is a paradise for non-vegetarians and foodies. Here are a few dishes and drinks that you should definitely try in Kyrgyzstan:
Plov
Plov is basically fried rice with boiled/fried meat and bits of onion, carrots, garlic, etc. And it is cooked in a semi-hemispherical bowl known as Kazan.
Ashlan-Fu
This is a special cold dish that is made up of noodles, eggs, jelly, and vinegar. It is quite popular in the summer and is a refreshing meal in a hot climate.
Beshbarmak
One of the most popular local dishes to try in Kyrgyzstan is Beshbarmak which is prepared with sheep or horse meat. It consists of noodles and pieces of meat and is served with a medium-spicy sauce. It takes a couple of hours to prepare this dish and it holds great importance in a Kyrgyz household.
Kuurdaak
Another dish that you have to try in Kyrgyzstan is Kuurdaak that is prepared using beef or mutton. In this dish, the meat is friend using spices and onions and then served with boiled potatoes and proper garnishing.
Lagman
This is a spicy Ughyur dish that includes long noodles along with several pieces of vegetables and mutton pieces.
Lepeshki
Lepeshki is the round loaves of bread that are baked in a tandoor and are quite popular in Central Asia. These are usually stacked on the dining table and can act as an appetizer here.
Manty
A manty is basically a steamed dumpling that is filled with meat, potato, or pumpkin and is similar to Tibetan momos.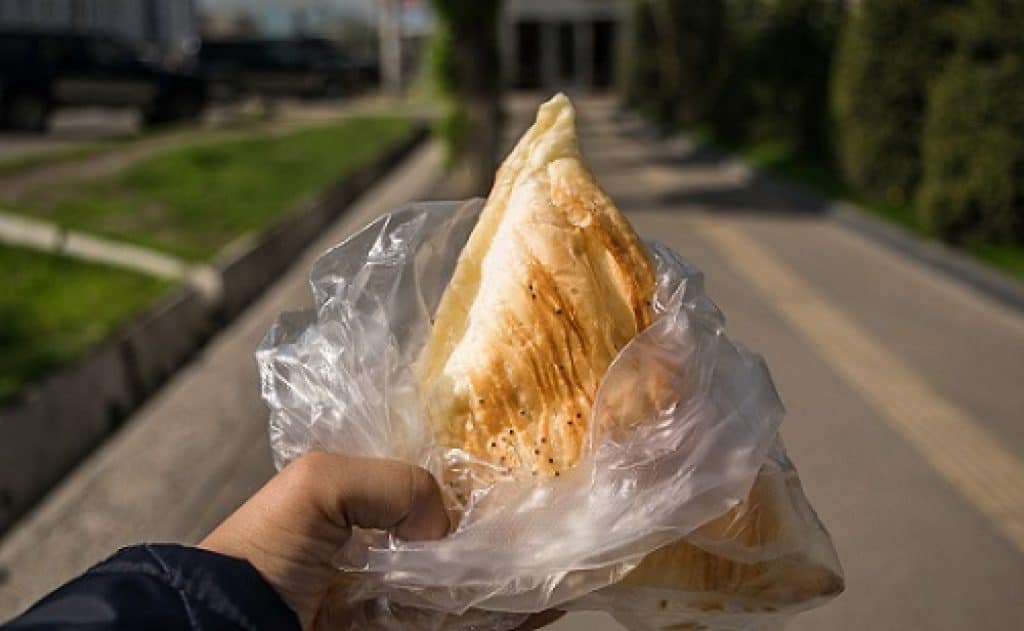 Samsy/Samsa
A Samsy/Samsa is a large dumpling that is cooked in a tandoor. This dumpling can have a filling or meat or potato or pumpkin and tastes utterly delicious. This was definitely one of my favorite food when staying in Kyrgyzstan and it cost just 15 INR.
Piroshki
Another popular snack to try in Kyrgyzstan is the Piroshki that is flat, fried dough that can sometimes be filled with potato, meat, or cabbage. However, most commonly, you won't find any filling inside this dough.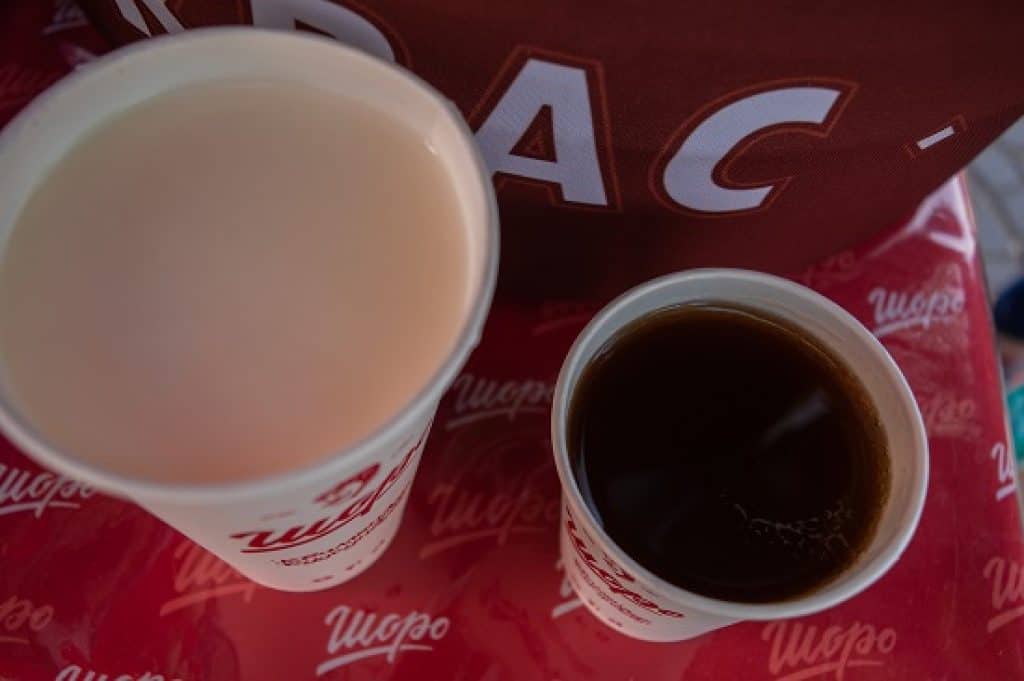 Maksim
This is a wheat-based drink that can be found throughout the country, especially during the summer. There is shoro and chalap as well that are somewhat similar and these three drinks can be found at the sidewalk vendors.
Kumis
Finally, there is Kumis which is fermented horse milk and is somewhat an acquired taste. It is commonly found during the summers and tastes a little sour and salty. Personally, I found it to taste like buttermilk so I liked it.
However, since it is fermented, it can be a little strong too. Don't drink a huge quantity very soon as it can end up upsetting your stomach.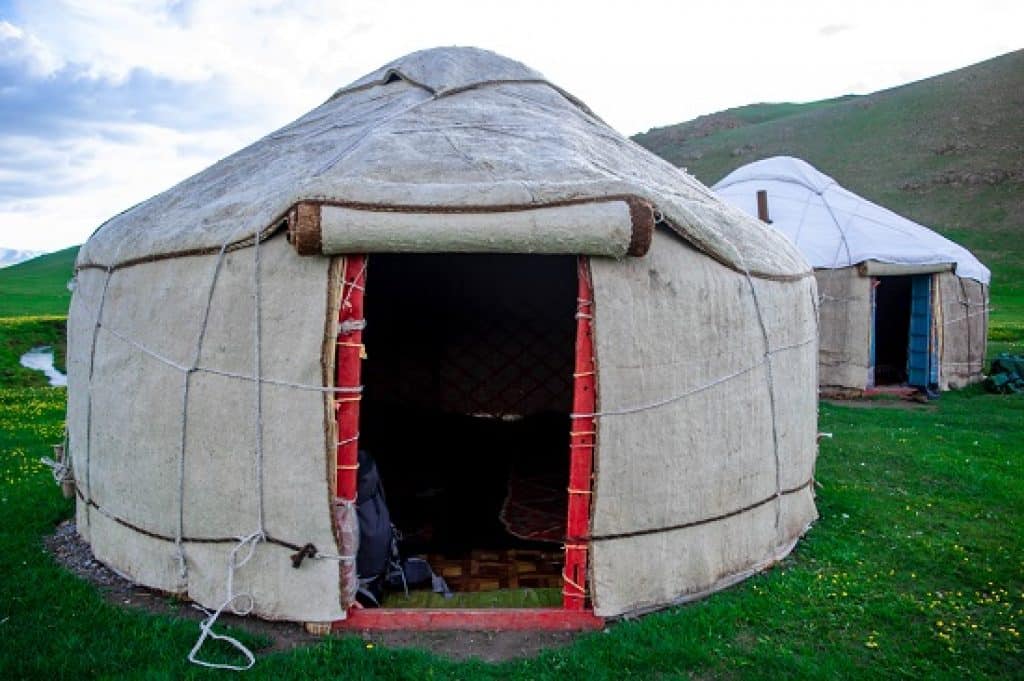 Where to Stay in Kyrgyzstan?
Now, coming to where you can stay in Kyrgyzstan, there are actually a lot of options available. You will find both cheap and expensive stay options here so you don't have to worry about finding a stay best-suited to your budget.
Hotels and Homestays
There are a lot of hotels and homestays available here that can cost around 1500 – 3000 INR for a night for two people. You will find hotel options mostly in big cities like Bishkek, Osh, etc. In other cities, you will predominantly find homestays and guest houses where the owner will be staying close to the property.
The homestays and guesthouses are quite comfortable and homely and also include kitchen access to prepare your own food. Plus, they aren't expensive as well as you can easily find a room for around 800 INR for a night.
In Bishkek, I stayed in Southside Bed and Breakfast which was extremely cozy and well-designed. The entire space was designed using wood and shined impeccably throughout the day. Plus, they offered free breakfast too with different options available which tend to be filling and delicious.
Yurts
Well, if you are traveling to Kyrgyzstan, it is a must that you spend the night in a yurt to experience the true hospitality of the people here. The yurts have a minimal design but are warm and cozy and are a good way to spend the night.
Also, when you stay in yurts, you get your meals in the dining yurt where the entire table is laden with snacks and sweets. In Kyrgyzstan, you will find yurts in almost all the cities so you can experience it whenever you liked.
Personally, I would suggest you stay in a yurt near Song Kul lake and the Issyk Kul lake to experience how Kyrgyz people live here.
Hostels
Finally, you also have hostels throughout the country which cost around 150 – 300 INR for a person and are extremely clean and tidy. Most of the hostel rooms also offer an air conditioner and includes access to the kitchen where the guests can prepare their own food.
If you are planning to go for lots of treks, then hostels are safe too. You can simply leave your valuable belongings at the reception and they will take care of it. During my stay in Kyrgyzstan, I stayed in a hostel in Osh, Karakol, Kochkor, Bishkek, etc. and never once found a hostel that was uncomfortable or dirty.
So, if you are on a budget, then a hostel is a great place to stay and meet new people here.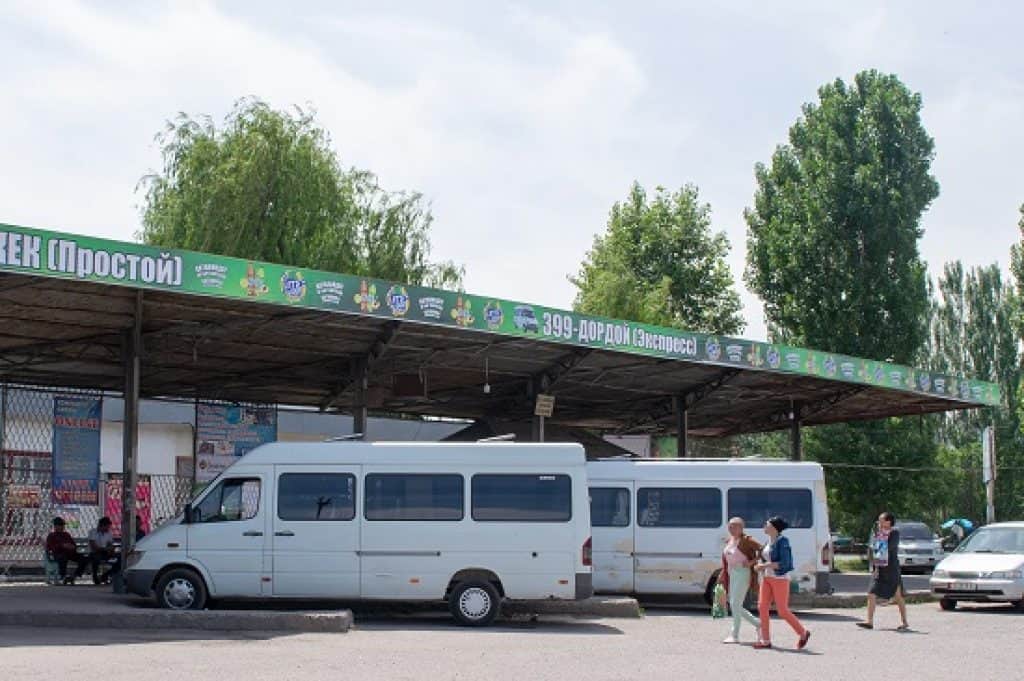 How to Travel Locally?
Once you reach Kyrgyzstan, you will realize that there are several modes of transportation available here. And guess what, most of them are cheap enough to fit in your budget.
Marshrutkas
One of the most common modes of transportation in most cities is Marshrutka. A marshrutka is a minivan that can fit around 30-40 people at a time and is usually used for both intercity and intracity travel.
The cost of a journey in a marshrutka is around 20 INR regardless of where you get down inside the city. There are marshrutkas that take you to another city as well which can cost between 50 – 300 INR, depending on the distance.
Note: Please carry change as sometimes they can charge you more if they see you with bigger currency notes.
Buses
Apart from the marshrutkas, buses are quite commonly found in cities like Osh, Bishkek, etc. too. The cost of a bus ride is constant at 10 INR in the city and you will have to let the conductor know when your stop is nearby.
Apart from intercity travel, you will find buses available for long distances as well. There is a regular bus service for Bishkek to Cholpon Ata to Karakol to Bishkek that is extremely comfortable and affordable. The cost of this bus service is around 300 INR and it takes you around 5-6 hours to reach your destination.
For intracity travel, you need to reach the Bishkek Western Bus Station and purchase the bus ticket. They have a waiting area here too so you can spend the time here till your departure.
Shared Taxis
If you don't wish to wait for the departure time, then you can opt for shared taxis which are quicker to reach the destination and cost a tad bit more than the marshrutkas and buses.
You will pay around 300 – 400 INR for a journey in a shared taxi and these journeys are usually 4-5 hours long. If you opt for a shared taxi to reach Osh from Bishkek or vice versa, then you will have to pay around 1100 INR and it takes around 10-11 hours to reach.
The only drawback of using a shared taxi is that they don't start until they have all the passengers. So, sometimes it can take more time than a marshrutka to reach your destination.
Private Taxis
If budget is not an issue, then you can always hire a private taxi for yourself and save yourself all the trouble. This way, you won't have to wait to start towards your destination and can reduce a considerable amount of time on the road as well.
However, private taxis are expensive for intracity travel so make sure you bargain the price beforehand. Inside the cities like Osh, Bishkek, etc., you can use Yandex taxi to hail a cab.
Rent a Car
Finally, if you have a valid driving license then you can rent a car here for touring around as well. It won't be the cheapest option but if you are a group of friends, you can share the costs and it will come out to be quite reasonable.
Also, the roads in Kyrgyzstan as amazing for driving and offer beautiful vistas so a road trip can turn out to be a lot of fun here.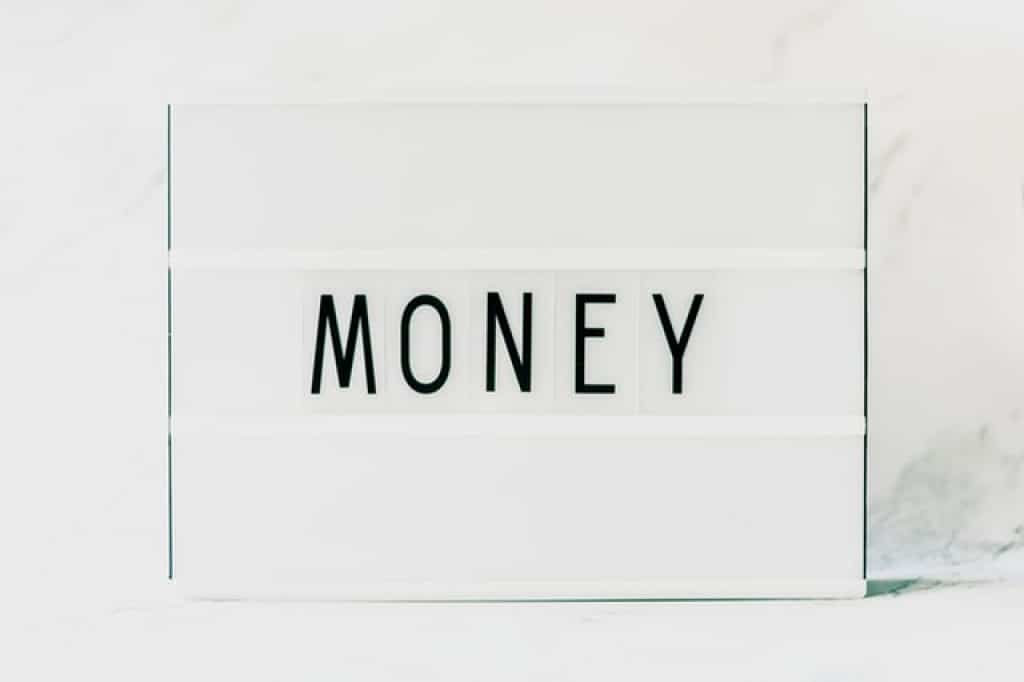 Total Cost for Spending a Month at Kyrgyzstan?
For my 1-month stay in Kyrgyzstan, I was able to spend just 20,000 INR (Excluding flights and visa). Here is a cost breakdown to help you plan your own trip to Kyrgyzstan on a budget:
Stay
During my stay in this country, I mostly opted to stay in hostels which cost around 150 – 300 INR for a night. So, I spent around 4500 – 6000 on hostels during my stay here.
Food
For food, I usually opted the local food from the street vendors which came to be around 100 – 200 INR for the day. A few days, I would also buy items from supermarket to cook my own food. Overall, I spent around 6000 INR on food.
Travel
Since I mostly opted for marshrutkas and buses, I didn't spend much on traveling around. The only major travel cost was the journey between Osh and Bishkek which was around 2000 INR. Apart from that, the travel cost was around 3000 – 4000 INR for my entire stay here.
Visa
As I mentioned earlier, the cost of e-visa for Kyrgyzstan is around 2900 INR for a single entry visa valid for 30 days.
Flights
Since I was traveling to Kazakhstan and Kyrgyzstan, I had my flights booked from Delhi to Almaty and then Bishkek to Delhi. The cost of this trip was around 28,000 INR although we faced a lot of issues at the layover at Uzbekistan.
We had a layover of 15 hours at Uzbekistan and there was no WiFi to contact anyone over here. So, if you are short on time, it would be advisable to choose direct flights to Bishkek or Osh.
Shopping
While I am not a big fan of souvenir shopping, I did buy a few things for my family and friends and it came around to be 1500 – 2000 INR. You can buy a lot of items here like bags, yurts, etc. that will remind you of this wonderful country.
Total Cost
So, in total, I spent around 50,000 INR for my 30-days trips to Kyrgyzstan including the flights and visa. If you are going for a shorter period, then you can expect to wrap up the trip in 40,000 INR or less, depending on the flight cost.
Written By – Rachita Saxena ( A Backpacker , Traveller )