You can't compromise on security, can you? It should always be one of the top priorities. But when it comes to secure our home or offices, you have to think out of the box. Just locking your residence or workplace won't do any good. And, that's where CCTV cameras come into the play.
CCTV cameras are also known as IP or Security cameras. It is a better idea to take advantage of these security cameras to monitor your place. That way, you can be relaxed even if you are not residing at your home. Whether you want to get a new indoor security camera for your home, shop, or office — one thing is certain — that there are a plethora of options out there.
So, it gets tricky to pick the best one for you out of all the choices. If you are from India and also searching for a suitable indoor security camera then we have got your back. In this post, we will be revealing all the information you need to know to buy the best indoor security camera in India.
So, let's get down to business…
Also Read :

10 Best Refrigerators in India
---
At a glance:
Best Overall Quality: Mi 360° 1080P Wi-Fi :
Prior to buying any product, it all comes down to mostly two things — the price and the features. If you want to get the best of both world, then you should go with the Mi MJSXJ02CM 360° Wi-Fi Home Security Camera.
It is not the cheapest option out there. But, it has an affordable price tag compared to its competitors. And the good news is that it ticks all the boxes to be a perfect security camera for your home.
---
The Budget-friendly one: Sricam SP Series SP005 :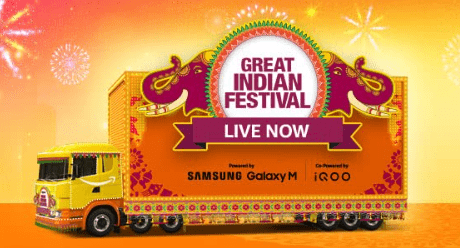 If you are searching for a budget-friendly one even if you have to compromise on the features, then this is a great option. It has a lot of great features. It can record clear and sharp videos.
And, it comes from a reputed company as well. Although there are few drawbacks of this product, we would definitely recommend it if you need a cost-effective security camera.
---
The Most feature-rich one: D3D D8810 :
If you don't have any budget constraints yet want an advanced security camera then you will love the D3D D8810 IP camera.
This one comes with the most features of them all. Yes, there are other high-end security cameras available which have even more features than this one. But, those are pricier than the D3D D8810 security camera.
---
Detailed reviews of the best indoor security cameras in India:
At this point, we will be sharing detailed reviews of the security cameras we have chosen for this post. Here, you will get to know about the features, pros, and cons of the products. So, let's begin…
1) Sricam SP Series SP005 Indoor security camera: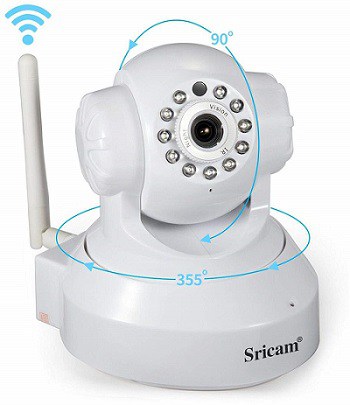 Sricam has been making various types of CCTV cameras for a while. Among them, the Sricam SP Series SP005 model is one of the most best-selling cameras from them. It comes with a load of attractive yet useful features. Sricam has released this security camera in 2 colors which are White and Black.
This can record videos in 720p resolution. Also, the video quality is up to the par with its competitions. There is an exclusive Sricam app available for both Android and iPhone operating system.
You can watch live demo using that app on your smartphone from anywhere. It is very easy to set up. And, all the necessary accessories come with the package.
Also Read : 10 Best Rated Split Air Conditioners
Key Features:
The camera comes with a 90-degree vertical tilt and 355-degree horizontal pan feature
It comes with a built in microphone and speaker. So you can talk with the person on the other end remotely
It comes with an SD card slot which supports up to 128 GB micro SD card. Thus, you can record and store the videos on the memory card
It also comes with built-in Infrared LEDs which allows it to record clear videos even at night
Pros:
You can do both: watch live demo or download them from anywhere in the world via the Sricam app on your phone/PC to watch it later
You can rotate the camera from anywhere in the world via the Sricam app
It comes with 'Motion Detention' technology. So, if it detects any kinds of unusual motion, it will send you alerts to your email address right away
It is multi-user compatible up to 3 users. That means, 3 users can watch live video from the camera at the same time from different places
1-year product warranty
Cons:
The sound quality is not up to the mark
The resolution could be at least 1080p
Does not support 5.0 GHz Wireless frequency. Only compatible with 2.4 GHz frequency
Check Cheapest Price : Amazon
---
2) Mi MJSXJ02CM 360° 1080P Wi-Fi Home Security Camera: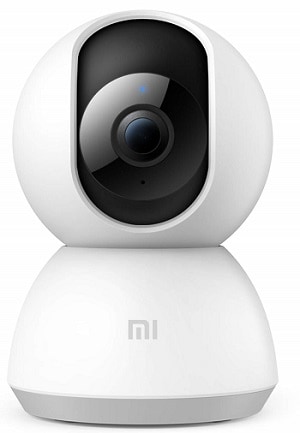 Mi actually doesn't need any special introduction. They have been in the tech industry for a long time. And, they have taken over the Indian market by storm.
Along with smartphones and tablets, they also brought security cameras for Indian users. The Mi MJSXJ02CM indoor security camera can be a great choice.
This is 20 MP, 1080p resolution camera. It has a wide dynamic range that produces crisp and sharp videos.
Mi has introduced a new technology named low-light-true-color tech which allows the camera to record in full color even in low light. There are a lot of other cool features available in this camera. Here are some of those:
Also Read : 10 Best Fruit & Vegetable Juicers
Key Features:
This Mi security camera comes with the Talkback This feature allows you to talk back and forth using the camera like you would do in a video calling session on a smartphone
It can be mounted on the ceiling or wall even inverted
It can detect motion and send alerts as soon as possible to the user
You can rotate the camera using the app from your phone remotely
No need to be connected to the internet to record videos
Pros:
Comes with powerful night mode technology
Can record 1080p resolution videos in 265 encoding. That means it will record high-quality videos but for a lot less storage space than usual
It can rotate full 360° horizontally and 96° vertically
10 days replacement warranty and 6 months of warranty
Very affordable price
Cons:
Only compatible with up to 64 GB SD card
Two-way talkback quality could be improved
Comes in only one color which is white
Check Cheapest Price : Amazon
---
3) D3D D8810 1080P Wi-Fi Home Security Camera: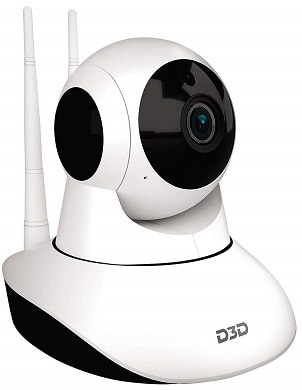 There are 2 versions of this camera available on the market at this moment. However, we are now talking about the 2MP version. Because it has relatively more features than the 1 MP version. It is a PTZ (Pan–tilt–zoom) camera which means you can rotate the camera both vertically and horizontally.
The best part is that you can do that from anywhere in the world. You won't have to do it by hand. Another significant feature of this camera is that it supports cloud recording.
With the help of this feature, it can record and upload videos to your FTP servers. So, it won't be any problem, if anybody steals the camera. As the videos will be stored on your FTP servers safely.
Also Read : 10 Best Personal Smoothie Blenders
Key Features:
Supports multi-user feature
Comes with dual antenna which is perfect for strong Wi-Fi connection
It supports recording videos with Night Vision feature (distance up to 32 feet)
It also supports SD card recording
Comes with built-in motion detection technology. It will send pics of the current situation whenever it detects any unusual motion
Pros:
Support up to 128 GB micro SD
It comes with 2-way Audio technology using which you can contact with the person on the other end of the camera from your smartphone
Easy to install and installation time takes no more than 10 minutes
It comes with a 6mm lens which means it has a Field of View (FOV) of about 84-degrees
1 year of brand warranty
Cons:
It supports only 4 GHz Wi-Fi frequency
You can access the videos using D3D's special app only
The speaker quality is not good enough
Check Cheapest Price : Amazon
---
The Competition:
Here are a couple of options which can be a great alternative to the cameras we have picked above. You can try these ones as well. But, these are not the best option out there in terms of price and features, to be honest.
4) ThinkValue T8855 Wireless CCTV Indoor Security Camera: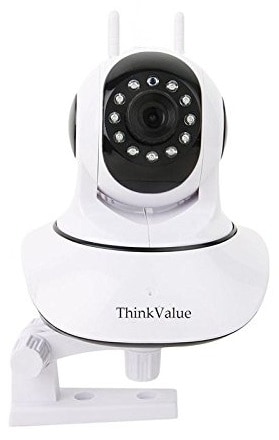 Check Cheapest Price : Amazon
This camera can record 720p HD videos. You can connect it with your smartphone using ThinkValue's special app. And, then you can control the rotation of the camera from afar.
Also, you can watch what is happening in your place in real time. You can record videos for 24 hours straight. Also, you can set up 'Alarm Recording'. In this way, it will start to record videos only when it detects any type of motion in front of the camera.
Also Read : 10 Best Fruit & Vegetable Juicers
Key Features:
It comes with cloud recording feature. This way, your camera can upload the videos to cloud automatically. So, you won't be out of storage
Also, you can add up to 128 GB micro SD to record videos with the ThinkValue T8855
It can take high-quality clean videos at night with the help of Night-Vision technology (up to 16 feet)
If it detects any motion, it will send an instant alert to your email
Pros:
You have the 2-way talkback option with this camera
It can be rotated up to 120-degrees vertically and 355-degrees horizontally
Very affordable price
Comes with Zoom-in facility
Cons:
The build quality could be a bit better
The video recording resolution could be 1080p
5) Logitech Circle 2 Wired Home Security Camera: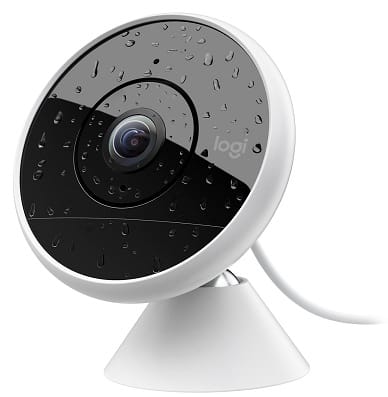 Check Cheapest Price : Amazon
If you have the budget want the best of the best then Logitech has one for you. The Logitech Circle 2 Wired Security Camera comes with a high price tag. Thus, it might not be ideal for a lot of us.
However, it is undeniable that it is definitely worth it. This is a waterproof/weatherproof camera.
It has a lot of advanced features which are not even available on some of the cameras we have mentioned earlier. For instance, it comes with a 180-degree lens. That means the 'Field of View' of this camera is so big. It can filter out different motions.
Also, it is compatible with HomeKit, Google Assistant, and even Alexa. It comes with the Logi Circle App — an intuitive yet powerful app.
Also Read : 10 Best Gaming Headphones Under Rs. 5,000
Key Features:
Logitech gives 24 hours of free cloud storage
It comes with the geofencing feature. With this feature, the camera can know your location. And, whenever you leave a pre-determined place, it will start to detect motion automatically
It can record videos 24 hours continuously after a motion is detected
Pro:
The video quality is astounding
Robust build quality
Can send automatic alerts when motion is detected
Can be used with most of the virtual assistants
Cons:
Summing it up:
There you have it. We have compiled this list of the best indoor security cameras after a heap of research. Therefore, we hope, this post will help you to pick the best one for your needs. There are a lot of options when you want to buy a security camera for your home in the Indian market.
But, it all boils down to the price, durability, and specifications. So, before you make your decision, you have to be sure about these factors. And, then it will be easy to finalize the deal. Still, if you have further queries, you can shoot us with them in the comment section down below. We will be waiting…
Also Read:
1) Best Gaming PC Assembled Under Rs. 80,000
2) Gaming PC Assembled Under Rs. 50,000