Do you face frequent power cuts in your area of residence?
Well we have got you covered!
Regrettably, power outages are a common occurrence during summers in India. However, there are several ways to address this situation. Solar energy and diesel generators are viable options, although they can be expensive and require significant maintenance.
Thankfully, there is a simpler solution to combat load shedding – using an inverter. Yes, an inverter can be the answer to your power backup needs. Once you have an inverter, the next step is to select a compatible battery for your specific model. Don't worry; we're here to assist you in making the right choice.
In this post, we will be providing reviews of some of the best inverter batteries currently available in the Indian market. If you've been searching for this information, you've come to the right place. Let's explore the top options to ensure you have a reliable and efficient power backup system.
So, let's don't dawdle anymore and proceed to the good part…

Note : For inverter , go for a UPS (Uninterruptible Power Supply) inverter.
What factors do you need to consider to buy the best inverter battery?
You cannot go and buy just any inverter batteries from the market. You need to keep a few pointers in mind to get the best and perfect one based upon your requirements. Here are some tips from us on this important topic. Let's see, then…
Compatibility with your inverter:
There are myriad of inverter models available on the Indian market. Not all of them are compatible with all the other batteries. Some need a particular type of batteries to operate. So, before you go to buy an inverter battery, you should take note of your inverter.
Also Read : 10 Best Air Coolers in India (Room & Desert)
And, then buy a battery which is compatible with your specific model of inverter. There are some inverter batteries which are universally compatible with any inverters. You can get those if you don't want the hassle.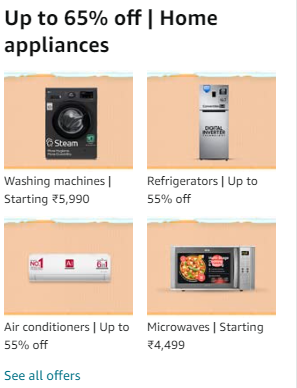 The battery backup time:
The supply of electricity is different from place to place. For instance, there might be 4-5 hours of load shedding on a specific part of the country whereas in another area the load shedding might be for about 1-2 hours. So, you should get a battery which can give you enough battery backup for your specific situation. Actually, you can calculate the battery backup time with ease. Here's how to:
Also Read : 10 Best Air Coolers Under Rs. 6000
For instance, you want to run 2 LED light bulb of 18 Watt, 1 ceiling fan of 60 Watts, and an LED TV of 50 Watts with the help of a 150Ah/12V battery. At first, let's find out the total load.
In total = 2 lights×18W + 1 fan×60W + 1 TV×50W= 146 Watts
So, for this amount of load, a battery with 150Ah/12V will give a battery backup of = 12V×150Ah/146W = 12.32 hours approximately. To be noted, these values might vary depending on the condition.
Types of inverter battery:
There are several types of batteries found for inverters. However, the most common ones are the Maintenance-free battery, Lead-acid battery, and the Tubular battery. Typically, the maintenance-free batteries are a kind of lead-acid battery which don't need any maintenance. These come with short life cycle and the price is a bit higher.
Lead-acid batteries are the old types. You might have seen them in different stores and houses a long time ago.
They are very cheap compared to the other two types. But, they are very high maintenance and doesn't come with adequate safety features. So, nowadays these ones are not that common.
Also Read : 10 Best Rated Split Air Conditioners
The last one is the Tubular batteries. These are designed by keeping the safety of the users the topmost priority. Most of these are low maintenance batteries.
The life span and performance of this type of inverter batteries are top-notch. And, these tend to be a bit expensive. If you want safety and high-quality performance then these types of batteries are the best.
The Comprehensive reviews of the best Inverter batteries in India:
1. Amaron Inverter 150Ah Tall Tubular Battery: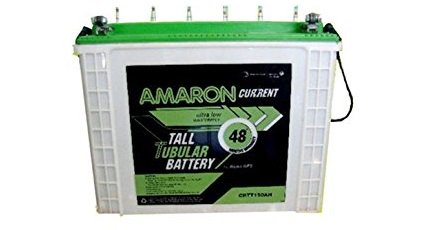 Amaron is a famous inverter and battery manufacturer from India. And, they are also very popular because of their high-quality products. It is likely that you might have seen Amaron batteries frequently in Indian households. Their price range is also very reasonable. And, that is one of the many reasons for their popularity.
Also Read: 1.5 Ton Window Air Conditioners
As you know that India has a hot weather condition in most parts of the country. So, you would also need a battery which can withstand this type of dry weather. Fortunately,
Amaron has manufactured this battery keeping that thing on their mind. So, it is perfect for the Indian climate. This one comes with a very low amount of lead. And the vent design is also top-notch. So, you don't have to be worried about accidental acid/lead leakage.
Also Read: 2 Ton Split AC in India
It is compatible with all of the inverters available in Indian market at the moment. It comes pre-charged from the factory. It is very easy to use and charge. No need to be a professional to use it at all. So, if you want a versatile inverter battery in India, then you can go with Amaron 150 Ah inverter battery.
Major Features:
It comes with the highest reserve capacity
It is zero maintenance because of the ultra-modified hybrid alloy grid which uses heat resistant calcium
Comes with high heat tolerance capacity
The weight of this battery is about 62 kgs
Comes with rust prevention technology
The Good:
Comes with the robust build quality
Best for long power cut situation
Less likely to lose battery water, thus no need to fill water frequently
Works with any inverter in the Indian market
It is very user-friendly
The Bad:
A bit heavier compared to other similar products
---
2. Exide 150Ah New Instabrite Inverter Ups Battery: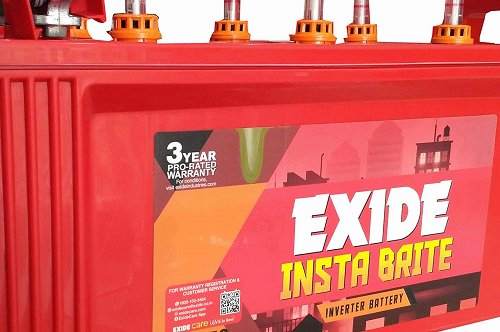 Exide is another well-known company in India. They produce some of the best smart power backup products. Among them, the Exide 150Ah Instabrite is a top quality product. This battery comes with a lot of great traits. But, first off, we need to mention the design and the build quality.
Also Read: 1 Ton Split AC in India
Frankly, this is one of the best-looking batteries available in the Indian market right now. The size of this battery is also very compact compared to other similar batteries.
So, it won't take a lot of space in your place to keep it. The battery comes with some smart features which are very unique.
Also Read : 10 Best Air Coolers in India (Room & Desert)
For instance, it has a floating guide electrolyte level indicator. You can easily know if you need to refill it with battery water from that indicator. The top vent is perfectly sealed with anti-splash guards to prevent any accidental leakage.
Also, it comes with a pair of exclusive molded handles for greater portability. The price is also very reasonable. So, if you need an easy to use inverter battery, this is the one you can get without any doubt.
Major Features:
Comes with a Float guide indicator
The top of the battery is vented with anti-splash grids
It is totally leak-proof
It is perfect for Indian high-temperature weather
Comes with dual plate separation feature
Comes with a spark arrestor which makes it fume resistant
The Good:
Comes in factory charged condition
Very attractive price
Comes with 36 months of warranty
It is just 40 Kgs
Suitable for using at home
The Bad:
Needs to refill water frequently
---
3. LUMINOUS RC 18000 150 AH Tall Tubular Battery: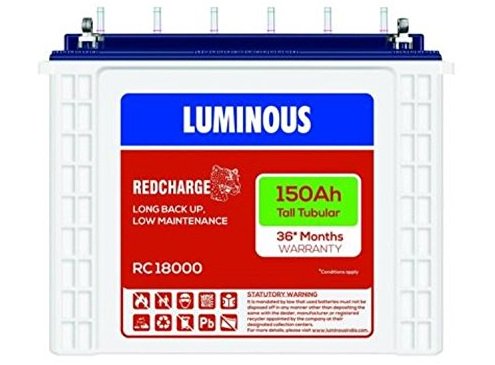 You might already be familiar with Luminous. If you watch TVs regularly, you would notice their advertisements. The best thing about their product is quality.
There are a lot of different types of inverter battery from Luminous. But, if you want one with great back up and longer life span, then the Luminous RC 18000 Tall Tubular Battery is the one.
Also Read : 10 Best Rated Split Air Conditioners
This is a heavy-duty battery with numerous features. For example, it comes with very fast charging capability. But at the same time, you will get longer backup. This is a rare combination to get on an inverter battery nowadays.
It also comes with an exclusive corrosion-resistant alloy composition which is patented by Luminous. This battery also has a uniform void-free structure which makes sure it has a longer life span.
Also Read : 10 Best Fruit & Vegetable Juicers
You can connect it with most of the popular inverters in the Indian market. As it comes with the flexible yet oxidation-resistant gauntlet which is perfect for correct installation. These batteries are manufactured using high-pressure casting machines, which ensures robust build quality. So, if you are looking for an inverter battery from a well-known Indian brand, then this can be a great addition to your home/office/stores.
Major Features:
Comes with 3 years of warranty; 18 months of replacement warranty & 18 months of pro-rata
Comes with exclusive balanced plate design which is capable of great battery life
It is shockproof, rust-proof, and leak-proof
Suitable for Indian climate as it is heat resistant
It weighs about 53.3 kgs
It has over 1250 charging cycles
The Good:
Corrosion-resistant
Easy to use
Compatible with the vast majority of the inverter models
Great warranty policy
Comes with pretty quick charging capability
The battery backup period is high
The Bad:
Installation is not free
A tad bit expensive than other similar models
---
4. Luminous ExtraCharge EC18036 150Ah Tall Tubular Battery: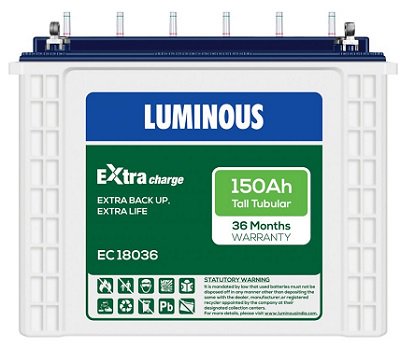 If the price of the aforementioned Luminous battery was high for you, then you can check this one out. This is also from Luminous as you would expect. It is also a tall tubular battery and it comes with almost similar features. For instance, this one has a balanced plate design for amazing deep discharge.
Also Read : 10 Best Current Mixer Grinders
So, your battery will be perfect even during frequent voltage fluctuation. And, we know that it is a regular incident in many parts of India. Plus, it has inter partition connection, which makes sure that there is no short circuit inside the battery.
The design of this battery is exclusively patented by Luminous. It also has the charging boost mode. With the help of that mode, it will charge faster than usual.
Also Read : Top 10 Best Ceiling Fans
Added to that, it has a great quality battery backup as well. However, you should remember that the battery backup time is also dependent on a lot of external factors like temperature, load types, and the age of the battery itself. Nonetheless, if you are looking for a cheap Luminous inverter battery then this might be the one you should go for.
Major Features:
It supports 600VA
Comes with a very great ventilation system
Comes with 3 years of warranty; 18 months of replacement warranty & 18 months of pro-rata
Suitable for 4-5 hours of backup based on the peripherals you use
Fast boost charging technology
1250 cycles of charging capacity
Heat resistant which means it is suitable for Indian climatic condition
The Good:
One of the cheapest 150 Ah inverter battery from Luminous
The lead part is well protected in the case of voltage fluctuation
Comes with the rugged build quality
Low maintenance inverter battery
Can be connected with most of the inverter models available in India
The Bad:
Very heavy to carry around easily
There might be acid-spewing if you don't handle with care
Before we go:
If you want good battery backup, then you need good quality inverter battery. You can't cheap out on this. We have brought information to you about some of the best inverter battery in India in this post. We believe this comprehensive guide will help you to find the perfect match for you according to your demands.
Lastly, if you have any queries, don't forget to let us know in the comments!
---
Also Read:
Top 10 Best Budget Cool Mist Room Humidifier in India
10 Best Table Top Wet Grinders in India
Best Current Mixer Grinders in India