With the winters already here, the temperature is bound to lower, so is the natural moisture in the air. You might have noticed that your skin starts getting dry very often, even after applying the lotion very recently.
Lips are also affected, and they start dry and chapped even though you try your best to prevent it.
The best solution is to maintain the moisture level in the air around you. There are a lot of humidifiers available in the market that can help you with that without having to spend a fortune.
Here is a list of the top 10 budget humidifiers you can buy right now.
1. Allin Exporters 2.4 Litre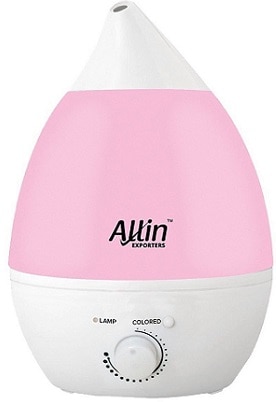 1) The best humidifier you can currently buy is from Allin Exporters that has a great offering at a pretty affordable price.
2) Beautifully designed to completely compliment your room, this humidifier has a capacity of 2.4 litres.
Also read : 10 Best Table Top Wet Grinders in India
3) According to the company, 2 litres of water is enough for a continuous operation of 12 hours and you won't have to refill it in between.
4) Allin Exporters has ensured to make a product that doesn't make a lot of noise while working and this humidifier has "whisper-quiet" operation.
5) You can also control the flow of the mist using the knob that has three settings.
6) It can work continuously for 24 hours on the low setting if you don't want a lot of mist coming out.
Check Latest Price : Amazon
---
2. Allin Exporters 100 Ml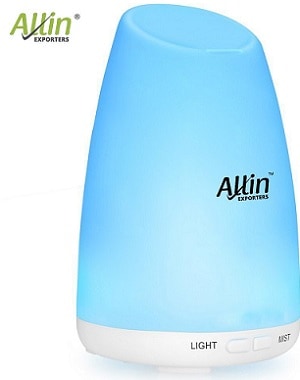 1) Now for the times, when you want to carry the humidifier around, Allin Exporters has created a portable version of its product too.
2) This is a lightweight, colourful, and tiny humidifier that is also easily portable.
3) To keep the weight in check, this product can hold up to 100ml of water that is enough for a usage of 4 hours.
Also Read : 10 Best Current Mixer Grinders in India
4) As per the company, this sized humidifier is enough for humidification of a 108 sq. feet room and aromatherapy of a 215 sq. feet room.
5) Which means, you can use this product in a small to medium size room and should work at most places.
6) It is available in a bunch of colours to choose from and it also has a 6-month warranty.
Check Latest Price : Amazon
---
3. Dr. Trust Home Spa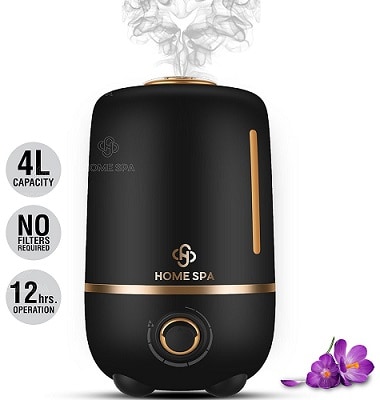 1) For a more premium and sophisticated looking humidifier, this product would be a perfect fit.
2) This humidifier not only looks good but also works really well.
3) To ease things for the users, the company has included a rotatable spray nozzle that can be moved around, and it sprays the mist from two ends.
Also Read : 10 Best Fruit & Vegetable Juicers
4) Despite its compact size, the humidifier from Dr. Trust can hold up to 4 litres of water. This much water is enough for a continuous usage of 12 hours.
5) It uses ultrasonic technology to run really quietly so that your sleep isn't disturbed while the humidifier is doing its job.
6) It is quite easy to clean, and it is as easy to refill the water in the storage space.
Check Latest Price : Amazon
---
4. Allin Exporters 500 Ml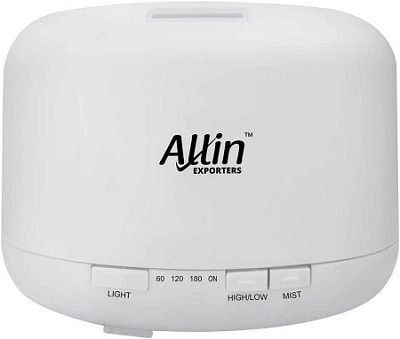 1) With its capacity to hold 500ml water, this humidifier is larger than its portable counterpart and is smaller than the normal ones that can hold much more water.
2) Despite the fact, this humidifier is able to run for about 10 hours without refilling using the 500ml water.
3) Like the ones mentioned above, this humidifier, too, is quite efficient is using the resources.
Also Read : 10 Best Low Priced Room Heaters
4) As soon as the water runs out, the humidifier will automatically turn off, saving the electricity and also the product from getting damaged of running idle.
5) This is also an aroma diffuser and you can use the essential oil of your choice while adding water to the storage tank.
6) It is available in multiple colours and comes with a warranty of 6 months.
Check Latest Price : Amazon
---
5. Health Sense RH630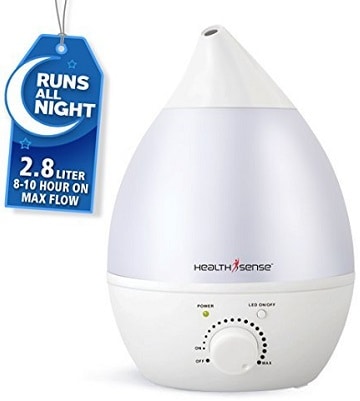 1) This product from Health Sense shares a lot of its design with the Allin Exporters' product mentioned in the first place, which, in fact, is a good thing.
2) The design is functional and is best suited for use inside the house and office.
3) It is perfect for a room of 25 sq. metre or 269 sq. feet, which is the usual size in an average house.
Also Read : 10 Best Earphones Under Rs. 500
4) Health Sense has included a water filter that cleans the water to further extend the life of the humidifier.
5) It can hold up to 2.8 litres of water which is enough to keep the machine running for about 10 hours.
6) It also has certain features like auto turn off and quiet operation. Coloured LED lights and humidity control button add to its usability.
Check Latest Price : Amazon
---
6. Honeywell HWM705B
( Warm Mist )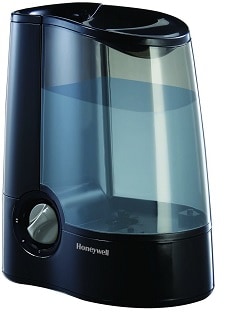 1) Sporting an unconventional design, Honeywell has designed this product to stand out from the rest that all look just the same.
2) The water tank is made out of clear plastic material so that you can actually see how much water is left and you can timely refill it.
3) Not that you have to rely on the humidifier to turn off to let you know it needs a refill.
Also Read : 10 Best Car Coaxial Speakers
4) It is made for the people who want a premium solution as a humidifier for their room.
5) Honeywell humidifier also justifies that with the set of features it offers.
6) The product doesn't need a water filter to operate and it also has a knob allowing you to adjust the mist flow and other settings.
Check Latest Price : Amazon
---
7. Ansio Ultrasonic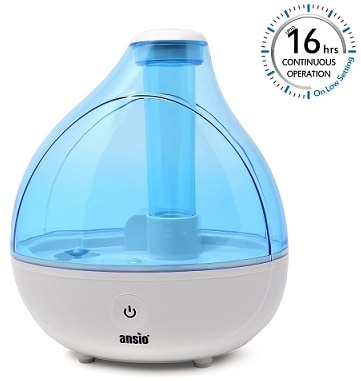 1) This one, too, is humidifier with a clear body letting you see the water level easily.
2) It is a fairly compact humidifier from Ansio that can hold up to 1.5 litres of water.
Also Read : Best Car Air Purifiers in India
3) Auto shut off and mist flow control features come standard on this humidifier.
4) You need to know that the product is just a humidifier and not an aroma diffuser. Adding any kind of oil can even damage the product permanently.
5) There is no doubt this is a high-quality product and the company is also well aware of the fact. That's the reason Ansio is giving a warranty of 2 years on the product.
Check Latest Price : Amazon
---
8. Allin Exporters 2.8 Liters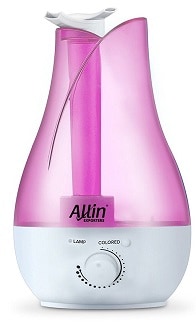 1) Allin Exporters is completely ruling this list with their amazing humidifiers available in the market.
2) While most of them function the same, the difference is there in the storage capacity and the design.
3) First off, this is not an aroma diffuser, so, a strict no to any kind of oil. Apart from this, you can store up to 1 gallon of water in this product that can keep it running for 12 hours straight.
Also Read : 10 Best USB Car Charger
4) Like the other products from the company, you will get some standard features like auto turn off, etc.
5) The mist outlet on the top is rotatable 360 degrees and you can do that fairly easily. The top part is made out of coloured plastic to appeal the general mass.
Check Latest Price : Amazon
---
9. House of Quirk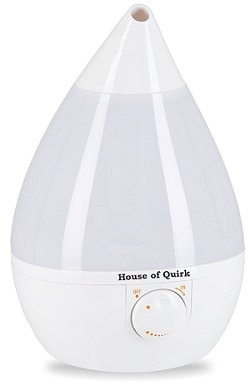 1) With its completely white exterior, this humidifier holds a very conventional design that should easily blend into your house.
2) This product is for the people who don't want to spend a lot on a humidifier and end up with a hole in their pockets.
Also Read : 10 Best Washing Machines Under Rs 10,000
3) The centre part of this machine is made out of transparent plastic and there are coloured lights inside that light up to give it a distinct look.
4) It can run continuously for 14 hours churning out mist to keep you cosy all night. The water is stored in a 1.3-litre container and the machine also supports auto shut off feature.
5) The company has also ensured that this humidifier also gives you a cleaner and fresher air.
Check Latest Price : Amazon
---
10. Air-O-Matic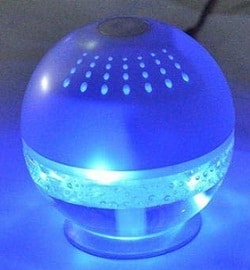 1) Like its quirky name, the humidifier also has a design that no other humidifier has. It is a transparent glass bowl at the bottom covered with a white top.
2) This is both a humidifier and an aroma diffuser that can be used along with your favourite essential oil.
Also Read : 10 Best Front Loading Washing Machines in India
3) The best part about this humidifier is that has a USB adapter and can be used with a computer too, so you don't necessarily need a wall socket to plug in a humidifier.
4) This is a perfect machine for small areas and can cater a room of up to 150 sq. feet.
Check Latest Price : Amazon
---
Also Read:
Best Rated Split Air Conditioners
The Top 5 Best RO Water Purifiers
5 Best Steam Irons Under Rs.1500