A Network Attached Storage Device has become quite important in both homes and businesses for storing important files and date. Earlier, it wasn't widely used in homes but now families want the data to be stored on the network so that it is easily accessible to all the family members.
However, it is not easy to choose an apt Network Attached Storage device for yourself as you have to keep a lot of factors in mind while making the choice.
In this article, we will be discussing a few of these factors to help you choose out the best NAS device for yourself.
And we will also list down a few of the best NAS products for you to consider when choosing the perfect storage device for your home/business.
Table Of Contents
How to Choose a Network Attached Storage Device
Here are a few of the top factors to consider when looking for the perfect NAS Device for your use.
Also Read:

10 Best Internal SSD for Laptop/PC in India
Consider the Capacity of the NAS Device
The first thing that you need to consider is the capacity of the storage device that you need. The main purpose of a NAS Device is to provide centralized storage to the users. So, you have to choose a device which has ample space to store the data for your entire business/family.
Usually, if you are choosing a NAS device for home then an 8TB device is sufficient. But if you are looking for a business then you would need much more storage capacity. You can also look for a NAS Device which has the expandable capacity through USB ports or via iSCSI support.
Consider the Ease of Use and Setup
Another important thing to consider is that it should be easy to set up and use. If you are using it for home or a small business then it is likely that you don't have a dedicated IT team to help you. So, you don't want to buy a NAS device which will take a week to set up and is too complex for you to handle.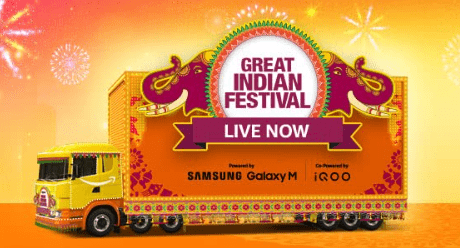 Choose a NAS Device with Good Performance
The next thing that you need to consider is the performance of your NAS device. Obviously, you want a storage device which offers you good performance so look for improved processors and more memory.
This will allow you to access your files quickly and will let more people access the data at the same time. But as the performance increases so does the cost so you have to keep your budget in mind as well.
Look for a NAS Device with Proper Backup and Recovery Options
One of the most important things to consider when choosing a good NAS device is that it should back up your files automatically. Also, it should inform you in case of any storage or disk failures. After all, you don't want to end up losing all your data in one go.
If your data is backed up at two different cloud locations then you will find it easy to recover on a hardware device. So, look for a NAS device which offers you an easy and frequent backup option and will make it easy to recover the lost data.
Consider Remote Access Capability
Another benefit of using a NAS device is that it uses cloud storage so there is an option to access your data remotely as well. So, look for a device with good remote access capability as this will allow you to share content with your team and family regardless of where you are.
Also, it will make it easier to access your own data when you are traveling without having to carry the NAS device itself.
Choose a NAS Device with Good Security
Finally, you cannot compromise on the security of your NAS device as it would contain all the data about you, your family, and your business. There are a few NAS devices which offer file encryption services while others have a firewall-type of protection.
Make sure you choose a device which will keep your data secure and won't be easy to hack into.
---
Best NAS Device in India
1) Synology DiskStation DS216+II 2-Bay Diskless Network Attached Storage Drive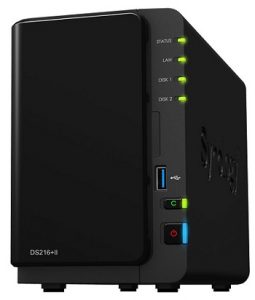 One of the best NAS devices in the market, Synology DiskStation DS216+II offers a dual-core processor that helps you in getting fast file transfers whenever you want. It also features a USB 3.0 port and USB copy button which allows you a quick and easy data transfer.
And the screwless drive trays make it easy to install and maintain your NAS hard drives. It also features a Btrfs file system which helps in the prevention of data corruption while ensuring high-level data integrity.
The NAS features a security advisor and AppArmor to protect against malware and unauthorized access. And the 256 AES encryption, 2-step verification, etc. offer you protection and security for your stored data on the NAS device. Also, since DS216+II supports 4K video transcoding so you can watch high-level multimedia at all times.
The Cloud Station Suite allows for easy and quick synchronization while QuickConnect allows you to easily access the data using the internet. With its 2.48GHz dual-core, you can expect amazing performance but it is also the reason why this NAS is expensive compared to other NAS devices.
---
2) Synology DiskStation DS418J Network Attached Storage Drive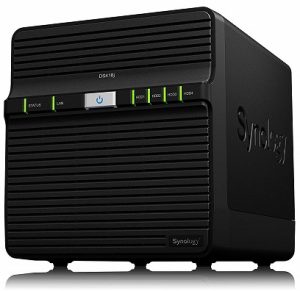 Another great Network Attached Storage device to consider, DiskStation D418J is perfect for home and personal use. This NAS device has a large storage capacity which allows you to store your photos, movies, etc. with great ease.
With its file sharing protocols and OS, you can centralize your data and access it remotely on multiple devices at a time. Synology Hybrid RAID technology, used in this NAS, allows you to create and expand the storage volume with great ease.
The Surveillance Station also allows you to keep your house secure and enjoy remove live viewing feature to keep your house protected. And with QuickConnect, you can instantly access all the files on any mobile and desktop device.
Also Read : Best USB Hubs in India
Finally, with its safe and reliable backup, you don't have to worry about losing your files ever again. One issue with this product is that it is quite slow and not easy to set up on your own, so you might end up spending a lot of time using this.
---
3) Western Digital My Cloud EX Ultra 2-Bay Diskless Network Attached Storage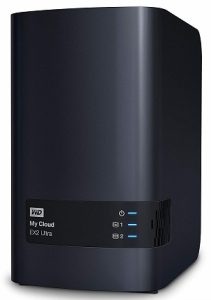 Another great NAS device which is diskless, My Cloud Ex Ultra 2 features a 1.3GHz dual-core processor and 1 GB memory for high performance and quick data transfers.
And with its 1 GB of DDR3 memory, you can easily multitask without compromising the data transfer speed. With its WD sync, you can get all your files up on My Cloud device which will be accessible to other devices as well.
You also have an option to share your data through public and private links which makes it easier to work with people all over the world. And the WD Smartware Pro backup software allows you to back up your files on the My Cloud device and supported cloud services like Amazon S3.
Its 256 AES encryption allows you to securely store your files across the network. And finally, the Plex Media Server keeps your media files organized so that they are ready to be synced to your personal devices whenever you want. This is a great NAS for home use and is easily affordable as well.
---
4) Synology DiskStation DS216SE 2-Bay Diskless Network Attached Storage Drive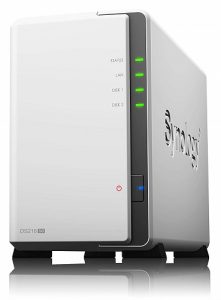 If you are looking for a budget-friendly NAS device to create a personal cloud for you then DiskStation DS216SE is the perfect choice. A simple and easy way to centralize your data, DiskStation DS216SE offers automated backup to keep your data safe and easy to recover.
Like most other NAS, it is possible to remotely connect to this device and access all your files whenever you want. With its Cloud Sync and Cloud Station, you can sync all your files just like you do with Dropbox, Google, etc.
This DLNA-certified NAS also features a scheduled power off/on technology which helps in reducing power consumption. And you have 2 drive bays available with this NAS which helps in data redundancy.
It has a smart backup and security system so you don't have to worry about data corruption and unauthorized access and it offers a maximum storage capacity of 24 TB. However, this NAS is not as quick in data transmission and accessing files as other models since it only has a CPU of 800 MHz and a memory of 256 DDR3.
---
5) Netgear ReadyNAS 214 RN21400-100INS 4-Bay Diskless Network Attached Storage for Personal Cloud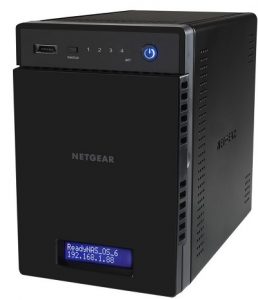 Netgear ReadyNAS is yet another amazing NAS device to consider for home and small business use. This NAS device features a 1.4GHz quad-core processor along with 2 GB of RAM that offers you quick data transmission at all times.
With its storage capacity of 32TB, you can store all kinds of media and data files on your NAS and sync it to your personal devices for easy access. With its 5 levels of complete data protection, you don't have to worry about losing or hacking of your personal data anymore.
With automatic backups, you can store your files from your desktop/mobile to your NAS without any hassle. And the automatic RAID technology keeps your protected from any potential disk failure. It also features a snapshot technology which helps you restore your data and the ReadyCloud user interface allows you to form a VPN cloud for safe and private storage.
This NAS also includes bitrot protection which helps in data integrity and provides advanced protected to your stored data. So, if you are looking for a high-speed and secure NAS then Netgear is definitely a good choice.
---
6) QNAP TS-251 2-Bay Next Gen Personal Cloud NAS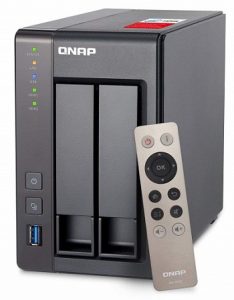 Similar to other products mentioned earlier, QNAP TS-251 is perfect for home or personal use. And it features only 2 bays so you can expand storage volume to only 2 disks.
However, in terms of performance and features, QNAP is better than other models which is why it is slightly high-priced as well. This NAS is powered by QTS operating system which makes it easy to use and perfect for data backup, remote access, etc. You can create a private cloud with this NAS and access your data on the go as well.
The processor is faster and powerful and the dual-core CPU at 2.4GHz allows you to transfer and access data much quickly. It includes a 1GB RAM which can be expanded to 8GB memory and the 2GB version of this NAS can also be run on a virtual machine.
Perfect for HD video transcoding, QNAP TS-251 NAS can be run on RAID 1 and it can be used with two 10 TB drives (total storage is 20 TB). But one thing to remember is that they have poor support so if you encounter any bug or issue with your NAS, it will be a long time before you hear back from the team.
---
Other Models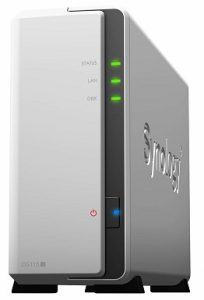 Synology DiskStation DS115J 1-Bay Diskless Network Attached Storage Drive is a good choice for small business as it only has 250 MB of RAM and an 800 MHz CPU power. As a result, it is budget friendly and perfect for small storage needs.
This NAS offers 8TB capacity and only 1 bay for expansion so it would be good to install an 8TB drive. It also allows you to remotely access the data and backup your files from your PC, mobile phones, etc. But it is slow and has a small storage so it is not ideal for big businesses.
---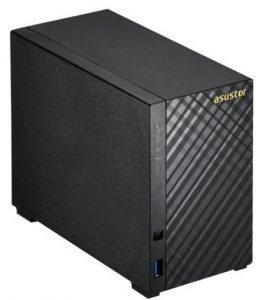 ASUSTOR AS1002T 2-Bay Personal Cloud NAS is small but a good 2-bay NAS personal device which includes a 1GHz dual-core processor and 512GB of RAM. Also, each of the bays can hold 4TB storage so you have a total storage of 8TB with this device.
You can run the NAS on both RAID 0 and RAID 1 but both have their own limitations. Also, it doesn't provide enough storage for huge multimedia transfers so it is only suitable for personal and home use.

Rs.

11,749

Rs. 16,500
1 new from Rs. 11,749
in stock


Rs.

17,860

Rs. 21,560
10 new from Rs. 17,850
in stock

Also Read:
10 Best Internal SSD for Laptop/PC in India