In all these years spent in a medical college and hospitals, I have personally come across a lot of stethoscope brands.
My first one was a Mictrone MSI in a grey color which I purchased at a surgical store. It was a decent quality stethoscope, not too expensive yet it did all the work a normal stethoscope should do. I never had to get it repaired or replaced. I still use it occasionally and it works just as good. It was, in my understanding the best one as a learner as I wasn't keen on spending a lot of money in the college days.
The latest one that I'm using is a 3M Littmann Lighweight ii s.e stethoscope in a lovely burgundy colour with matt finished tubes. It went a little out of budget but it is an ideal stethoscope for my use, perfect acoustic quality, soft and snug fitting earpieces and not too heavy with a tunable chest piece suitable to listen to low and high frequency sounds by simply using the same stethoscope differently.
This article is written by.

Dr. Himanshi Purohit
MD (Homoeopathy)
Some of the best stethoscopes available in India are:
Some of the best stethoscopes available in India are:
 1 

Littmann Classic S.E II
1) Littmann is undoubtedly one of the best brand when it comes to stethoscopes , you will instantly feel the difference if you have been using a mediocre stethoscope till now.
Check Price – Amazon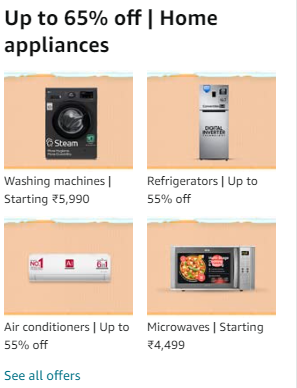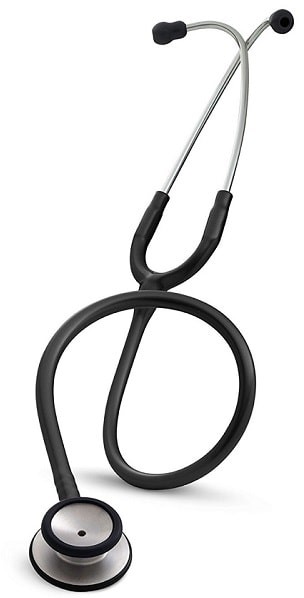 2) It provides an excellent acoustic quality and is even better than the other automated stethoscopes also.
3) The built is quite sturdy , no matter you carry it in purse , bag , pocket or if children get their hands on it. This one can survive it all.
4) Comfortable to wear. It is quite easy to hear lung/heart sounds.
5) Dual sided chest peice , tunable diaphragm , latex free materials and non chill rim for patient comfort.
5) It comes with a 3 year warranty.
Best Buy – Amazon
---
 2 

Littmann 3M lightweight:
1) As the name suggests, this is lightest of all adult stethoscopes. Weighing just 118 grams.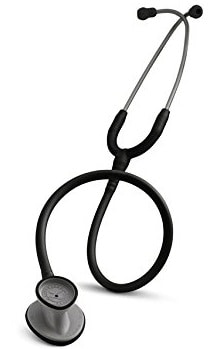 2) It is perfect for the purpose of blood pressure readings and general assessment of the patient. As, the chestpiece is teardrop shaped for better positioning.
3) Dual sided chestpiece with tunable diaphragm and open bell.
4) Eartips are soft sealing with good acoustics and comfortable fit.
5) It comes with a 2 year warranty.
Best Buy – Amazon
---
 3 

Littmann Master Cardiology
1) Ideal for cardiologists and intensivits. Two in one tube design , to eliminate the rubbing noise of tubes.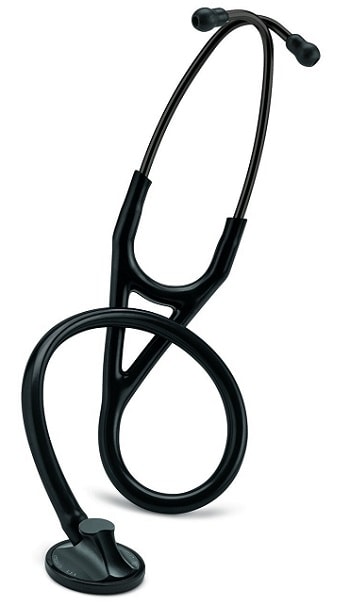 2) The master cardiology is one of the most expensive products of Littmann. Which is justified by the premium built quality and features it offers.
3) You can also perform neonatal or pediatric auscultation with special-procedures adaptor included with stethoscope purchase.
4) For patient's better comfort , rubber versus metal is applied when using the nonchill rim and diaphragm.
5) Providing comfortable fit and excellent acoustic seal with patented 3M Littmann Snap-Tight Soft Sealing Eartips.
Best Buy – Amazon
---
 4 

Microtone MSI
1) This is the best budget option costing less then 1000 bucks , Just jump on this one.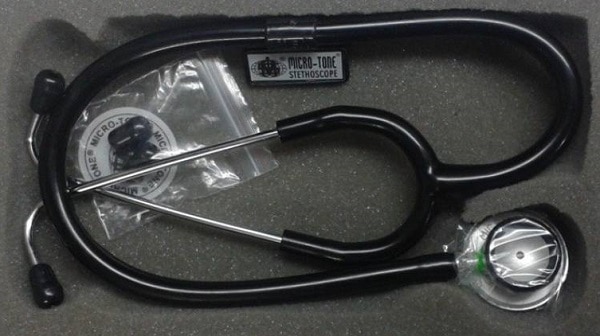 2) This one is known to be the best stethoscope for learners and the amazing part is that it comes with a dual sided chest peice.
3) Microtone gives a 1 year warranty against manufacturing defects.
4) Providing a quite decent quality stethoscope at a very affordable price.
PS: This is the one , I used in earlier days.
Best Buy – Flipkart
---
Stethoscope Buying Guide For Medical Students & Doctors India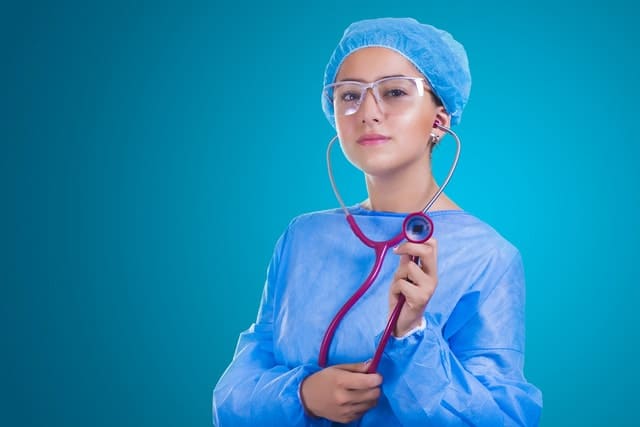 A stethoscope is to a doctor what air is to the lungs. I think this sentence perfectly describes how the stethoscope is an essential instrument for a doctor.
Once you are a medical student or a doctor, the stethoscope is almost certainly considered as an inseparable part of your body. You wouldn't be seen in your medical school or the hospital without a stethoscope hanging around your neck. Partly, because you tend to get so used to it being with you all the time.
Ever since the invention of the first stethoscope by Laennac in 1816, the markets have been flooded with such a large variety of stethoscopes that it is almost confuses a first time buyer.
In the Indian market, you will come across stethoscopes right from the price of Rs.100 to about Rs.30000.
Stethoscopes are no longer simply used for the purpose of auscultation, they high end stethoscopes also provide features such as monitoring the pulse, heart rate and some even have a torch and a hammer attached to them.
Each stethoscope has its own pros and cons and therefore it is important for you to select based on the purpose of its use. For example, stethoscopes are designed differently for different types of patients such as adults, paediatrics, veterinary, cardiac and so on.
Similarly, each person has their own preferences when it comes to selecting stethoscopes, either on the basis of brand, appearance and affordability. For a beginner, it is absolutely important to choose your stethoscope wisely and carefully because it is an important part of your day to day life.
---
For a first time buyer, particularly students, for the purpose of learning, a few things must be kept in mind while purchasing a stethoscope:
 1 

Quality:
Purchasing a good quality stethoscope is of utmost importance. You don't want to be running back to the retailer for repairs and replacements every now and then. Now you may think what I mean by a good quality stethoscope.
The stethoscope should essentially be made of stainless steel. Stainless steel ones help in better sound transmission and are comparatively more resistant to bacteria and cleaning. Those made out of Copper are equally good.
Earpieces should be soft, preferably of silicone. Some stethoscopes provide with plastic earpieces which may hurt your ears. The ear pieces should also be able to cancel outside noise.
Having a double tube or a single tube stethoscope will not make much of a difference in the quality of sound.
Look for "hand polished" mentioned in the description. Cheaper ones which are poorly polished do not transfer sounds efficiently.
 2 

Durability:
1) Durability will partially depend upon your use.
2) Flexibility should be considered a deciding factor when you speak of durability.
3) The tube should not be too long or too short.
4) The chest piece is one part of the stethoscope which is subjected to maximum wear and tear. Choose a stethoscope whose weight of the chest piece is not too heavy.
If it is too heavy, the earpiece will be constantly falling out of your ears.
 3 

Cost
It is not necessary that an expensive stethoscope will be of the best quality. During the learning phase, you should go for a cost effective one.
High prices do not always provide the best. Suitability and need of the moment have to be weighed while taking price into consideration.
---
Stethoscopes are often bought based upon the requirement. Some of the different types are:
1. Acoustic: it is the most commonly used stethoscope. A classic stethoscope having bell and diaphragm, both of which have separate uses. The bell picks heart murmurs and other normal sounds such as breath sounds are heard using the diaphragm. Acoustic are the best choice of stethoscopes for medical students.
2. Electronic: Works just like any normal stethoscope, except that it uses electricity to hear sounds. It requires battery, is heavy and certainly expensive. This type cannot be carried to work daily. They can be linked to other recording devices.
3. Cardiology Stethoscopes: These are specifically designed in a way to suit the requirement of a cardiologist or an Intensivist.
4. Doppler stethoscopes are a variety of electronic stethoscopes. Monitors fetuses in the womb.
5. Fetal: As the name suggests, these are used to monitor fetal growth.
---
Apart from the list mentioned above, there are numerous brands of stethoscopes.
All these stethoscopes are available easily in the Indian market at retail stores and also online on sites such as Flipkart, Amazon.
The best way to zero down on a stethoscope, you can also go through reviews on these E-commerce websites. It is also advisable to visit and compare prices of these stethoscopes at more than 2-3 places before making a final purchase.
Some of these stethoscopes also come with interchangeable parts. Some packages even provide accessories such as a batch, a cover or a carrying case and cleaner.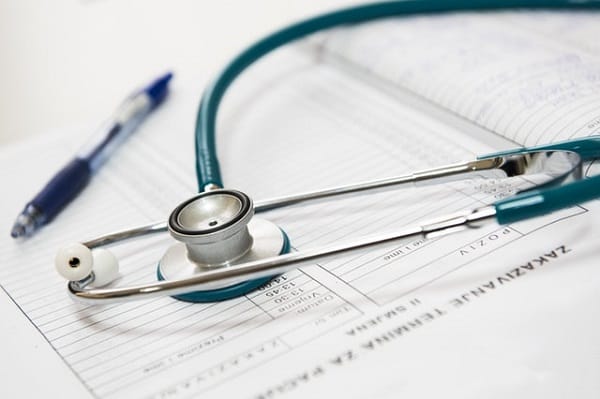 You can even get your name engraved on some stethoscopes. Maintenance of your stethoscope is as important as buying one such as avoiding exposure to extremes of temperature, cleaning it responsibly and avoiding any liquids on your stethoscope.
I hope this article has given you a basic guideline as to the points to be kept in mind while purchasing a stethoscope.
Dr. Himanshi Purohit
MD (Homoeopathy)
Also Read:
1) Best Pulse Oximeters in India
2) Best Hand Sanitizers in India
3) Best Professional Blood Pressure Apparatus