What is Blood Pressure?
When blood flows through the blood vessels (arteries and veins) inside the body, it tends to exert a certain amount of pressure upon their walls. The walls also in return provide some resistance to this pressure.
This pressure exerted by the blood upon the walls, is called blood pressure. In medical practice, we measure the arterial blood pressure. (i.e pressure exerted by blood on arterial walls)
Also Read : Stethoscope Buying Guide For Medical Students & Doctors India
A normal blood pressure is 120/80-140/90 mm of Hg. Anything below or more than that is considered abnormal and indicates that something is seriously wrong with your body.
What is a blood pressure apparatus?
The instrument by which a blood pressure can be measured is called the sphygmomanometer, also known as blood pressure apparatus or a blood pressure monitor.
To begin with, blood pressure apparatus is of 3 types:
Manual: uses mercury for measuring blood pressure gradients. A stethoscope needs to be used. Manual palpation of artery tells about systolic blood pressure. Using this one needs a skilled professional.
Aneroid: Used as often the mercurial ones. Comes in dial form with an inflatable cuff. Needs stethoscope for auscultation. Requires regular calibration.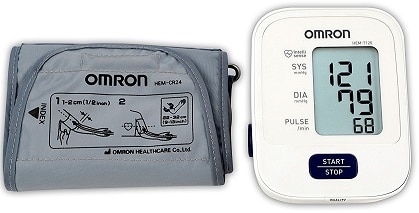 Digital: these are the latest type. Works on the principle of oscillometry. It is relatively portable but readings are not as accurate as the mercurial ones. Needs frequent calibration. Quite often, significant difference is noted in readings taken manually and those taken digitally.
Parts of a blood pressure monitor are:
An inflatable cuff
A mercury column in case of mercurial sphygmomanometers
A dial in case of aneroid blood pressure apparatus
An inflator.
A display screen in digital blood pressure monitors
How to measure blood pressure?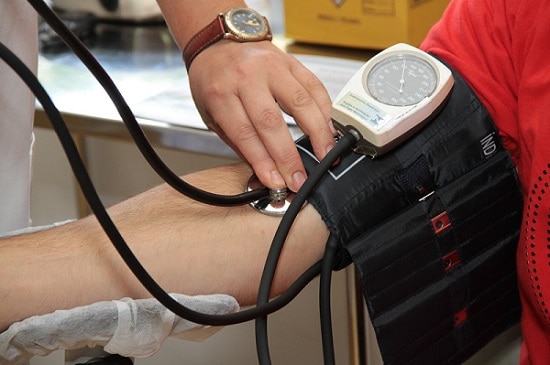 A blood pressure has two gradients – systolic and diastolic.
The process to use a sphygmomanometer is as important as buying one. Measurement of blood pressure can be done in simple steps.
1) Place the blood pressure apparatus along the level of the patient's heart.
2) All blood pressure monitors come with an inflatable cuff. Before use, the cuff should be deflated. It should be tied snugly around the upper arm above the elbow.
Also Read : 10 Best Digital Blood Pressure Monitors in India
3) For beginners, the brachial artery which is just below the elbow should be palpated and marked to get better reading.
4) Palpate the radial artery while inflating the cuff. The level at which the radial artery cannot be felt; inflate the cuff 20mm more.
5) Place the chest piece of your stethoscope on the marking made and slowly deflate the cuff. The level at which the first pounding (Korotkoff sounds) is heard, is the systolic blood pressure. The level at which the sounds cease, is the diastolic blood pressure.
While using the mercurial blood pressure monitor, palpation of the radial artery while inflating the cuff helps to find only the systolic blood pressure.
---
Some of the best blood pressure monitors available in India:
Diamond Mercurial Blood Pressure Monitor:
(🌟🌟🌟🌟🌟)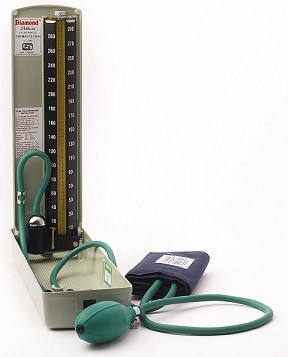 Diamond is one the best brands when it comes to blood pressure apparatus. Apparatus of this brand widely used in almost all hospitals, out patient settings and nursing centers. Comes with a user manual and a cleaner brush to clean the mercury column. Stethoscope is required for measurement.
Diamond mercury-free LED Blood Pressure Monitor: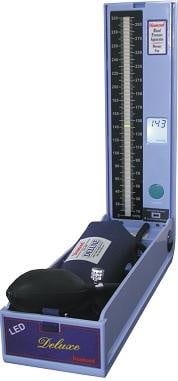 Used just like the mercurial apparatus. It has an LED screen at the bottom which flashes numbers while inflating and deflating and also pulse rate at the end of measuring blood pressure. It works on battery which can be recharged. Stethoscope is necessary to record blood pressure. Needs to be calibrated.
Diamond Aneroid Blood Pressure Monitor: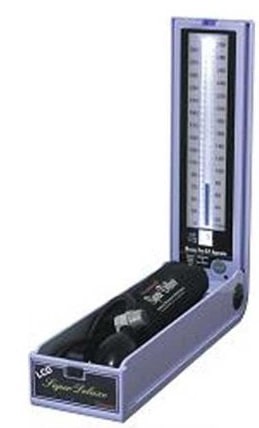 It is comparatively more expensive than the mercurial and digital ones. Looks like a mercurial blood pressure apparatus. Free from mercury. Has an LCD screen which shows digits for both blood pressure and pulse rate. Needs regular calibration. Needs stethoscope for measuring blood pressure.
Omron HEM-7120 Automatic Digital Blood Pressure monitor: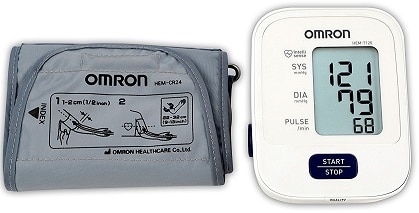 Incomparably the best brand in digital medical instrument. It comes with an inflatable cuff, a small screen which displays blood pressure and pulse rate readings. It comes with a 5 year warranty and is not too expensive. The packing also gives a user manual to help non-medicos use the device. Some interesting features are:
Portable
Hypertension indicator
Detects errors due to body movements
Detects irregular pulse
Saves previous measurements
With all these features, Omron BP apparatus is one of the best devices for use at home, especially for people diagnosed with hypertension.
Note : Although, digital blood pressure apparatus are relatively portable and easy to use, they have a drawback of frequent calibrations. Quite often, the readings taken by digital and mercurial ones show a lot of differences.
Some other brands of Blood Pressure apparatus are:
The list above is on of the best brands of blood pressure apparatus available in India. The Indian market, both offline and online, are flooded with a huge variety of blood pressure apparatus.
However, when it comes to purchasing one, it is advisable to see the device personally before buying. A lot of problems are encountered when these apparatus are bought online. Things like spilt mercury, broken columns, non functioning LED screens are common and often completely damaged pieces get delivered.
Also Read : 10 Best Cheap Mattress Under Rs.10,000 in India
I, being a doctor, come across a lot of families having at least one hypertension patient in their house. India has 25% of the urban and 10% or rural people suffering from hypertension. Due to this, blood pressure monitors have become an essential device for most households.
Just in case you are looking to buy a blood pressure apparatus for yourself as a medical student, doctor or as a patient. I hope that this article will help you in choosing the better blood pressure apparatus.
This article is written by.
Dr. Himanshi Purohit – Linkedin
MD (Homoeopathy)
---
Also Read:
1) Stethoscope Buying Guide For Medical Students & Doctors India
2) Top 10 Best Cheap Mattress Under Rs.10,000 in India
3) 10 Best Digital Blood Pressure Monitors in India