Since the beginning of time, human beings admired the night sky. And, our curiosity to know the infinity brought a host of inventions. One of the main and important breakthroughs in perceiving the space was the invention of the telescope.
Nowadays, you don't need to spend a ton of money to get a decent telescope. And, most of the budget-friendly telescopes are also user-friendly. So, if you want to gaze into space and feed the curious mind of yours, you should get a telescope.
Fortunately, we have come up with a list of the best telescopes in India. In this article, we will be talking about the ins and outs of those devices. And, we hope by the time you have read this post, you will be able to decide on the most perfect telescope for you.
Quick Navigation
How To Choose The Right Telescope For You?
Chances you are going to use the telescope for amateur astronomy. Because if you are a professional in this field, you wouldn't rely on our review post. Because we have only reviewed telescopes that are low-cost and beginner-friendly. In that case, Dobsonian telescopes are your friend. This type of telescope is better for you as they are easy to use, portable, and budget-friendly.
Next, if you want to look at the deep-sky objects, then you should opt for a telescope with a larger aperture. For the record, you should take a telescope that has an aperture of at least 70 mm or 2.8 inches. Of course, in this case, the more the better.
Another important thing to note is that the magnification is not everything. You can theoretically magnify infinitely on a telescope. But that doesn't mean it will produce a clear image of the object.

As a result, the main priority should be the diameter of the aperture. The aperture of the telescope determines how sharp and bright the image will appear with its light-gathering and power resolving capability. That way, you should look for a telescope with a larger aperture.
At the same time, you should buy a portable telescope that is easy to set up and use. There is no use of buying a gigantic telescope if you cannot manage or set it up with ease. Also, portable telescopes will come in handy if you need to carry with you from one place to another.
So, let's roll…
Best Telescopes in India
1 Celestron AstroMaster Motor Drive Telescope (130EQ):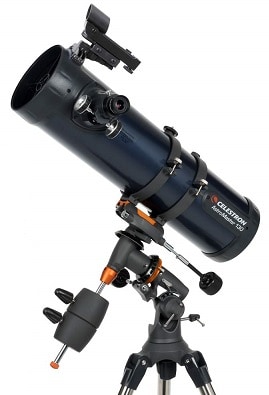 In terms of price, this is a mid-range telescope. This one comes from the famous Celestron. This is a motor drive telescope with a focal ratio of f/5 and the German equatorial mount system. As a result, it is very easy to locate celestial bodies with this telescope.
This one features coated glass optics. And, you will have a 1.25 inch (diameter of each leg) stainless steel tripod. You will also find a permanently mounted StarPointer on it. Thus, it is too-less to set up and very much user-friendly.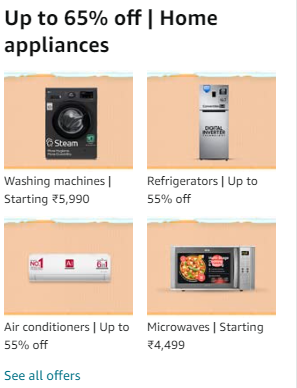 Main Features:
Comes with 2 years of warranty
It weighs about 16.8 kg
This comes with a stainless steel tripod
Comes with a 20 mm (33x) and 10 mm (66x) eyepiece
Check Cheapest Price : Amazon
2. Celestron 114EQ Powerseeker Telescope: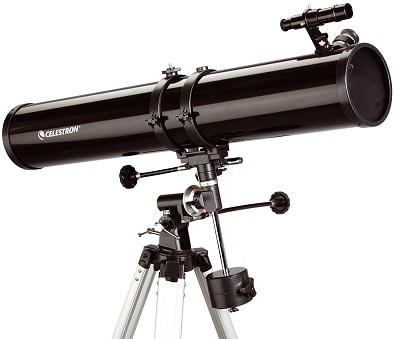 If you are looking for a top-notch telescope that has an affordable price, you should check this one out. This telescope comes with a 114 mm aperture and 900 mm focal length. Additionally, it features the equatorial astronomic mount.
All the accessories are supplied in the package for free. For example, you will get a free aluminum tripod, 2 eyepieces, 5×24 viewfinder, 3x Barlow lens, and so on.
Also Read : 10 Best Charcoal Grills in India
For the price, this is one of the best telescopes in India.
Main Features:
Comes with aluminum tripod
It is equipped with a 114 mm lens aperture
Comes with a 20 mm and a 4 mm eyepiece
The product weighs about 8.62 kg
---
3. Orion SkyScanner TableTop Reflector Telescope (10012):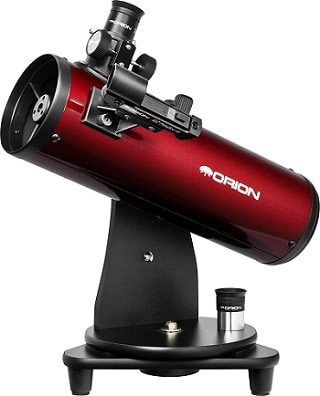 This is another entry-level reflector telescope. This one is a tabletop telescope, so, you can easily use it even inside your house.
The 100 aperture will help you see the Moon, Jupiter, and other planets in finer detail. For beginners, it is a great choice as it is very easy to set up and portable.
Also Read : Best Binoculars for Bird Watching and Outdoors in India
The price is also affordable.
Main Features:
The telescope itself weighs about 2.81 kg
Comes with a 10 mm (40x) and a 20 mm (20x) eyepiece
Comes with free Starry Night software
Check Cheapest Price : Amazon
---
4. Celestron PowerSeeker 80AZS Telescope (21087):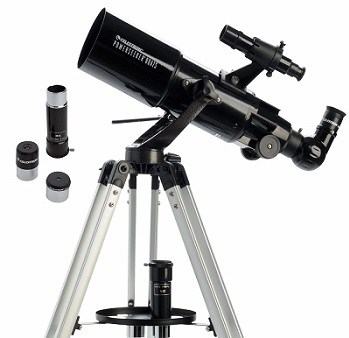 This is another telescope from Celestron. And this is a manual Alt-Azimuth telescope. You will get an aluminum tripod with this for free. This one has an f/5 focal ratio, which makes it easy to observe nebulae and globular clusters.
This particular telescope is a short refractor telescope with an 80 mm aperture. This is lightweight and portable. You can assemble it without any tools.
Main Features:
The telescope weighs 4.54 kg
Comes with f/5 focal ratio
It comes with a 4 mm and a 20 mm eyepiece
Check Cheapest Price : Amazon
---
5. Celestron AstroMaster 70AZ Telescope: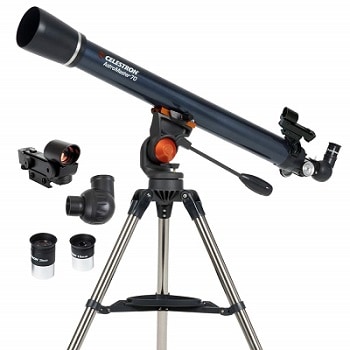 This is another budget-friendly telescope from Celestron. It also has a tool-less setup system and a permanently mounted StarPointer for easy tracking of heavenly bodies.
For your information, this is an Alt-Azimuth telescope with a 70 mm aperture. So, this is a basic telescope that is enough for observing the rings of Saturn, craters on the Moon, moons of Jupiter, and other celestial bodies.
Main Features:
Comes with a 70 mm lens aperture
The highest useful magnification of this telescope is 165x
Comes with a 2 years warranty
It has a tripod of stainless steel
---
6. Celestron Powerseeker 70Az Telescope (21036):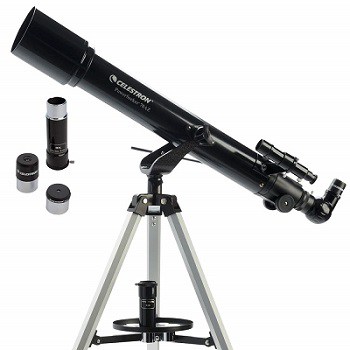 Celestron has so many high-end telescopes that we couldn't leave them out in this review. So, here is another affordable telescope from this renowned company.
If you are looking for a beginner-friendly telescope without breaking the bank, then you should try this one. It features a 70 mm aperture, 3x Barlow lens, 2 eyepieces of different magnification, and so forth. With the focal length of 700 mm, this is could be a great choice.
Main Features:
Comes with 2 years of warranty
The telescope itself weighs about 2.65 kg
This comes with an aluminum tripod
Comes with an f/10 focal ratio
---
7. Celestron PowerSeeker 60AZ Telescope: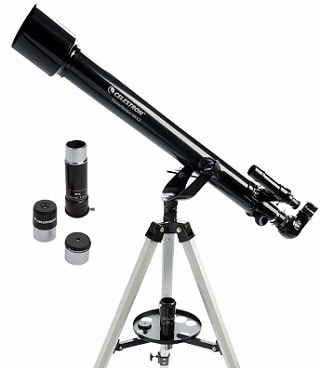 Do want a cheaper telescope for your kids? Then this could be a great starting point. This one comes with a 60 mm aperture. So, it might not offer the best experience. But for such a price, it is hard to find another good alternative.
It has a focal length of 700 mm. With this telescope, you will get an aluminum tripod, 2 eyepieces, fully coated optics, and more. This one uses the Alt-Azimuth mounting system. So, for beginners, this is a great option.
Main Features:
It is a 60 mm refractor telescope
Comes with 2years of warranty
It comes with an aluminum tripod
It has a 700 mm focal length
---
Most Advanced Premium Telescopes
8. Celestron Inspire 100Az Refractor Telescope: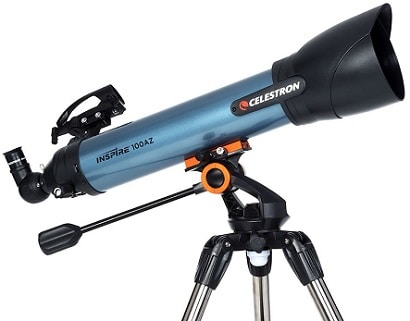 If you are looking for a more professorial-grade telescope, then you have to increase your budget. In this case, you can go with the Celestron Inspire 100 AZ telescope. From the name, you can see that it comes with a 100 mm short refractor aperture.
There is no need for any tools to set it up. You will get a sturdy tripod, 2 eyepieces, LED flashlight, smartphone adapter, finder scope, and more. With a focal ratio of f/6.5, this Alt-Azimuth telescope could be a top pick for hobbyist astronomers.
Main Features:
The product weighs about 9 kg
Comes with fully coated glass optics
It has 1 year of warranty
Comes with a 20 mm and a 10 mm eyepiece
---
9. Celestron NexStar 5 SE Telescope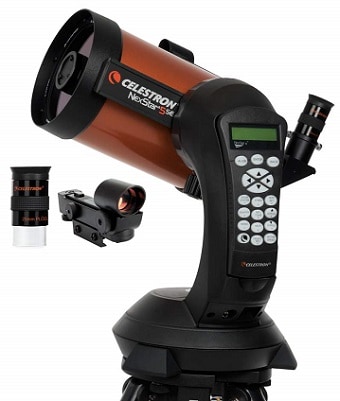 If you want to up the game of your astronomy hobby, you can go with this Schmidt-Cassegrain telescope from Celestron. To be noted, this one comes with a high price tag as it is a premium quality catadioptric telescope. It features a GoTo mount.
That means you can locate the heavenly bodies automatically and easily with this computerized mounting system.
This one has a 5 inch or 127 mm aperture that will offer a wide-range of sky-viewing experience compared to the basic telescopes. Even though this is a powerful telescope, this is fairly portable as well.
Main Features:
This is a Schmidt-Cassegrain telescope
It weighs about 7.98 kg
The maximum magnification is up to 295x
The minimum focal length is 1250 mm
---
10. Orion SkyQuest XX14i IntelliScope Truss Dobsonian Telescope(10024):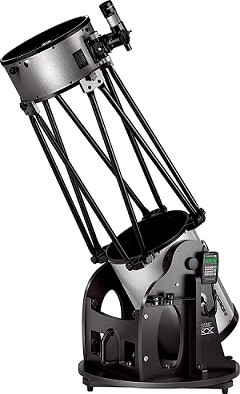 Lastly, this is one of the most expensive telescopes in India available right now for the consumers. This is an IntelliScope Truss Dobsonian telescope from Orion. To be noted, this is a big device. And, you will need to assemble it as it comes unassembled. Also, it is a manual telescope, not a GoTo one. 
This one is equipped with a 14 inch or 355 mm lens aperture. That means it is an advanced telescope that can help you see a lot of the space compared to the other options mentioned in our review. So, if the price is not an issue for you, this telescope can be a top-notch choice.
Main Features:
This is a 14-inch IntelliScope telescope
It weighs about 54 kg
The maximum theoretical magnification is up to 712x
---
Types of Telescopes?
Frankly, telescopes can be divided into many categories depending on their design, where they are placed, their usage, the cost, components they use, and so on. For instance, there are radio telescopes, Atmospheric Cherenkov telescope, X-ray telescopes, optical telescopes, solar telescopes, infrared telescopes, Dobsonian telescopes, and more.
But, in this article, we have reviewed the optical telescopes as they are suitable for beginners and the price of these devices is not that high as well.
In that sense, you can classify optical telescopes into 3 categories such as refracting telescopes, reflecting telescopes, and catadioptric telescopes. To be noted, this classification is based on its main optical designs.
---
What Can We See with Basic and Advanced Telescopes?
Based upon the telescope, the size of the aperture, light pollution in your area, or the atmospheric condition of Earth, the celestial bodies you can see with your telescope will vary. Still, here is a basic idea of the things you can see with both a basic and advanced telescope.
With Basic Telescopes
We will be categorizing the telescopes that have 60 mm to 70 mm aperture size as basic telescopes. And, with those telescopes, you can see…
The Moon and some of its craters
Most of the planets but not as big as you want to
You might see the Martian polar caps
Some of Jupiter's moon will be observable
Double stars and some faint stars
Galaxies, nebulas, globular clusters, merrier objects, etc.
To be noted, most galaxies will not be clearly visible. It will be mostly blurry and featureless. The planets Neptune and Uranus might be seen but as very small discs with a basic telescope.
With Advanced Telescopes
We are placing the telescopes with an aperture of 8 to 14 inches into the advanced category. Thus, you can also place the telescopes with an aperture of 2.8 to 8 inches as mid-range telescopes.
With those mid-range telescopes, you can see all the planets and the moon with more detail compared to the basic ones. And, the deep sky objects such as galaxies and nebulae will be observable in a more detailed way.
Here are the things you can see with advanced telescopes…
Most of the lunar features
Jupiter and Saturn's clouds and belts
Neptune's moon as well
Pluto might be visible as well
Faint comets
Double stars and more faint stars
Brighter asteroids
Thousands of galaxies, nebulae, globular clusters, and more in finer details
---
Sum Up:
We have shared reviews of both budget-friendly and expensive telescopes. Depending on the price, the quality of the telescope will vary. The better the telescope, the higher the price would be. But if you are just starting, you should not get the most expensive one at one go.
Rather, our suggestion would be to begin with an entry-level telescope that is beginner-friendly and easy on the wallet. That way, you can learn on the way of getting an expensive one. And, you can save a lot at the same time as well. But for professionals, you can go all out.
If you have any questions or queries, don't forget to let us know in the comments below!
---
Also Read:
2) 10 Best Portable Car Tyre Inflator
3) Best Car Stereo To Buy Online