Are You Searching For The Best Car Stereo in India ?
Search No More!!
Driving in itself is a relieving activity for many, while others take it just as a way to commute to work and back home. Either way, some music can always complement your driving while moving through the city traffic or cruising on the highway. The car needs to have a quality stereo system to make the car ride much more exciting.
---
What is Single Din and Double Din stereo ?
The two prominent stereo sizes are double din and single din , in which double din is the bigger one. This pattern is followed to ease up the fitting of stereo in different car models and brands.
Single Din Space – 7 x 2 inches
Double Din Space – 7 x 4 inches
To put it simply, if the stereo space in your car is 4 inches tall then it's double din and if it's 2 inch tall then it's single din. Double din is always not better than single din , it just comes with more space for components.
There are many single din out there which are great. You can fit a single din in a double din with a similar sized bracket. To fit a double din in a single din , you will need to remove the utility tray below the single din space.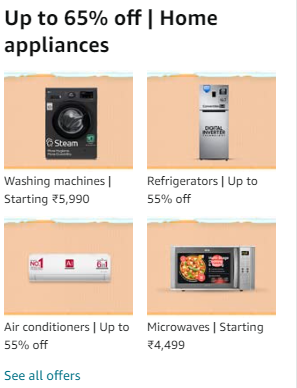 Read: 10 Best Car Coaxial Speakers
---
In this modern world, all your devices can connect to each other, even your car. Based on your need, you can either go for a stereo system that can interact with your smartphone to offer you smarter results on a touch screen or go for conventional stereo systems to keep the music on. Based on your preference for any of the two, you can select one of the car stereos mentioned below:
Top 10 Best Car Stereo in India
1. Sony DSX-B700
Best Model in Non Touch  
⇒ Double Din , With Bluetooth
1) Offering a powerful audio output of up to 4 x 55 W watts, Sony has created a car stereo that is perfect for audiophiles.
2) As mentioned, this is a double din system that houses a high contrast LCD display for displaying all the information with large control switches and knobs that besides making the job easier also look futuristic with the blue light.
3) For playing music from different sources, you can connect a USB drive and smartphone via Bluetooth.
4) AUX port has also been included if you want to play songs stored on your phone or even MP3 player.
5) Sony will be including a warranty of 1 year with this stereo.
Compare Price : Amazon
---
2.  Sony DSX-A410BT

⇒ Single Din , With Bluetooth
1) Sony has an entry-level car stereo in its extensive portfolio that gets the job done quite well.
2) Based on Sony's stereo mentioned above, this one takes the same approach to a single din design and brings a lot to the table.
3) It offers an audio output of 4 x 55 W at its maximum and supports a wide variety of connectivity options.
4) The options include Bluetooth, AUX input, USB port.
5) All these options also allow you to take calls from the stereo itself without having to reach out for your phone.
6) Sony is offering a warranty of 1 year with this car stereo.
Compare Price : Amazon
---
3.  Sony XAV-AX100 AV Receiver
⇒ Double Din , With Bluetooth ( Best one out there )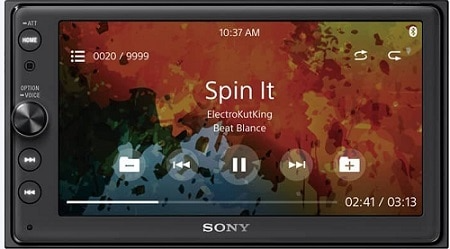 1) A high-tech addition to your car is this stereo from Sony that comes with a large touchscreen on the front.
2) Making your car was never this easy as Sony has included compatibility for both Apple CarPlay and Android Auto.
3) This makes your car compatible with either of the smartphones you have and gives your car smart features like voice control and Siri eyes free.
4) For the best in class audio experience, the stereo supports four 55W dynamic reality amps and it can fit almost all kinds of modern cars.
5) And all this can be controlled from the large touchscreen that has larger icons for easy access while driving.
6) The stereo also supports Bluetooth connectivity for playing music from smartphones.
Check Cheapest Price – Amazon
---
Read: 10 Best Portable Car Tyre Inflator
 4.  Alpine CDE-W265EBT 
⇒ Double Din, With Bluetooth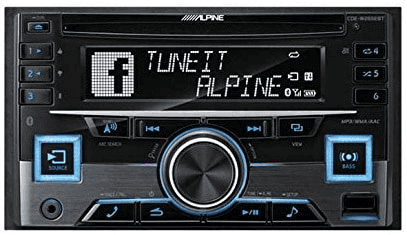 1) Going for a more conventional looking car stereo, then this product from Alpine should be able to meet your needs.
2) It comes with most of the modern features that you will need to keep yourself entertained during your ride.
3) It has a metal build and has a large LCD display on the front for displaying some important stuff.
4) You can connect your Android or iOS devices with the stereo and even play music from your smartphone over Bluetooth.
Also Read : Best Car Bass Tubes in India
5) It comes with a standard support for four 50W amplifiers and can play music from CDs and USB drives with a port on the front.
6) It also has a wireless remote controller for easier access.
Check Price : Amazon
---
5.  Blaupunkt San Marino 330
⇒ Double DIN ,With Bluetooth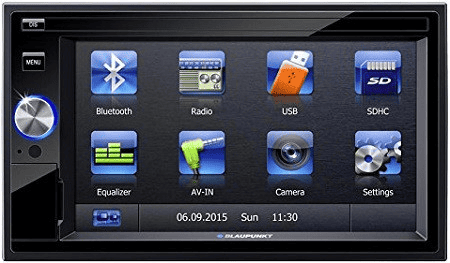 1) And if you can't settle for anything below a large touchscreen in your car's dashboard then Blaupunkt also has a solution for you, too.
2) This model comes with a large 6.2-inch touchscreen for interacting with the stereo and for controlling media content.
3) It also allows you to view the rear camera input and also supports steering mounted controls.
4) The company has included the stereo system with an improved audio quality giving you an immersive experience.
5) Blaupunkt has also included a wide variety of connectivity options from where you can play music and that includes USB drive, AUX input, Bluetooth and even microSD card.
6) It is a double din system to maximize the use of its large touchscreen.
Compare Price : Amazon
---
Read: 10 Best USB Car Charger in India
---
 6.  JVC MOS-FET KW-R520E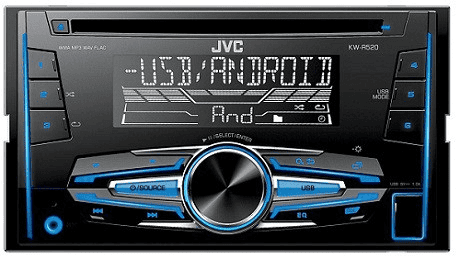 ⇒ Double Din , With Bluetooth
1) Covering a double din space, JVS has tried to provide every possible feature in its car stereo.
2) With its large surface area, the stereo offers a fairly large display along with a CD player that is otherwise not present in other similar products.
3) Plus, the company has improved its aesthetics with the inclusion of RGB lights that can change colours.
4) It offers a connection to four 50W sub-woofers and it supports Android audio mode for your smartphones using an app.
5) You can control it via a remote controller or use the steering mounted controls.
6) For media input, you get AUX port, USB port, Bluetooth, besides the CD player, while the USB port will also simultaneously charge the device.
Check Price : Amazon
---
 7.  Pioneer MVH-089UB

⇒ Single Din , No Bluetooth , No Aux
1) With support for basic functionalities, this car stereo from Pioneer will fit in almost any car and will do a great job at providing you with ample music.
2) Offering a great value for money, this product comes from Pioneer which has been the market leader for long.
3) With its red highlights on black, the product is well suited for most needs.
4) To input music, you can rely on the two options that include AUX port along with a USB port to take in the USB drives.
5) There is an LCD display on the front that shows all the necessary information.
6) It comes with large and easy to access buttons and dials. It has a built-in equaliser and offers a maximum output of 50W.
Compare Price : Amazon
---
 8.  Sony DSX-A100U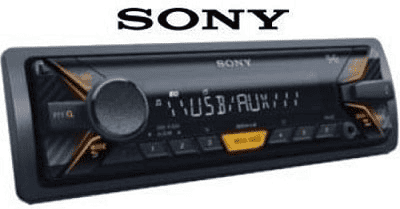 ⇒ Single Din , No Bluetooth
1) Another entry-level car stereo from Sony offers a real value for money product that should be a perfect addition to your car for listening to some great music.
2) While it may not look as fancy as other products from the company, it is meant to get things done with minimal fuss. You can get an audio output of up to 55W.
3) It has an LCD panel on the front that displays to show currently required information and there are spacious buttons to help control the stereo.
4) You can provide the audio input to the Sony stereo via a USB drive or by connecting a phone to its via AUX cable.
5) It comes with a 2-year warranty.
Compare Price : Amazon
---
 9.  Blaupunkt Manchester 110

⇒ Single Din , With Bluetooth
1) On a tighter budget, Blaupunkt has a great product up for grabs that should suffice your needs of a car stereo.
2) This single din car stereo not only would be compatible with most of your devices for playing music, but it also comes with a remote controller for easier control for the passengers in the back seats.
3) With a maximum output of 55W, you will be all covered for a great music output while driving.
4) The stereo comes with support for connectivity options like USB port, AUX port, and Bluetooth 4.1 for wireless connection from your smartphone.
5) The company is offering a warranty of 1 year on this product.
Compare Price : Amazon
---
 10.  JVC Digital Media Receiver 

⇒ Single Din , No Bluetooth
1) You can call it the mini version of the double din stereo from JVC mentioned above.
2) Despite being able to fit in a single din, this stereo packs all the features that the other variant comes with.
3) A remote has also been included to control most of the stereo's features. It has red accents on the front on its base black colour.
4) The stereo from JVC supports a wide variety of audio formats that can be played via either a USB drive or AUX input.
5) The company has used its proprietary tech to make the stereo sound better using all the connected speakers and amplifiers.
6) And if you prefer listening to the radio then it also has an FM tuner.
Check Price : Amazon
---
Also Read:
1) Top 10 Best Budget Wireless Soundbars
2) 10 Best Bluetooth Tower Speakers