Mineral water cans have made our lives quite easier as they ensure the availability of clean drinking water wherever you are, be it home, office, or outdoors enjoying a picnic with your family. But getting water out of these water cans is a troublesome process as traditionally it requires you to place them upside down in a water dispenser but not anymore.
There is a range of water can dispenser pumps available in the market which you place directly onto the bottle neck without having to pick them up, leave aside turning them upside down. You can get one of these quite easily online and below provided is a list of all the water can dispenser pumps that you should look out for.
1) BlingBelle Automatic ABS Water Can Dispenser Pump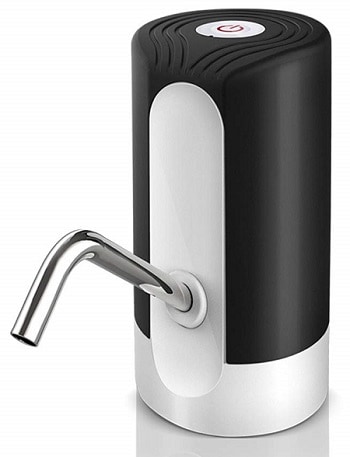 Pros:
Compatible with all kinds of bottle sizes and tops, this electric can dispenser pump has all the features that you can ask for. Being an automatic pump, it can be easily used by children and the elderly without having to manually pump water.
It packs a 1200 mAh battery that can be easily charged using the provided 6-feet USB cable and the pump can discharge water for 2 hours continuously. The body is made out of high-quality plastic and it has a steel spout. All it takes a push to a button on its top to get it running.
Cons:
Being a rechargeable dispenser pump, it is positioned in the higher end section and holds a higher price tag a conventional pump. Rechargeable battery adds an added hassle of charging it every few days.
Check Price : Amazon
---
2) VOL MART Hand-Press Water Can Dispenser Pump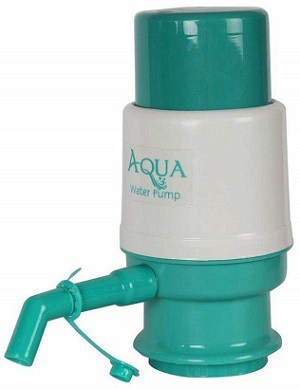 Pros: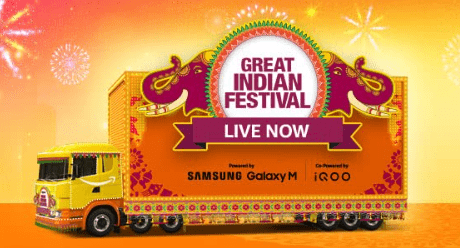 On a tighter budget, this basic dispenser pump from VOL MART can prove to be an excellent product for being used in an office or when outdoors. Its attachment is designed to fit all kinds of bottle heads and the plastic used is food grade keeping in mind your health. Another benefit of this pump is that you won't need to charge it every few days to keep it running.
Cons:
The base material for this water dispenser pump is plastic which may not be as sturdy as metal especially in the longer run. It is a manual pump and requires you to manually press the top portion, which might not be easy for the younger and elder members of the family.
Check Price : Amazon
---
3) Empathy Manual Water Can Dispenser Pump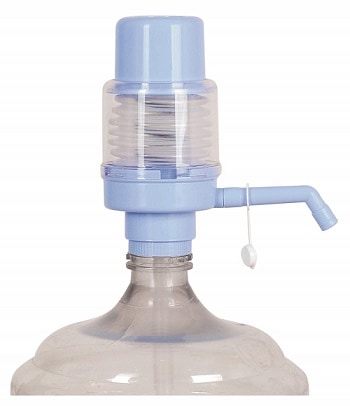 Pros:
To fit particularly the water cans with screw style neck, like the Bisleri ones, there has been an adapter included in the package ensuring its compatibility with all types of bottles. Assembling the dispenser pump is super easy and it can fit bottles of up to 25 litres. When you wish to detach it for like moving it around, you can do that within seconds with minimal efforts. The middle part has a see-through outer layer where you can see the plastic spring in action; it is designed to remain rust-free for long.
Cons:
As the water level lowers, the pump requires more manual power to dispense water. Given its feature set, the company could have priced it a bit lower.
Check Price : Amazon
---
4) keSHOP Automatic Water Can Dispenser Pump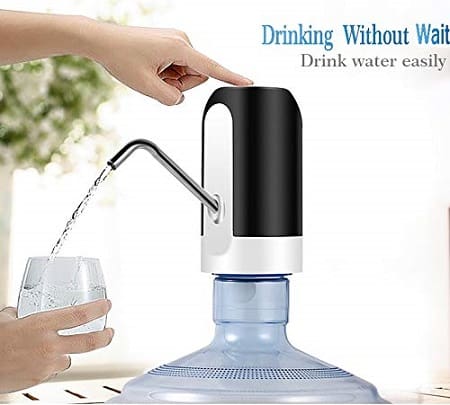 Pros:
One of the better-built dispenser pumps in its range, this product from keSHOP will be an excellent addition to your mineral water bottle. Not only does it look modern, but it is also entirely plug and play and requires minimal initial setup. The top button makes it easier to start and stop the water flow with just a single press and it can supply about 18 litres of water on a single charge. It is compatible with all bottle neck types and can be charged with any Android phone charger, though a USB cable comes included.
Cons:
Be it home or office, if the pump will be used by several people, the battery will need a charge several times, adding to your hassle. If you will be fine with a manual pump, then you can get one at a quarter of what this one costs.
Check Price : Amazon
---
5) Watermate Classic+ Automatic Water Can Dispenser Pump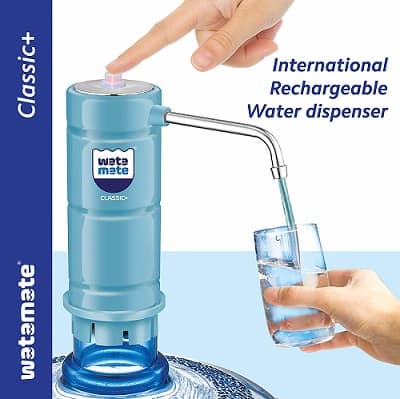 Pros:
The Classic+ is the more premium model from the company that supports both continuous power supply and operation over the in-built battery. It is simple in terms of aesthetics as well as operations and comes with a steel spout for ensuring hygiene. The silicone button on the top requires a single press to dispense water making it convenient for elderlies and children. The best part about this pump is that it can pump up to 4 water cans on a single charge.
Cons:
A handful of buyers have questioned the product's longevity as it died within a few months for them. The after sales support from the company is also unreliable and might put you in an odd spot if you need help.
Check Price : Amazon
---
6) VAPOK Manual Hand Press Water Can Dispenser Pump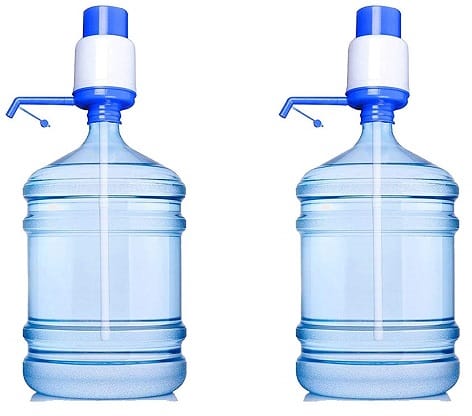 Pros:
If you are out in the market looking for the best deal available, then you cannot get better than this one. At quite a reasonable price, you are getting not one but two water dispenser pumps. Compatible with all bottle kinds, it comes with an attachment to screw-type bottles which helps form an excellent seal to avoid spillage. It is made out of BPA-free plastic and all the parts are quite easy to assemble and you will be ready to go within minutes.
Cons:
Being a basic water pump, you cannot expect a lot of advanced features from it and it is good for most basic work. It is a manual pump that and might get a bit difficult to operate for the little ones or elders in the family.
Check Price : Amazon
---
7) Tissaj Automatic Water Can Dispenser Pump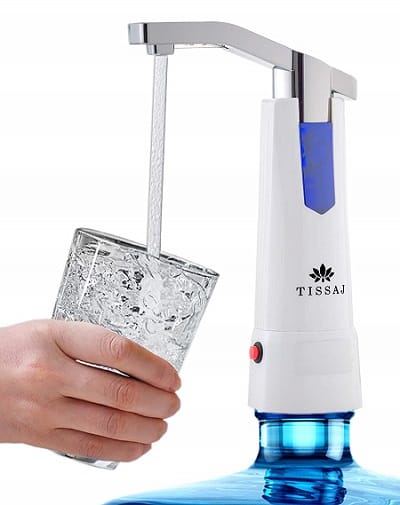 Pros:
Positioned in the premium segment, the water dispenser pump from Tissaj comes with an elegant design and has a chrome finish on the main tap portion. There is a fairly large 1800mAh battery that can last for up to 2 hours on continuous use. You won't need to go through a lot of hassle for installation and being battery operated, you can use it even when there is no power, making it ideal for outdoor use. For charging, a long 6-feet cable comes included.
Cons:
In case your requirement is nothing more than basic, this water pump will definitely an overspend. The after sales support for this pump is lacklustre and you might face trouble if something goes wrong.
Check Price : Amazon
---
8) Watermate Flexo Electric Water Can Dispenser Pump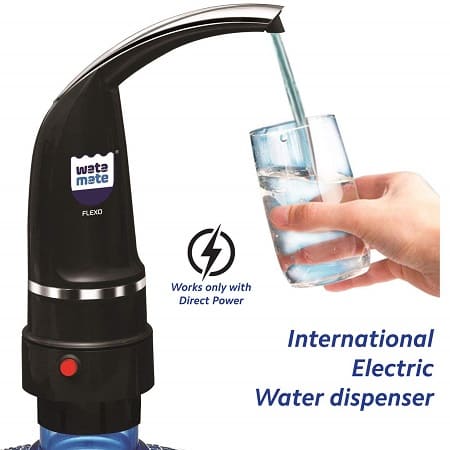 Pros:
Watermate makes a range of water dispenser pumps and this one is under their series that requires power all the time to work. The spout of the pump has a modern design that not only looks great but also fits over all kinds of bottle necks. The package of the pump includes an adapter along with a food-grade silicone tube. It comes as a pre-assembled unit and its neck can be rotated 18 degrees for easier use.
Cons:
This model from Watermate needs to be connected to a power outlet all the time to work. This means you won't be able to use it during a power cut or if you wish to travel with it. Pricing of this pump along with the after sales support from the company could have been better.
Check Price : Amazon
---
9) Be Aliens Automatic Heavy-Duty Water Can Dispenser Pump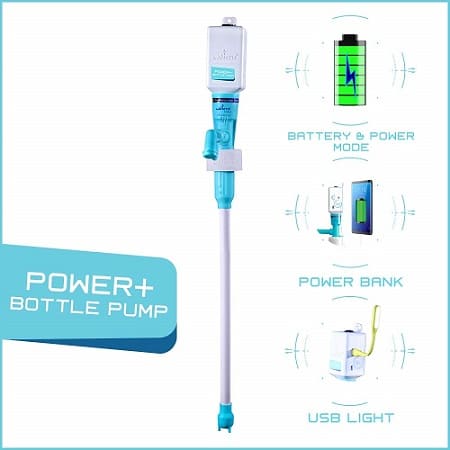 Pros:
Waterflow from other pumps is usually good for filling up a glass a few seconds but if you need something faster, then this Be Aliens water pumps can dispense a litre of water every 10 seconds. It is a big pump with broad suction pipe and spout for handling this much of water. It can run on both battery and direct power and it also has a power bank function allowing you to charge a device or light a USB light using the USB port on its back.
Cons:
Product quality is questionable and its life may not be as much as you might expect. It is not ideal being used in homes or offices mainly because of its dispensing speed. Charging its battery takes up to 3 hours.
Check Price : Amazon
---
10) SWAB Manual Hand Press Water Can Dispenser Pump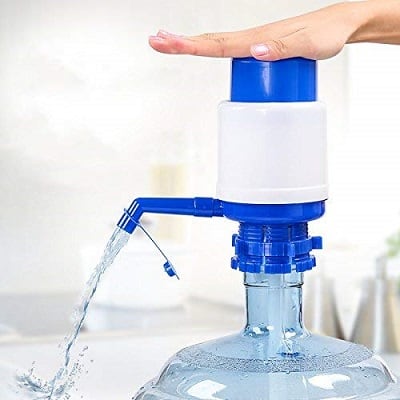 Pros:
For the people ready to pick up the cheapest possible solution that just gets the job done then they need not look at any other product. This budget water dispenser carries all the features that you might come to expect from such a pump, including a BPA-free build and universal compatibility. A fairly long pumping pipe is included in the package itself and you can get started with the product within minutes.
Cons:
The pump will work at its best when the water can is full and you will have to pump harder when the water level reduces below 50 percent. This is a basic dispenser pump and comes with no warranty or support from the company.
Check Price : Amazon
---
Also Read:
1) Top 10 Best Water Filter Pitchers in India
2) Best Electric Storage Water Purifiers For Home
3) Top 10 Best Storage and Instant Geyser Water Heaters