Recently updated on November 20th, 2023 at 09:46 am
We all know that power backup is essential to enjoy using different gadgets has become the norm these days. And with the high use of mobile phones, it has become important to own a good power bank to charge your mobile phones when you do not have access to a charging socket. Well, if you are looking for a good power bank to keep your mobile phone charged at all times, then the Intex IT-PB11K Power bank is a great option to consider.
Apart from providing you with mobile charge in places where there is no socket, this portable charger is also trendy and available in the classy black and white colors that make them good to look at as well. With a storage capacity of 11,000 mAh, this Intex Power bank power bank is a safe and reliable option for most users.
Also Read : Best Power Banks in India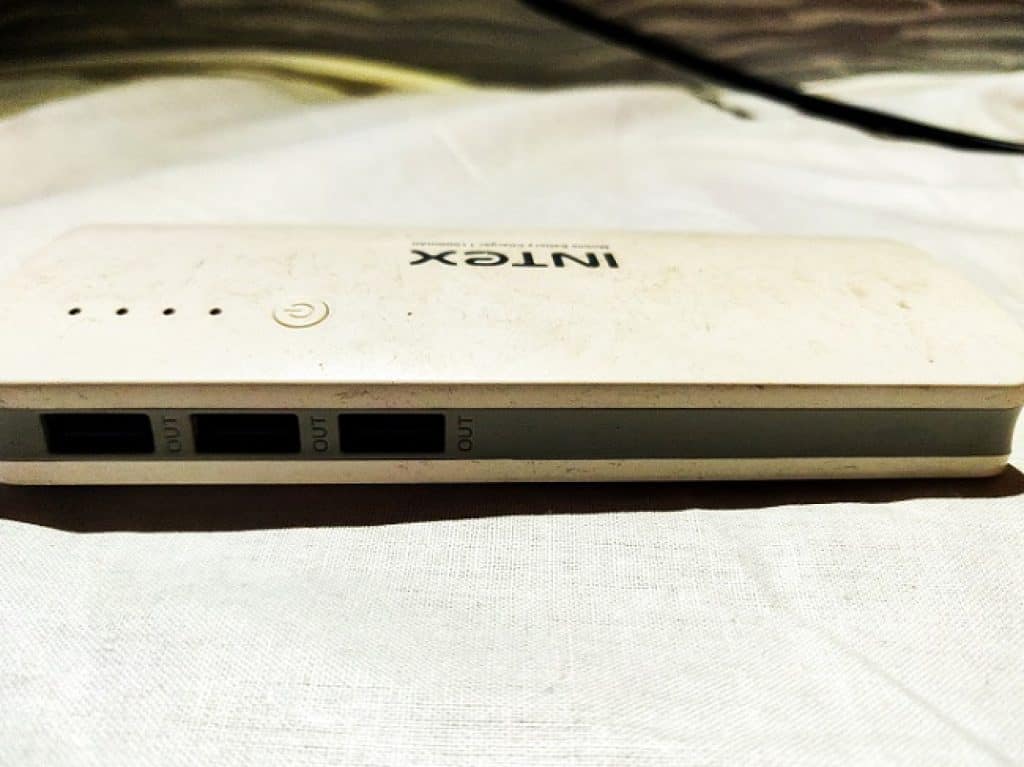 Features of Intex IT-PB11K
There are a lot of reasons why this power bank is such a good option for most users. Here are a few features that make this product stand out from other products.
Good and Classy Design with Solid Build
As mentioned earlier, this power bank has a classic physical appearance with a white and grey color combination. And if you dislike the white color, then you can always get this power bank in another color variant i.e. black – grey. The power bank looks really stylish and won't screw up your fashion.
The product is 26 mm thick and weighs around 280 grams so it is easy to store in your bag and carry with you. It comes with an Intex logo which is placed on the top side of the power bank along with the Power on/off button and LED indicators in the corner.
Coming to the quality of the power bank, Intex IT-PB11K has a solid build quality. The blue LED light indicator that is placed on the power bank will show you how much power is left and what the charging status of your power bank is. You simply need to click on the power button to check the power level of the power bank and will notice that the LEDs will flash for a few seconds.
Another great thing is that you have an LED torch included with this power bank that you can turn on by clicking twice on the power button. On the right side of the Intex power bank, you will observe three output USB ports that offer 1A, 2A, and 2A voltage capacity. There is also a mini USB charging port and LED torch available and while the torch isn't extremely bright, it is good enough for emergencies.
At the bottom side of the power bank, you can see the BIS rating, specifications, and the output port.
Also Read : 10 Best True Wireless Earbuds Under Rs 2000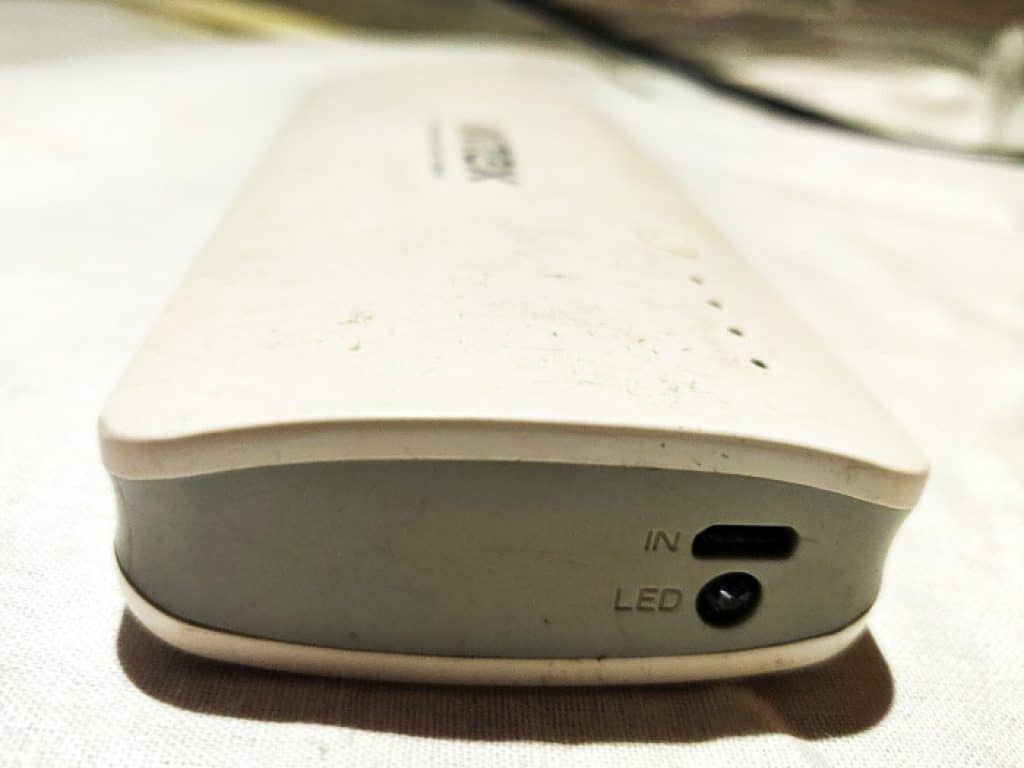 Performance
In terms of performance, Intex IT-PB11K is really good, especially for this price range. With a capacity of 11000 mAh, the power bank will offer you 80% of the power that can be used to charge multiple devices at a time including your mobile phone, tablet, digital camera, etc. If you own a 2500 mAh battery, then you can easily charge it 3.5 times.
As mentioned earlier, the power bank has 3 out ports, out of which one gives 1V output voltage, while the other two give 2.1V output. Compared to several other power banks, Intext IT-PB11K charges really quickly and with the 2.1A, you can charge your 2500 mAh mobile phone in 1.1 hours while the 1A port will charge the mobile phone in just 1.5 hours.
Although you have three ports available for charging, we would advise you against it as it can result in heating of the product and can cause damage to the power bank.
Also Read : 10 Best Wireless Earphones Under Rs 3000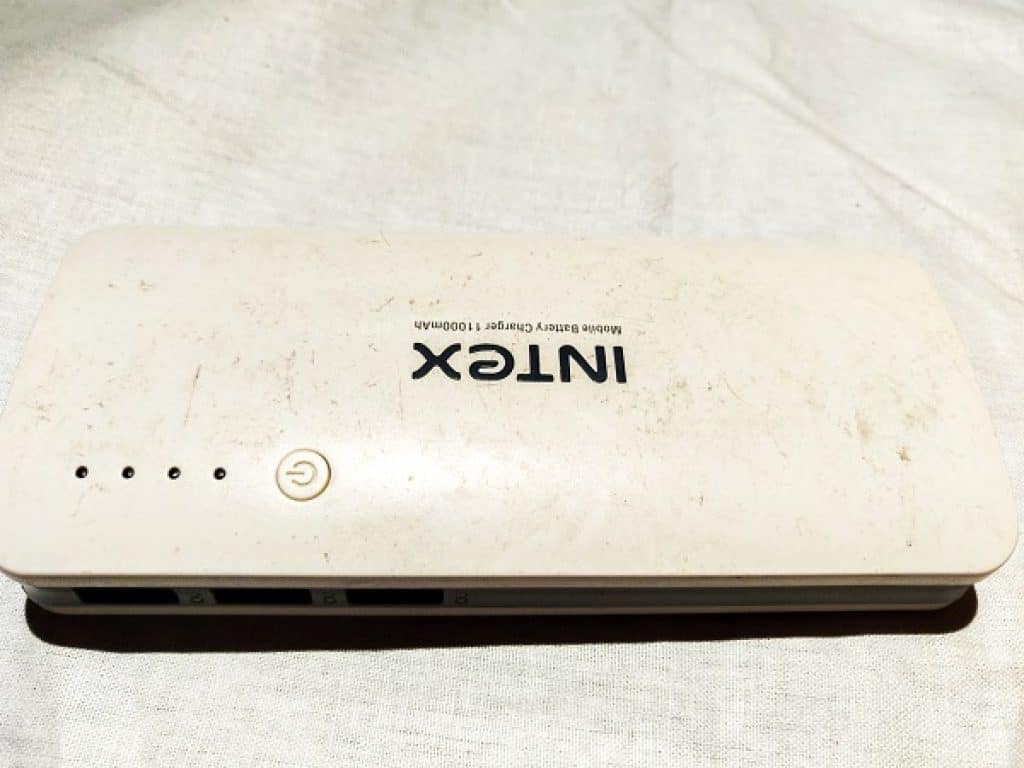 Conclusion
Overall, Intex IT-PB11K is a great option at this price and gives a good performance. Due to the good design and quality built, you can use this power bank long term and can keep your phone charged at all times. Moreover, the power bank comes with a 1 year warranty so, you can always return it back in case of any issues.
Apart from that, the power bank is really easy to use and maintain and can be fully charged in just 6-8 hours. The lithium batteries in this power bank are long-lasting, making it a great option for most guests.
So, if you are looking for a good power bank at a decent price, then Intex IT-PB11K is definitely a good choice to consider.
Also Read:
11 Best Studio Monitor Speakers in India
10 Best Party Speakers With Good Bass
Best 4.1 Channel Speakers in India