Do you want to get more out of your USB ports? If yes, then you might want to consider investing in USB hubs to connect more peripheral or electronic devices at a time. Usually, USB hubs are handy for laptops that have 1-2 USB ports or don't support the USB port for your devices.
This is where a USB hub becomes useful as you get extra ports that can be used to connect external devices, charge your phone, and so on. There are a lot of USB hubs available in the market featuring a different number of ports.
So, it can become a little confusing to choose the best USB hub for yourself. In this guide, we tackle this problem and help you choose the best USB hub for your devices.
Things To Consider While buying USB Hub
When you are choosing a USB hub for your devices, you need to consider several important factors and features to make the right decision.
Check the Number of Ports Offered
One of the most important things to decide on is the number of ports that you need on your USB hub. Do you have several devices that you might need to plug in together? If yes, then buy a USB hub that provides you with 4, 5, or even 10 outputs.
On the other hand, if you know your requirements are minimal, then purchasing a 3 or 4-output USB hub is perfect too.
Determine the Power Output of the Hub
Usually, you have hubs that come with an external power source or the ones that use the original port for the power. While the latter option is cheaper, you have to consider your requirements before you make a choice.
You need to calculate the power output that you would need to determine whether you should buy a hub with an external plug. When you connect the hub to your laptop, it will drain the computer's port total power limit. So, if you overload it with a hub, then a few of the devices won't get charged or connected to your hub.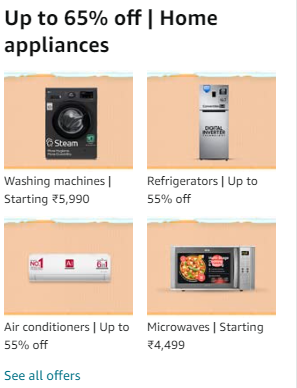 For example, if the hub offers a power output of 500 mA and you have devices that require more than this limit, the hub will stop working for your devices. So, check the power output of the hub and the devices that you are likely to use with it.
Check the Hub's Power Source
Another important thing to consider is the usage of your USB hub. If you wish to use the hub to charge your devices when your PC is switched off then you would need a hub that is powered with an external source.
On the other hand, if your PC has the capability to power your devices when it has been turned off, then you don't need a hub with an external plug.
Check the USB Version of the Hub's Port
Finally, check what USB version does the USB Hub port use. If it uses USB 2.0, it will be cheaper but the data transfer will be slower than a USB 3.0. However, if you have mostly USD 2.0 devices, then you can choose that but if you have a mixture of both, then go for USB 3.0 as it is quick and effective.
Wire Clips Cable Protector
A wire clips cable protector keeps your electrical wires, data cables, etc. together and protects them from any damage.
Best USB Hubs in India
1 TP-Link 7-Port USB Hub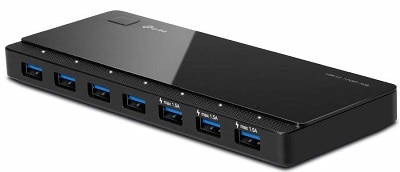 One of the best USB hubs in the market, TP-Link TL-UH700 7-Port USB Hub has USB 3.0 ports that offer 10 times better speed than USB 2.0. That's not all, these ports are also compatible with USB 2.0/1.1 and there is a total of 7 ports in this hub.
Another great thing about this product is that it offers 3 charging ports with 5V/1.5A power that allows you to charge your devices quickly.
This hub is simple to use and has a plug and play compatibility with most Windows, Linux, and Mac platforms. The design is also good with 8 white LED indicators, 1 is for the power button and the other 7 are for the ports' connectivity.
---
2 AmazonBasics USB 3.1 Type-C to 4 Port USB Hub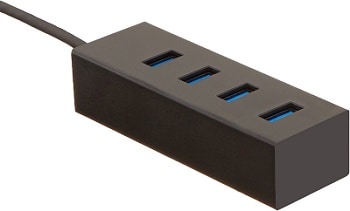 AmazonBasics USB 3.1 Type-C to 4 Port USB Hub is another great hub that allows you to convert your computer's Type-C port to USB-A 3.1 ports.
With this USB hub, you get 4 individual ports to charge your mobile phones or connect your peripherals. With speed up to 5 Gbps, these ports are fast in data transfer and are compatible with both USB 3.1 and USB 2.0 connectors.
Also Read : Best Multiport USB Wall Chargers in India
This product is reversible and allows you to connect the connector with any Type-C device. It is also compatible with Chrome, Windows 10/8.1/8, and Mac. The installation process is also quite easy and doesn't require any power adapter or driver.
---
3 AUKEY 4-Port Hub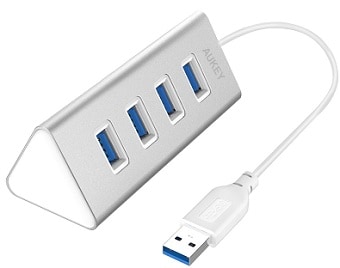 Another USB hub that offers 4 individual ports for use is the AUKEY 4-Port Hub. This portable hub is small and compact and offers USB 3.0 ports that are perfect for data transfer and charging your devices.
Since this hub doesn't take a lot of space, you can hide it behind your desk when not in use and avoid getting distracted while working.
The product works well on iMac, MacBook / Pro / Air, Mac Mini, and other PCs as well. And the best thing is that this product is quite budget-friendly as well. So, whether you want to connect your pen drive or charge your mobile phones, this hub will work perfectly for you.
---
4 QuantumZERO USB 3.1 7 Port Hub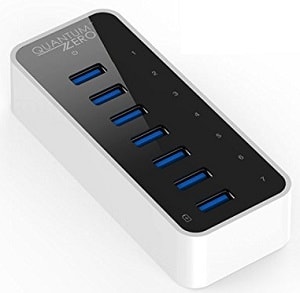 If you are looking for a USB hub with many ports that can handle quick power charge and data transfer then QuantumZERO USB 3.1 7 Port Hub is the perfect product for you.
This USB hub features USB 3.0/3.1 Gen1 Superspeed ports with VIA VL813 chipset that gives wide compatibility and amazing performance. There is also a Battery charging (BC 1.2) compliant port that allows you to quickly charge your phone while transferring data even when the PC is shut off or in sleep mode.
Also Read : Best Micro USB Cables in India
With its compact design and sturdy built, this hub is portable and long-lasting. And the external power supply ensures that the hub keeps working while protecting it from any power surge.
---
5 AUKEY USB 3.0 Hub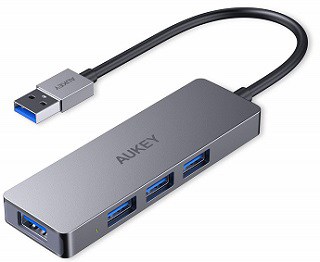 Another compact and a portable USB hub that offers 5 ports is the AUKEY USB 3.0 Hub at a very affordable price. This product features USB 3.0 ports and a built-in USB 3.0 cable that can be used to connect to different PCs, laptops, and Mac systems.
With this hub, you can connect your flash drives, phones, printers, hard drives, and so on. There is also a green LED indicator to let you know when the devices are connected.
This hub is extremely portable as well and can be taken to work, trips, etc. and offer a really high transfer speed. It can also charge your devices such as headsets, phones, etc.
---
6 Anker Data Hub A7516011 4-Port USB Charger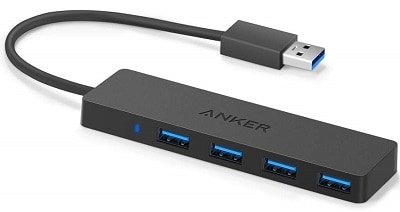 Anker Data Hub A7516011 4-Port USB Charger is a great way to charge 4 devices quickly at a time. This hub allows you to turn your computer's USB port into 4 ports that can be used to charge or transfer data from your devices. With 5 Gbps speed, you can easily transfer an HD movie in a few seconds.
Also, the durable built-in cable with sturdy casing and heat-resistant connectors ensure longevity. This product is compatible with several versions of Linux, Mac, and Windows PCs.
Also Read : Best Power Banks in India
Most importantly, this hub is effective in syncing data but not charging devices that need a higher power input.
---
7 TP-link UE330 USB 3.0 3-Port Hub & Gigabit Ethernet Adapter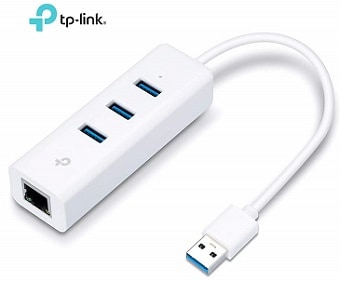 If you are looking for a small yet high-quality USB hub then TP-link UE330 USB 3.0 3-Port Hub and Gigabit Ethernet Adapter is perfect for you. This hub features 3 USB 3.0 ports that offer quick transfer with speed up to 5 Gbps. This compact and light hub can be used anywhere and is extremely portable as well.
Also, it uses a plug and play format so it is easy to use. It offers you a stable connection with Windows, Chrome OS, Mac OS, and Linux OS.
But the best thing about this hub is that it acts as a Gigabit ethernet adapter too and allows you to enjoy 1000 Mbps stable wired connection.
---
8 Xmate 5 in 1 Type-C USB Adapter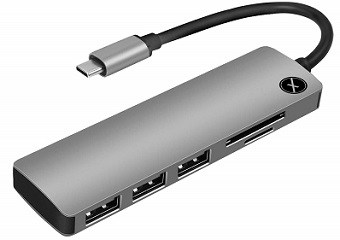 Xmate 5 in 1 Type-C USB Adapter is another great USB hub that offers 3 USB 3.0 ports, 1 micro SD card reader, and 1 standard SD card reader.
The 3 USB 3.0 ports offer speed up to 5 Gbps so you can transfer quickly any kind of data. The card readers are quick too and since the adapter is small and compact, it can easily fit your bag or pocket.
This plug and play device is easy to use and is compatible with all laptops with Type-C USB port.
---
9 Quantum QHM6633 4 Port Hi-Speed USB Hub

One of the cheapest USB hubs in this list, Quantum QHM6633 4 Port Hi-Speed USB Hub is perfect for connecting with desktops and laptops. This product features 4 high-speed ports that offer speeds up to 480 Mbps.
With superior built quality and anti-rust USB ports, this USB hub is durable and designed to have all 4 devices working at the same time.
Also Read : Best Bluetooth Earphones Under 2000
This is a plug and play product that is compatible with all OS including Windows XP, ME, 2000, Mac, Linux, and so on.
---
10 Portronics POR-717 M Port 24 USB 2.0 HUB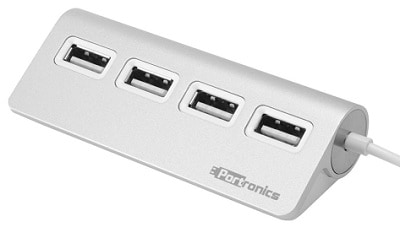 Portronics POR-717 M Port 24 USB 2.0 HUB is another decent product that can be used to charge your devices or sync your data with your laptops/computers. This USB hub has an aluminum body for durability and is small, compact, and highly portable.
With 480 Mbps speed, you can enjoy quick data transfers and can charge your devices with 5V/1.0 A power input.
With this hub, you can connect your camera, phone, notebook, and tablet quite easily. And since it is a simple plug and play device, it is compatible with most OS.
---
Gizga Essentials Cable Protector & Wire Organizer Clips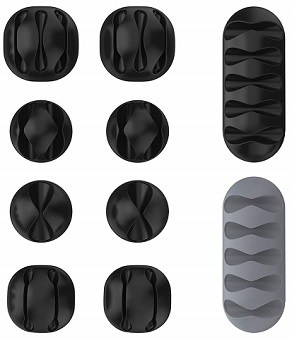 It is a set of 10 cable clips that are made up of eco-friendly material. These safety clips are convenient to use and extremely efficient not to mention the durability of the material used in these clips.
These cable clips are available in 5 different slot designs and can be used to organize cables of all shapes and sizes.
You can use them in car, office, home, etc. and can effectively manage audio cables, power cords, wired headphones, and so on.
Also Read : Best NAS Device in India
---
USB vs Type C USB Hub
For a long time, only USB-A ports were used to USB connectors were quite common. And for smaller devices such as power banks, external hard drives, smartphones, etc., usually USB-B or micro-USB connectors were used.
However, USB-C connectors were introduced a few years back and have become quite popular around the world. But which hub is better? Here are some key differences between the two USB hubs:
1) One of the best things about the USB-C hub is that you can connect the connector with it on any side. It has a slim, consistent design on both sides so, you don't have to flip it multiple times to find the right side which is usually the case for other USB-A or B hubs.
2) USB-C hubs usually support newer USB standards and help you in fast data transfers in comparison to older USB hubs.
3) USB-C also offers 100-W, a 20-V connection that is easily more powerful than other ports and can manage larger devices too.
4) USB-A and USB-B are still used in most smartphones, TVs, keyboards, controllers, etc. so it will take some time for USB-C to become the go-to port.
---
Also Read:
10 Best Internal SSD for Laptop/PC in India
11 Best Studio Monitor Speakers in India
10 Best Party Speakers With Good Bass