After a tiring day at your office, all you need is a bed that is just the perfect one for your perfect deep sleep. If you are still having those old mattresses that have sunk so much that your body touches the bed, then you might not have experienced a good sleep. This is a time to change your mattress and get some of the most comfortable ones available in the market.
Not just the comfort, your mattress is also the thing which you spend several hours on. It has to be perfect for your health too as maintain the right posture isn't always easy. A modern mattress can even help relieve the back and neck pain. For that matter, you can have a look at the below-mentioned mattresses under Rs. 25,000 and choose the best one for yourself.
Best Healthy & Comfortable Double Bed Mattress Under 25,000 in India
1) Wake-Fit Orthopaedic Memory
1) To ensure a better night's sleep, the mattress you should absolutely go for is made by Wake-Fit.
2) The best part is that you can get it created with a custom size as per your bed size.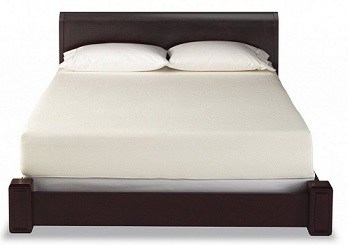 3) For your best comfort and your back's health, the mattress is not too soft and not too hard.
4) The maker has used a medium soft foam that is just perfect.
5) With high-density foam at the bottom and memory foam on the top, you can enjoy a deep sleep while supporting your back.
6) All the material used is of high-quality so that you get just the best experience.
7) The company is also offering 5 years of warranty with these custom-made mattresses.
Check Price : Amazon
---
2 SleepyCat Memory Foam
1) There is a startup that is making even the mattresses interesting called SleepyCat.
2) They have created a mattress that is not only absolutely comfortable but also easy to transport.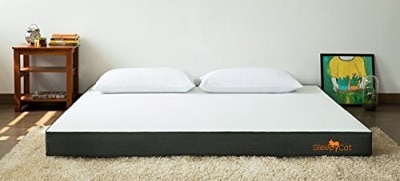 3) The company has found a way to pack it and deliver it to your doorstep in a small box. Now you won't need to call a bunch of people to pick those huge mattresses.
4) For the mattress, the company has used a specially designed gel memory foam that isn't much affected by heat.
5) Plus the high-density foam at the bottom maintains a rigid base.
6) To make you confident about your purchase, the company is also giving an option of 30-nights risk-free trial where you can return the mattress in case you aren't completely satisfied with the product.
Check Price : Amazon
---
3 Wink & Nod – 7 Inch Cool Gel Memory Foam
1) This mattress is manufactured and designed in India using the most innovative techniques and highest industry standards. By using materials carefully sourced from across the world including USA, China and India.
2) Providing cutting edge and most transparent design by offering 4 comfort layers:
Removable and breathable mattress cover made of bamboo fiber material
Cool gel memory foam
High density support foam
A non-slip base layer to ensure optimal support and temperature control.
3) If you don't like the mattress, you can return it for a full refund in the 100 day trial period.
4) Company offers only 2 products to avoid confusing the consumer – one medium soft mattress catered to the Indian customer and the second model is a medium firm ortho-mattress targeting people with back pain
5) It comes with 10 years of manufacturer's warranty.
---
4 Urban Ladder DreamLite
1) This online furniture store also makes its own high-quality mattresses that suite the needs of a modern Indian.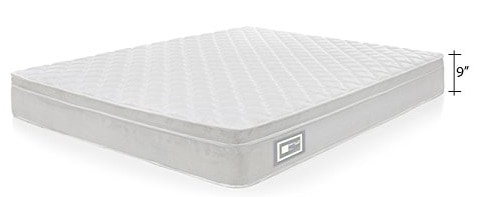 2) Between the multiple layers of foam, you will find the Bonnel springs that are present primarily to provide you with more comfort.
3) These are anti-corrosive springs that should last for really long. Plus the top layer is made out of SuperSoft foam which is the one taking care of your comfort.
4) Apart from the 6-inch variant, you can also go for the mattress with 9-inch thickness. Available in multiple size options of king and queen, Urban Ladder will offer a warranty of 5 years.
5) From making a quality product to delivering it to you and then to honouring the warranty, everything is handled by the company itself, so you can rest assured.
Check Price : Amazon
---
5 Dreamzee Orthocare Eurotop
1) Being an orthocare product from the company, this mattress is a must for the people who have back or neck pain.
2) The memory foam on the top will maintain the right posture so that your spine stays in the right shape.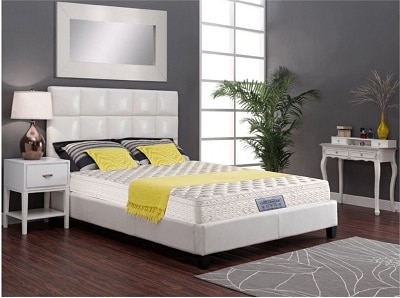 3) Most of the people tend to sleep in a position that is harmful in the long run. This mattress ensures to minimise the effect.
4) Moreover, this mattress has a premium fabric on the top in the Eurotop finish. This fabric not only makes the mattress look better but also adds to your comfort.
5) You can get it in a range of sizes that should perfectly fit your bed. Along with it, you will be getting a warranty of 5 years.
Check Price : Amazon
---
6 Dreamzee Natural Latex
1) For a slightly thinner mattress, Dreamzee also has one with a 5-inch thickness for the people who like to sleep on a thinner mattress.
2) Made out of a single piece of natural latex, the comfort level would be quite good. The company assures that the mattress will properly support your spine and back for a better posture while having your sleep.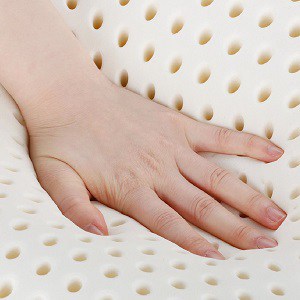 3) The latex used here is said to be a great material for your health as you have a sound sleep on your new mattress.
4) This mattress comes covered with an imported quilted material that should again help you with a better and a comfortable night's sleep.
5) Like the norm has been, this mattress also comes with a standard warranty of 5 years.
Check Price : Amazon
---
7 Kurl-On Relish Spring
1) There are chances that you aren't satisfied with a foam mattress or just don't like sleeping on one.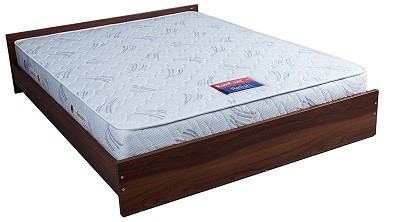 2) Spring mattresses pose a great option that can handle much more weight without getting deformed over the years.
3) A major advantage of spring mattresses is that you can use them from either of the sides.
4) Coming from a brand like Kurl-On that is known in the market for its mattresses, you can rest assured of the quality and after-sales services.
5) The outer covering of the mattress is made out of polycotton that should get the job done. This mattress too comes with a warranty of 5 years.
Check Price : Amazon
---
8 Hush Orthopaedic Support
1) Like mentioned earlier, the orthopaedic mattresses are a must for the people who are suffering from any kind of a pain in their back or neck.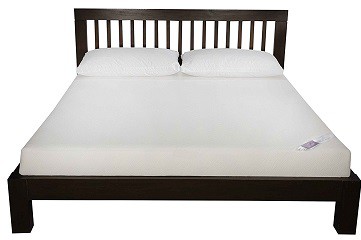 2) The general cause of them is the wrong way people tend to sleep and much of its credit goes to the mattress.
3) This mattress from Hush is one of the few ones to come with three layers of foam for added support.
4) This is an Amazon exclusive product, so you won't find it anywhere else.
5) The company assures the buyers that the mattress is the best one you can get if you have a physical condition like the ones mentioned above.
6) The three layers of this mattress bring together the right amount of comfort while maintaining the posture for a better sleep.
Check Price : Amazon
---
9 Boston Pocket Spring
1) One can call it an engineered mattress because of the layers that it has.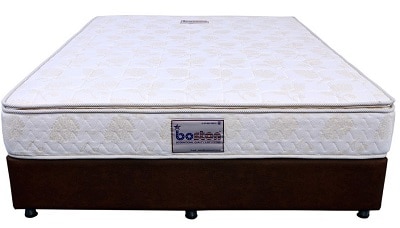 2) Though the major support element in the mattress is the spring, the company has designed the mattress with multiple layers of different kinds of foams and fabric.
3) All this is done for the comfort of the people without bringing them any kind of health issues.
4) With the added layers, the thickness of the mattress also increases to 8 inches. You should buy this mattress only if you prefer thicker mattresses.
5) While the thickness is standard, you can buy it from a range of different sizes.
6) Boston is including a warranty of 5 years on the product.
Check Price : Amazon
---
10 Kurl-On Angelica Spring
1) Yet another mattress from Kurl-On brings the trust of the company along with the superior build.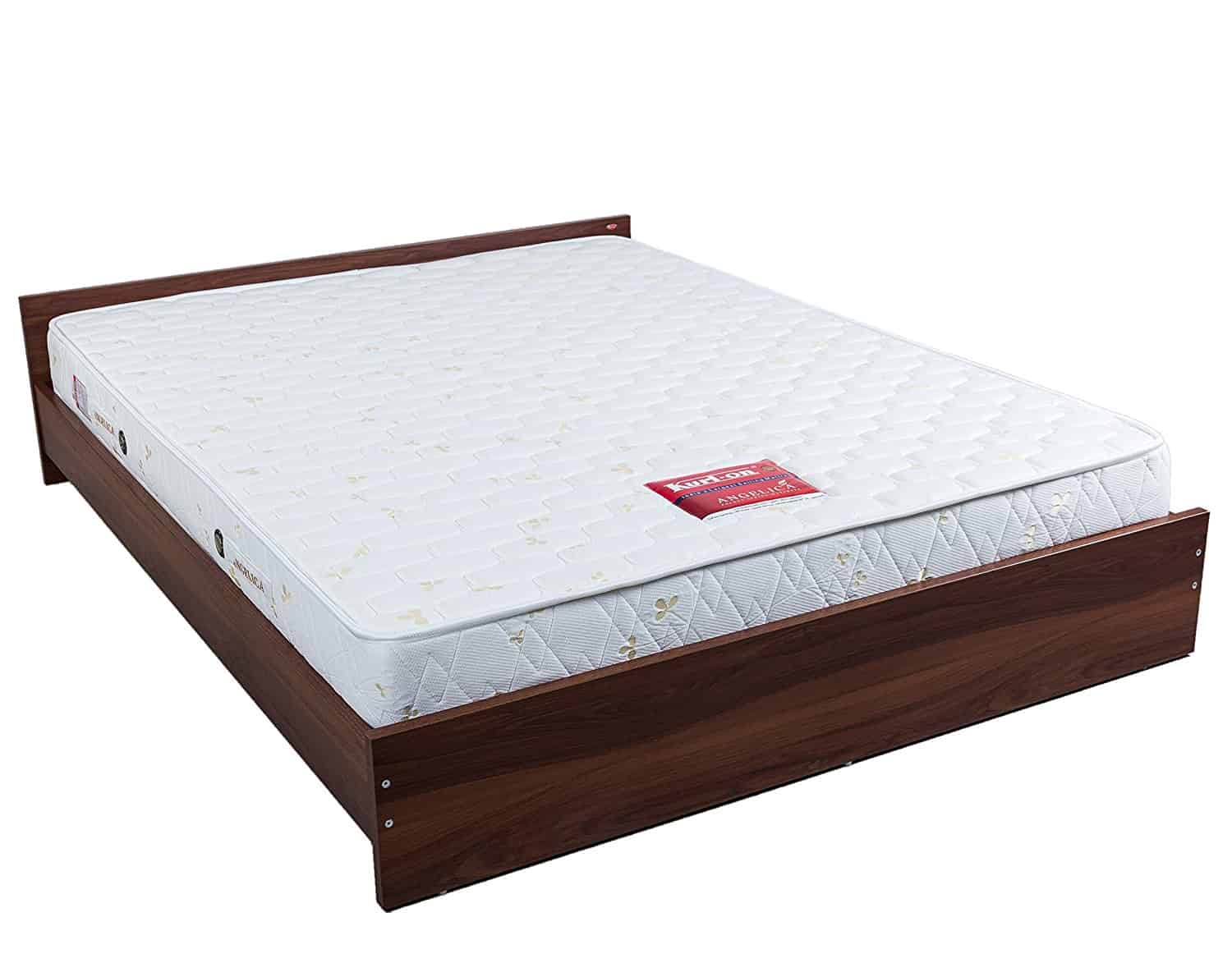 2) While you may go for a mattress of any size, the thickness remains to be the standard at 6 inches.
3) Having said that, this mattress is a spring based one that has layers of foam. For the best possible comfort, the foam has been placed on the top and bottom of the mattress.
4) The combination of foam and spring is known to last for really long and that's the reason the company was pretty confident about including a lifetime warranty.
5) The mattress and the foam will adjust to your body shape according to your position and the springs are there to provide the required support.
Check Price : Amazon
---
11 Sleepwell Esteem Softec
1) Sleepwell is another mainstream company making mattresses for years here in India.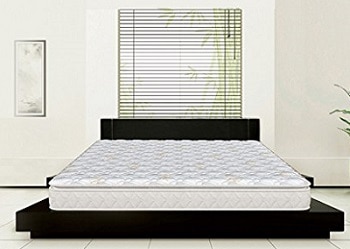 2) Their Esteem Softec lineup has the primary support layer made out of the pocket springs, while the outer coating is of memory foam.
3) The springs are specially designed by the company for its products that are one of the best ones in the industry.
4) As you'd expect, the mattress is available a host of different sizes and the thickness of 6 inches remains standard across the range.
5) Memory foam helps your body to adjust to the best posture that is also really comfortable for all night long.
6) Sleepwell is giving a warranty of 5 years on this product.
Check Price : Amazon
---
Comment below to let us know which mattress you like the most.