Recently updated on July 15th, 2023 at 04:59 pm
Everyone is looking for compact and portable speakers which they can take with them on their vacations and road trips too.
Thankfully, there are several Bluetooth enabled speakers available in the market which work well and can be found in varying price ranges. And one such gem is Zebronics Zeb Prism Speaker at just 2,299 INR.
One of the most convenient and effective portable speakers to purchase for yourself, it has LED lighting which makes it good as a bedside lamp as well. And since it includes a wireless Bluetooth facility, you can easily connect it with your smartphones on the go.
Here is a detailed review to help you understand the features and functionalities of this speaker.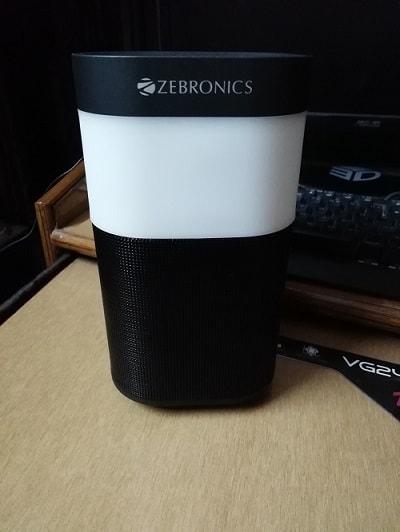 Simple Yet Effective Design
Zebronics Zeb Prism Speaker has a minimalistic design which is aesthetically pleasing as well. It features capacitive touch controls at the top of a silver panel, which are arranged in a circular design. There are five touch buttons for managing the speaker which includes a power button, next track/volume, previous track/volume, switch mode, and an LED light button.
These capacitive touch buttons work efficiently and smoothly depending on the length of the button press. For example, if you press the next track button for a long time then it would increase the volume else it will just move on to the next track. And if you tap on the mode switch button then you can switch between FM mode and Bluetooth mode but if you press it long then you can enter the call answering mode.
It also features a handle on the top for easy portability. And at the speaker's rear, you will find a micro USB charging port, AUX slot, microphone, and SD card slot for connectivity and recharging the battery.

Easy Connectivity
It is quite easy and straightforward to pair your smartphones with the speaker. You have the option of both AUX port and Bluetooth feature to connect to your phone. So, if you have battery in your smartphone, you can simply use an AUX cable to connect.
Audio and Lighting Performance
One of the best things about this Bluetooth speaker is that it offers an amazing sound quality, even at a high volume. You won't hear any disturbances while playing music or while attending your phone calls.
Apart from the audio, the LED lighting is also good and bright but not too harsh. The light is soft and works perfectly as a bedside lamp.
Battery Performance
Although it cannot run for hours at a time, this speaker offers decent battery life which works well for short trips and outings. You can use it for 3-4 hours continuously after it is fully charged and can check the battery life on your paired smartphone.
Conclusion
Overall, this is a good speaker at 2,299 INR as it offers you multiple functionalities of FM radio, call answering, lamp, etc. If you don't mind the size then this is the perfect portable Bluetooth speaker to buy for everyday use.
Visit Zebronics || Buy Now : Amazon | Flipkart
---
Also Read:
1) Top 10 Best Bluetooth Tower Speakers
2) Top 10 Best 4.1 Channel Home Theater
3) Top 10 Best Bluetooth Speakers
---
out of stock
as of November 26, 2023 11:00 pm
Last updated on November 26, 2023 11:00 pm