There are high chances that your home or office is overflowing with documents and photos for which you now don't have enough space to store. The best chance you have in this situation is to get a portable scanner and create a digital copy of all those things to store them either on your computer or upload them to the cloud. Here are a few portable scanners that you can invest in!
Why buy a portable scanner?
In this digital world, all our documents need to be on our computers and phones, especially those photos that specifically need a high-quality dedicated scanner. For home users, these scanners come handy if you have a load of old photos stacked in albums just waiting to be scanned. Plus, random document scanning for emailing will also be made a lot easier with a scanner. Most newer products are so compact that they wouldn't cause any convenience and just sit in one corner of your table.
Also Read: 10 Best Sunscreen Lotion in India
Office users will appreciate having a scanner when they see it decluttering their desk that is usually filled with papers scattered all over. You can scan all your documents within seconds either as PDF or JPG and organise them in separate folders where they can live forever now without taking any physical space. Professional photographers almost always need a high-resolution scanner to save a perfect digital copy of their shots.
---
What to look for while buying a portable scanner?
Size and Design
Many portable scanners themselves are larger than what'd be considered portable. Depending on your need, you might want to buy a product that is truly small to fit inside a bag or if you need mostly for desk job then a tad larger one will also do.
Scanning Resolution
It is the resolution that determines the quality of the scanned documents and how usable would they be in their digital format. A scanner resolution of at least 600 DPI should be ideal for most, though imaging professionals might want to invest in a much higher-resolution scanner.
Power Supply
Something cannot be called portable if it needs to be tethered to a power outlet. There are many scanners available in the market that can scan documents without the need for a companion computer and run on batteries to offer portable solutions. Having a memory card will be considered a bonus.
Speed
Modern scanners will get a normal scan done in a few seconds while the older models may take a few minutes. If your work requires you to scan a huge pile of documents then getting a faster scanner would be wiser as it will save you from a lot of frustration.
Also Read: Top 10 Best Hand Sanitizers in India
Extra Features
Features like an LCD display and OCR go a long way in proving the usefulness of a scanner. Especially OCR, which is now kind of a must for newer scanners so that you can convert hard copies of documents directly to editable Word copies. Wireless file transfer also makes managing files a little easier.
Budget
If you have a tight budget, then you definitely cannot aim for a higher-end scanner that is packed with all the features. Despite that, there are many scanners available on the budget that offer a fantastic list of features without breaking your bank.
Top 10 Best Portable Scanners
Premium Options
1) Fujitsu ScanSnap S1300i Sheetfed Scanner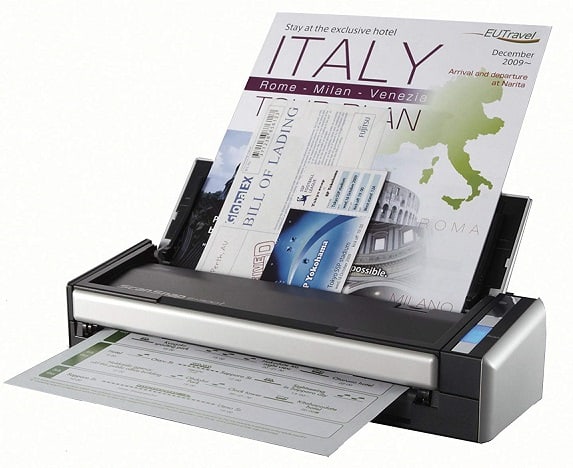 Pros: It is a relatively fast scanner that can scan up to 12 double-sided documents within a minute and you can even store 10 documents for it to scan automatically. Features like PDF creation, scanning to editable Word and Excel files, and creation of searchable keywords come built in. it is compatible with both Windows and Mac and can be powered both using a USB port or an AC adapter. Its 600 DPI support means the scanned documents will be as sharp as the physical ones.
Also Read: Best Hand Creams in India
Cons: Being one of the best high-end scanners, it is also quite expensive and isn't meant for everyone. Besides this, the machine is physically larger than many other scanners that have a smaller footprint.
Best Buy : Amazon
---
2) Canon ImageFormula P-215II Scanner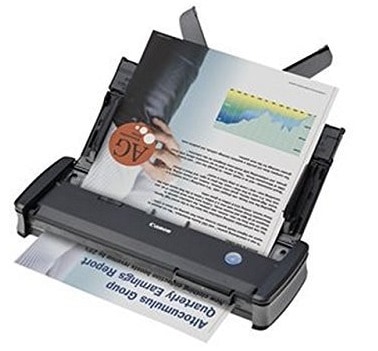 Pros: Canon has developed a proprietary technology that enables this scanner to scan documents from both the sides simultaneously, thus saving you a lot of time. It is also made to be swift and can scan 15 double-sided black-and-white pages in just a minute while for coloured pages, it can scan up to 10 similar pages in one minute. It is fairly small in size and can be carried around quite easily.
Cons: Along with being on the upper side of the market, this portable scanner from Canon is limited by the size of the paper it can handle. It is designed to scan only A4 and legal paper sheets while anything larger is simply not supported.
Best Buy : Amazon
---
3) Doxie One Standalone Scanner

Pros: This product is definitely one of the smallest document scanners in this price segment and lives true to its portable title. It is simple to use and all you need to do is feed the document from one end and the rest will then be taken care of by the scanner itself.
The companion Doxie app available for computers will organise all the scanned documents and includes a bunch of sharing options. Also, you don't need to carry a power adapter with this scanner as it is powered by AAA batteries making it truly portable.
Read : Best Office Chairs in India
Cons: Since it is a compact device, stacking documents for the machine to scan automatically isn't possible and you will need to manually feed each paper.
Best Buy : Amazon
---
Economical Options
4) Canon ImageFormula P-201 Portable Scanner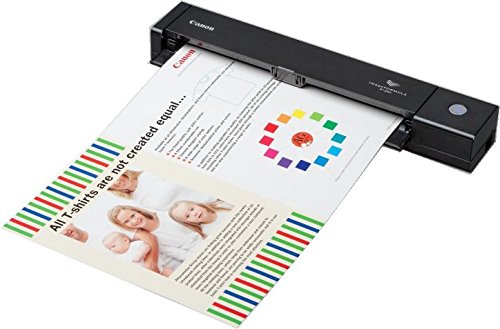 Pros: If portability is your top priority then this product serves the exact purpose and gives you high-quality scanned documents. At its price, this Cannon scanner is hard to beat given its lengthy list of features.
Most kinds of documents and paper sizes are supported, including smaller ones like business cards, ID cards, etc. Scanning takes not more than 10 seconds on the default settings and it starts automatically when a paper is inserted.
Cons: With its compact size, it comes with the inability to scan anything that is thicker than a few sheets of papers, like a book or journal. While scanning is faster on default settings, if you switch it to 600 DPI, the scanning process will get noticeably longer.
Best Buy : Amazon
---
Also Read :

10 Best Portable External SSDs
5) Segolike 900 DPI Handheld Portable Scanner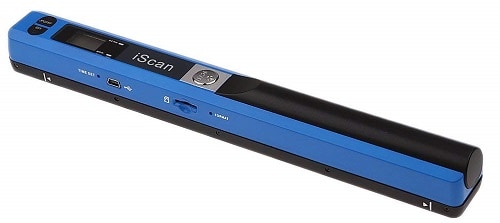 Pros: Scanning without a computer may seem a little absurd but this scanner can get it done with the help of a built-in memory card slot. All the controls are present right on the machine, like changing the scan quality among high, moderate, and low besides changing the file format – JPG or PDF.
It is a really thin machine and comes with its own pouch to easily carry it around. A USB cable is included in the box which can be used for connecting to a computer. This scanner is far cheaper than many other offerings and supports up to 900 DPI.
Cons: It can scan only A4 size paper which will be limiting for many prospective buyers.
Best Buy : Amazon
---
6) Microware Valety Mini Wand Portable Scanner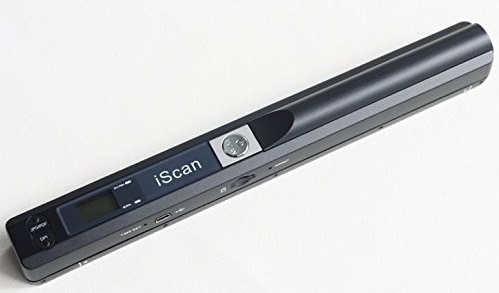 Pros: Coming with a baton-like shape, this Microware product is packed with features that are essential for a portable scanner. First off, there is an LCD display on the front console for you to see any required information on the device itself; this is necessary especially since, it doesn't require a computer to function.
It runs on two AA batteries and supports up to 32GB of microSD card letting you scan on the go. A high-quality A4 scan will take just 3 seconds and it has a built-in OCR software to create an editable Word document.
Cons: Pages only up to A4 size are supported by this machine and people looking for a scanner for anything larger than that may not find it appropriate.
Best Buy : Amazon
---
7) Plustek MobileOffice S400 Portable Scanner

Pros: Coming with a high optical resolution of 600 DPI, you can scan some quality documents while on the go. As the company states, it is about the size of an aluminium foil, meaning you can easily carry it around inside the provided pouch. On medium setting, the scanning speed would be around 20 seconds for an A4 sheet. It is easy to use with only a couple of buttons to increase the scan flow.
Cons: Unlike many other truly portable scanners, this one doesn't come with an inbuilt battery or support for AA batteries. You will necessarily have to carry a USB cable to power this machine. After sales support from this company can be an iffy affair.
Best Buy : Amazon
---
8) VuPoint Magic Wand PDSWF-ST47-VP Wireless Portable Scanner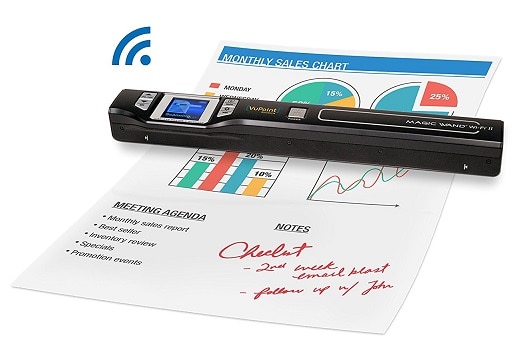 Pros: The biggest USP of this scanner is its wireless capability that allows it to wirelessly transmit the scanned images in real-time to a connected device using a companion app.
On the front, you will get a screen flanked by a couple of buttons to control the device. OCR option is built in and it can also take in a microSD card to scan things anywhere.
Cons: To have a document of an image scanned, you need to manually move the scanner over the desired sheet, which is intuitive at all. You will need to take care of precision, which is not the case with other scanners. With all the tech packed inside it, the price tag has gone up severely.
Best Buy : Amazon
Also Read:

10 Best Printers For Small Business and Home
9) IRIScan Book 3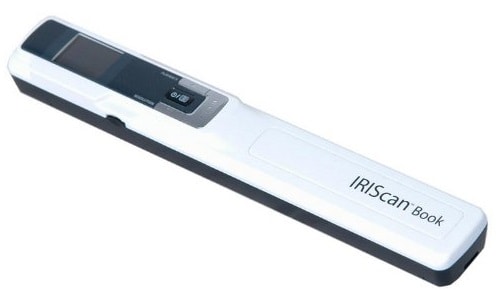 Pros: People willing to scan thicker books or magazines may find this scanner quite useful as it can scan any kind of book by sliding it in any direction as per the need. With its up to 900 DPI, you can expect super sharp scans and all it takes is a few seconds to get the job done.
Scanning to PDF or JPG is done onboard and you won't need a computer for that. Being battery operated, you can take it anywhere without having to worry about tethering it to a port.
Cons: Even though it is ideal for scanning books and larger documents, for scanning normal-sized papers, this will require unnecessary efforts for things that other scanners can do on their own.
Best Buy : Amazon
---
10) Docooler Portable Wireless Scanner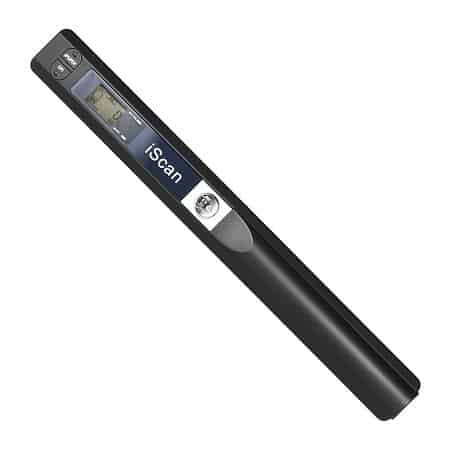 Pros: One of the cheapest portable scanners on the market that comes with an LCD display, this product will be able to fulfil all your scanning needs. If it matters, you can get this product in multiple colour options to suit your preference. It is a sliding type scanner which allows you to scan thicker books and newspapers if you are looking for them.
The maximum resolution supported by this scanner is 900 DPI which allows you to scan high-quality documents and images. This compact scanner can be carried around easily and takes in two AA batteries and a microSD card to work on the go.
Cons: No warranty is offered on this product as it is an imported unit.
Best Buy : Amazon
---
Also Read:
1) Top 10 Best Sandwich Makers
2) 10 Best Table Top Wet Grinders in India
3) Top 10 Best Current Mixer Grinders in India
4) 10 Best Fruit & Vegetable Juicers