None of us want our personal belongings to be stolen, which is why we use doors and locks to secure our essential items. And one of the best ways to ensure that your personal items are safe is by using a padlock to lock the doors. The best thing about padlocks is that they can be used not just to secure the doors of your house and office but can be used to secure your luggage while traveling as well.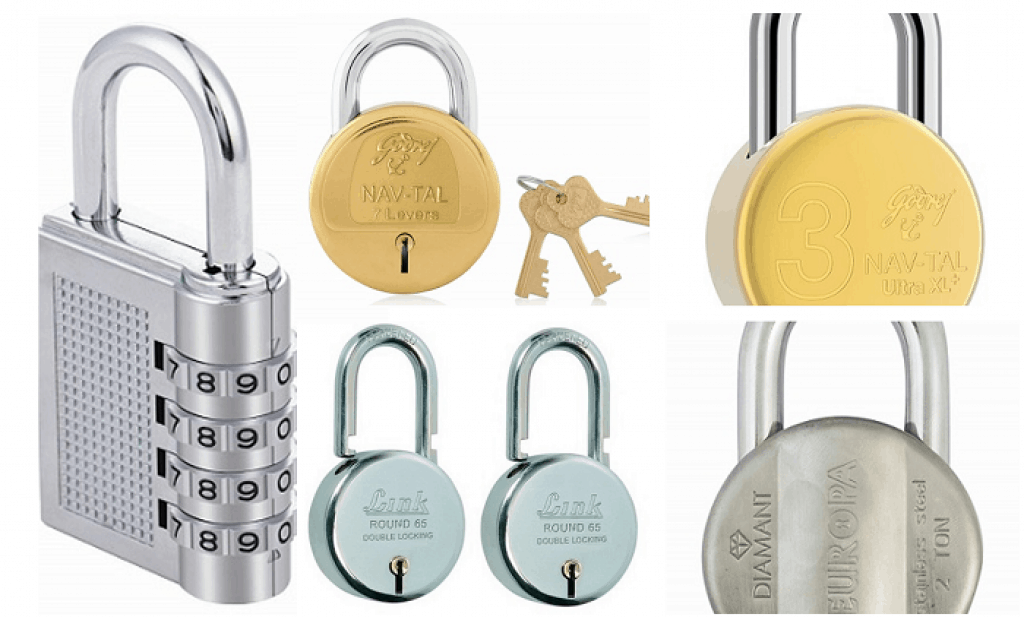 You will find padlocks available in different sizes, and each offers high-level protection for your belongings. But choosing a padlock can be a little confusing with so many options available in the market.
Don't worry, we have you covered. We have prepared this guide consisting of the best padlocks in India, along with information on how to choose the best Padlock and take care of it. Once you are done reading this article, you will have all the knowledge to choose the right Padlock that suits your needs and secures your belongings.
Best Secure Padlocks in India
1. Godrej Locking Solutions and Systems Nav-tal Ultra XL+ Brass Padlock
The Nav-tal Padlock also features a double locking shackle to provide enhanced safety to your home. Furthermore, since it has a brass body with boron hardened shackle, it is extremely sturdy and can easily resist external force, and is almost unbreakable, even with a hacksaw. Due to the use of brass, it is corrosion resistant and durable as well and can be used for both outdoor and indoor doors.
Since it has a bigger key head, it is comfortable to hold and operate. It also comes with four color-coded keys, and you get support services for installation, repair, key duplication, and emergency opening with the product as well. It is a little expensive but offers a high-level security service that makes up for it. Overall, this is a great padlock to consider to keep your home safe and secure.
---
Also Read :

Best Small Electronic Locker Safe in India
2. Europa Stainless Steel Diamant Padlock
Another good padlock to consider for securing your homes is Europa Stainless Steel Diamant Padlock that comes with three keys. The design and shape of this Padlock are quite unique and aesthetically pleasing and ensures a comfortable grip and ease of operation. One of the best things about this Padlock is that it uses anti-theft engineering and anti-cut hardened shackles, so it is difficult to break it. In fact, you cannot cut it even with a hacksaw.
One can easily use this highly secure Padlock for home, office, lockers, and so on. So, if you are looking for a strong and durable padlock to keep your belongings secure, then Europa Stainless Steel Diamant Padlock is a good choice.
3. ZHENGTU 4-Digit Safe PIN Hand Bag Shaped Combination Padlock Lock
One of the best combination padlocks that you can purchase in India is the Zhengtu 4-Digit Combination Padlock.
Another great thing about this Padlock is that you can easily change the combination of the Padlock and can keep updating it in a few weeks for better security. Since it is made from high-quality zinc alloy and heavy-duty carbon steel, it cannot be hammered or pried open.
This combination padlock is compact in size and lightweight too, so it can easily be carried around in your gym, school, or while traveling as well. Overall, this is a value for money combination padlock and will offer you the security that you want without the added hassle of safekeeping a key to open the Padlock.
---
4. Godrej Locking Solutions and Systems Nav-Tal Brass Padlock
Furthermore, this lock has a rust-resistant coating, so it can easily manage under all kinds of weather. The inner components of the Padlock are made from a zinc alloy that improves the longevity and durability of the Padlock. Since the body of the Padlock is made from brass, it is sturdy and won't break easily under any kind of force, and is perfect for use at entrance gates or internal doors.
Since it has highly precise brass levers, the Padlock will offer you smooth functioning for several years. And the lock comes with four keys so that you and your house members can each have a key for easy access. This is undoubtedly one of the most reliable and effective Padlocks that you can use to keep your house secure.
---
5. Link Round Steel
These round steel padlocks feature a double locking mechanism for added safety and durability. Also, each lock comes with three keys so that if you lose one key, you still have backup keys to use. Link is one of the oldest and most trusted brands in the market, and their padlocks offer the same reliability as their other products.
The locks are heavy and durable, and since they are made from stainless steel, they are rust-proof as well. All in all, this is a great product for anyone who wishes to lock several doors or items and is looking for a durable yet affordable padlock.
---
6. Godrej Locks Duralock
Furthermore, this Padlock has a mechanical locking system with a self-locking technology, so the Padlock is automatically locked when you press the shackle.
Since it has a double locking feature, it is difficult for the burglars to pry open the Padlock too. The Padlock comes with three keys that use an advanced 14-pin row cylinder technology and is great for additional security as it can create a maximum number of combination keys. The stainless steel Duralock uses rust-resistant components, so you don't need to worry about the maintenance of this lock and can easily use it smoothly for several years.
The stainless steel material used in this Padlock can easily withstand moisture, heat, dust, etc., and is great for rough usage as well, improving the longevity of the Padlock. Overall, this 70 mm padlock is a great way to keep your belongings safe and can be used for apartment doors, bank vaults, offices, main gates, and so on.
---
7. Godrej Steel Mylock Candy
Each lock comes with two keys with inscribed numbers so that if you lose one key, you still have a backup available to open the lock. These locks have a good built and are quite rigid and reliable in comparison to brass locks of similar sizes.
These locks are value for money and have a good quality, but it can be difficult to identify the right key for the lock if your keys get mixed. However, if you are looking for a small lock to keep your belongings safe at home or while traveling, then they are a great choice. And at this price, they are definitely a steal.
Also Read :

Best Productivity Laptops Under Rs 50,000 in India
How To Choose The Right Padlock?
When you are choosing a padlock, you need to keep a few things in mind.
Consider the Use of the Padlock
One of the most important things to consider is how you are going to use the Padlock and what are you going to secure with it. Depending on your usage, you will have to choose the size, material, and securing mechanism of your Padlock.
If you want high-level security, then opt for steel padlocks else, you can go for brass, stainless steel, aluminum, etc., materials for intermediate level security. In terms of size, a larger padlock is good as it offers more protection against brute force attacks.
Generally, the padlocks use a double locking mechanism, but if you want a higher level of security, then you can opt for padlocks with steel balls at the joint to prevent attempts to open the lock by force.
Types of Padlocks
There are essentially two types of padlocks: Key Padlock and Combination Padlock. Ideally, a Key Lock offers more security than a Combination Padlock, but it is more convenient to use a combination padlock than a key padlock. You can use a combination padlock for protecting lockers, suitcases, etc., and don't run the risk of losing the key, as is the case with a key padlock.
You will find both 3-digit and 4-digit padlocks that come with 1,000 and 10,000 combinations, which make it quite secure to use. Furthermore, combination locks often come with a security key or a magnetic key that offers it additional security and makes it a great choice for most users.
Check the Inside Space of the Ring or Mounting
Another important thing to consider is the space available where you will be installing your Padlock. If you end up choosing a padlock with a shackle thicker than the space inside the ring or mounting where you will be installing the lock, then it would be of no use to you. So, make sure you measure it before you start looking for a padlock.
If the space is too small, then you can install a hasp or replace the mounting so that you can fit the shackle of your desired Padlock.
Choose From Keyed to Differ, Keyed Alike, or Master Keyed Padlocks
Finally, when you are choosing a padlock, you might want to consider the three types of Key Padlocks that are available for use.
A Keyed to Differ Padlock is the most commonly available Padlock. Basically, the padlock manufacturers use the same key pattern for 10-15 locks and randomly jumble up these locks to be sent to different corners of the world. So, when you use this kind of Padlock, it can only be opened with the key provided to you, and there is a very rare chance that you will find another padlock in your area that can be opened with the same key. If you are using a single padlock, then this is the best option for you.
A Keyed Alike Padlock is ideal for users who will be using ten or more padlocks in the vicinity and don't wish to carry different keys for all the padlocks. So, these padlocks come with a single key that can be used to open and access the contents that were secured with these padlocks.
Finally, a Master Keyed Padlock is the one where one key can override any padlock and is great for organizations. So, the person at the higher level will have access to all the padlocks and can open up any lock with the master key, while the people at the lower level have access to a key that can open a few padlocks only.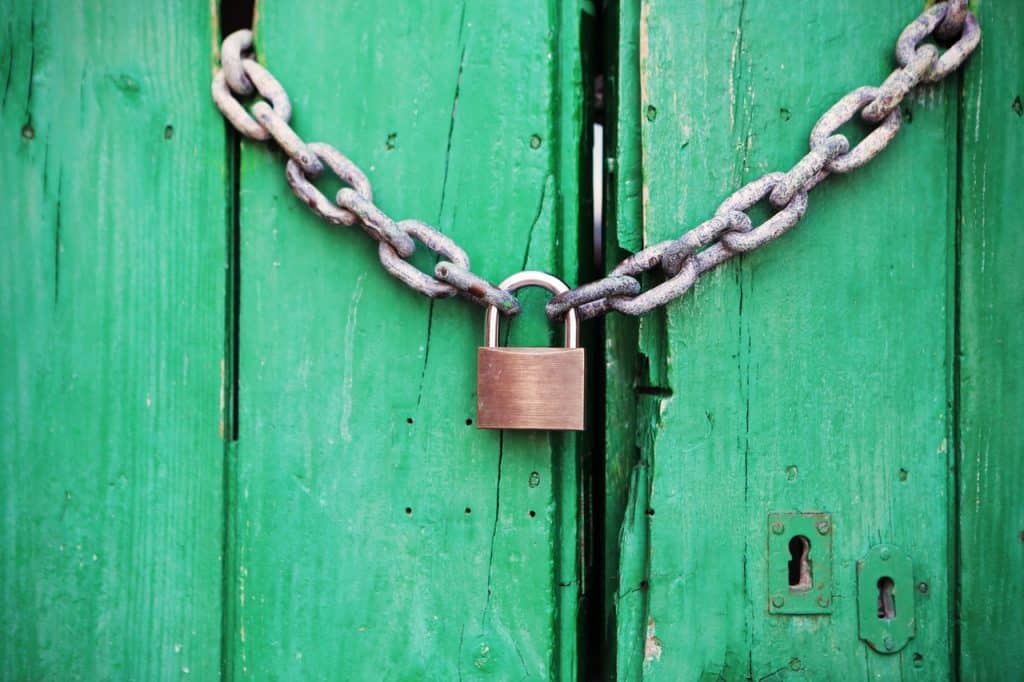 How reliable are these padlocks?
Padlocks are quite reliable, but it depends a lot on their build and quality. If you choose a good and sturdy material padlock, then it will offer you sufficient protection from brute-force attacks. And if you consider the security rating and the technology used in the construction of the padlocks, then you will learn how secure the Padlock is from external manipulation as well.
Most of the padlocks listed in our guide offer good security and are extremely reliable in keeping your belongings safe both at home or while you are traveling.
How To maintain these padlocks?
Although most padlocks have been built for rugged use and don't require any care or maintenance on your part, it is a good idea to still care for your Padlock to prolong its life. With minimal care, you can easily add a few years to your Padlock so that it can keep your belongings secure for a long while and is smooth to use too.
Here are a few things that you can do to take good care of your padlocks for smooth functioning:
Lubricate the Padlock regularly with a good lock-lubricating product so that it works smoothly.
If you live in a dusty or extremely corrosive environment, then clean and lubricate your lock every three months.
Use pressurized air to remove the dust from the keyway and shackle openings of your Padlock.
Make sure you lubricate the keyway, shackle opening, and the inner components of the Padlock properly.
Don't apply too much lubricant, and use a light spray or a few drops of oiler to achieve the lubrication of the lock.
Let the lubricant seep inside the lock thoroughly and tap it to distribute the lubricant inside the lock.
Once you have applied the lubricant, open and close the lock with the key several times to further distribute the lubricant and check the functioning of the lock.
Let the lock air dry before you start using it again.
Check for any damages or cracks and get it repaired immediately.
Other FAQs about padlocks
What is the difference between a lock and a padlock?
A lock is a fastening device that can only be opened with a key or a combination, while a padlock is a detachable lock that is used to secure something. You can open a padlock by removing or sliding the shackles open.
What is a padlock used for?
A padlock is a portable lock with a shackle that can be used to prevent theft or access to your personal belongings. It can be used to lock your doors, gates, lockers, bags, suitcases, and so on and secure your belongings inside.
Can I use the Padlock both outdoors and indoors?
Well, you will find several padlocks that can be used both outdoors and indoors, but this is not the case with every Padlock. If you wish to use a padlock outside, then make sure it is corrosion-resistant. You can look for stainless steel padlocks as they can withstand all kinds of weather. You can use any kind of material for indoor use.
How to keep your Padlock from rusting?
There are a lot of ways to ensure that your Padlock runs smoothly and doesn't end up getting covered with rust. Firstly, make sure you clean your Padlock once a month to get rid of the accumulated dust and debris. You can also lubricate the keyway and the shackle of the Padlock to prevent it from rusting. And make sure that you use the lock and use the key regularly to open the lock.
Should you choose a long or short shackle padlock?
A padlock can have a short shackle, a long shackle, an extra-long shackle, or an adjustable shackle. It is usually a good idea to choose a padlock that can be easily reached and opened with ease, so consider the space where you are going to be using it. If you are going to use the Padlock in tight spaces, then opt for a long or an extra-long shackle.
Should you choose Padlock with a specific security rating?
Yes, it is always advisable to check the security rating of a padlock before you purchase it. Opt for padlocks with a CEN security rating as it is most reliable. There are different levels of rating (1 – 6) available that will tell you how strong the Padlock is against attacks, and you can choose the one that will suit your security needs.
Also Read:
10 Best Printers For Small Business and Home
Best Note Cash Counting Machines