From your TV's remote controller to your kid's toys, a lot of gadgets and devices need either AA or AAA batteries to operate. When using such products on a regular basis, it becomes hard to buy use-and-throw batteries, which is not only doesn't make sense cost-wise but also severely harms the environment.
Rechargeable batteries add significantly to the convenience factor as you can simply pop them into a charger when they run out of power and they'd be as good as new within a few hours. Newer technology in the battery space allows them to have a much higher capacity and hold the power for much longer.
These are the best AAA and AA batteries that you should invest in.
Best AAA Batteries
1. Duracell Rechargeable Plus Batteries—Pack of 4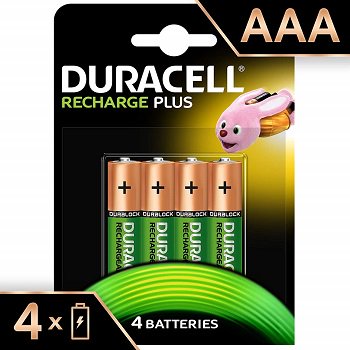 Each unit of the Plus AAA models has a capacity of 750mAh which is rated to last for up to 35 hours when used in a wireless mouse.
Once charged, the Duracell Plus AAA batteries can stay charged for up to 6 months without losing much of their power using the Duralock technology.
When you leave them unused for a long time, these batteries will maintain their quality for up to 3 years.
You will be able to charge the batteries for up to 400 times using any NiMH charger, meaning you won't need a special charger for this product from Duracell.
All the batteries will be delivered pre-charged so that you can get started instantly without having to worry about arranging the charger.
Pro: The batteries carry the much-revered brand value of Duracell that ensures its products offer excellent backup.
Con: None basically , sometimes you might get non pre-charged ones.
Check Cheapest Price – Amazon
---
2. AmazonBasics Standard Batteries—Pack of 4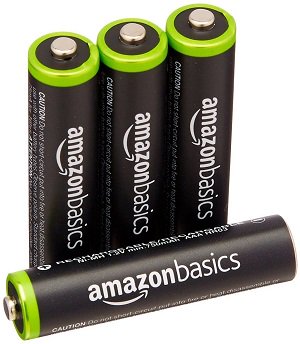 Part of AmazonBasics brand, these batteries are designed to offer great performance at a reasonable price point.
Unlike other popular products in the similar category, these AAA batteries can be charged up to 1000 times, which is great for extending their overall life further.
When left unused for over a year, the batteries can retain their 80-per cent charge while they will be ready for being recharged even if you don't use them for over 3 years.
Meant for high-drain devices like cameras and toothbrushes, this AmazonBasics product can offer an extended running time when compared to non-rechargeable batteries.
Amazon makes this product in Japan and is sold pre-charged using solar energy.
Pro: The company is offering a warranty of 1 year on this product that shall reasonably cover if any fault comes up.
Con: None
Check Cheapest Price – Amazon
---
Best AA Batteries
1. Panasonic Eneloop Pro Batteries—Pack of 4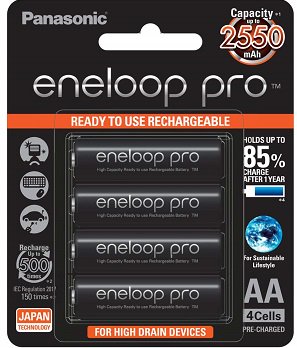 In the space of AA batteries, the Eneloop Pro models from Panasonic rule with their highest 2550mAh capacity. It is a performance battery that should be used for demanding gadgets like DSLR and tactical flashlights.
As is the case with many rechargeable batteries, this one too can be recharged up to 500 times, which should last you longer since each charge cycle yields a longer runtime.
Manufactured in Japan, these Panasonic rechargeable batteries can retain their 85 per cent power even after 1 year of no use.
The company has designed them to charge using any Ni-MH charger that you can find. With that, Panasonic ships them charged so that they are ready to use when they arrive.
Pro: Panasonic is a brand of Japan where the highest-quality batteries are made that suite your needs in all cases.
Also Read : 10 Best True Wireless Earbuds Under Rs 2000
Con: Costly.
Check Cheapest Price – Amazon
---
2. Duracell Rechargeable Plus Batteries—Pack of 4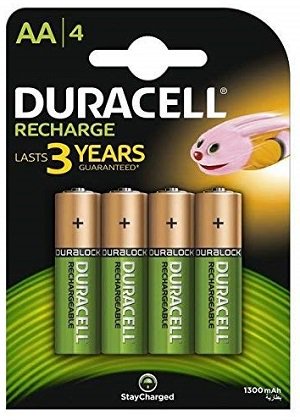 Similar to the Duracell AAA batteries, these AA rechargeable cells are part of the Plus series from Duracell and share the same excellent set of features.
Unlike the AAA model, this model comes with a higher 1300mAh capacity for each battery unit. In regular use, this higher capacity will help your wireless mouse last for up to 45 hours. And if you use it with a wireless game controller, then the battery should last for up to 25 hours.
It carries the same Duralock technology that is absolutely great if you plan on keeping the batteries idle for several months at a stretch.
You can expect it to support about 400 charge cycles while maintaining its health and it comes with inherent compatibility for Ni-MH chargers that are a market standard.
Pro: The AA variety of batteries are required for multiple kinds of expensive devices and having the Duracell's assurance of no leak gives peace of sense.
Tip: Duracell's Ultra model comes with an even higher capacity which makes more sense for some demanding users. But it's also more costly.
Check Cheapest Price – Amazon
---
3. AmazonBasics Standard Batteries—Pack of 4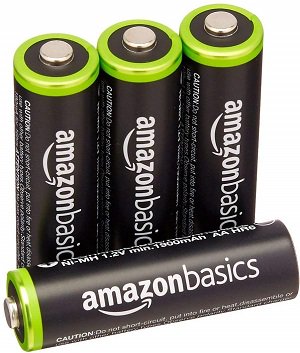 Despite being a Standard model from AmazonBasics, these batteries come with a capacity of 2000mAh, which is close to what higher-end products offer.
These units are made in Japan and meet the highest quality standards you can expect from a product of this category. For maintaining environmental health, these batteries are precharged using solar power and come ready for use.
Standing true to their quality commitment, the AmazonBasics batteries can be charged for over 1000 times which isn't a common feature you can easily find in comparable products.
You will be able to charge these batteries using any Ni-MH compatible charger and the company offers 1 year of warranty which you can easily claim over call should the need be.
Pro: These are one of the cheapest 4-pack AA batteries coming with such a high capacity of 2000mAh.
Con: None.
Check Cheapest Price – Amazon
---
4. AmazonBasics High Capacity Batteries—Pack of 4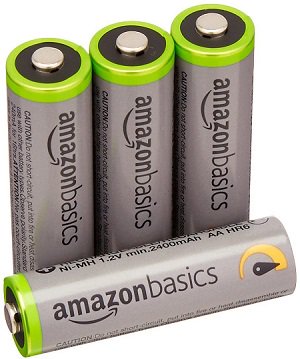 As their name suggests, these batteries from Amazon have a higher capacity of 2400mAh and they last quite a bit more than their standard models. This stands true for most high-drain devices like DSLR and flashlights.
Similar to other AmazonBasics batteries, these too last for over 1000 cycles of charging and paired with the longer battery life they offer, this product should last you really long.
They also come with higher retention capabilities. You can keep these batteries unused for about 3 years and they will still have 65 per cent of juice left in them. This also means that they retain their overall capacity for several more years.
Compatible with the usual Ni-MH chargers, the batteries come with a warranty of 1 year and are ready to use out of the box.
Pro: With a battery capacity of 2400mAh, you can use each of these units for many high-drain devices while ensuring you don't need to charge them every few days.
Con: You may find these batteries to heat when put under continuous stress.
Check Cheapest Price – Amazon
---
5. Sony CycleEnergy Batteries—Pack of 4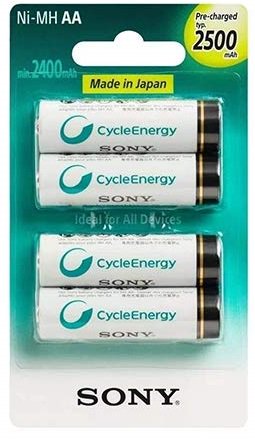 Like its Japanese peer Panasonic, Sony also makes AA batteries and they are some of the best ones in their category.
Each of these batteries has a capacity of 2500mAh, which is one of the highest in the market and Sony claims these units can last up to 3 times more than any of the usual Alkaline batteries.
These are high-end batteries and support up to 1000 charge cycles and you get to use any Ni-MH lying around.
While ideal for high-drain products, these batteries work perfectly even with low-drain devices like wall clocks and little toys.
Sony offers a warranty of 1 year on this product so that you can buy it with confidence.
Pro: Sony makes these batteries in Japan which is a hub for such quality cells that offer uncompromising performance.
Con: There is no charger included within the package and you're required to get one separately.
Check Cheapest Price – Amazon
---
Smart 4-Slot Charger
Panasonic BQ-CC17E/B Eneloop Advanced AA & AAA Battery Charger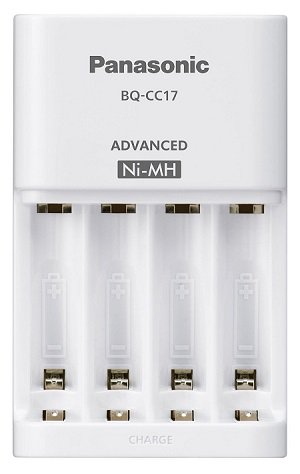 Coming from Panasonic, this advanced charger is a superb choice for anyone having rechargeable batteries that support Ni-MH chargers.
It is compatible with both AA and AAA variety of batteries and they are housed in the same space.
Each of these charging points is accompanied by an LED light to convey the charging state of the battery. You can charge even a single battery using this charger.
For Panasonic's Eneloop batteries, you can charge them in under 7 hours. Your mileage for any other brand of batteries may vary depending on their capacity.
Pro: It is a standard Ni-MH charger and is compatible with all the batteries that support this standard allowing you to put in almost any rechargeable battery you own.
Con: It is an additional investment you need to make in addition to the rechargeable batteries.
Also Read :

10 Best Portable External SSDs