Gone are the days when people would spend time growing real grass in their lawns or gaming lawns. Nowadays, most people are opting for artificial grass as it is easy to install and maintain. And with such a wide range of artificial grass available in the market, you can easily find the best one for your garden and it can become a little confusing to choose.
In this guide, we have listed down the best artificial grass carpet mats that you can buy in India along with a few important things that you might need to know. So, read on to know the best artificial grass that you can buy for your purpose.
1. Eurotex Artificial Grass Carpet Mat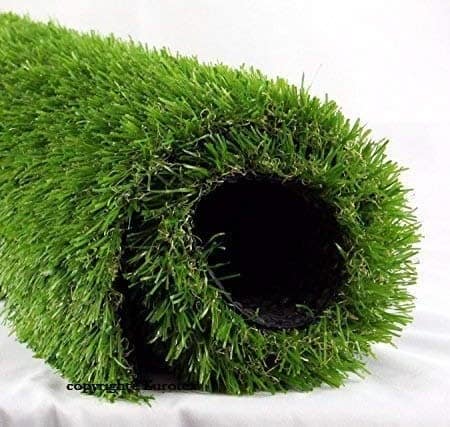 If you are looking for artificial grass that will turn your lawn pretty and is great for outdoor activities, then Eurotex Artificial Grass Carpet Mat is the perfect choice for you. Available in several different sizes, this artificial grass rug is great for weddings and picnics and is extremely easy to clean and maintain. The grass comes in 4 color tones to give the grass a slightly natural feel. This soft grass mat can also be used in all the season and won't get affected by rain or snow.
You also don't have to worry about shredding and it is quite durable and long-lasting. Moreover, it is UV resistant and environmentally friendly. It is a little expensive but if you are looking for a long-term investment in artificial grass then this is the right product.
Check Cheapest Price : Amazon
---
Also Read : Best Electric Lawn Mower in India
2. Realistic Thick Artificial Grass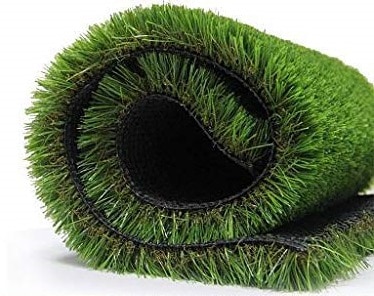 Realistic Thick Artificial Grass is another great option to consider that will give your small garden the feel of a live plant. The grass includes a 4-tone color and is extremely soft and lush so it resembles real natural grass. It will be ideal for both indoor and outdoor projects and you will be able to enjoy year-round greenery in your vicinity. Since this artificial grass is made from high-quality UV-resistant polyethylene and poly polypropylene yarn, it can easily endure high temperatures and is resilient and durable.
It also includes a drainage hole that makes it easy to clean and dry up quickly. Another great thing about this product is that it is non-toxic and eco-friendly. Plus, you don't need to mow, water, or add fertilizer to this grass. If you are looking for artificial grass for outdoor décors such as a patio, balcony, deck, porch, etc., and indoor décor such as carpets, doormats, and so on.
Check Cheapest Price : Amazon
---
Also Read : Best Pressure Washers For Cars & Home
3. Yazlyn Collection High-Density Artificial Grass Carpet Mat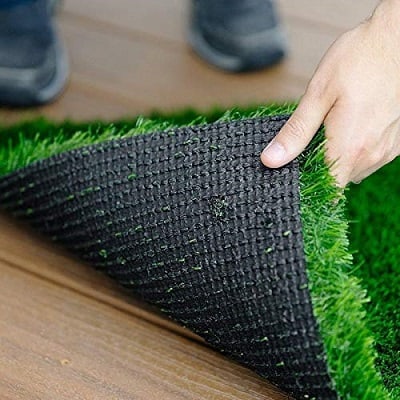 Yazlyn Collection High-Density Artificial Grass Carpet Mat is a double-stem hybrid grass that looks like real grass and offers amazing stiffness and abrasion resistance. Made from high-quality synthetic material, the grass is super resilient and durable. And it uses specially processed knitted curly yarn with U-shaped monofilament and weaving that makes the grass look more natural.
This artificial grass is unique and looks like a well-groomed grass all over the year. It is safe for kids and animals as well and will enhance the look of any space. Available in different sizes, this artificial grass is easy to install and you can put the grass directly on the ground so that it stays. The bottom of this artificial grass comes with a rubber-backed drainage hole that makes it easy to clean and drain the artificial grass whenever you want.
Check Cheapest Price : Amazon
---
4. Yellow Weaves™ High Density Artificial Grass Carpet Mat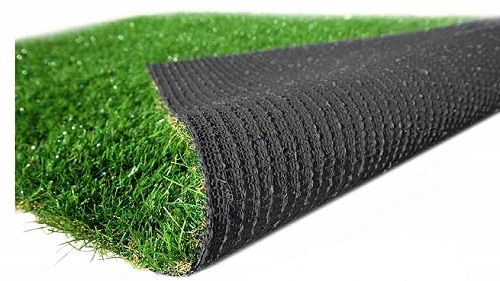 Yellow Weaves High Density Artificial Grass Carpet Mat is an all-season carpet that is great for both indoor and outdoor use. This product requires zero maintenance and is extremely durable so you can easily use it for a long time. Also, it can easily sustain UV rays, heat, and other adverse conditions, so you can use it in any season. This artificial grass resembles natural grass and is eco-friendly.
You will find several different sizes available in this product so you can easily find the right size to suit your space requirement. The grass can be used in your balcony, park, garden, school, or even public places. And it can be used for decoration or landscaping in residential areas as well.
Check Cheapest Price : Amazon
---
Also Read : Best Recliner Chairs in India
5. RAJ MAHAL RAJMAHAL High Density Artificial Grass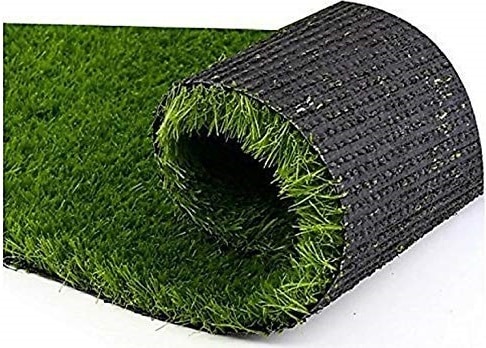 If you want a cheap artificial grass doormat, then Raj Mahal High Density Artificial Grass is a great product to consider. This is an eco-friendly product that requires zero maintenance and offers high durability. You can use this grass mat in all seasons as it can manage both heat and UV rays and won't get damaged easily. Also, since there is minimum shredding, it is easy to clean as well and you can easily use it both indoors and outdoors.
The artificial grass looks similar to natural grass and you can use it as a carpet inside the house, landscaping gardens, decorating the balcony, and so on. Overall, this is the cheapest small-sized artificial grass that you can find available in the market that will give you natural grass look.
Check Cheapest Price : Amazon
---
How To Choose The Best Artificial Grass For Myself?
When you are choosing artificial grass, consider the below-mentioned factors to make the right choice.
Determine the Usage of the Artificial Grass
First and foremost, you need to consider how you are going to use artificial grass. Will you be walking or it every day or do you have kids or pets that will be using it regularly? It is important to consider the usage because if you need grass for heavy usage from people and pets and you make the wrong choice, you could endure a heavy loss.
If you have kids who love to play on the lawn or pets that tend to roam around a lot, then choose a durable grass carpet mat.
Also Read : Best Electric Lawn Mower in India
Check the Pile Height and Density
Another thing that you should look out for is the blade length and the pile density. You can choose a long blade but it will eventually wear down and give a flat and dull look to your yard. To make them stand up again, you will need to sweep with a broom.
On the other hand, if you are looking for a natural look, then you can opt for a 30 – 37 mm blade length that will give a polished and natural look to it.
Consider the Color of the Artificial Grass
This is also important to consider when choosing artificial grass for decoration or landscaping purposes. You might be tempted to buy grass that looks extremely green but it will stick out unnecessary and won't be as durable as well.
It is always advisable to choose synthetic grass in varying shades of green such as olive green, lime green, dark green, etc. This will give a more lush and natural look to your lawn or garden.
Select Good Quality Material
Another important thing to keep in mind when choosing artificial grass is the material used in its construction. Generally, artificial grass made from polyamide, polypropylene, polyethylene yarns, or a combination of the three is good and durable. Apart from that, make sure that the turf grass is evenly backed and color consistent.
A good quality artificial grass made from synthetic material will be slightly expensive but it will good for long use. It is always a good idea to ask for samples as well before you purchase the grass online as you get a chance to touch and see the product before.
Ease of Maintenance
Most importantly, you need to choose a grass that is easier to maintain. Ideally, if the grass is costly, it would need zero or no maintenance. Also, consider the weather conditions in your region and choose artificial grass that would fare well under that.
Your turf should be easier to clean and dry up and should be durable enough to handle most kinds of debris.
Who this is for?
Artificial Grass is great for decoration and landscaping purposes and can easily be used indoors and outdoors. It can be used in schools, lawns, gardens, and other public areas where there needs to be greenery with minimum maintenance.
Artificial Grass Vs Real Grass?
Although you can choose artificial grass or real grass for your landscaping and decoration purpose, both of them have their own pros and cons. Real grass requires constant watering so you will need to spend a lot of time on that but the same is not the case with artificial grass. Artificial grass requires watering only when you need to clean it which can be as little as once a week.
Next, you need to remember that fake grass doesn't require harmful chemicals for growth so it is safe for use around kids and pets. Real grass is also safe as long as you don't use any harsh, toxic chemicals.
A freshly mowed grass lawn smells amazing which is why most people opt for it. However, if the effort of mowing the lawn is a bit too much, then artificial grass might be a better option for you. Most importantly, you need zero maintenance for artificial grass whereas real grass requires a lot of attention and watering.
Is it suitable for pets?
A lot of pet owners worry about whether buying artificial grass is a good choice for their pets or not. Well, it is 100% animal-friendly so you don't need to worry about your pet getting hurt. Moreover, since artificial grass is easier to maintain, it might be the best choice for pet owners.
With artificial grass, there is minimal chance of staining, lingering odors, and your pet won't end up digging holes in it. So, you can enjoy the grass without the headache that you would have to go through with real grass.
Also Read :
10 Best LED TV in India (Smart / Non Smart)
Best Note Cash Counting Machines
10 Best Pedestal Fans in India
Best Table Fans For Home & Office