Maintaining a lawn may be an exhausting task but it becomes less of it with the help of a quality lawn mower. Keeping the grass height in check, the mower not only allows you to keep the lawn tidy but also makes sure you don't strain yourself with any manual work. After getting one, you'll definitely wonder how did you live without it!
Who should buy a lawn mower?
This one is simple and many of you might have already figured it out. If you have a lawn that is larger than what'd take just a few minutes to maintain using a pair of handheld grass shears then you should consider getting a lawn mower. Doing manual work on a small lawn may not be tiring but a larger lawn will definitely make it so. If your lawn is anything larger than a few square metres then you should already be looking for a mower.
To help you with that, here is a comprehensive guide to getting a mower that is suitable for your lawn and what your needs are. After understanding a few things about these machines, you will find a list of electric lawn mowers that we recommend.
Best Electric Lawn Mowers in India
1) Makita Japan 1400W Electric Lawn Mower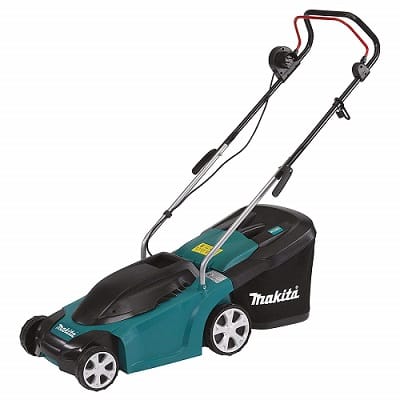 Pros:
Makita's electric lawn mower has a push-style mechanism and a foldable frame for easier storage and movement, also thanks to its 14.2Kg weight and plastic build.
The cutting width is 37 cm for you to cover the entire lawn quickly and it includes a 35l storage space for the grass.
As per your need, you can adjust the cutting height at three levels so that you get that perfect trim.
This is the best option for your office lawns and normal sized gardens.
Cons:
Makita doesn't provide you with any power cable , so you buy the desired length from any local shop.
Check Cheapest Price : Amazon
---
2) Black & Decker 144W Electric Lawn Mower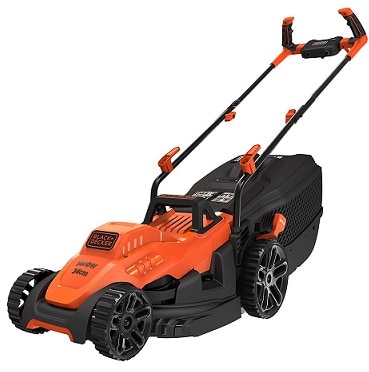 Pros:
There are two ergonomic bike handles that have a paddle controller built in for easier use.
It is a corded lawn mower and needs 1400W of power and it comes with 2 years of warranty.
A 40-litre-large basket is provided in the package to store the grass without spilling any.
Being made out of sturdy plastic, the machine is lightweight and can be moved around easily.
Cons:
It is a push-style lawn mower and doesn't use the power to move ahead, instead you have to push it.
Longer grass cannot be cut in one go; you'll need to try a couple of times.
Ideal only for smaller lawns.
Check Cheapest Price : Amazon
---
3) Bosch ARM-32 1200W Electric Lawn Mower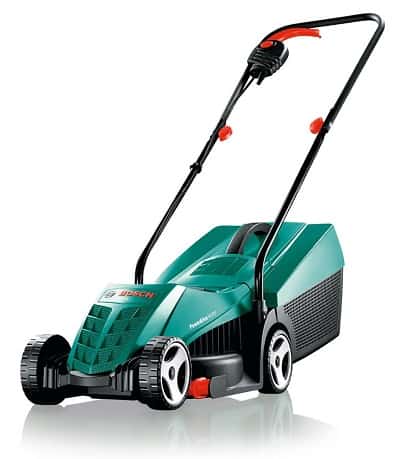 Pros:
Coming from a brand like Bosch, this lawn mower has a cutting width of 32cm while the height can be set between 20 and 60m.
The mowing handle can be folded and a grip handle is provided to comfortably pick it up especially since it weighs just 88Kg.
Two sets with two sturdy wheels each are included and so is a 31L grass collecting bin.
Cons:
Not particularly ideal for larger lawns as there is a chance of motor heating up. Being light, its part may seem flimsy.
Check Cheapest Price : Amazon
---
4) ToolsCentre TC-LM385 Electric Lawn Mower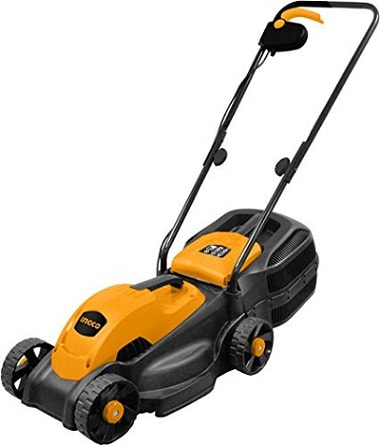 Pros:
This bright yellow lawn mower has a sturdy handle for having a firm grip and it also houses the controls to run the mower.
Four sturdy wheels make it easier to push and move across your lawn while the included 45-litre grass box is large enough to capture a lot of waste.
A storage area for its power cable is also provided in this mower to keep it tidy.
Cons:
After-sales support from this brand isn't the strongest amongst its peers.
You must supply your own power cable of a length that you require.
Check Cheapest Price : Amazon
---
5) Falcon Roto Drive-33 Electric Lawn Mower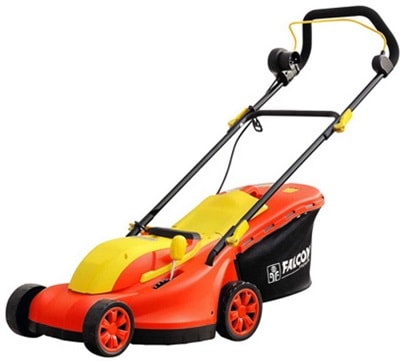 Pros:
One advantage that this Falcon lawn mower has that it comes with a 15m wire inside the box.
You are served with a 1200W motor that can satisfactorily get the job done on a small to medium-sized lawn.
It comes with a cutting width of 13 inches and offers 7 levels of cutting height which you can adjust as per your preference.
Cons:
You will have to empty the 35-litre storage bin more frequently if the grass is a bit large.
Heating could be an issue when the motor is used for an extended period.
Check Cheapest Price : Amazon
---
6) BKR 300 Electric Lawn Mower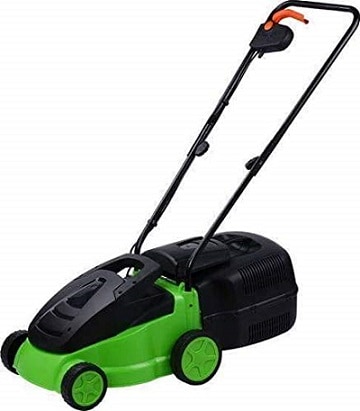 Pros:
For people with smaller lawns, this BKR mower will be a perfect product that gets the basics right and does its job well.
It allows you to adjust the grass cutting height at three levels and the cutting width is 300mm.
With this, you shouldn't take too long to get the lawn cleaned. Being smaller, it is also lightweight for easily carrying it.
Cons:
This is a really basic lawn mower that cannot be used for larger lawns.
Check Cheapest Price : Amazon
---
7) Sharpex Lawn Mower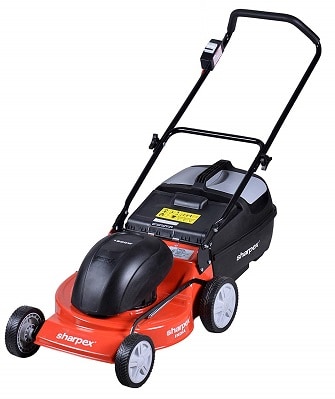 Pros:
Certainly, an excellent product, this Sharpex mower is available in two blade sizes which you can choose based on your needs.
Its 18-inch blade is large enough for medium to large lawns and it uses a powerful 1800W motor.
Each wheel has its own mechanism to alter its height from 20mm to 75mm. A collector box is included in the box, so is a 30-metre-long wire.
Cons:
Price of this machine is way higher than most would like to spend on such a product.
Metal is used for making the main body which has caused the mower's weight to rise to 25kg, which isn't something you can pick easily.
Check Cheapest Price : Amazon
---
8) Makita 370mm Electric Lawn Mower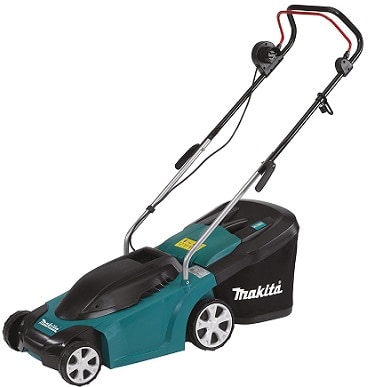 Pros:
Makita is one of the well-known brands in the market and it has used a sturdy 1300W motor inside this machine.
This lawn mower is designed to cover an area of 500 m. sq. and has a storage capacity of 35 litres for grass storage.
The cutting width of 370mm should be wide enough for most lawn sizes.
Cons:
If you are not familiar with lawn mowers, you will find it hard to understand and use its functions.
The supplied attachment screws for the handle aren't the best quality either.
Check Cheapest Price : Amazon
---
9) Honda HRJ216 K2 Lawn Mower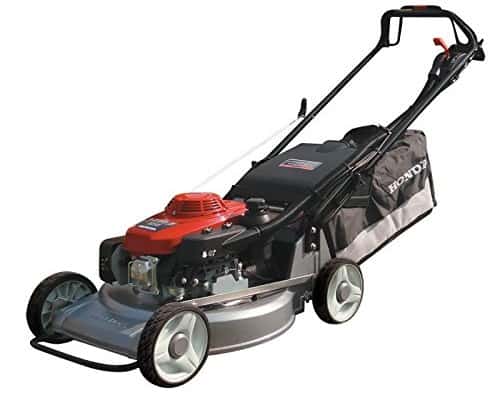 Pros:
Made by Honda, this premium walk-behind lawn mower is one of the more powerful machines since it is fuelled by petrol.
It uses a fuel-efficient OHV engine paired with 1.5 litres of fuel capcity and you wouldn't need to stay tethered to a wire to use this.
Honda has majorly used metal for this product which should last you really long.
There is a safety shield behind the mower and releasing the lever stops the machine within seconds.
Cons:
While sturdy being made out of metal, the mower gets quite a bit of weight which makes it harder to move around.
The price of the machine is on the higher side.
Check Cheapest Price : Amazon
---
10) Bosch AdvanceRotak 650 Electric Lawn Mower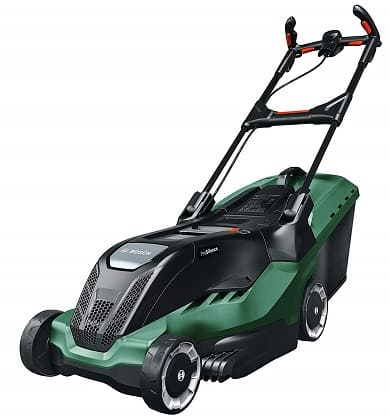 Pros:
Despite being a powerful 1700W machine, this lawn mower is much more silent than others.
It has two ergonomic handles that house all the required controls.
The mower allows you to move it around without many efforts and you can also adjust the cutting height as per your liking.
The cutting width is about 41cm which should be great if you're looking to use it in a large area.
Cons:
For one, this premium Bosch lawn mower is priced a bit too high and many cannot afford it.
Secondly, this machine is meant for larger lawns and should avoid it if you have a smaller one.
Check Cheapest Price : Amazon
---
Types of Lawn Mower
1) Walk-Behind Power Mower
These are the most practical and widely available lawn mowers available here in India. While the cutting motor is powered, you need to walk behind it to give it a little push for heading forward. On the other hand, the self-propelled variants use the power also to move ahead without any physical push from you. They tend to be ideal for small to medium lawn sizes and are lightweight enough for being moved around. They cost less and are also easier to maintain.
2) Robot Mowers
Robots aren't taking over the world but some of them are capable of helping those who hate mowing their lawns. Like the mopping robots, these tiny mowers can be programmed to work at a particular time and they will get most of the mowing job done without you having to supervise. The only thing is that they cost much and aren't easily available in India either.
3) Push Reel Mower
Traditionally used for mowing lawns in the early days of mowers, these mechanical machines can still be quite useful if you have limited needs and don't expect much from a lawn mower. They don't need any kind of power and are operated manually.
4) Hover Mower
As their name suggests, this particular kind of mower has no wheels. Instead, it hovers over the lawn surface using the air cushion it creates. Such mowers use plastic for keeping their weight in check and have electric motors. Hover mowers are just hard for using over uneven surfaces.
Things to Consider While Buying a Lawn Mower
1) Lawn Size
Based on the size of your lawn, you will have to determine the kind of mower you might need and how much its capacity should be. Getting a heavy-duty mower for a small field will not only be overkill but also burn a hold in your pocket. Take note of your lawn size and get a mower recommended for that size.
2) Corded or Cordless
Most of the mowers that you will come across here will be wired and you will have to ensure a nearby plug point for them to operate. Some even require you to provide your own cord. If you look hard, you can get a cordless mower but that'll be worth the investment only on a large lawn.
3) Propulsion
A basic electric mower requires you to walk behind them and also push them for moving forward as they use power only for the motor. Self-propelled ones still require you to walk behind them but they don't require you to sweat while pushing.
4) Cutting Width and Adjustable Height
It's simple, the wider the cutting blade the more quickly you can cover the lawn and the fewer rounds you need to make. Take note of this characteristic of each mower you look for and find a good balance. Adjustable height is important for you to choose the exact you want the grass to be after the trim.
5) Discharge Storage
You don't want the cut grass falling back on the lawn, that's the reason, most modern lawn mowers come with a grass box that holds the discharge until you're ready to dispose it off somewhere. A smaller storage area will require you to empty the box more frequently than a larger box.