A good comforter is not only essential for a comfortable sleep at night but also keeps you warm during a mildly cold temperature. And this doesn't apply just to winter months but to summer months as well when you switch on the A.C to enjoy a cool and sound sleep.
But choosing an ideal comforter for your home is not as simple as it sounds. After all, you have to look for a product which not only keeps your appropriately warm but lasts for years as well. In this article, we will discuss a few factors to consider when looking for the perfect comforter and list down a few comforters which are currently the best in the market.
Table Of Contents
How We Picked Best Comforter for Your Home ?
Here are a few factors and features that you should pay attention to when looking for the ideal comforter.
Consider the Material and Filling of the Comforter
One of the most important factors to consider when buying a comforter is the material and the filling used in its construction. Make sure that the filling inside your comforter is high quality and won't weight down the comforter. For this, you can look at the fill power of the comforter, the higher the power the better is the filling. This also means that your comforter will be fluffier and more breathable than comforters with a lower fill power.
Apart from the filling, the material used also plays a major role as you have to consider your skin care as well. Check if the material is soft and velvety or is it rough like polyester and choose a comforter which will suit your skin.
Consider the Size and Weight of the Comforter
Next thing to look into is the size and the weight of your comforter. You will need to check the size of your bed and decide whether you need a comforter for a queen size, king size, double bed, or a single bed.
Also, you will need to determine the perfect weight for your comforter. If you are looking for a comforter for mild warmth then you can go for a lightweight comforter. But for summers, you might want a comforter which is light and not too warm as well.
Look for a Hypoallergenic Comforter
Another important thing to look out for is the hypoallergenic feature. Usually, down comforters are hypoallergenic in nature as they use high-quality feathers as the filling. So, make sure that your comforter has a clean and hygienic filling and that there isn't any dust or allergens on the comforter which can trigger an allergic reaction.
For this, it is important that you only purchase tested comforters who are marked hypoallergenic.
Consider the Care and Maintenance Required
And lastly, look for a comforter which is easy to clean and care for. Check for the cleaning instructions before you purchase it for yourself. Some comforters require machine washing while some require hand washing and then there are few which can only be dry cleaned.
It would be better to get a cover so that you don't have to wash your comforter often and can just change the cover when it gets dirty. Also, if your comforter is machine washable then make sure you wash it on a gentle cycle and add dryer balls to keep it fluffy and soft.
---
Best Seller With Most Positive Feedback
Solimo Microfibre Reversible Comforter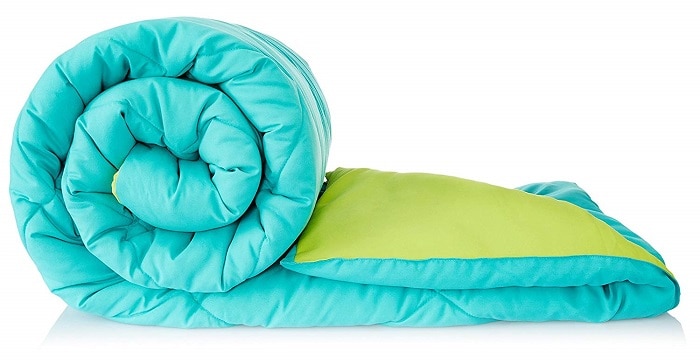 One of the best comforters in the market which currently has the most positive reviews on Amazon is the Solimo Microfibre Reversible Comforter. Perfect for a Single bed, this comforter contains 200 GSM hollow siliconized polyesters which make it adequately warm and comfortable for mild winters and A.C rooms.
It is also quite lightweight which makes it ideal for daily use and since it is reversible; you can change the sides every few days to escape monotony. Made up of 100% microfiber shell, this comforter feels and looks quite luxurious and would really compliment your rooms. Also, the machine stitched pattern ensures that the filling will stay in place and that your comforter will last a long time. And the hypoallergenic filling makes sure that you won't face any allergic reactions while using this comforter.
You also have 6 color options to choose from so, you can easily match it with your home décor. Overall, this is a good, safe, comfortable, and affordable comforter at an affordable price which is why so many customers are happy with this product.
---
Runner Up Comforter
Clasiko Reversible Double Bed King Size Comforter/Duvet For Winters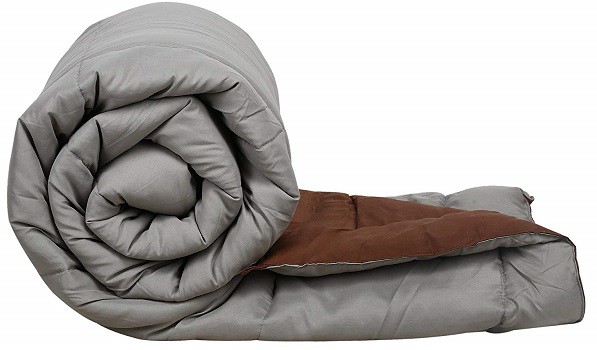 This three-layered reversible comforter for king sized bed is another great option for customers as it is affordable and effective. Available in more than 10 colors, this comforter is made up of micro cotton on both its sides and has synchronized fiber stitching. This fiber ensures that the comforter will maintain the same thickness for product lifetime.
One of the best things about this comforter is that it can be cleaned both by machine wash or hand wash although you have to be careful while drying it.
Ideal for cold winters and chilling A.C rooms, this comforter is both soft and comfortable. And it also includes color fastness and no bubbles on the comforter guarantee so you don't have to worry about it looking messy anytime soon. Also, since it has a hypoallergenic filling, it is safe for use by kids, asthmatic patients, and allergy-prone customers as well.
---
Priciest Pick
AmazonBasics Reversible Microfiber Comforter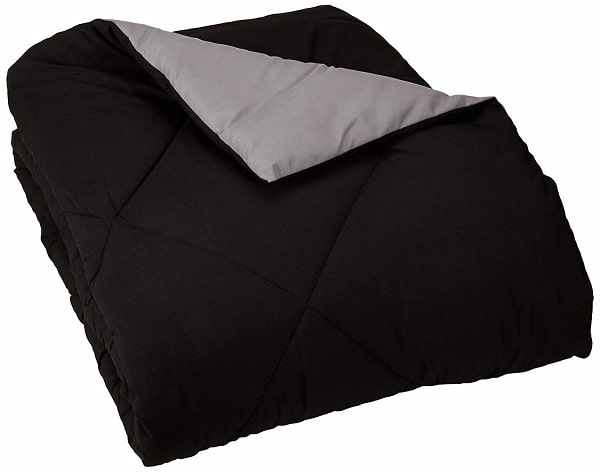 If you are looking for the best quality comforter and don't mind paying a bit more for it, then AmazonBasics Reversible Microfiber Comforter is the perfect choice for you.
This soft and simple comforter for a single bed is reversible with one surface as black and the other white, so you can flip it for a new look to your room. The best thing about this comforter is that it is easy to care and can be machine washed using permanent press cycle and warm water. But make sure that you use non-chlorine bleach when needed for the comforter.
Since it is made up of 100% polyester microfiber, it is soft, breathable, and wrinkle resistant as well. And it contains a plush fill which ensures warmth during winters and cozy temperature for the rest of the year. It features diamond stitching which helps the filling to stay in place and further makes this comforter comfortable and long-lasting.
---
Budget Pick
Divine Casa Luxor Abstract Microfibre Single Comforter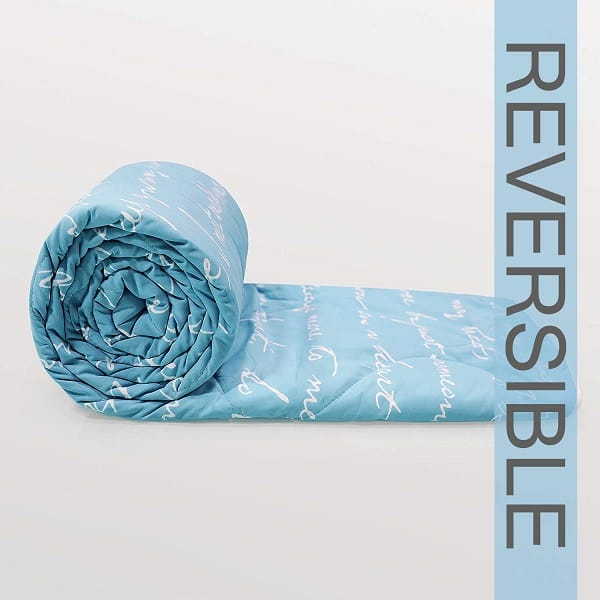 One of the most economical and appealing comforters in the market, Divine Casa Comforter is available in several attractive designs which makes it an attractive option for customers. This single bed comforter is easy to care for and can be machine washed in cold water and tumble dried at a low setting. It is reversible so you can flip it when you get bored and need a change and retains a lot of warmth which makes it perfect for chilly winter nights.
Filled with 100 GSM hollow siliconized polyester, this comforter is soft and comfortable and lightweight which makes it perfect for everyday use. And since its exterior is made up of microfiber, it is really soft and luxurious to touch. Also, the filling stays in place because of the diamond stitching which ensures that you will feel comfortable while using this comforter.
---
Complete with a Duvet Cover
Ahmedabad Cotton Ultra-Plush Solid Microfibre Single Comforter
One of the lightest comforters in the market which includes a duvet cover as well, Ahmedabad Microfiber Single Comforter is the perfect choice for people who are worried about keeping their comforter clean. Since it comes with a duvet cover, you can protect your comforter from dirt by covering it with the duvet cover and can simply wash the cover regularly in a few days. Since it is made up of hypoallergenic microfiber material, it is extremely breathable and comfortable to use.
It is also easy to clean and can be machine washed or dry cleaned, whichever seems easier for you. Its 200 GSM filling keeps you warm and cozy during cold winter nights and A.C rooms while the 115 GSM fabric on the exterior makes it soft and luxurious to touch. Another great thing about this comforter is that it is available in 14 solid colors so you have the option to choose the one which best suits your home décor. Also, since it is lightweight, you can carry it with you anywhere you want.
---
Other Competitors
Snoopy Home Ultra Soft Microfibre Reversible Double Bed Comforter is another great comforter made up of hypoallergenic material which keeps you warm and is easy to care for too. Due to the microfiber exterior, it is protected from wrinkle formation and is long-lasting while the diamond stitching ensures that the filling stays in place and doesn't form any lumps. Also, it is not expensive and comes under a mid-range price but a lot of customers complain that it is expensive for its quality. Many customers have also complained that its stitching is loose and comes apart after a few days of usage which is not something that you would want in a new comforter.
Story@Home Classic Microfibre Single Comforter is the perfect choice for people who want a simple yet elegant comforter without any bold designs. This comforter is made up of microfiber shell so it is quite soft to touch and will keep you warm during mild winters. However, it isn't thick so it can often feel like a bed sheet and also needs to be dry cleaned regularly which makes it a poor choice for everyday winter use.
Divine Casa Polyester Comforter is a 200 GSM filled winter comforter which features a machine stitched pattern for high durability. It is soft and comfortable but not made out of pure cotton and is more useful as a fan quilt than an A.C quilt. Another issue with this comforter is that it can be dry cleaned only so if you spill anything accidentally on this comforter, you cannot give it a quick wash at home.
Ein Sof Microfiber Comforter is also a decent comforter at a not-so-expensive price which is available in 16 bold and colorful designs. Available for both king sized and single bed, Ein Sof Microfiber comforter is soft, cozy, and lightweight. It has a hypoallergenic filling which keeps any allergies at bay and ensure a proper and safe night's sleep. It is comfortable and warm and keeps you toasty during winters but it doesn't look really attractive and its material can look and feel slightly cheap too. So, if you are looking for a comforter which adds a luxurious feel to your room then this might not be the best option in the market.
Cloth Fusion Pacifier Microfiber Reversible Comforter is yet another amazing, soft and reversible comforter with hypoallergenic filling at such an affordable price. Filled with 200 GSM polyester filling and an exterior of microfiber shell gives it a rich touch and feel. And due to the diamond stitch, it looks quite attractive while ensuring there aren't any lumps formed while using it. And while it keeps you warm, it often generates heat which renders it useless during summer or normal weather conditions. Also, a lot of customers have complained that this comforter has a bad stitching and holes on its surface.
Linenwalas Classic MicroFiber Comforter is a good and thick comforter which is made up of 100% premium cotton and is quite a popular comforter in hotels and resorts. It is also machine washable so you don't have to worry about dry cleaning it and is really plush and soft to use. However, you will find that due to loose stitching in a few products, it often leaves fur on your body and bed. Also, this comforter is more suitable for winters than A.C rooms so be careful when choosing this as your home comforter.
---
Also Read:
Top 10 Best Cheap Mattress Under Rs.10,000
5 Best Most Reliable Orthopaedic Mattress in India