Properly managing the temperature of your CPU is an essential aspect when constructing your PC. Effective cooling plays a critical role in maintaining optimal performance and preventing thermal throttling. By prioritizing temperature control, you can ensure the longevity of your PC.
When considering cooling options for your system, you will typically encounter two primary choices: Air cooling and Liquid cooling. Air cooling represents the more conventional approach, with air coolers often being more cost-effective compared to their liquid counterparts. For the majority of users, a decent air cooler will suffice.
In the case of air coolers, the generated heat from the CPU is transferred to heat pipes, and the fans then expel this heat away from the CPU plate. This process prevents the CPU from overheating. The effectiveness of air coolers can vary based on several factors, including the materials used, the size of the cooler, and the quality of the fans employed. Larger air coolers tend to provide superior heat dissipation, resulting in cooler overall system temperatures. However, it's worth noting that they can be quite bulky in size.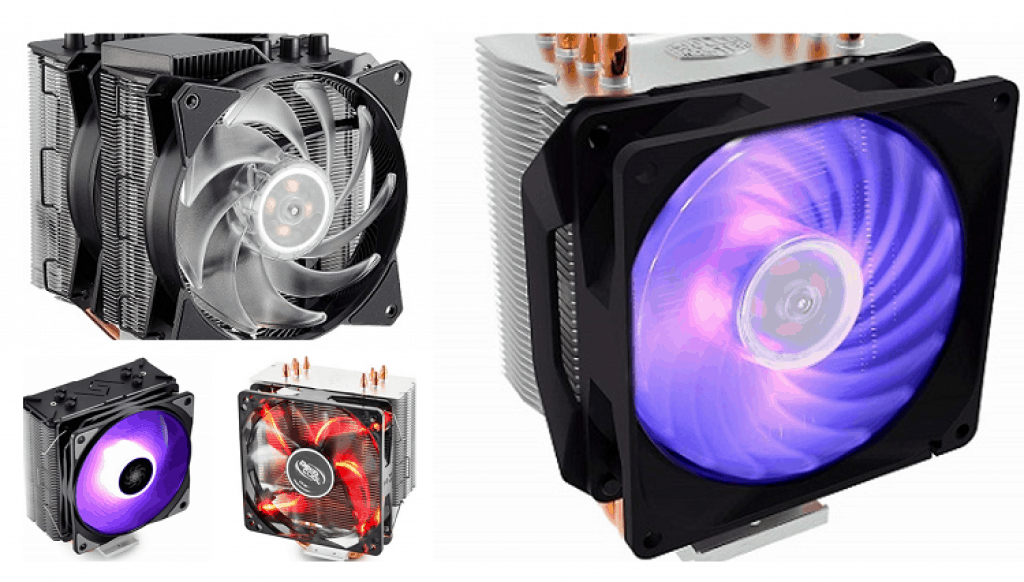 What to look for in an Air Cooler:
Fan Size: Air coolers come in various shapes and sizes, so when you are choosing a cooler for your system, be sure to check it's dimensions. Most air coolers should fit in decently sized PC cabinets, but for Small Form Factor (SFF) builds, you have to buy special low profile coolers.
Aesthetics: The overall look of the air cooler might be of importance to you, since a lot of people want their PC cabinet to look the best while some prefer a very minimalist look. You will find various coolers with and without RGB lighting, and some with just colored fans. It is a very subjective thing and depends entirely on you. There are many variations in lighting for coolers,since you might find coolers with full RGB support as well as coolers with fixed lighting, either to a single color or to a rainbow spectrum.
Sound/Noise: Since air coolers have fans that run at very high speeds, they are bound to generate a decent amount of noise. Some fans get really loud and might be an annoyance depending on your tolerance. You can also find some very quiet fans that offer great cooling.
Price: Ofcourse, when choosing any product, it's price is a major factor. Some air coolers are very good for their price range, while you might find some that are very overpriced. So a little bit of research goes a long way. We have included coolers from budget categories as well as more pricier options in this article.
Here are some of the best CPU Air Coolers that you can find in the market today:
1. Cooler Master Hyper 410R CPU Air Cooler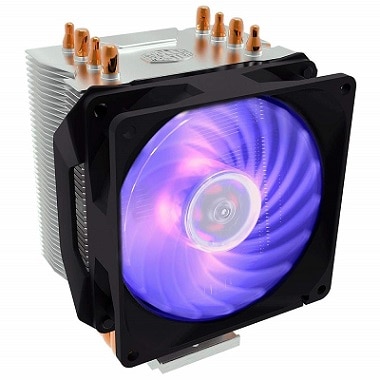 Highlights: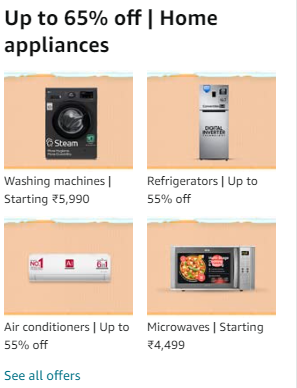 92mm Fan
RGB LED Fan
Fully Customisable RGB
4 Heat Pipes
Low Profile Cooler
The Cooler Master Hyper 410R is a great cooler for a very reasonable price. The cooler has a decently sized 92mm fan that has RGB LED lighting. You can customise the color of the lights to your own preference. The cooler is also very low profile and has a total of four heat pipes that are in direct contact with the processor,in turn providing excellent heat dissipation.
The cooler can be easily installed thanks to its great fan bracket design.For small form factor builds, this cooler is a good choice too.
---
Also Read:

Best AMD & Intel Based Motherboards
---
2. Ant Esports ICE-C612 CPU Air Cooler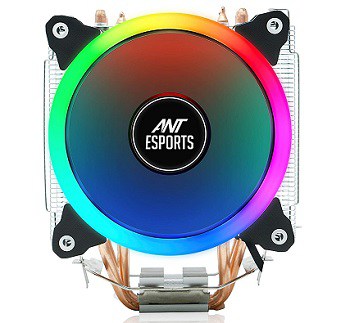 Highlights:
Silent Fan
Rainbow Illumination
Four 6mm Heat Pipes
Easy installation
The Ant Esports ICE cooler is a very good choice for bright RGB builds. It is priced very competitively and has great features for its price range. The cooler's fan is very silent and won't be audible during normal usage. There are four 6mm heat pipes attached to the base of the air cooler, which are great at heat dissipation. The RGB lighting on the fan is also very bright and looks great. The outer ring of the fan has the RGB LEDs and they are set to a fixed rainbow color preset. Unfortunately you cannot change the color of the LEDs, which means it will always be the standard rainbow lighting.
Also Read : Best Gaming Monitors in India
---
3. Thermaltake UX200 Air Cooler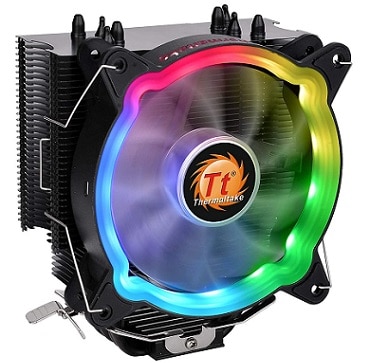 Highlights:
ARGB Fans with Sync
High Airflow Design
Reliable Hydraulic Bearing
Easy Installation
The Thermaltake UX200 cooler is an excellent choice for your setup if you want good cooling along with fully adjustable RGB lighting. The cooler has a very unique fan design and looks very modern. There are the usual four heatpipes on the base of the cooler and the fan has a very low profile design, so it will fit in most cases with ease. The RGB lighting on the fan is excellent as it gets decently bright and most importantly is fully customisable. You get the full RGB spectrum to choose from. The cooler runs at 130W and is very easy to install.
---
4. Cooler Master Hyper T20 CPU Cooler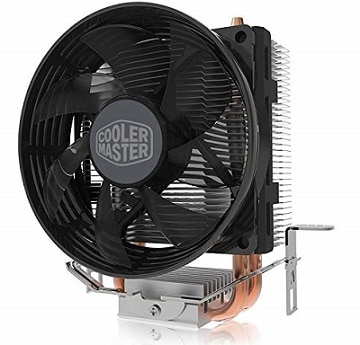 Highlights:
Very Low Priced
Simple Design
Easy and Quick Installation
Low noise Fan
Two Heat Pipes
The Cooler Master Hyper T20 is the cheapest cooler on our list. If you want a barebones, no frills cooler that just gets the job done and you do not want distracting lights on the cooler, then this is a great budget option. The cooler has a very simple and robust design and blends in well with most setups. There are two heatpipes on the base of the cooler and you get a low noise fan too. The cooler's height is also very low profile so it should be able to fit in compact cabinets too.
Also Read : Best Gaming Headphones Under Rs 1000
---
5. Cooler Master MA621P Air Cooler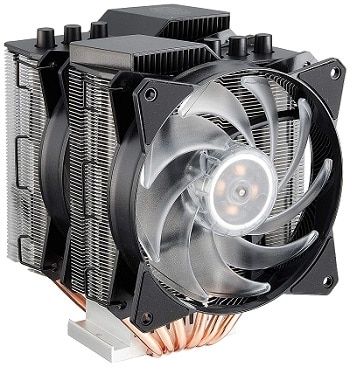 Highlights:
Twin Tower HeatSink
120mm RGB Fan
6 Heat Pipes
2 RGB Master Fans with full customizability
Silent Fan Operation
For high performance PCs that require great cooling and no compromises, the Cooler Master MA621P air cooler is a great choice. The cooler is quite bulky but it makes up for it thanks to its great cooling. There are two 120mm on either sides of the cooler and work flawlessly to improve airflow and keep your CPU cool. There are a total of six heat pipes on the cooler, which ensures you get the most efficient cooling. The fans also have full RGB lighting, which are fully customisable as you can set the color to anything in the RGB spectrum. The fans operate at very low noise too, which is a big advantage if you prefer quiet setups.
Also Read : Best Gaming Laptops in India
---
6. Aerocool Cylon 3 CPU Air Cooler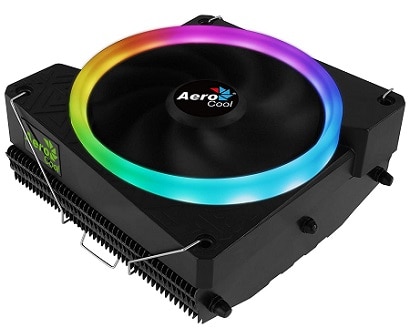 Highlights:
Fully Customisable RGB fans
Three ultra efficient Heat pipes
Top Down cooling design
Black Coating on Fans
125W
The Aerocool Cylon 3 is a very good low profile cooler that has excellent cooling and build quality. The cooler has a very slim design and is perfect for Small Form Factor builds. There are three heat pipes on the base of the cooler. While most coolers have a side cooling design, this cooler has a top down cooling design which helps in making it low profile. The overall aesthetic of the cooler is really good looking with a full black body and one RGB LED ring.The RGB ring has fixed rainbow lighting, but it looks really good in contrast to its black body. The cooler operates at 125W and has very low noise.
Also Read : Best Mechanical Gaming Keyboards in India
---
7. Deepcool Gammax GT CPU Cooler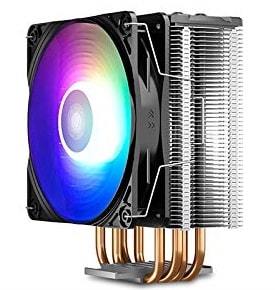 Highlights:
Addressable RGB
Black Top Cover
4 Heatpipes
120mm ARGB Fan
Universal Socket
The Deepcool Gammax GT cooler is a good choice but it is a bit overpriced compared to other alternatives. The cooler has good cooling thanks to its four heat pipes located on its base. The cooler has a 120mm fan that has full RGB control. The RGB lights are fully addressable and can be configured to any color you want. The cooler itself is very durable since it is made from aluminium. The cooler also has a universal socket which makes it ideal for installation to basically every type of motherboard and processor.
Also Read : Best Gaming Mouse in India
---
8. Cooler Master Hyper 212 CPU Air Cooler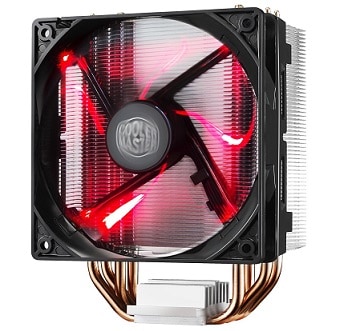 Highlights:
120mm Fan
Red LED Lighting
4 Direct Contact Heatpipes
Supports both AMD and Intel sockets
Easy Installation
Optimised Bracket Design
The Cooler Master Hyper 212 cooler is a good CPU cooler, but it is priced a bit higher than its competitors. The cooler has a 120mm fan which has red LED lighting. The color is fixed, so it is a bit subjective on it's appearance. Some people might prefer the cooler if they are going for a Red build, but for others it might be an eyesore. The cooler has four heat pipes on its base, which help in cooling. The cooler supports both Intel and AMD processors and has mounts for easy installation. The cooler is also very slim compared to other alternatives, so it will be good for smaller cabinets too.
Also Read : Best Graphics Cards In India
---
9. Deepcool Gammaxx 400R CPU Air Cooler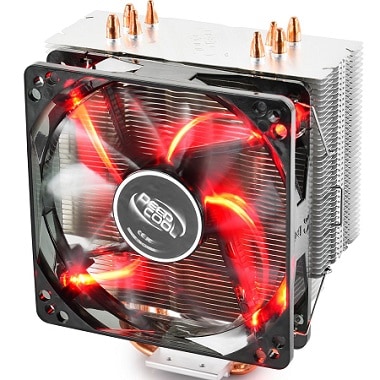 Highlights:
4 Heatpipes
120mm PWM Fan
Red LED lighting
Intel/AMD CPU support
Easy Installation
Extra Fan clips to add second fan
This Deepcool Gammaxx 400R CPU cooler is very similar to the Cooler Master cooler we mentioned above. Similar to the point that both have the same red LED lighting and fan setup. This cooler has a 120mm fan with bright red LEDs. There are a total of four heatpipes and the cooler is very good at providing great air flow. The cooler supports both Intel and AMD chipsets and one great feature is that you can add additional fans to the cooler thanks to its extra fan clips.
Also Read : Best Monitor Arm Stands in India
---
10. Deepcool Gammaxx GTE CPU Cooler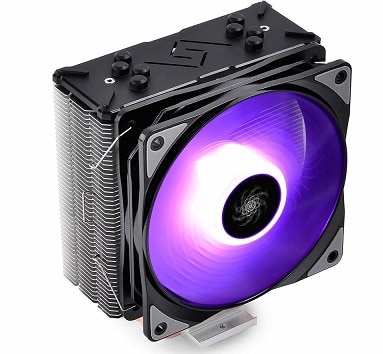 Highlights:
Full RGB Lighting
Black Top Cover
Optimised Mounting Kit
4 Heatpipes
120mm RGB PWM Fan
The Deepcool Gammax GTE is a decent cooler, but it is let down by its higher price compared to other alternatives. The cooler has a 120mm fan with PWM control. The fan has fully customizable RGB lighting and looks really good. There are four heat pipes on the base of the cooler, which is standard. One great thing about the cooler is its size, it is very slim and occupies less space than its competitors. The only thing bad about this cooler is its price, because you can find similar or better performing coolers at much lower price than this.
Also Read :
Best Power Supply Units For PC in India
Budget PC built Under Rs 25,000
10 Best Gaming Headphones Under Rs. 5,000
Best Gaming Laptops Under Rs 50,000
Best Gaming Desks Tables In India
7 Best Flight Game Controllers in India
Gaming Monitors Under Rs 20,000 in India
Best Internal SSD for Laptop/PC in India
Although most air coolers are priced very well compared to liquid cooling alternatives, there are some coolers from Noctua which are very great at cooling but are very overpriced right now in the market. Overpriced is an understatement, since most of the Noctua CPU coolers are priced above ₹10,000 at the moment, which does not make sense since you can find very good liquid coolers at this price point. So till the prices normalize, we would suggest you look for cheaper air coolers instead.