Inexpensive, simple, sleek and stylish – a majority of people prefer a TV sound bar for enhancing television sound. Plus, you experience a true-surround sound system without the hassle and frustration of wires and plugging points. Although they cannot compete with home theatre systems, sound bar speakers are actually better alternatives than your TV's in-built speakers.
If you're looking to buy a TV speaker bar, we have compiled a decent primer for your perusal. Check which features you need and which you can do away with!
What's with the design?
Quite literally, a sound bar is actually a thin, long speaker in the form of a bar can is often combined with a wireless or wired sub-woofer. While sound bars can be mounted on walls, most commonly they are placed in front of the TV set.
What should be the size of my sound bar?
Sound bars come in several sizes. They can be well under a foot and can be as tall as an average person's height. Taller sound bars usually come with more drivers; however, this is not always the case. Your TV size doesn't directly correspond to what size sound bar you should buy. Your sound bar may not necessarily match the length of your set. Be on the lookout for specifications from manufacturer if this is important to you.
Also Check Out Our:
What connections will I need to setup my sound bar?
Most manufacturers would expect you to use your HDTV for switching among devices. The idea is to connect your home theatre devices directly to your TV and then connect its audio output to your sound bar. This way, you just need to switch input only on your TV, rather than switching it on the sound bar too.
Wireless and Bluetooth Streaming
Bluetooth connectivity is the easiest way to stream audio wirelessly from your tablet or smartphone. Almost all sound bars today have in-built Bluetooth connectivity, so doesn't make sense to buy one without it.
However, in case your sound bar lacks Bluetooth, you can add a Belkin or a Logitech adapter to function in a similar fashion; although the output music not that great. Another feature to look for is Wi-Fi streaming, since Bluetooth often gets cut off if you leave the room with your phone. It's worth looking into your options before you buy one.
Surround Sound or Dolby Atmos?
If you are looking at two-channel sound bars, there is not significant difference between surround and stereo mode as they don't create a true surround-sound in the first place. Quite often, sound bars come with wireless subwoofers and in some cases, even wireless satellite speakers are provided with them. Some surround sound speakers can also be wall-mounted. Dolby Atmos is currently the widely preferred surround sound technology.
Is the remote that comes with my sound bar any useful?
Most sound bars include a remote within the package but they're usually of a crummy quality; perhaps because manufacturers rely on you to adjust your sound bar with your TV set's remote.
What we suggest? Use universal remote sets instead and do away grappling with several remotes at a time!
What good is a front-panel display in my sound bar?
Front-panel displays are certainly nice, they add a certain "class" to whatever appliance they are added onto, but they're not too essential on sound bars. Moreover, since most control options are displayed on your TV itself or you can adjust the volume to your comfortable hearing levels, there is not much sense into looking for a sound bar with a front-panel display as an essential option.
So, ready to buy a sound bar? Our list of best budget sound bars in India is a good place to start looking.
---
Top 10 Best Budget Wireless Sound Bars
1. Blaupunkt Dolby
(With Bluetooth)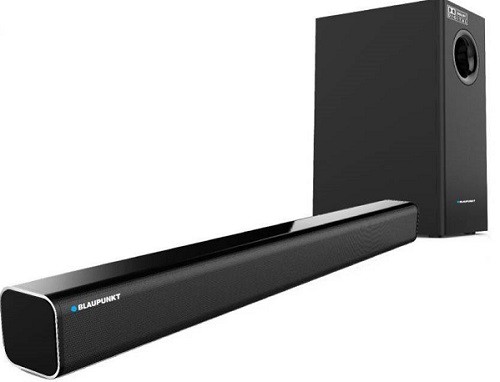 Blaupunkt is a renowned electronics equipment manufacturer, reputed for its premium home and car audio systems. The SBW-01 is no different than Blaupunkt's other audio offerings.
You can stream dolby digital surround music wirelessly via Bluetooth in powerful 80W output. The sound bar has surround sound adding spaciousness and depth to your music listening experience.
Moreover, you can stream your music in several modes including movie, music, news and surround.
The active speaker system with firing subwoofer on the external side adds more tang to your music listening experience. The sound bar has a powerful bass for the price the sound bar is offered at.
Pros:
Easy connectivity via Optical, HDMI and AUX in
Compatibility with iOS and Android devices
Slim, chic and sleek design
Cons:
Some users report that the bass cracks at the peak volumes.
Best Buy : Amazon (NA) | Flipkart
---
2. Philips IN-MMS4200/94
(No Bluetooth)
We simply cannot get over Philips. Of course, it's the brand when it comes to awesome audio devices! If you ever had to turn off the fan to hear movie dialogues, then you need the S4200 sound bar.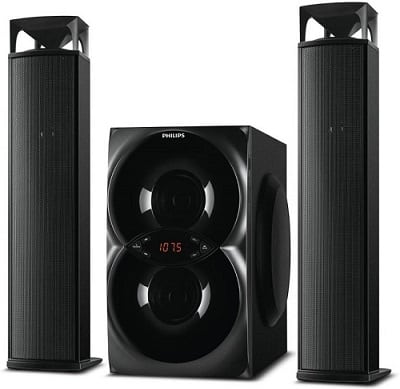 This 2.1 multimedia convertible sound bar offers powerful subwoofer for high bass for 33-43 inch television sets at 5000PMPO power output. Several other features of the sound bar give you a full-fledged home theatre experience!
Pros:
Detailed and rich audio with crystal clear clarity, low and high frequency sound reproduction and enhanced bass
3.5mm jack connectivity with AUX input
FM radio option
Cons:
Small display which doesn't show the name clearly
No option to shuffle the songs
Limited options on equalizer with no custom equalizer settings
---
3. Philips 2.1
(With Bluetooth)
Yes, we're guilty as charged! Yet another Philips product. Well, you have to accept they do make amazing audio systems. We've long been fans of their sound systems. Needless to say, HTL1032 is no different.
At 30W output, the HTL1032 sound bar has in-built Bluetooth so that you can stream music wirelessly. The speaker system is highly versatile and connects with television sets, DVD/BD players, MP3 players and gaming consoles. You can connect to the speakers via AUX-in, USB and fixed FM antenna for the built-in FM tuner.
Pros:
Perfect fit in front of your TV set with low-rise profile design
When you purchase the product, you get device installation as well as demonstration
Cons:
Considering how diverse Philips' product range is, customers usually are not satisfied with the customer care representatives to address their issues efficiently.
---
4. iBall BT-10
(With Bluetooth)
iBall, headquartered at Mumbai, is a reputed Indian importer of electronic equipment, audio and display devices from original manufacturers. The BT-10 sound bar is their entry into the Sound bars segment of audio devices.
The single unit sound bar sports a slim design and can be neatly installed inside your home with built-in wall brackets.
The audio system comes with a remote control that allows direct sound track selections and offers beautiful harmony with your television set and interior. You can play the sound bar from any BT enabled device. The sound is crisp and clear. The bass is quite satisfactory for the price range and company.
Pros:
Great option for those on a budget
Bluetooth connectivity for seamless wireless streaming
Cons:
No equalizer controls
No FM tuner
---
5. Portronics Sound Slick Portable
(With Bluetooth)
Portronics is another popular company specializing in power banks and portable audio and computer accessories in India. Their POR-667 Sound Slick Sound bar offers great sound for all musicoholics out there.
At 30W output, Sound Slick offers clear, crisp sound with all the major details. The sound system comes with a superior bass enhancer offering quality sound with utmost precision. There are several connectivity options so that you can listen to all your favorite songs stored on different devices. The speaker body is compact and stylish to save you space yet offer style.
Pros:
Bluetooth, USB, AUX-in, TV connectivity
Ability to connect earphones and headphones as well
Cons:
Bass is pretty average and nothing different from its peers
No equalizer mode
---
6. F&D T-180X Portable
(With Bluetooth)
F&D is known for its budget sound systems. The T-180X Bluetooth sound bar is a portable and stylish option to impress your friends and family during parties and get-togethers.
At 40W, you can stream music wirelessly with this bluetooth sound bar. The sound bar sports high performance drivers which deliver high-quality audio and sound performance. The speaker bar is compatible with SD cards as well.
Pros:
Small and light-weight
Bluetooth range of about 10 meters
Stereo channel output
Cons:
There is no FM available
As advertised, there is no battery provided with the package. Several customers report this
---
7. Dell AC511 System
(No Bluetooth)
Dell doesn't need an introduction. We've been fans of its laptops and hard-drives and more of the amazing customer service they provide. We researched for their AC511 speaker bar and decided it was worth featuring on our top 10 list.
Designed to be mounted on your Dell monitors, these speaker bars are pretty neat; both aesthetically and physically. Considering the size, the sound and bass is pretty decent. The volume controls can be controlled either from your keyboard or from the knob on your speaker bar.
Pros:
You can connect the speaker bar with the USB cable that comes along with it
For 1" speaker bar, the sound quality is pretty decent
Cons:
No bass and treble control for the sound bar.
---
8. F&D E200 System
(🌟🌟🌟🌟🌟)
(No Bluetooth)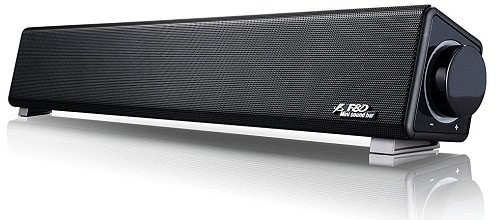 And the prize for the best budget sound bar goes to F&D. At a thousand bucks, the E200 is as good as it gets!
The sound bar has 2.0 channel output at 3W which gives you clear, crisp sound. With several connectivity options, you can plug and play a wide variety of devices for hours of high quality music. The sound bar has a front passive radiator design for higher bass.
Pros:
Ergonomic design
Light weight
Cons:
Some users report that the sound bar is not very effective when used as a full room surround sound system.
---
9. Online World Attractive
(With Bluetooth)
Despite being a new product, the Smart Self G6 portable bluetooth sound bar is on our list – purely because of its features.
You get up to 7 hours of playtime via bluetooth, AUX-in, USB and microSD with the 2000mAh Li-ion battery. The speaker sound bar is compatible with tablets, smartphones, computers, laptops and other bluetooth enabled devices.
Pros:
Highly portable and compact
Cons:
Takes about 3 hours to charge
Best Buy : Amazon (NA) | Flipkart
---
10. Inext IN-525 BT Super bass
(With Bluetooth)

Our last entry but not the least, the Inext super bass bluetooth sound bar deserves a place on our list of best sound bars.
The 2.0 channel sound bar comes with wireless bluetooth speakers and rechargeable batteries. The sound bar is compatible with all devices which have a bluetooth or 3.5mm jack input. The rechargeable Li-ion battery offers upto 6 hours of seamless playing. The added bonus? There's an in-built microphone.
Pros:
Built-in microphones for hands-free calling and receiving
In-built FM radio
Cons:
Users report that bass is average and the speakers sound best at medium volumes.
Best Buy : Amazon (NA) | Flipkart
---
Hope our sound bar reviews were of help to you. Which sound bar did you decide to buy? Do you have any other recommendations for best sound bar? Do let us know in the comments.
Also Read:
Top 10 Best Bluetooth Speakers With Good Bass Under Rs. 2000
Top 5 Best Bluetooth Speakers Under Rs.3000
Top 10 Best 4.1 Channel Home Theater Speakers