An affordable 2.1 soundbar with a wireless subwoofer featuring the most mature sound quality. Suited for audiophiles fancying a cinematic experience instead of unwanted chaotic bass.
I've been using this LG Sound Bar SJ3 for almost a year now and never ceases to amaze me. The sound is as fresh and clear as it was on the first day.
| Aspect | Details |
| --- | --- |
| Model | LG Sound Bar SJ3 |
| Features | Affordable 2.1 soundbar with wireless subwoofer |
| Sound Quality | Clear and mature sound quality |
| Build and Design | – Black color with sleek design |
| | – Main body: 100 cm long |
| | – Output driver and two tweeters |
| | – Wireless subwoofer |
| | – LED display with indicators |
| | – Buttons for power and mode switching |
| Sound Quality | – Clear and loud sound, almost like 5.1 |
| | – Well-defined mature bass |
| | – Distinguished highs and lows |
| | – ASC adaptive sound control for real-time adjustments |
| | – Supports various audio formats |
| Connectivity | – Bluetooth 4.0 |
| | – Optical cable, audio input, USB input |
| | – Seamless Bluetooth connectivity |
| | – Standby mode for power-saving |
| | – Wireless subwoofer |
| Setup | – Space consideration for soundbar length |
| | – Wireless subwoofer placement |
| | – Mounting soundbar on wall |
| Specification | – Max Output Power: 300 Watts |
| | – Item Weight: 6.6 kg |
| | – Soundbar SPL: 82dB |
| | – Tweeter Unit: 20mm Dome |
| | – Soundbar Impedance: 4ohm |
| | – Subwoofer SPL: 85dB |
| | – Subwoofer Impedance: 3ohm |
| | – Audio Formats: LPCM, Dolby Digital, DTS Digital Surround |
| | – File Formats: WMA, MP3 |
| | – Power Consumption: Varies |
| In Box Contents | – Manual, Remote Control, Batteries |
| | – Warranty Card, Optical Cable |
| | – Wall Mount Bracket |
| Who Should Use | – Newcomers to soundbars or upgrading |
| | – Those seeking easy installation |
| | – Affordable and available on Amazon |
| | – Not suitable for rugged conditions |
| Other Recommended | – Philips HTL3310 2.1 Soundbar |
| Soundbars | – Sony HT-RT3 5.1 Soundbar Home Theatre |
| | – Samsung T45E 2.1 Channel Soundbar |
| Reviewer | Sanat Chaudhry |
Also Read : Best Soundbars in India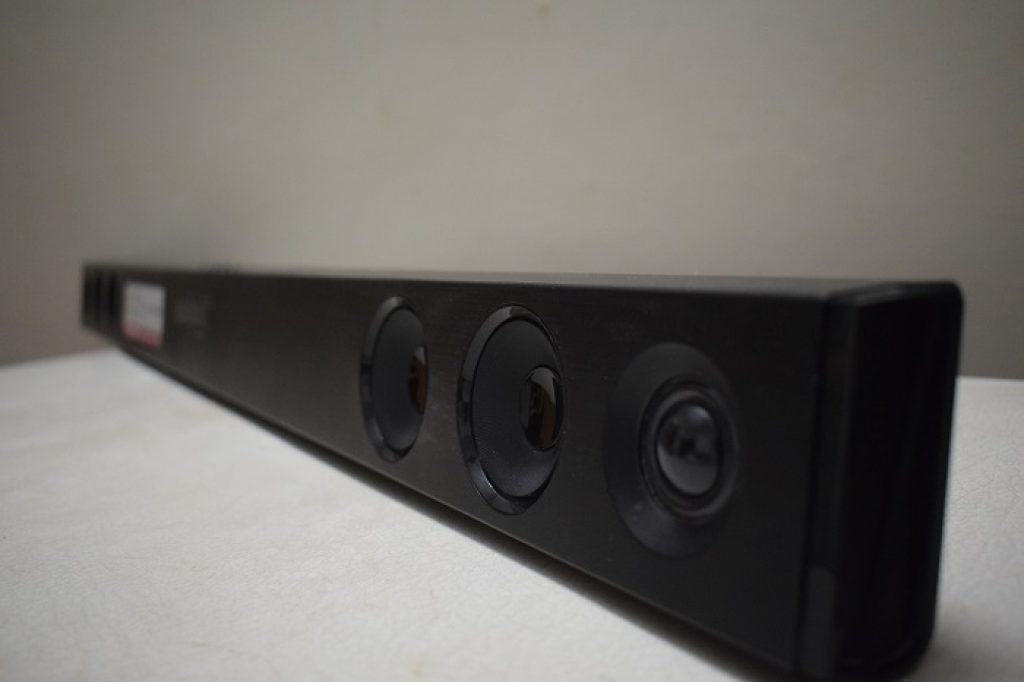 Build and Design
The Soundbar comes in black color and a sleek design, weighing around 2.5 kgs. The main body is 100 cm long, having an output driver and two tweakers on either side.
The design is a perfect match for your tv, hence providing a home theater experience.
The subwoofer is wireless making space clutter-free and easy to install. It weighs around 4 kgs with a Fine grille fabric in the front and a black textures design on the other three sides.
The front of the soundbar has a led display with indicators for Bluetooth standby, aux, optic input, and USB mode.
On top of the soundbar, you will find four circular rubber buttons, one for power, one for switching between modes, and two for decreasing volume. Two features that could have easily been added were an HDMI arc and a fabric grill covering for the output drivers.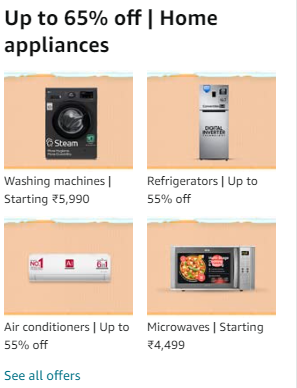 Other than that the design, size, and weight are very comprehensive.
Also Read : 11 Best Studio Monitor Speakers in India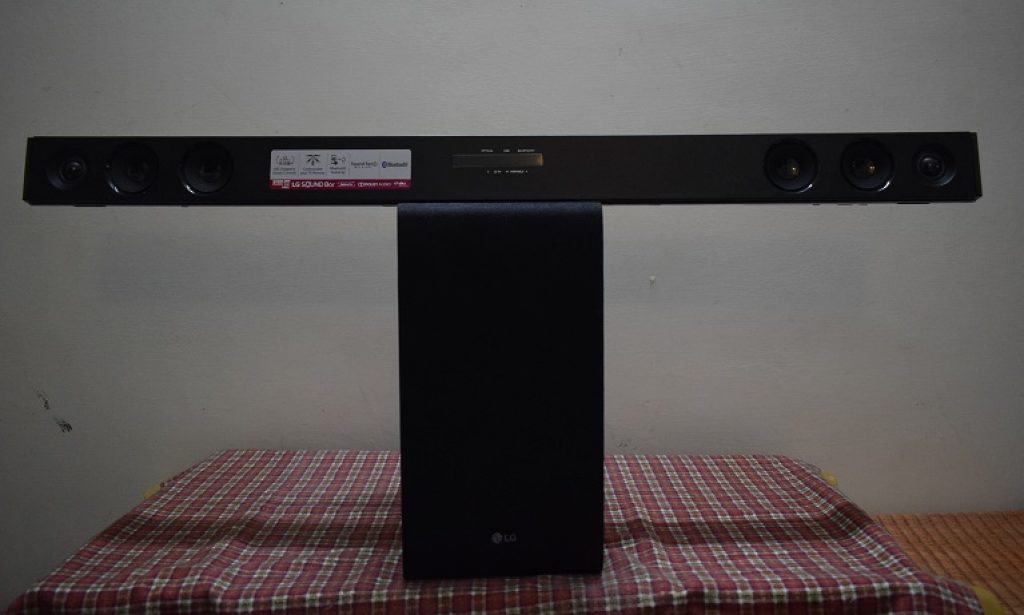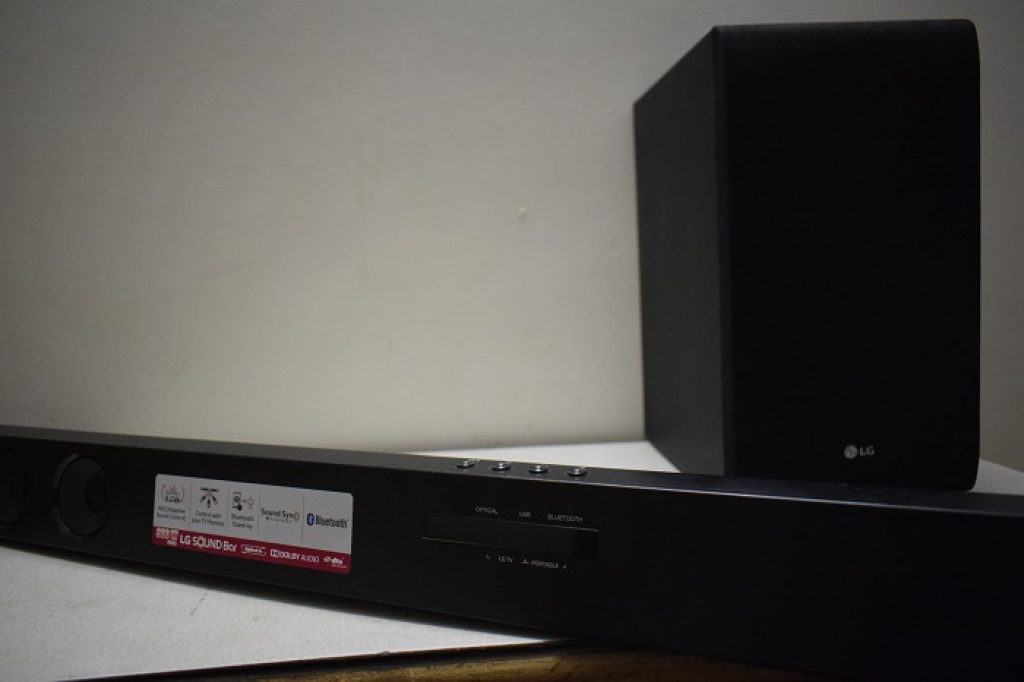 Sound Quality
The sound is so clear and loud that it can almost match a 5.1 system.
The volume is high enough to fill a full-sized condo with crystal clarity and a well-defined mature bass for accurate lows.
Talking about the sound signature, the soundbar has clearly distinguished highs and lows and 4 tweakers for those tricky lower and higher mids.
Even at high volumes, the speaker did not compromise with the quality.
Talking about the subwoofer the bass is not earth shattering but more subtle and hence not very suited for parties. Having said that there were times when while watching an action scene full of sound effects the vocals got suppressed by the bass which brings us to the next feature ASC adaptive sound control having switched to this mode the ASC detects the sound in real-time and reduces or increases the bass accordingly.
It supports Dolby digital, DTC, and LPCM audio formats and WMA, mp3 file formats.
The 100w soundbar and 200w subwoofer with 82dB and 85dB Sound Pressure Level respectively are more than sufficient for an intense cinematic experience but not for outdoor or even indoor parties.
While testing the three modes ASC, Bass blast, and Cinema noticed the following points.
while playing EDM or songs with high bass in bass blast mode the punch was missing and so a deeper bass could have been better.
secondly, While playing action movies in cinema mode, there were times when the mids were not very distinguished and hence we had to switch constantly between cinema and ASC according to the scene to make the dialogues more audible.
The last test was between the different inputs and though an HDMI arc would have been the best the optical cable didn't let us down.
Also Read : Best Party Speakers With Good Bass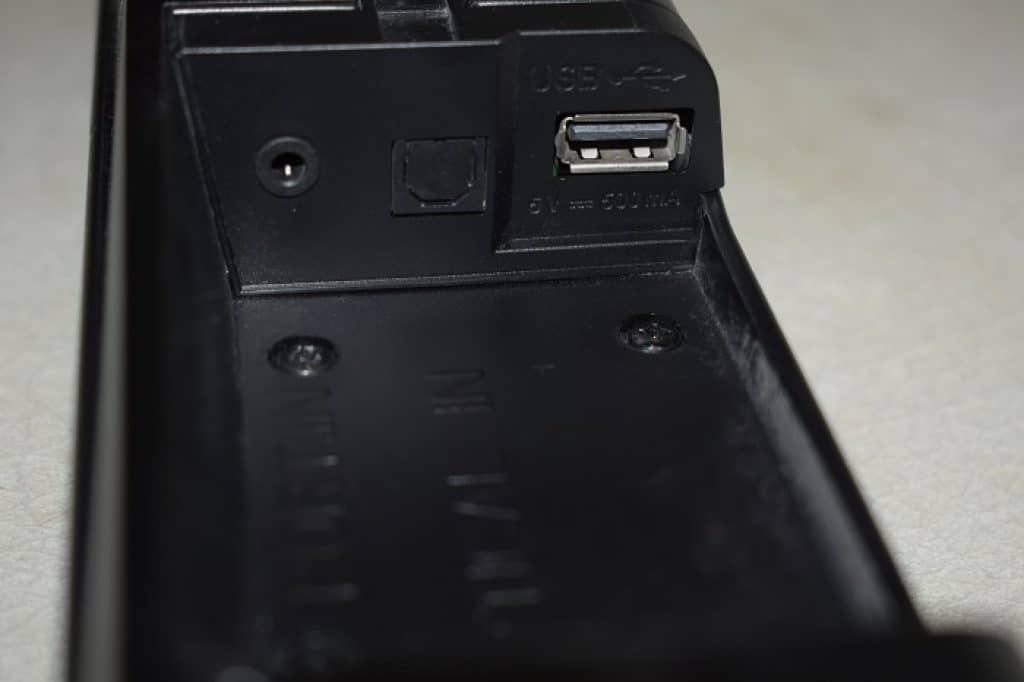 Connectivity
Bluetooth 4.0
Optic cable (included)
Audio input (3.5mm)
USB input
The Bluetooth connectivity is almost seamless with no lag. A newer feature is the standby mode where the speaker remains in sleep mode until connected to a device, this is a great feature in terms of both power-saving and switching the entire system on n off.
The whole wireless subwoofer thing is truly amazing and hassle-free.
Now you don't have to worry about placing the subwoofer near the soundbar or worry about the power source to be close by.
It also includes a regular card-sized remote which was a big disappointment the remote felt really cheap and the buttons were too close to each other and we had to switch on the lights every time we wanted to change the volume or switch modes.
The only thing missing was the HDMI arc, which I believe could have easily been added given the price range.
Also Read : Best 4.1 Channel Speakers in India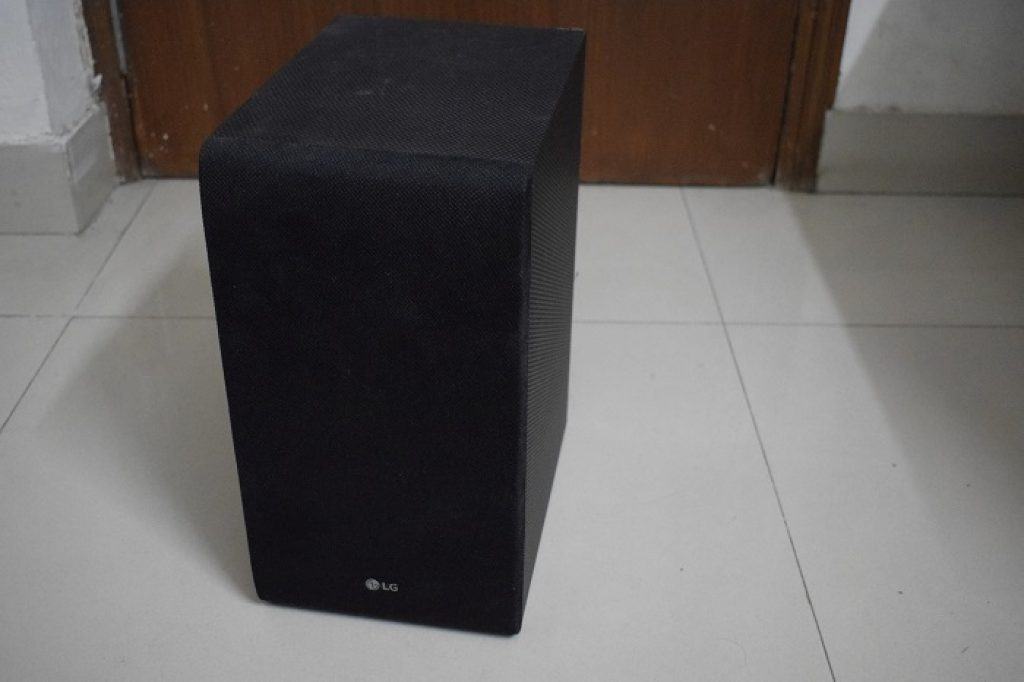 Setup
The Soundbar is about 100 cm long and hence it might take up a lot of space so might wanna plan ahead and locate a power source nearby to support at least 4 plugins. As you might have guessed the wireless subwoofer is not completely wireless and will require a separate source.
A better way to go would be to use an extension cord or a multiplug, to power the audio system and your tv.
Another good option will be to mount the soundbar on the wall if you want to place it permanently.
Once done with the physical setup, the soundbar automatically detects the subwoofer and connects seamlessly, your home theater is now ready for streaming music.
Also Read : Best Bluetooth Speakers For Home
Specification
Speakers Maximum Output Power 300 Watts
Item Weight 6.6 kg
Soundbar – SPL 82dB
Tweeter Unit 20mm Dome
Soundbar- Impedance 4ohm
Subwoofer – SPL 85dB
Subwoofer – Impedance 3ohm
AUDIO FORMAT
LPCM
Dolby Digital
DTS Digital Surround
FILE FORMAT
POWER CONSUMPTION
Soundbar- SMPS 100~240V, 50/60Hz
Soundbar- Power Off Consumption 0.5W ↓
Soundbar- Power Consumption 27W
Subwoofer – SMPS 100~240V, 50/60Hz
Subwoofer – Power Off Consumption 0.5W Under
Subwoofer – Power Consumption 33W
Also Read : Best LED TV in India (Smart / Non Smart)
In box contents
Owners Manual
Remote Control Unit
AAA x 2 Batteries
Warranty Card
Optical Cable
Wall Mount Bracket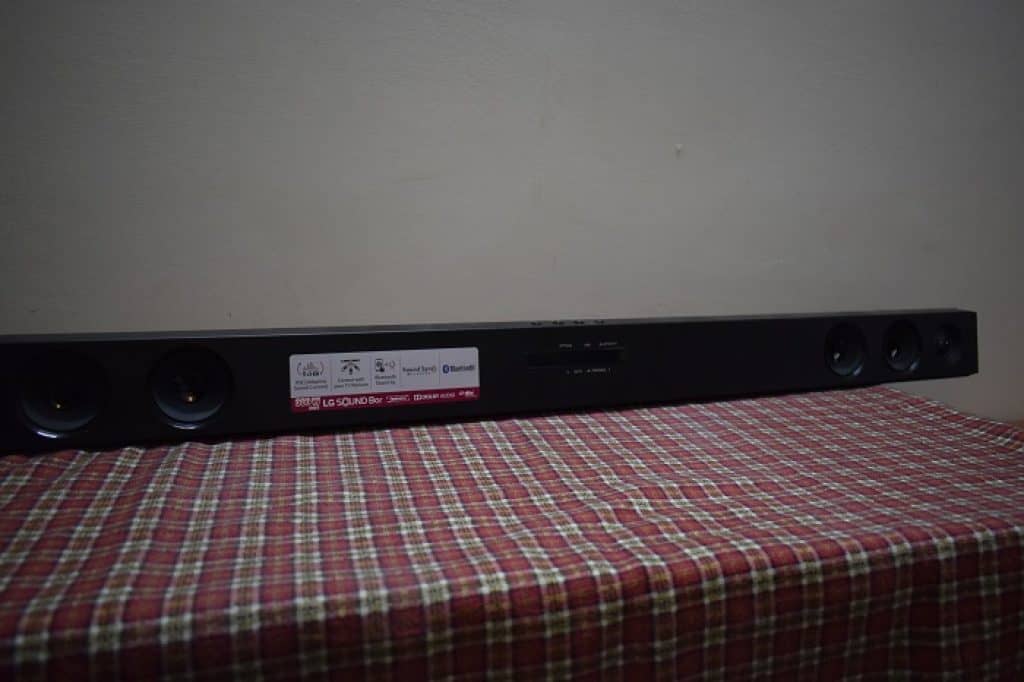 Who Should Use This Soundbar?
These Soundbar are the best option for someone who just getting into soundbars or upgrading from Conventional 2.1 speakers.
Other than being easy to install and wireless the design supplements your tv beautifully.
also, it's extremely affordable and easily available on amazon. The only deal-breaker can be the HDMI arc or if you are looking for something more rugged and not very delicate, e.g a soundbar with a fabric grill to cover the audio drivers, and protecting them from dust or water.
Also Read : Best Bluetooth Tower Speakers
Then other Soundbars that we like are
Philips HTL3310 2.1 Soundbar
Sony HT-RT3 5.1 Soundbar Home Theatre
Samsung T45E 2.1 Channel Soundbar
---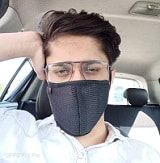 This review is written by Sanat Chaudhry
Photographer by choice, techie by profession. Making technology simpler and easier.
---