Coaxial speakers are probably the most versatile type of car speakers that use a special design to take minimum space inside your car to bring the best of music listening experience.
Each coaxial speaker unit includes a tweeter unit mounted on the top of the woofer unit, and some 3-way variants also include a mid-range audio unit for an even more immersive experience.
When on a long road trip with your friends or even while driving through the dense city traffic, music is certainly the utmost requirement and you always need a good pair of speakers to compliment your favourite songs.
Coaxial Vs Component Speakers
In the world of car audio, there are two types of speakers that are commonly used: components and coaxial. While they may appear to be similar in functionality, they do have some differences.
Both component and coaxial speakers are designed to take a full range audio source and reproduce portions of the band using separate drivers. However, coaxial speakers bundle these drivers into a single speaker unit, while component speakers have separate drivers that need to be mounted in specific locations.
One important thing to note is that neither type of speaker requires an amplifier. However, if you choose to go with component speakers, you will need to have a suitable mounting location for the tweeter. This can be a challenge if your car doesn't have a factory mounting point, such as the upper door, sail panel, A-pillar, or dash. In such cases, you may have to create your own mounting point, which can be a time-consuming and challenging task.
In summary, whether you choose component or coaxial speakers depends on your preferences and the installation challenges you're willing to tackle. While coaxial speakers are a more straightforward option, component speakers offer more customization and better sound quality. Just be prepared for the extra work required to mount the tweeter if you go with component speakers.
Below mentioned are some of the best coaxial speakers available in the market across different price ranges.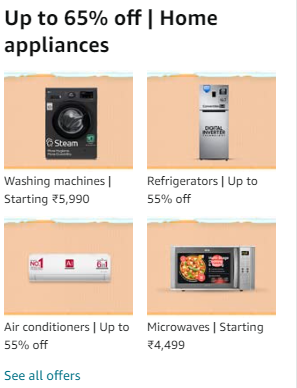 Best Car Coaxial Speakers in India
 1. Polk DB652 DB+ 6.5″ Coaxial Speakers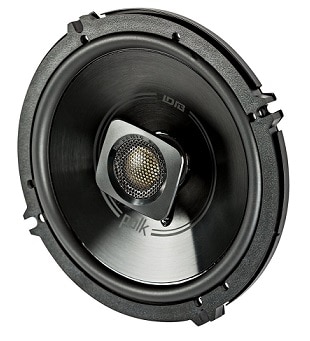 1) With an output power of 100 watts, Polk Audio has made the best car coaxial speaker that should offer a mesmerizing music listening experience without breaking your bank.
2) The speaker package also includes removable grills with a metallic look that further give the speakers a rugged feel.
3) Not just in loudness, these speakers from Polk are also known for their clean audio which stays free from distortion.
4) Polk Audio has improved a number of aspects of the speakers for ensuring the above-mentioned distortion-free sound.
5) Dynamic balance drivers have been used along with polymer/mica composite for the speaker cones and Klippel optimised components.
6) This model is also marine certified meaning it can withstand harsh environments.
7) While these coaxial speakers are compatible with most Indian cars, the company includes an adapter to fit inside certain luxury and imported cars as well.
Check Latest Price : Amazon
---
Read: Top 10 Best Dash Cams in India
2. JBL A440SI 3-Way Coaxial Speakers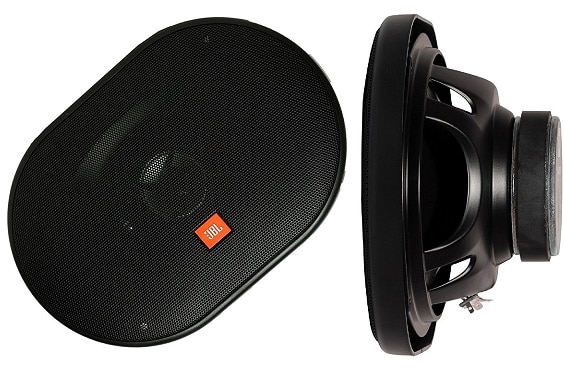 1) JBL as a brand doesn't need an introduction in the audio equipment world.
2) Their A440SI is one of the better coaxial speakers available in the market and that's because it is a 3-way speaker pair.
3) Besides this, they are more powerful as well, offering an audio output of 440 watts. This is one of the reasons the JBL car speakers measure 6 x 9 inches.
4) When it comes to sound quality, you can expect them to offer a typical JBL signature sound that is generally appreciated.
5) Given their size, the fitting could be an issue since not many cars would be able to accommodate it.
6) JBL is offering a warranty of 1 year with this pair of coaxial speakers.
Check Latest Price : Amazon 
---
Read: 10 Best Portable Car Tyre Inflator
3. Pioneer TS-R1651D Coaxial Speakers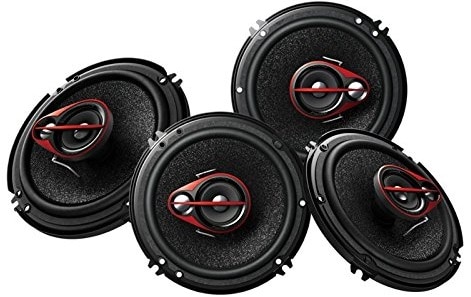 1) For some people, two speakers are a bare minimum and they want a pair more to make music pump through their car.
2) This coaxial speaker model from Pioneer comes with not 2 but 4 speakers for the music heads that need absolutely the best experience without digging holes in their pocket.
3) These speakers are 3-way coaxial and have a max output of 300 watts. Pioneer has designed these to produce a wide frequency response of 30Hz to 18kHz.
4) A mica matrix cone has been used for giving a clean audio without any sort of distortion.
5) This high-quality set of speakers comes with a brand warranty of 1 year while they are built to last for much longer.
Check Latest Price : Amazon
---
4. Sony XS-FB693E 3-Way Coaxial Speakers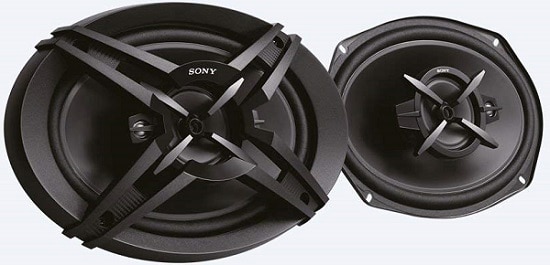 1) Japanese brand Sony is also involved in making audio products for cars and the XS-FB693E is probably one of their most powerful set of speakers in their price range.
2) A set of two speakers comes as a part of the package and you get an output of 420 watts from this pair, which is much better than other products with four speakers.
3) A Ferrite-made woofer and tweeter magnet are included inside these speakers, while the mica-made cones help improve the bass release which is much deeper and powerful.
4) The company ensures that its speakers are extremely easy to install and should be compatible with most cars sold in India.
5) These 3-way coaxial speakers come with a standard warranty of 1 year from Sony.
Check Latest Price : Amazon
---
Read: Top 10 Best Car Stereo To Buy Online
5. Focal Performance Audio+ RCX-165PSI 3-Way Coaxial Speakers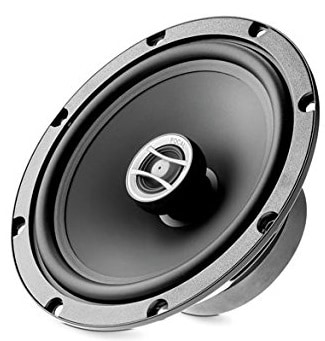 1) France-based brand Focal is known for its premium audio performance and that is evident in these car speakers as well.
2) The company's proprietary inverted dome tweeters are a part of this speaker set that help improve the overall soundstage of the product.
3) To have these coaxial speakers installed, you do not need to replace the head unit and they will be compatible with your factory-fitted unit itself.
4) Even its front shape has been carefully designed for an excellent music dispersion with a maximum output of 375 watts.
5) Given their compact size, you can easily get these 2-way coaxial speakers fit in your car doors.
6) Moreover, Focal has incorporated a design language that is borrowed from their premium range.
7) A warranty of 1 year comes standard on this product.
Check Latest Price : Amazon 
---
6. Sony Mega Bass XS-FB162E Coaxial Speakers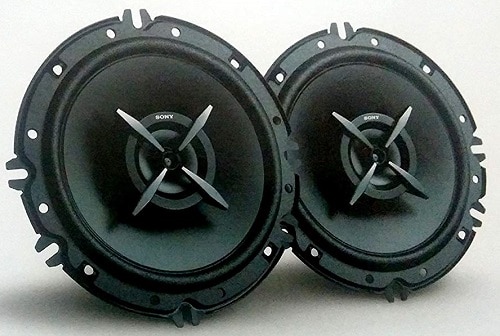 1) If bass is all that you need then Sony has a perfect solution in the form this pair of speakers available under their Mega Bass series.
2) A large 16cm woofer makes the powerful sound possible which is aided by a set of tweeters.
3) Sony has fine-tuned the speakers to ensure they don't get overboard with bass and maintain a balance between treble, mid-range, and bass.
4) The rigid mica matrix cone woofers not help with bass but also keep the audio clean and distortion free across the wide spectrum of frequencies these speakers support.
5) If you already have a Sony head unit installed then this set of 2-way coaxial speakers will go perfectly with it, though they are compatible with any head unit.
Check Latest Price : Amazon
---
Read: 10 Best USB Car Charger in India
7. Sound Boss Performance Auditor SB-6979 3-Way Coaxial Speakers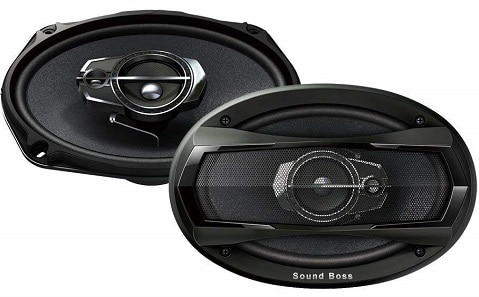 1) Coming with a larger form factor in their 6 x 9-inch body, Sound Boss has created a dynamic car speaker that has a wide soundstage.
2) The speakers are aesthetically appealing too and they wouldn't mar the look for your brand new car, rather, they'd compliment it.
3) Thanks to their larger size, a maximum sound output of 480 watts can be achieved with only two speakers.
4) Being a 3-way coaxial speaker, a mid-range unit has also been included to ensure an all-around performance.
5) The company was able to fit larger magnets, again given their size for an even more powerful bass and overall audio output.
6) Dynamic bass boost is also an included feature that makes the bass punchier for an immersed music listening experience while driving.
Check Latest Price : Amazon
---
8. Blaupunkt BGX 66.2 Coaxial Speakers
1) For the buyers with an extremely tight budget can opt for Blaupunkt BGX 66.2 coaxial speakers for they offer an exceptional performance while being available at an affordable price.
2) The maximum audio output from this pair of speakers can reach 280 watts which is really good for a product available in its price range.
3) They measure 6.5 inches in diameter so they should fit most cars.
4) The company has included a brand-new design with these 2-way coaxial speakers to provide the best in class performance, so is the injected PP cone along with rubber enclosures that improve the sound output.
5) Even the magnets have been specially designed to ensure a distortion-free listening experience.
6) Cables and mounting mechanism required for this pair is included inside the box and it comes backed by a year of warranty.
Check Latest Price : Amazon
---
9. Woodman WM-1652 3-Way

1) As an entry-level product, this product from Woodman includes a 3-way design, meaning it also has an additional mid-range audio unit, bringing a wider audio spectrum for an optimum music listening experience inside your car.
2) Aesthetically, the company has designed the set with good looks that will only compliment the plush interiors of your car, which again a rare feat in this category.
3) With a maximum output capacity of 280 watts, you can expect extremely loud audio while also maintaining its superior quality, given the material used to make this product.
4) The rubber cones help improve the bass output, which is quite powerful, while the treble and mid-end performance are also ideal for its price.
5) They measure 6 inches in diameter and will fit car doors meant for speakers of this size.
Check Latest Price : Amazon
---
10. Sound Boss MAX B1615 Coaxial Speakers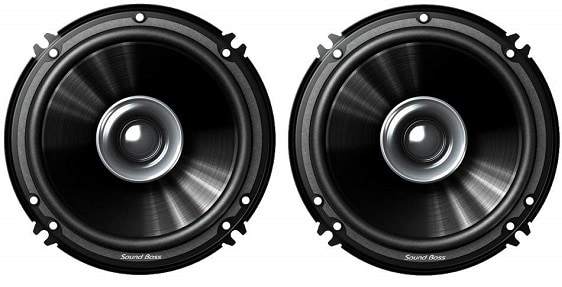 1) When it comes to design, these coaxial car speakers look extremely premium mainly because of their concentric circle design at the centre.
2) They are the cheapest pair of coaxial car speakers on our list but they don't compromise anywhere in sound quality and are capable of a maximum output of 230 watts.
3) For most Indian cars, this set of speakers should fit perfectly to offer a great audio output.
4) Sound Boss has used mica composite along with other composites for the woofer cone that not only makes each unit lightweight but also reduces distortion and improves sensitivity.
5) The specially designed tweeters along with the above-mentioned components offer a much deeper bass with an overall pleasing sound reproduction.
6) The company offers a warranty of 6 months on this product.
Check Latest Price : Amazon
---
We have tried to pick the best brands available in the car speaker market. Considering their price , performance and built quality.
Do comment below if you have any queries and which speaker you bought after reading our article.
---
Also Read:
1) Top 10 Best Dash Cams in India
2) 10 Best Portable Car Tyre Inflator
3) Top 10 Best Car Stereo To Buy Online