7 Best Multiport USB Wall Chargers in India
Let's face it, laptops and mobile phones have become an integral part of our lives now. And we need a good wall charger to keep them up and running when we are at home or traveling.
But a lot of us have more than one gadget which we use in a day and a single socket can often be problematic in such situations, especially if you are traveling. And the question that haunts us eternally is that what do I charge? Power bank, phone or laptop?
Thankfully, the new multiport USB wall chargers don't require you to choose between your gadgets and allow you to charge everything at the same time. But how do you know which wall charger to buy?
In this guide, we will help you choose the perfect multiport USB wall charger for yourself so that you don't have to wonder which gadget to charge first anymore.
---
Quality Pick
Anker PowerPort 6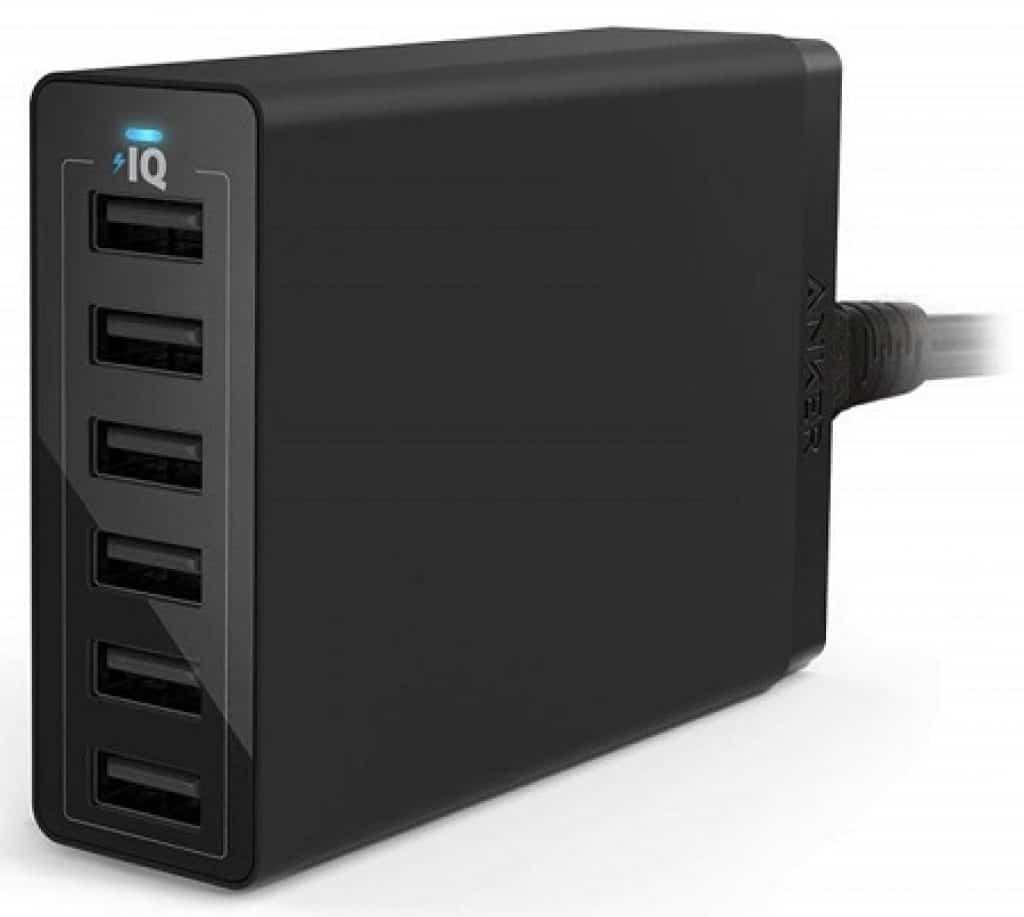 Anker is one of the leading brands in wall chargers manufacturing so you can be sure that Anker PowerPort 6 is going to get the charge your gadgets quickly and efficiently.
Also Read : 10 Best Luggage Bags For Travel in India
This 6-port Anker USB wall charger features PowerIQ and VoltageBoost technology which helps in providing 2.4A output per port, i.e., 12A output overall. Also, this is a powerful charger as it exudes 60 W power to charge your 6 devices simultaneously.
Smaller than a passport in size, this charger weighs just 372g which makes it highly portable and can be easily fitted in your bag.
And its safety system ensures total protection for your charging devices and there is an 18-month warranty with this model too. So, if you are looking for a durable and long lasting wall charger then Anker PowerPort 6 is the perfect choice for you.
Budget Pick
AMX XP 50 (40W 5-Port) Smart USB Desktop Charger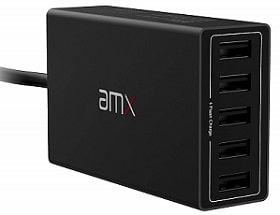 The best thing about this charger is that it comes with a in built extension cord. Although it does not have Qualcomm quick charge technology , it's own AMX fast charge tech is enough for me.
I can easily plug upto 5 usb devices and use them in the comfort of my bed. This charger is BIS certified and comes with a warranty of 12 months.
You can read my full review on this here – AMX XP 50 Smart USB Charger Review.
It has a glossy finish looks stylish. It has fallen a few times due to my carelessness , but still working well. So I can assume the built quality is good enough.
---
Regor [4 Port] 5 Amp Wall Charger Adapter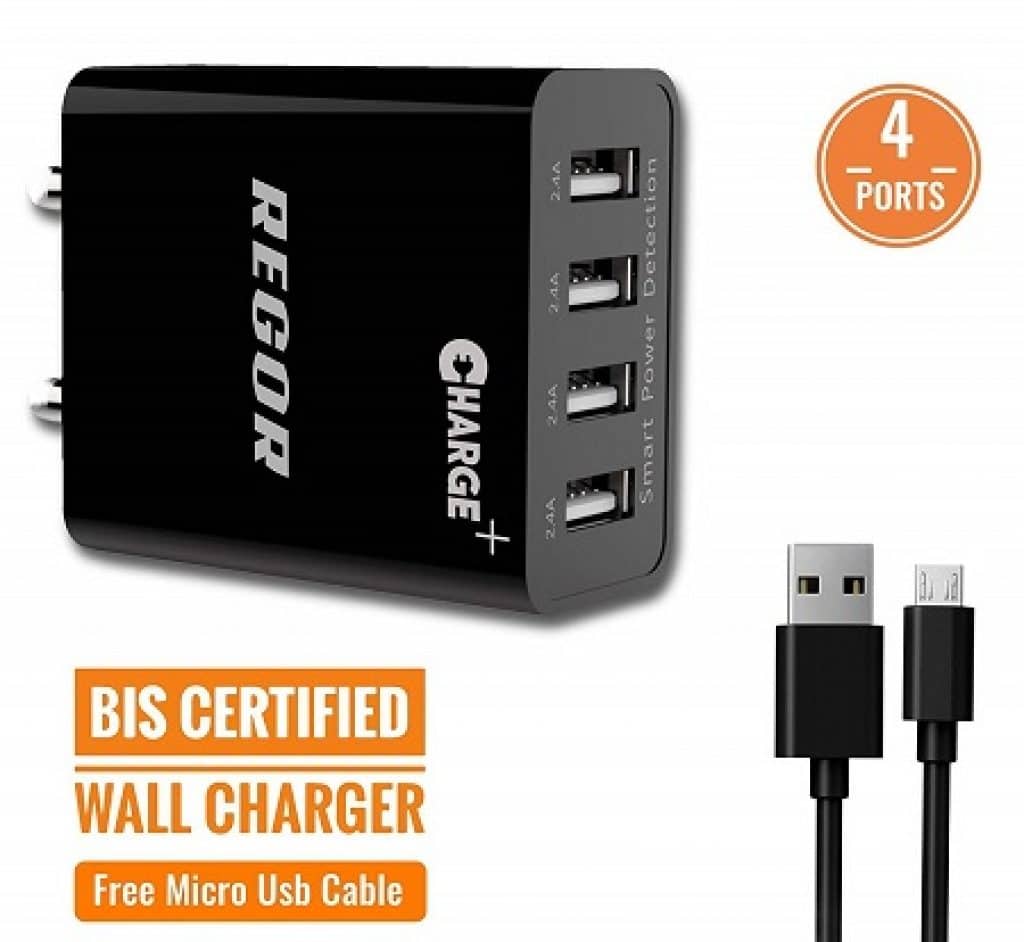 For people who are looking for a budget-friendly USB wall charger model, Regor USB Wall charger is a perfect fit.
It is a 4 port charger offering 2.4A per port which allows you to charge 4 devices at a time at a faster charging speed. FSo, there is no need to carry multiple adaptors anymore.
Also Read : 10 Best Camera Bags for Travelers
And this wall charger features Indian charging pins so it will fit easily into your household sockets and won't get loose or damaged in the process.,
Certified by BIS, this wall charger has features like surge protections, over-charge protections, and so on which helps in protecting you and your gadgets from any short circuit.
And the Charge+ technology ensures that the port outputs optimum power for a quick charging of the device. Also, the size of this wall charger is smaller than a credit card so you can easily fit it in your bag and carry it with you wherever you go.
---
Our Pick
Mivi DC58QC3 8A Desktop USB Turbo Charger Hub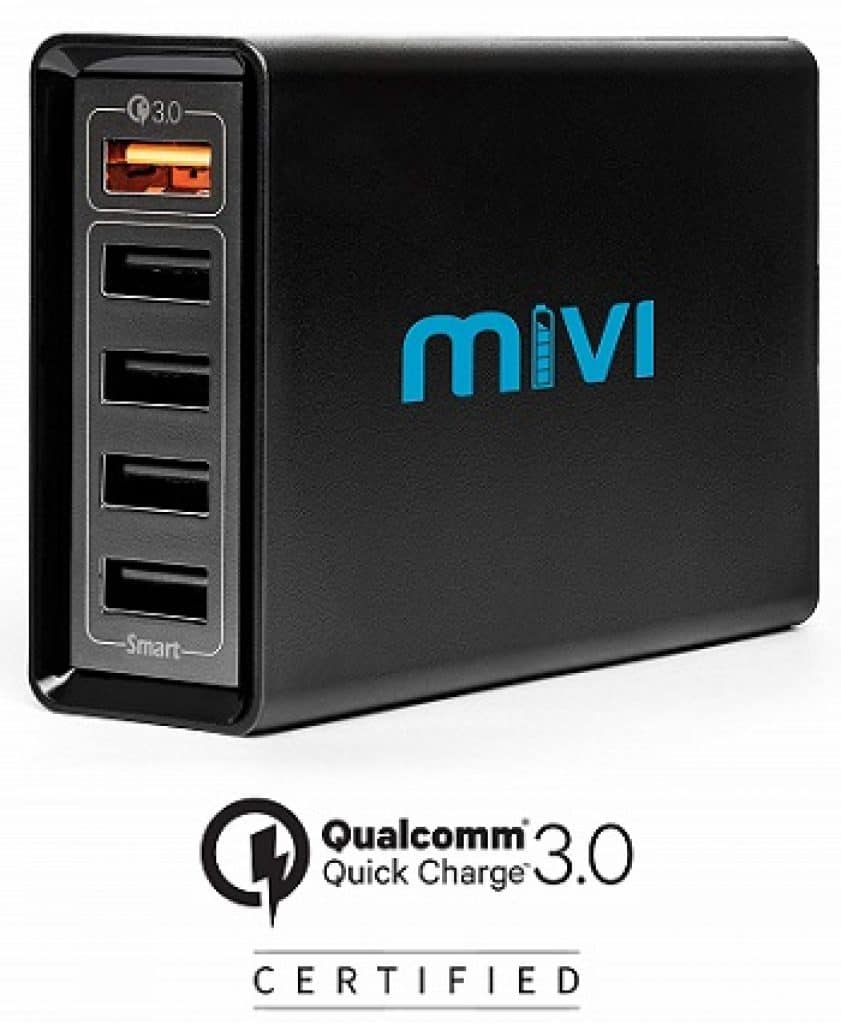 Mivi DC58QC3 8A Desktop USB Turbo Charger Hub is a 5-port charger which satisfies all your charging needs by allowing you to charge 5 USB compatible devices like smartphones, power banks, iPads, etc. simultaneously.
Also Read : Best Travel Mugs Under Rs. 1000
It also has built-in security features like a voltage regulator, circuit protection, etc. to keep your gadgets safe while charging. However, a lot of customers complain that it overheats and stops working frequently which makes the quality of this charger slightly questionable.
QuantumZERO WalMATE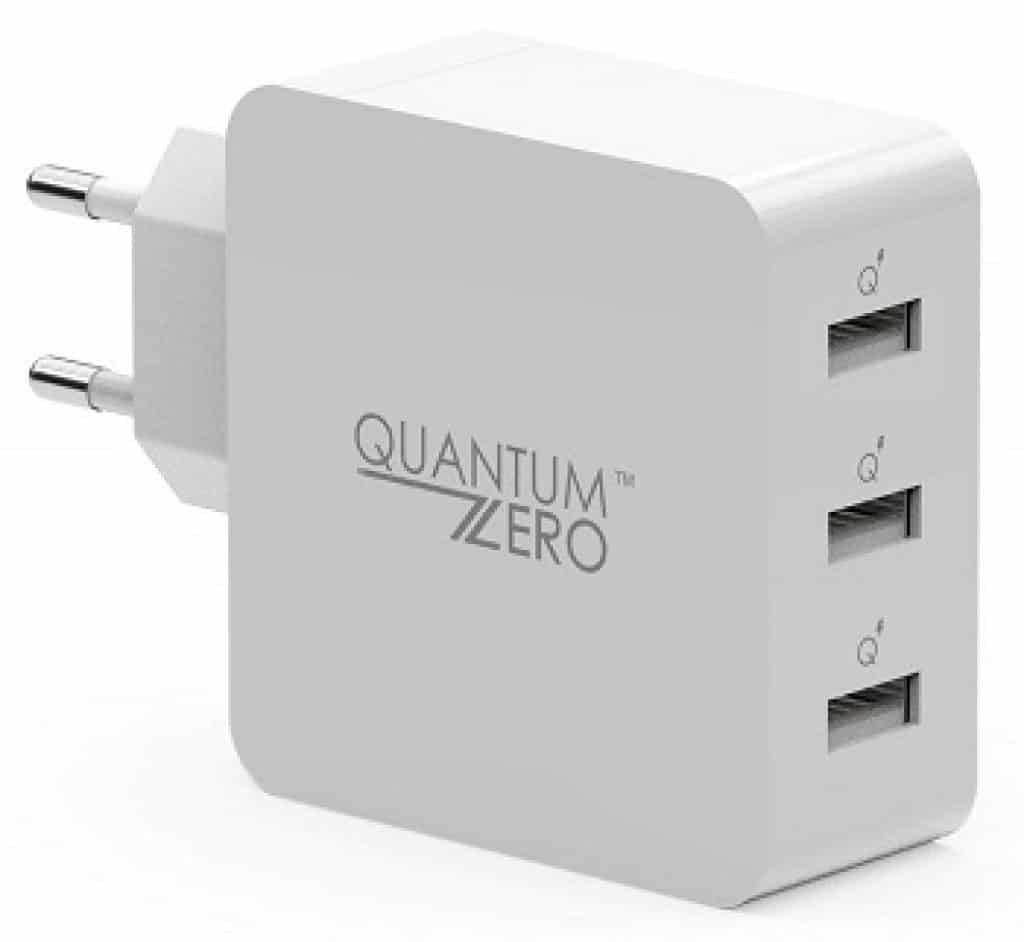 QuantumZERO Walmate is another good option with 4 ports which features SmartQ Fast Charging technology to choose the right current for your connected device.
Also Read : Top 10 Best Travel Cameras
This helps in quick charge and can support a variety of devices like MP3 player, iPod, smartphones, etc. However, it has a heavy design which results in the charger getting loose frequently and falling off. So, if you want to use it, you would need to give it a little support from underneath it.
TeckNet DuoPower 40W 5 Ports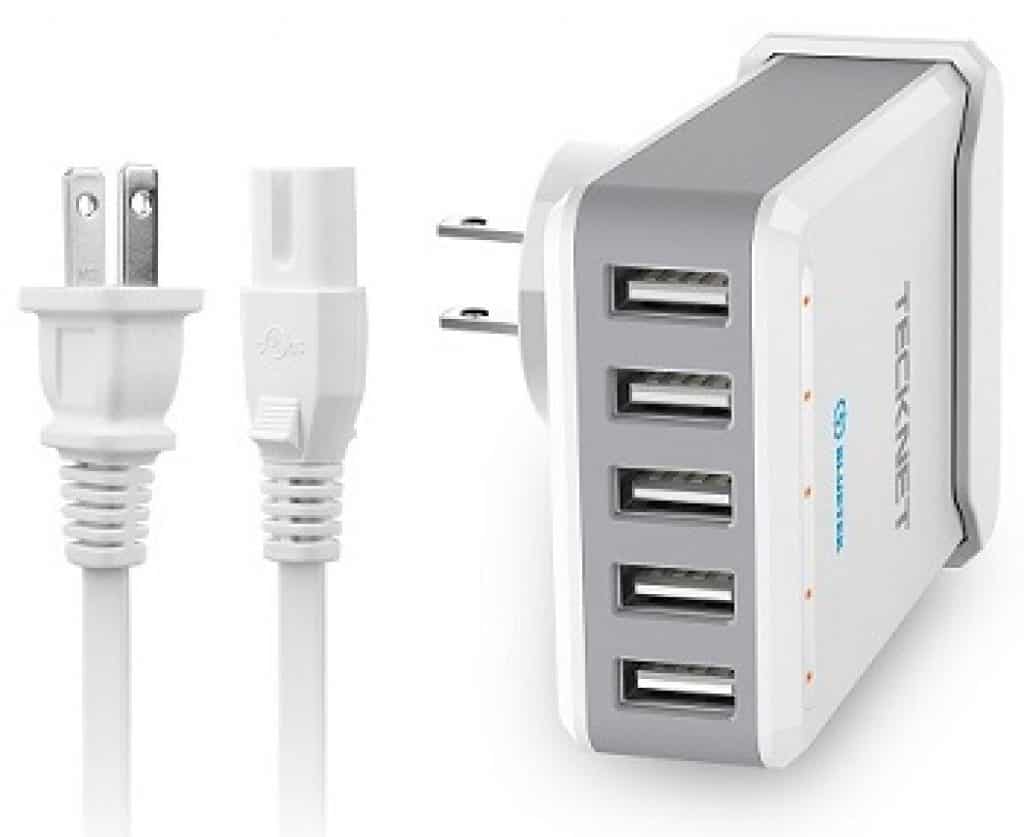 One of the best multiport USB wall chargers in the market which can charge 5 USB compatible devices at a time is the TeckNet DuoPower USB Wall Charger.
This charger features BLUETEK technology which identifies the device's power compatibility and outputs current which allows you to charge your devices quickly and efficiently.
It offers you both an AC power plug and AC power cord with the wall charger which makes it easy to connect it to an outlet.
Also Read : Top 10 Best Camera Straps
With its lightweight and compact design, this wall charger is easily portable and can be taken on trips as well. And the LED light notifies you when the USB wall charger is properly connected to an outlet.
Also, the Tecknet wall charger includes a safety feature which protects your devices from short circuit, overheating, overload, and so on.
And the fact that it is compatible with a wide range of devices of Apple, Samsung, Nexus, GoPro, and so on reiterates that this is undoubtedly the best product in the market.
---
Upgrade Pick
AVLT-Power 60W 10-Port USB Wall Charger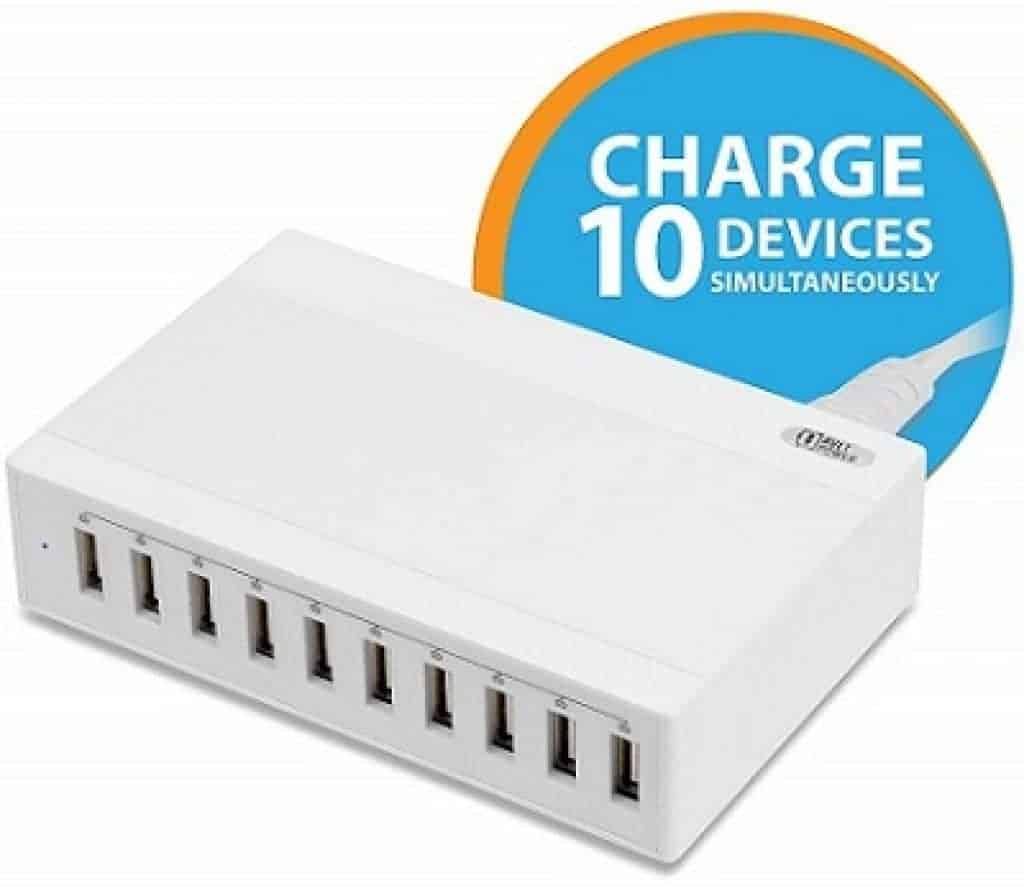 AVLT Power USB Wall Charger is definitely one of the top picks because this model offers 10 available ports for charging with a current output of 2.4A in each port.
With its IC charging technology, the charger detects the USB device's charging needs and outputs a current suitable for fast charging.
Also Read : 10 best travel adaptors in India
Another great thing about this wall charger is that it has a built-in power switch off feature so when your device it fully charges, the charging stops automatically and goes into energy-saving mode.
This wall charger also includes multiple surge protection so you don't have to worry about your devices getting short-circuited or overheated. And its compact and lightweight design makes it a perfect companion for your travels as well. But it is a little expensive but completely worth the price as it is compatible with all smartphones, power banks, Bluetooth speakers, action cameras, and so on.
Colorful Design
Lumsing Quick Charge 2.0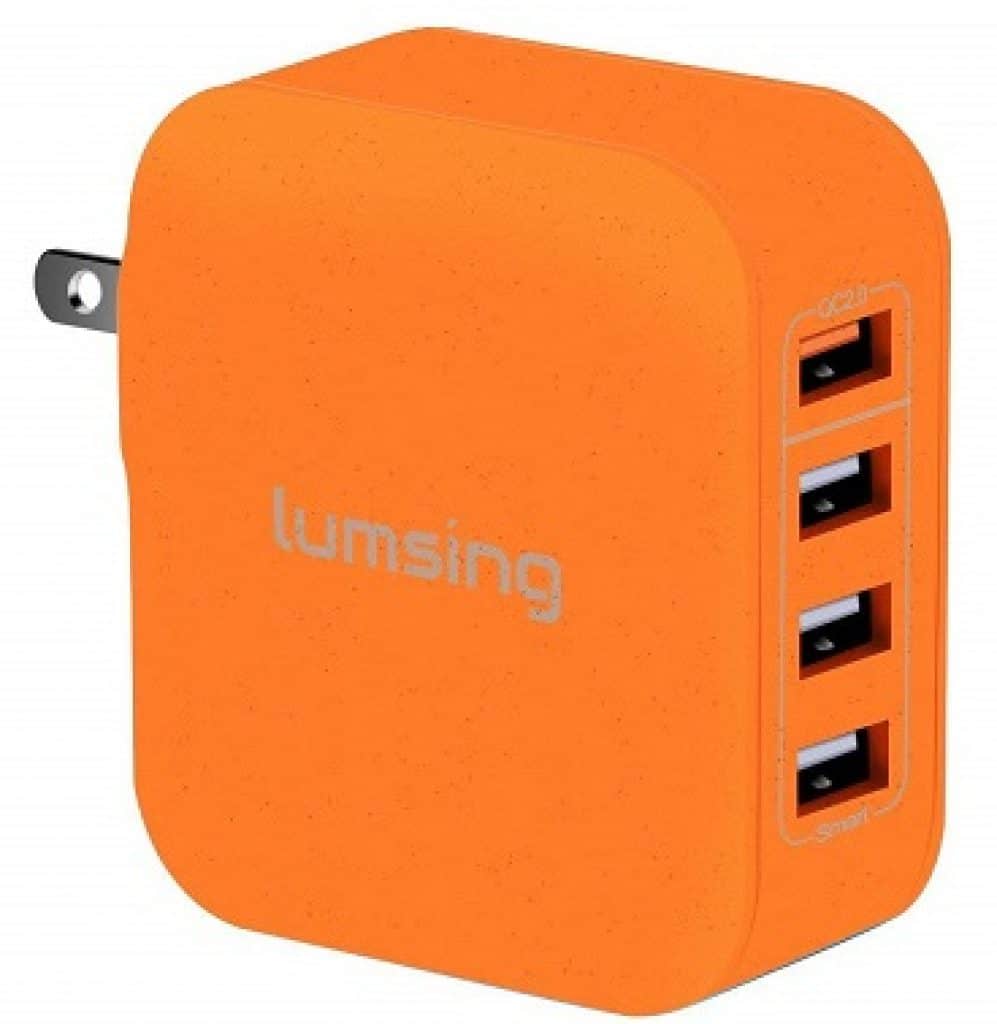 Lumsing Multiport USB Wall charger is another great pick for people who want efficiency but with a little bit of style. Available in orange color, this 4-port wall charger can charge your devices 75% faster than most other chargers.
Also read : 10 Best Handbag for Women Under Rs. 500
And its smart charging technology makes sure that the ports will output the ideal current depending on the devices so that they can charge quickly and securely.
This multiport USB wall charge also includes a multi-protect system to ensure your devices safety while charging. It features a heat-sink which will prevent your gadgets from overheating too. Also, this USB wall charger is small yet durable so you can carry it with you while commuting daily or while traveling to a different city/country. And you don't have to worry about accidentally dropping or stepping on this wall charger because it is quite tough as well.
---
Other Models
GE Multi-Port USB Wall Charger is a good wall charger with 4 ports which can charge your tablets, smartphones, and other USB compatible devices at the same time. It also includes a cord organizer which eliminates cable clutter and the round-edged designed really makes it easy to use in all kinds of outlets. But one major issue with this wall charger is that even though its description says that it can deliver up to 4.4A, in reality, it has an output of just 650 mA. So, it doesn't have enough output to charge your phone or tablet speedily.
RAVPower 3-Port 30W Travel Charger is a 3-port USB wall charger which is a little on the expensive side and has a current output of 2.4A which is efficient in charging smartphones, power banks, and iPads. It also has rubberized sides so it is easy to plug in and plug out. Also, it is small and compact in size so it is easy to carry it with you while traveling. But a lot of customers have complained that it doesn't charge their smartphones well or dies after just a month of use. So, it might not be the best charger for a long-time investment.
How to Choose the Best Multiport USB Wall Charger
Determine the Number of Port You Need
The first thing that you need to decide on is the number of ports that you are looking for. A USB wall charger with just 2 port is not much use as you have so many gadgets to charge together.
These days, we have iPods, mobile phones, power banks, iPads, and so many other electronics to charge at once. And if you are traveling with friends or family then that means more mobile phones to charge at once.
Also Read : Top 10 Best Tripods in India
Go for a multiport USB wall charger with at least 3-4 ports. There are some which offer you 5-6 ports also and are generally good if you are traveling in groups. And there are 8 and 10 port chargers as well. So, you need to decide which suits your needs the best.
Check the Output of the Charger Before Purchasing
One thing to keep in mind is that more number of ports mean nothing if they have a low output value. You need a charger which can offer you a minimum of 5V/2.0A so that your mobile phones, iPads, etc. will charge quickly and efficiently.
Also Read : 10 Best Monopods in India
If you want a really fast charging output then choose 5V/2.4A or 5V/3.0A and your phone will be completely charged in an hour.
Look for Over Heat Protection and Short Circuit Protection
When you plug in more than one device into the charger, there are chances of overloading and heating up. So, it is important that you look for a multiport USB wall charger with over heat protection and short circuit protection features.
Over heat protection feature will adjust the current and voltage so that heat is stabilized when you are in a warm climate. This will slow down the charging speed but your gadget will be safe.
Choose a Wall Charger with Voltage Regulation and Current Control
Another thing to look out for in your USB wall charger is current control and voltage regulation which will stabilize the Amp current before sending out. A lot of sockets might be inputting a lot of energy to your charger, which could result in damaging of your gadget if it is unchecked.
This is why it is imperative that you choose multiport USB wall chargers which have proper voltage regulation and current control mechanisms in place.
Consider the Design of the USB Wall Charger
While safety and output are important features to consider in a USB wall charger, the design is equally important to take into account. There are so many USB wall chargers in the market which have a triangle or broad design which ends up taking other outlet space as well. As a result, you can't use the other outlet with your USB wall charger.
So, look for a design which won't take a lot of space and go for round-edged chargers as they fit easily.
Choose a Compact Sized USB Wall Charger
Apart from the design, you also need to select an appropriate size for your USB wall charger. A really small charger means less port but 10 ports mean that it would be huge and additional packing headache. So, if you are looking for a multiport USB wall charger for traveling, go for a compact and small size which offers you 4-5 ports as that is usually sufficient.
But if you want one for home then you can go ahead with an 8 or 10 port wall charger.
Determine Your Budget for the Multiport USB Wall Charger
Finally, you have to keep your budget into account when you are looking for the perfect multiport USB wall charger for yourself. A good quality USB wall charger with 3-4 ports is likely to cost you a minimum of 800 INR. And if you are looking for more ports then the price is likely to increase along with the current output as well.
Also Read: