Recently updated on November 20th, 2023 at 09:38 am
An entry point into the world of mechanical keyboards
I have been daily driving my cosmic byte CB-GK-12 Neon Mechanical mechanical keyboard for more than 10 months now and this is my long term review on this entry level mechanical keyboard.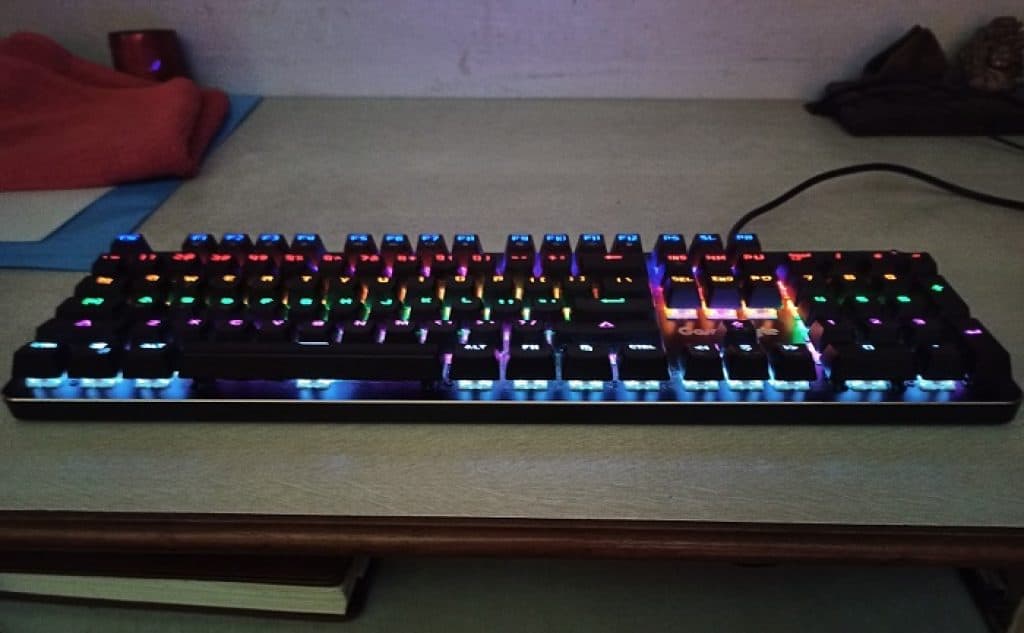 Not all brands that sell affordable gaming gear are good, but many of my friends recommended that I take a look at CosmicByte's offerings. CosmicByte CB-GK-12 Neon, is a full-size 104-key mechanical keyboard. It features full RGB backlighting with 13 different effects, 3-level brightness adjustment, 4-level backlight speed and 6 colours. It uses Outemu Blue switches, has anti-ghosting for all keys, and each key has a keystroke life of 50 million. All this is housed on a body with aluminium deck and plastic bottom panel. It is a wired keyboard and uses a thick braided cable of about 1.8m in length with a gold plated USB connector. Other than that, it has 8 multimedia key functions.
Also Read : Best Mechanical Gaming Keyboards in India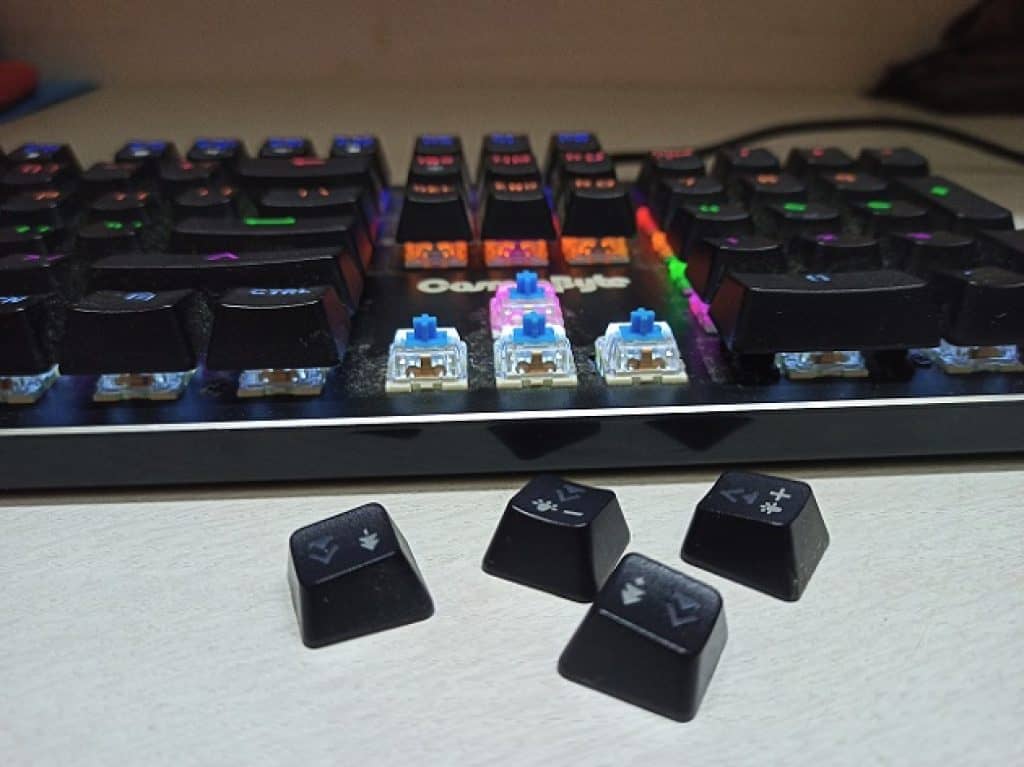 Specifications
Dimensions: Width/Height/Breadth – 450mm/30mm/135mm
Weight: 980 grams
Outemu blue mechanical switches
Backlight: Rainbow LED Backlight, 10 -Effects, 4-Level Brightness Adjustment.
Anti-Ghosting: All keys
Cable Length: 1.8m unbraided
In The Box
CB-GK-12 Neon
Key cap puller
User Manual
The Positives
Also Read :
Once you connect it to your computer, the RGB kicks in. The RGB has almost zero LED bleeding between each cap. This is because each key is given individual backlighting, which is not a very common feature in mechanical keyboards at this price range. As mentioned before, there are 6 colours in total and it supports 13 backlight effects with 3 level brightness along with 4 level speed adjustment. All in all, the RGB on this keyboard, although not entirely great due to relatively low brightness, is still quite good but it has one drawback which we are going to discuss later on. The different lighting effects can be cycled through using (fn + insert) key. And the brightness and speed if the individual effects can be adjusted using (fn + arrow) keys.
Also Read : 10 Best Mechanical Gaming Keyboards Under Rs. 10,000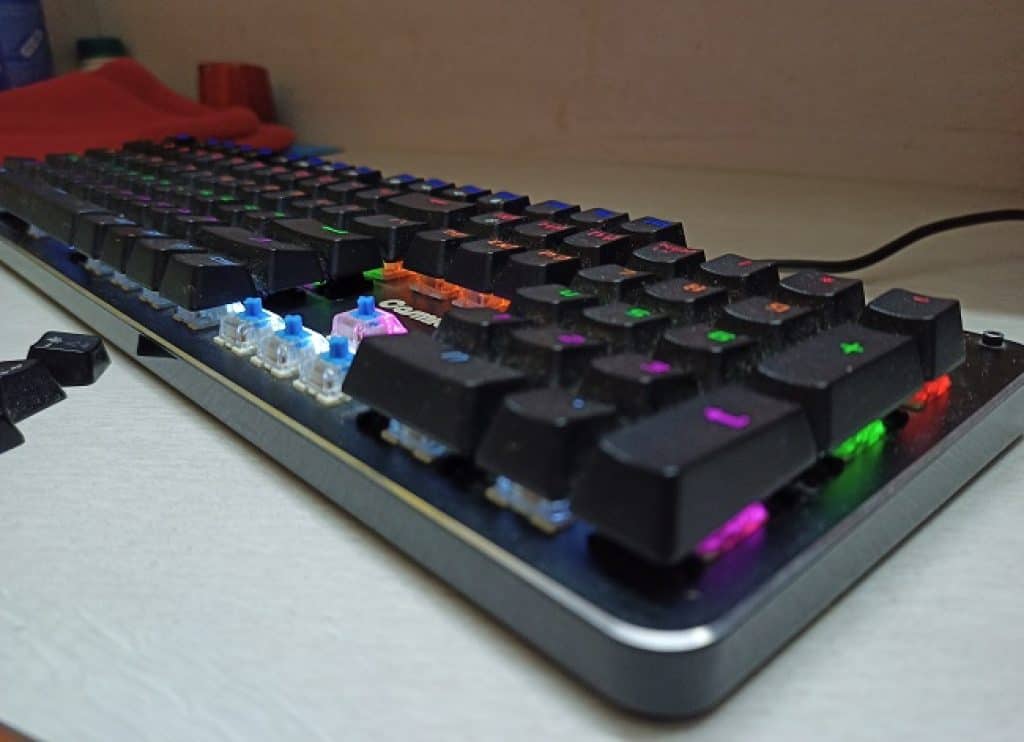 Coming to the keys, the CB-GK-12 Neon uses Outemu Blue Switches and provides the distinct clicky sound we expect from any Blue switch. The keys are responsive and give a nice tactile feedback. They're quite well suited for gaming. Obviously, these Outemu switches aren't as good as Cherry MXs but they get the job done. This keyboard can also be purchased with Brown switches for a quieter and more versatile use. The Blue switches are quite loud, so will recommend the brown switches for any office work.
The functions keys double down as multimedia control. The keys caps can be easily removed using the included keycap puller and replaced with other key caps as they are of standard size. The keys caps are double shot injection moulded that means the lettering on the keys are not going to fade away with time. Even the cable is long enough to not cause any problems while plugging it behind a desktop.
Also Read : 10 Best Gaming Headphones Under INR 2000
The Negatives
The Cosmic Byte CB-GK-12 Neon is a great keyboard, no doubt about that, but everything has some Cons and this keyboard is no different.
One of the big drawbacks at least for me was that although it has 6 different colours, each row has a single colour which cannot be changed. This makes the keyboard look a bit too tacky and takes away from the premium look. I would have rather preferred a single colour throughout the entire keyboard.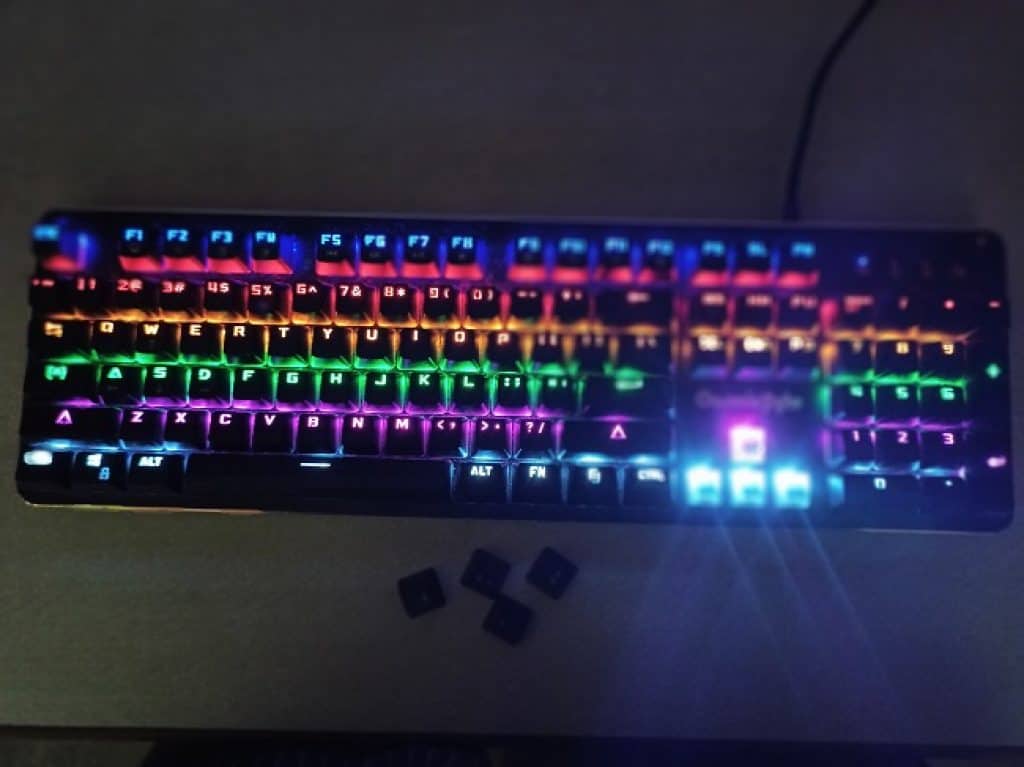 One of the few things most of these affordable peripherals lack is a proper customization software. This is sort of a cost-cutting practice these companies follow as they're already offering great hardware at a much lower price. Although there is a provision of some onboard customization, it can't really match the highly-programmable keyboards that some bigger brands offer. Another drawback is that it doesn't have any built in memory, so after the power is turned on the keyboard doesn't remember the lighting profile from the last time. This can be a nuisance as you have to reset the lighting every single time you turn it on.
The keyboard also doesn't come with a palm rest. This can be a problem, especially if you continuously use it for long hours.
In addition to all this, one aspect of this keyboard that I personally do not like is the font it uses. It's an unconventional font and I prefer cleaner, normally styled letters on my keyboard. Now let me be completely clear, this is purely up to personal taste and preferences. In fact, many of my colleagues actually prefer this font over others.
Also Read : 10 Best 4K Monitors in India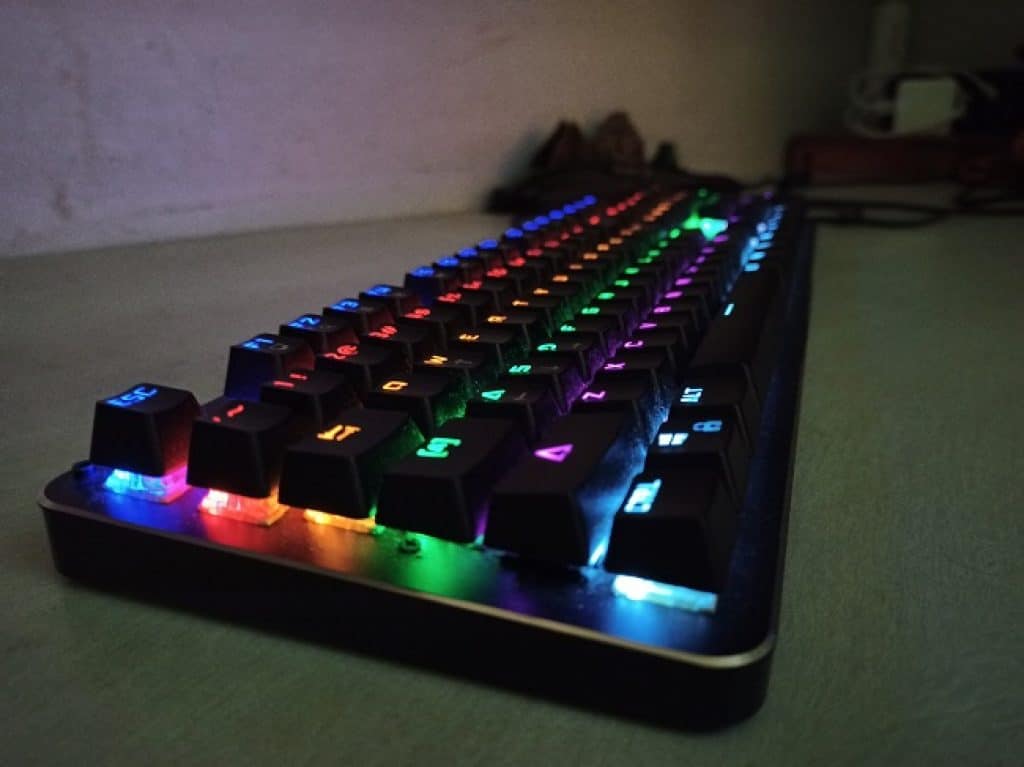 Conclusion
The Cosmic Byte CB-GK-12 Neon offers amazing value for money for people looking for an affordable gaming keyboard. It is the kind of keyboard people looking to get into the world of mechanical keyboards on a budget should consider. It checks off all the features and functionalities you'd expect from an ideal gaming keyboard and considering the price it retails at, buying this keyboard is a no brainer. I bought it from amazon at Rs 1900, I think below 2000 you should definitely consider it. Sure, there are some drawbacks, but almost all of them are quite insignificant and won't affect the majority of users.
As I'm typing this piece with the very same keyboard, I can assure anyone who's reading this review, you can't go wrong buying this keyboard at this price.
Written by – Madhujya Hazarika
Also Read :

Best Ultrawide Gaming Monitors in India

Gaming Monitors Under Rs 20,000 in India

10 Best Earphones Under Rs 1000