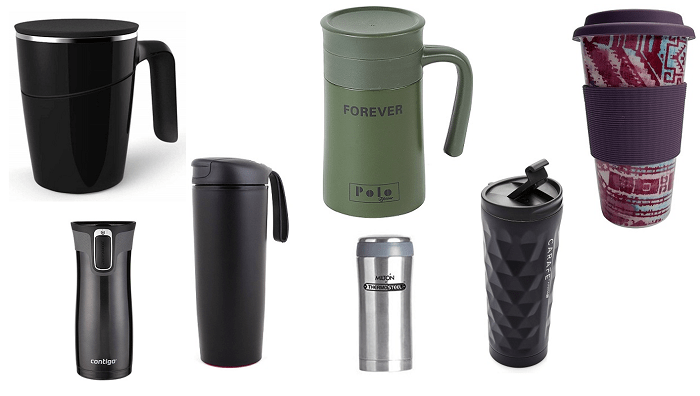 I am not really a morning person which is why I often start my day with a cup of coffee or iced tea. But since I travel a lot, sometimes it is not possible to spend time in the morning to prepare and enjoy a cup of tea/coffee while sitting at home. This is where a travel mug comes into the picture.
A travel mug is a great way to start your morning right and can also be a great way to keep yourself hydrated on trips. You can fill it with any hot or cold beverage you like and then drink it throughout the day. But choosing a good travel mug which will keep your beverage hot/cold without leaking is not easy.
So, I have prepared a guide to help you out in choosing the best travel mug for yourself.
Tips for Choosing the Right Travel Mug
So, how do you select the perfect travel mug for yourself? Here are a few tips which can help you out with this decision.
Choose a Steel Travel Mug
The material of the travel mug plays a great importance in deciding whether it is a right fit or not. Most travel mugs are built either out of plastic or out of stainless steel. And while the plastic mugs are lighter to hold, they are toxic and can often get absorbed in your drinks. On the other hand, a stainless steel travel mug is not only durable but provides better induction as well.
A stainless steel travel mug won't break easily and will keep your drinks hot or cold for a long time along with being easy to clean and maintain. Yes, plastic travel mugs are cheaper but stainless steel travel mugs are safer to use. So, always go for a stainless steel travel mug.
Select an Easily Portable Travel Mug
Another important aspect to consider when looking for a travel mug is the portability. If you are going to use the travel mug in your car, then check the size of the cup holder in your car. If you don't have a cup holder then you would need to select a travel mug with a wide base so that it doesn't tip down.
Also, choosing a travel mug with a rubberized base or an anti-skid bottom is a great way to ensure that your mug won't fall down from the surface.
Opt for Double-walled Insulation
You will find travel mugs with a single-walled insulation and a double-walled insulation. While the double-walled insulation travel mugs will be a little pricier, they will also keep your drinks hot/cold for a longer period of time. Also, it offers more protection, making your mug more durable than a single-walled insulation travel mug.
This is why it is a good idea to always opt for a double-walled insulation. Especially if you live in a cold place, where you are required to stay warm for a longer time.
Choose a Leak-Proof and Spill-proof Travel Mug
Another crucial feature that your travel mug should possess is that it should be leak-proof along with being spill-proof. Because let's face it, when you are driving on a busy road or running to catch a bus, you don't want your drink to accidentally leak or spill down.
So, always choose a travel mug which is leak-proof and won't spill down when you are in a hurry.
Consider the Size of the Travel Mug
Yes, this is another important thing to consider when looking for a travel mug. Depending on the space available and your need for a travel mug, you will need to choose the size of the mug. If you are going for a long trek/hike, then you need a travel mug which will contain enough liquid to keep you hydrated for the entire day.
On the other hand, if you are going for a short trip without hiking/trekking, then you can stick to a smaller travel mug which would be easier to carry.
You also need to count in the fact whether you have enough space in your bag or your car to keep a big travel mug or not. So, make sure you think it carefully before choosing the perfect size for your travel mug.
Top 10 Best Travel Mugs for Travelers
Now that you are familiar with the essential features of a good travel mug, we have listed down a few best travel mugs for you. Trust me, these travel mugs are convenient to use and will certainly make your journeys even more fun and comfortable.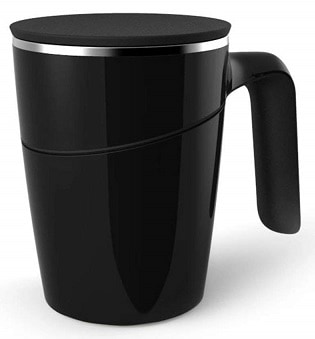 1) Primeway Artiart Suction Mug is one of the most unique and best travel mug currently available on market.
2) Yes, it is my topmost choice in travel mugs because this product offers a lot of unique features that other mugs don't.
3) This suction mug with a unique abs bottom design along with silicone seal lid prevents leakages regardless of where you are.
4) Also, it won't tip over even if you accidentally knock it over. You just need to lift it up straight to detach it. This makes it a good choice for using near laptops and workspaces.
5) It is built out of BPA-free materials and uses high-grade stainless steel construction which makes it durable and perfect travel mug for your adventures.
Pros:
Silicone seal lid

Unique Abs Bottom design

Doesn't tip down on accidental knock-over

BPA-free and sturdy
Cons:
Check Price : Amazon | Flipkart
---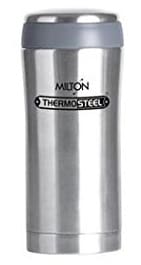 1) One of the cheapest and most useful travel mugs available on the market, Milton thermosteel optimal flask can hold all kinds of beverages.
2) This travel mug has a smart design which makes it easy and convenient to carry around in your bag.
3) It is built out of premium-quality steel which is why it is durable and the vacuum insulation helps in keeping your drink hot/cold for hours.
4) You can simply fit it in your backpack or your car's cup holder and enjoy the beverage wherever and whenever you want.
Pros:
Cheap

Durable and Lightweight

Fits all Bags

Vacuum insulation
Cons:
Multiple washes required for removing bad odor.
Check Price : Amazon | Flipkart
---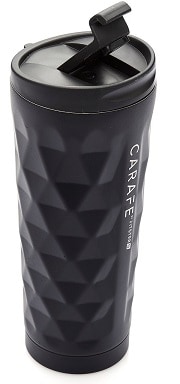 1) This travel mug is another great choice for people who want a sleek and easy-to-fit travel mug for their journeys.
2) It is constructed out of premium gauge stainless steel which won't rust or leave a bad taste in your mouth. And the vacuum insulation and copper exterior will keep your drinks hot/cold for long hours.
3) It is both sweat-free and leak-proof so you can easily put it in your bag and forget about it.
4) The wide drip-free mouth and spill-proof cap allow easy insertion and drinking.
5) And due to its lightweight and fashionable design, you can take this mug anyplace with you, even in the gym.
Pros:
Vacuum insulation for temperature retention

Durable and Rust-free

Sweat-free design

Lightweight and Attractive
Cons:
Check Price : Amazon | Flipkart
---
#Above 1000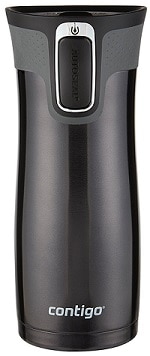 1) While this is undoubtedly the most expensive travel mug on the market, it is certainly the most advanced one too.
2) It features an Autoseal technology which keeps the mug lid sealed and makes this travel mug leak-proof and spill-proof.
3) It also features a Thermalock Vacuum insulation which keeps your beverage hot for 5 hours and cold for 12 hours.
4) You can open the lid with the push of a simple button and drink your beverage whenever you want, with great ease.
Pros:
Autoseal technology

Thermalock vacuum insulation

Push button lid
Cons:
Extremely Expensive

No handle for holding
Check Price : Amazon
---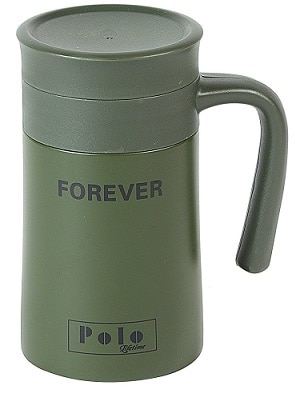 1) Another great travel mug which offers double walled insulation and is built out of good-quality food grade stainless steel is Polo Lifetime vacuum travel mug.
2) This travel mug is BPA-free and odorless and can easily keep your drinks hot/cold for a long time.
3) It has a wide mouth which makes it easy to pour the beverage in or out and is completely drip-free.
4) You can store all kinds of beverages in it, including citrus drinks and the push button cap system makes it easier to use than other travel mugs.
Pros:
Double-walled insulation

Odorless and BPA-free

Drip-free mouth

Push button cap system
Cons:
Check Price : Amazon | Flipkart
---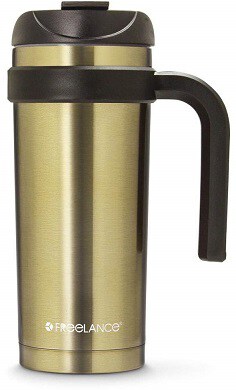 1) Freelance Vacuum Insulated Stainless Steel Travel Mug is not only budget-friendly but also effective in retaining your liquid's temperature.
2) The double-walled vacuum insulation technology and thermal retention feature maintain your beverage's freshness and temperature up to 24 hours.
3) It is lightweight and compact and can fit all kinds of cup holders making it ideal for traveling purposes.
4) The stainless steel exterior is durable and the interior is built out of BPA-free, rust-free material which makes this mug safe for use.
5) It also features an anti-drip lid and a lead-proof silicone gasket so there are fewer chances of leaks.
Pros:
Double insulation

Thermal retention

Lightweight and compact

BPA-free and non-toxic

Leak-proof
Cons:
Paint might peel off soon
Check Price : Amazon
---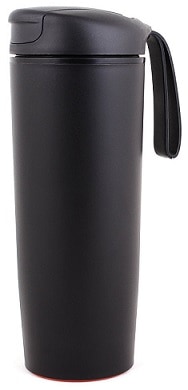 1) This is yet another amazing travel mug which comes with a three-layer insulation system which makes it durable and effective for a long time.
2) Its shock-absorbing, heat-resistant insulation keeps the mug safe during accidental falls.
3) Also, this travel mug is leak-proof and features a gripping pad at the base which prevents it from tipping suddenly.
4) Due to its environmental resin and BPA-free construction, this mug is safe for use too.
5) It is large enough to keep you hydrated but highly portable, making it the perfect travel mug for you.
Pros:
Three-layer insulation

Shock-absorbent

Leak-proof

BPA-free
Cons:
Suction doesn't work on all surfaces
Check Price : Amazon | Flipkart
---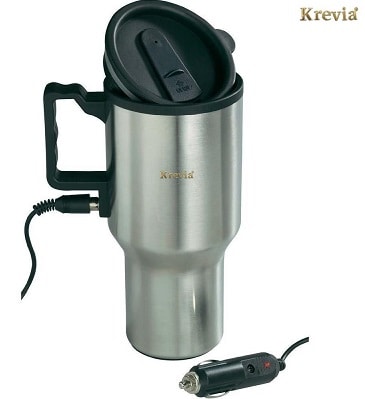 1) Another one of my favorite travel mugs, Krevia Electric Kettle/Travel Mug is a perfect product for people who have a plug pin car adaptor.
2) This travel mug is ideal for road journeys as you can prepare a cup of coffee/tea anytime you want if you have sufficient car battery for heating.
3) This travel mug is built out of double-walled stainless steel which makes it durable and keeps the beverage warm for a long time.
Pros:
Durable and lightweight

Can be heated in the car
Cons:
Useless if you don't have sufficient car battery
Check Price : Amazon
---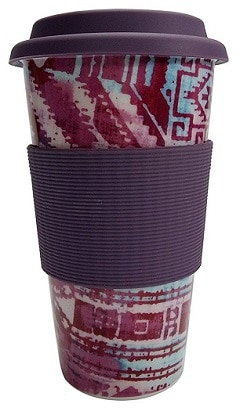 1) Personally, I like this travel mug because it is both convenient and stylish to use.
2) This travel mug is single-walled but since it is built out of porcelain bone china, the beverage can be warmed up in a microwave easily.
3) It also includes a silicone lid and sleeve which makes it easy to hold and reduces the chances of slipping from your hands.
4) This is a perfect choice for people who like to carry their own travel mug for using in hotels/hostels while traveling.
Pros:
Attractive design

Microwave-safe

Silicone Lid and Sleeves for reduced spilling and slipping
Cons:
Cannot retain the beverage temperature
Check Price : Amazon
---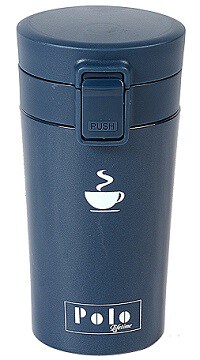 1) This is a great travel mug for people who love a cup of coffee/tea while traveling and need it several times during a day.
2) It has a capacity of 520 ml and is built out of food grade stainless steel. As a result, it is odorless along with being BPA-free.
3) It also features double walled insulation so you will find your beverage hot/cold even after hours.
4) Plus, it comes with an airtight and leak-proof lid which makes it perfect for hiking/trekking trips too.
Pros:
Durable and BPA-free

Retains beverage temperature for a long time

Leak-Proof
Cons:
Cannot hold carbonated drinks
Check Price : Amazon | Flipkart
---
Also read:
1) Top 10 Best Camera Straps for Travelers Under Rs. 500