The PaiAudio DR2 is almost the least expensive in π3.14 lineup and based on single dynamic driver units packed into beautiful custom-like shells.
Packaging:
DR2 IEMs come in small transparent plastic box. Walls are covered by a paper inlet with prints from inside. Prints contain the picture of the product, brand logo and short technical description.
DR2 shells are made of resin except the aluminum output channels and cable ports. Shells are transparent and top sides have the additional layer of red and green for right/left channels respectively. This layer also contains beautiful tiny aluminum «π» inside that makes the design more sophisticated and attractive.
Stock cable is made of copper, 4 twisted lines with flexible ear guides and transparent resin MMCX connectors at one side, 90° audio jack in aluminum housing on the other and transparent resin Y-splitter + limiter at the middle.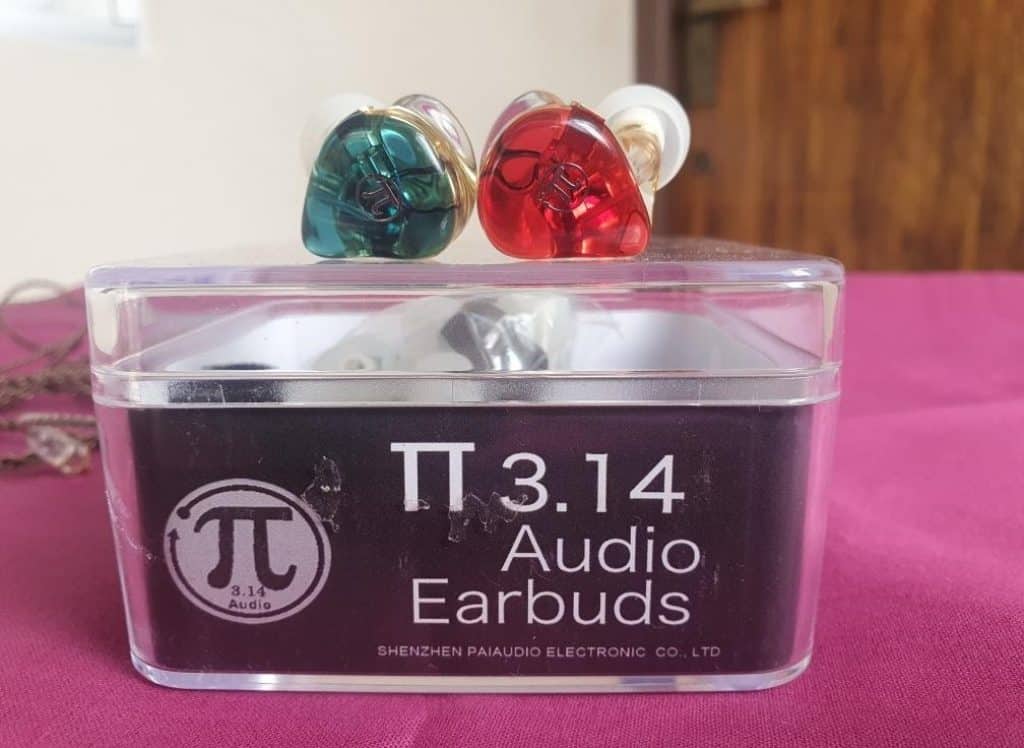 π3.14 DR2 technical specifications:
Shell materials: resin
Driver type: dynamic
Sensitivity: 125dB
Impedance: 8Ω
Frequency Response Range: 10Hz — 30kHz
Cable connectors: MMCX
Audio Jack: 3.5mm, 90° angle
Cable Length: 1.2m
Box contents:
π3.14 DR2 IEMs
audio cable
3 pairs of white silicone ear tips
2 pairs of grey silicone ear tips
cable clip
plastic cap for audio jack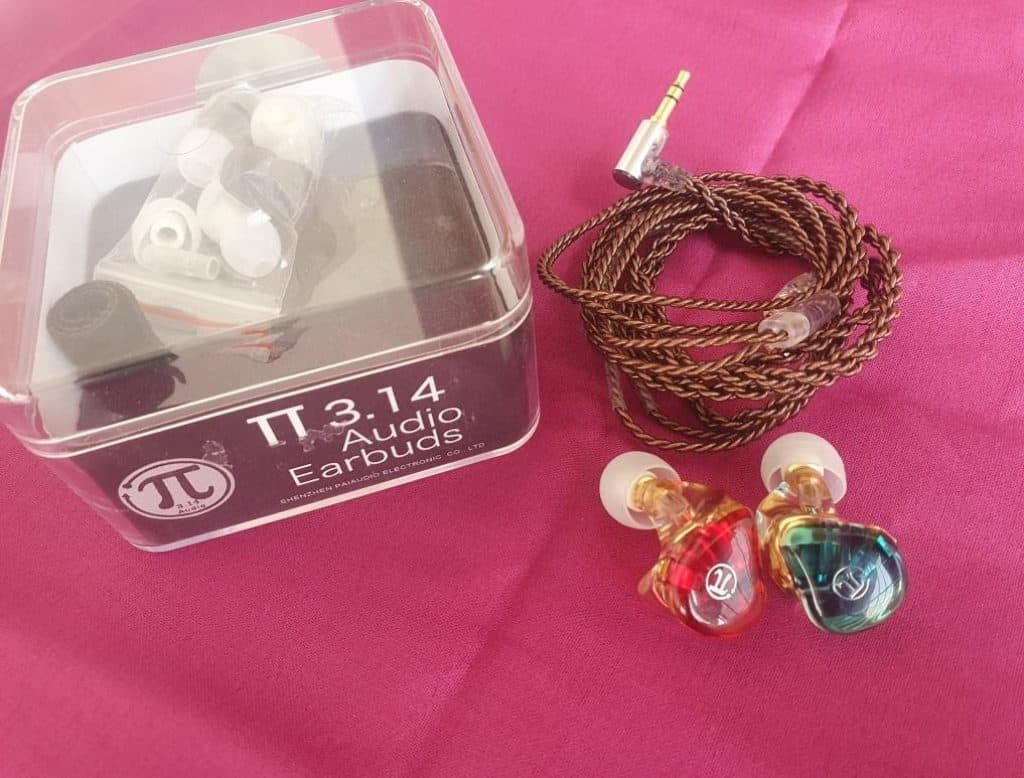 Fit:
DR2 IEMs have absolutely no issues with fit comfort. Such type of «custom» shape is the best and the most comfortable one available at mass market. It isolates the sound to the extreme level and no pain in the ears even after wearing it for long period of time.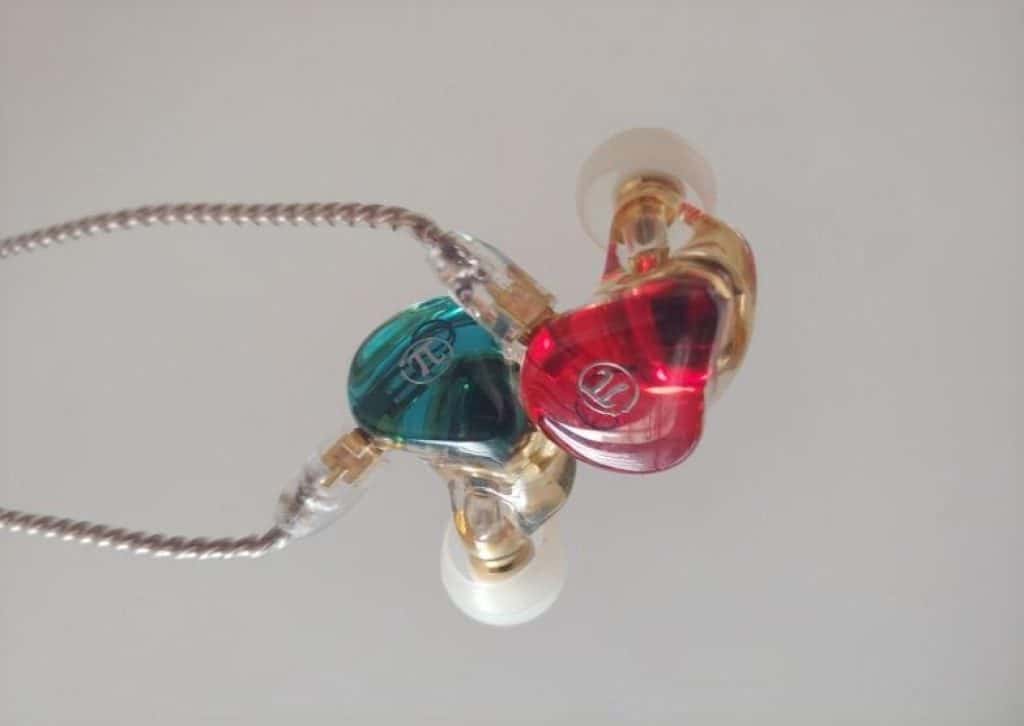 Sound:
Lows and mid bass:
Lows are playing the leading role in DR2 sound and building warm signature. Bass is evident. Reach is quite deeper and bass feels extended. It helps a lot to make the stage deeper and wider.
Starboy – The Weeknd
The bass is really great. Even from the start of the song the sub bass thump is felt without distortion. It has the rumble effect in the head and it's good.
Lost but Won – Hans Zimmer
At the start of the track the sub bass is felt clearly and at 0:36 the thump is felt awesome. The bass trumpet in represented well.
Royals – Lorde
At 0:23 the sub bass is sweet. That rumble is evident and it's pleasant and continues along with the vocals without any bleeding. At 2:23 it's damn awesome. Hey bass heads please get this!..
Time (Inception) – Hans Zimmer
The track is fully bass emphasized and this iem represents it well without any issue.
Mid bass dynamics is much better, this range sounds pretty natural and rich. Drums don't show any harsh peaks, articulation is fast and tight. Volume and amount of air is enough to recreate drums naturally.
Also Read : Best Earphones Under 1000
Mids and vocals:
Vocal sounds full-bodied, thick and natural. Instrument separation is also quite good. What DR2 mids lacks is the resolution. Voices expose good warm timbre.
Blank Space – Taylor Swift
The vocals are brought out well accompanied with some warmth. The female vocals are represented great with less to no sibilance's. The guitars are placed well with the good thump in the background
Love bug Blues – Charles Bradley
The male vocals are sweet which is neither forward nor too far. They are placed correctly with great instrument separation. The imaging is on point.
Sleeping At Night – Caught A Ghost
The drums are sweet along with the vocals. Even though it's an old track it is represented well!
Treble:
Good treble clarity and above the average extension only gets evident in special tracks that are built upon the respective instruments and sounds.
Lonesome Lover – Max Roach
The treble is kept in control with no sibilance which is observed is most of the budget chi-fi's. The drums are well controlled and the trumpets sound as natural as possible. The drum's at the background gives us the sense of a big soundstage.
Faust – The sad skinhead
The treble is smooth and no harshness is felt. The guitar's sound is smooth and doesn't fatigue the ear!.
Soundstage:
One of the main advantages of DR2 IEMs is their ability to create evidently large 3D stage with good instrument separation, their defined location and good layering between the ranges. One of the best budget IEM's considering this aspect.
Hideaway – Jacob Collier
Each and every instrument is neatly laid out and sounds beautiful which provides us the sensation of sitting in a hall. At 2:25 all the instruments are cluttered but this one neatly separated out everything and sounded very pleasant.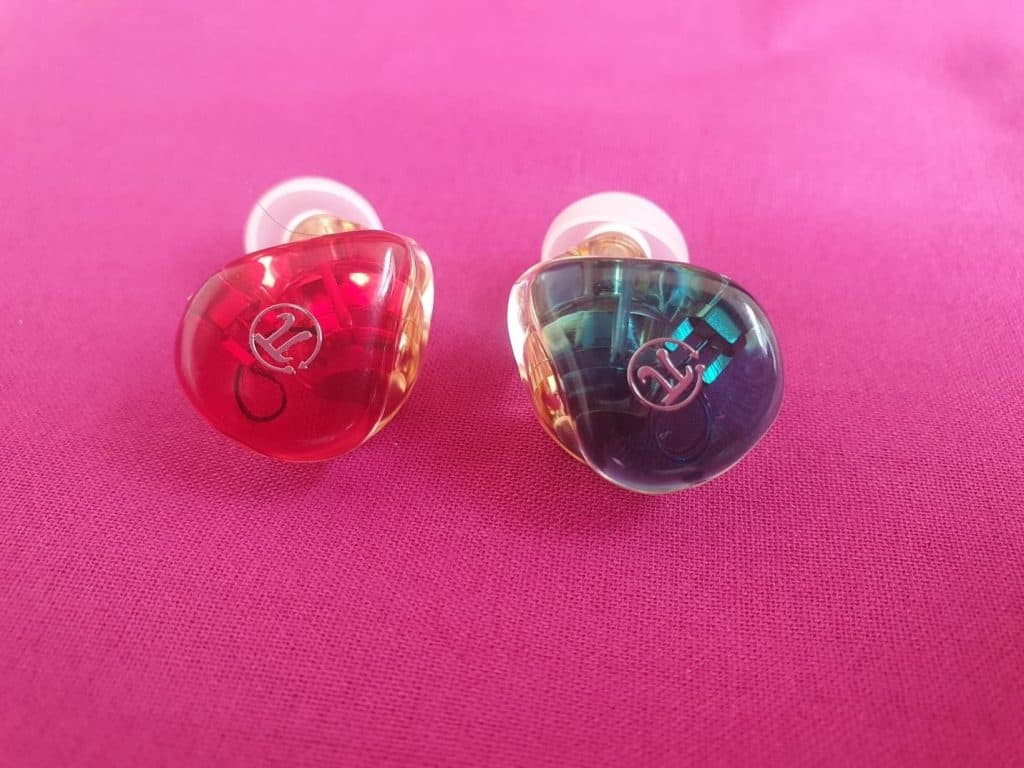 Pros and Cons:
Pros:
Warm sound signature which doesn't affects mids and highs
Excellent fit and design
Big soundstage and on point imaging
Price
Cons:
Slight driver flex
No carry case
Lacks Resolution
Conclusion:
First of all, π3.14 DR2 should become a perfectly satisfying choice for all of the bass heads looking for budget IEMs. Despite low price, DR2 has the largest soundstage with good instrument separation and layering among the contenders. Sound is warm in tonality, free of any lisping or sibilance and pleasingly thick on vocals and mids. Versatility is also ensured by the excellent fit comfort of «custom» type shells and very attractive externals. The only complaint it addresses is moderate resolution but there's no other perfect IEMs either. Thus, leading on several parameters, π3.14 DR2 get a high score in under $50 price segment.
Also Read : Best Earphones Under 500
This Review is Written By KATHIRAVAN.C
Follow him on – Instagram | Facebook
I'm Kathiravan from Tamilnadu. A budding audiophile here with high love towards music and audio equipments. My first experience of enjoying the hifi audio came when I started to use budget chi-fi gears and now it came all along the way of reviewing the gears with high end stuffs. I love reviewing audio products.